Modern Dance, Women Dancing | Latex on Hardboard | 38″ x 24″
---
****************
"There are many threads on the fringe…"
xxxxxxxxx
Chris Dale is one of them…
**********
***
Chris Dale is as self-effacing as one would expect a person to be whose passion overrules ego. Short on answers, long on art — where he spends his time — his work represents the expression of ideas and feelings in a consistent and nearly predictable manner. What is unpredictable are the subjects, which range from a dancer caught in her own moment, to the appearance and acceptance of a gay couple kissing, to a simple family portrait about which we are led to ask what put them there and what awaits.  When we started Ragazine.CC, it was to bring both new and established artists to light. We trust you'll appreciate both the effort and the results that Chris Dale puts into his work.
— MRF
A few questions:
*************
Q) Where did you grow up? 
A) I was born in Ottawa but my family settled in Toronto. We moved around the city, from the downtown to the  suburbs in the west, then suburbs in the east, to downtown again, where the parents still live.
Q) Where do you live?
A)  I live in  Peterborough, Ontario, went to Trent University, received my BA. Lived in Vancouver, BC, with wife and child.
Q) What did you do for a living before you committed fully to "art"?
A)  I worked in trades − framing, drywall, painting, then moved toward maintenance and operations.
Q) What was the signature event that put you on the creative road full-time?
A) Many thing occurring at the same time drew me in to the creative road full time. I started a new job and the pay was good, but I hated my bosses and work. After two months there I sent them an email saying "I quit." That is the most signature event, but I had never really liked my work, I just did it to survive when I was married with a child. This all ended many years ago, when the child became an adult. So I started to paint.
---
The Art of Chris Dale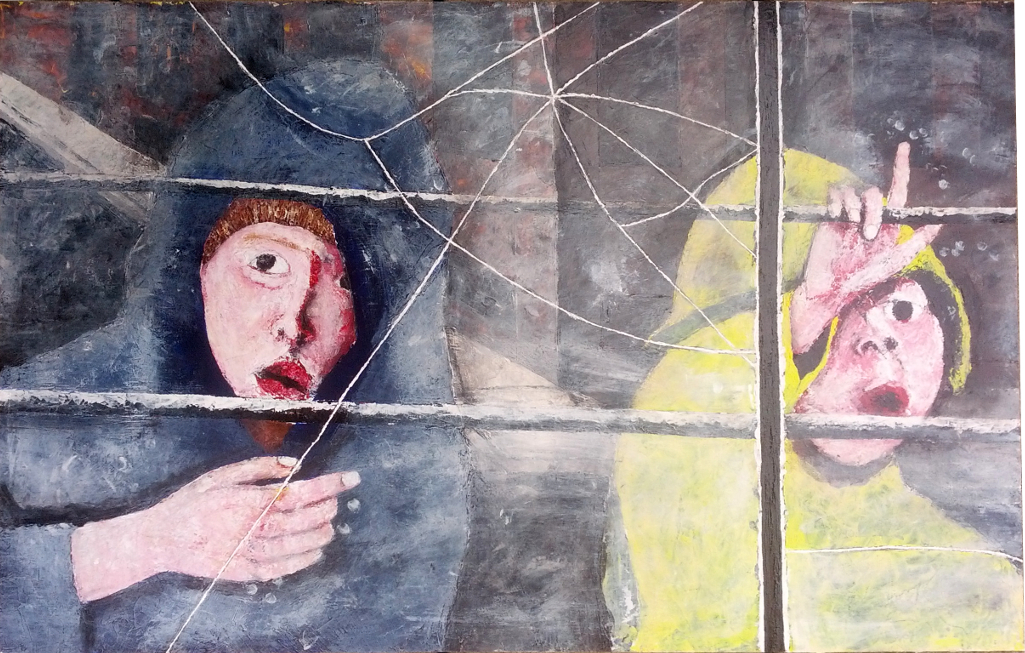 Children looking through a cracked dirty window with bars; Latex on hardboard. 38" x 24"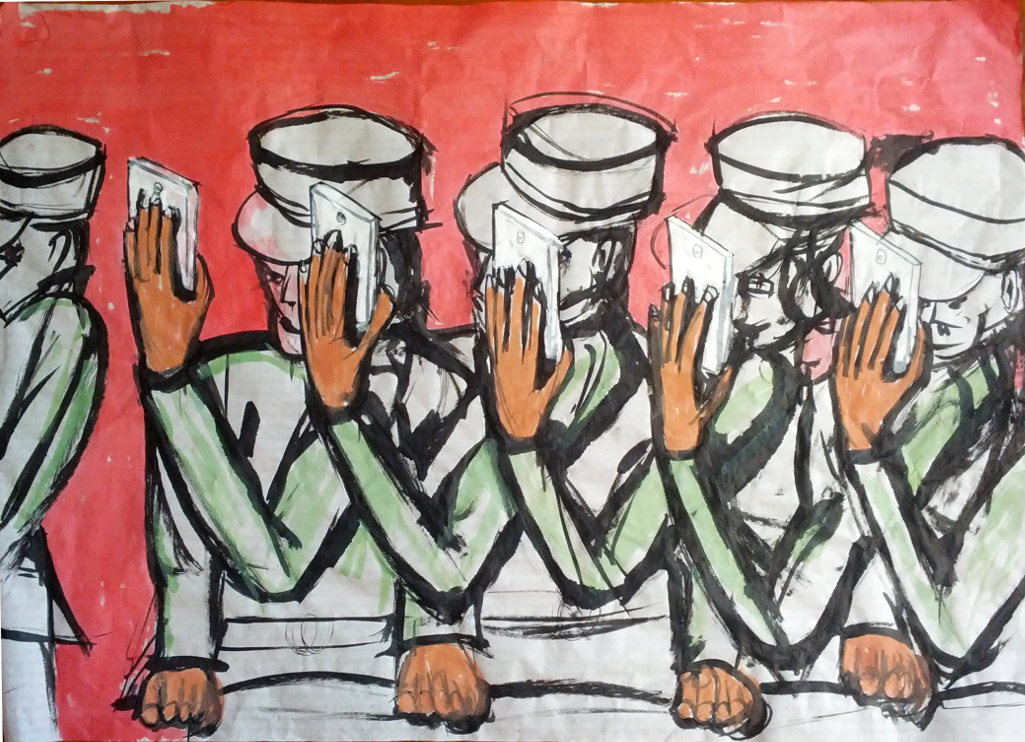 People holding phones; Ink on Paper 24"x 38"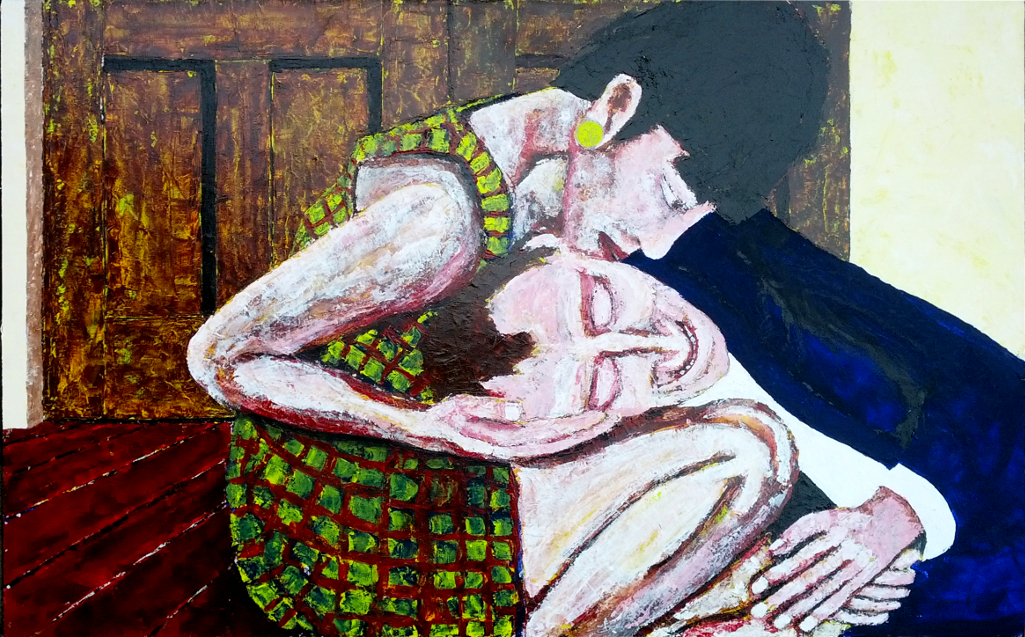 Woman kissing man while he lays his head in her lap. Latex on hardboard. 38" x 24"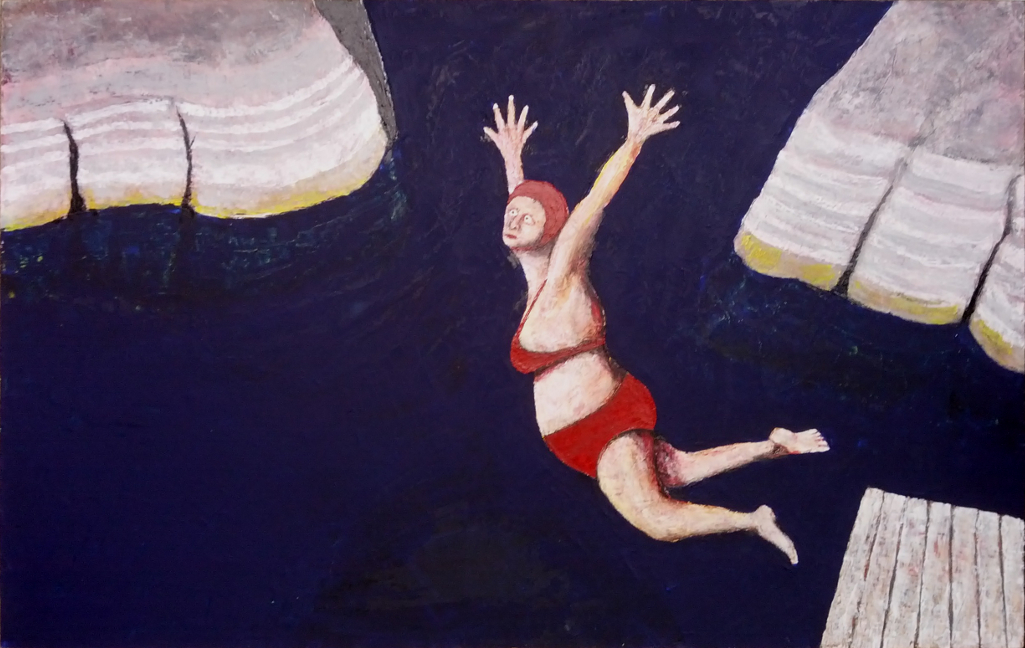 Women jumping in to a lake in Canada Shield Ontario. Latex on hardboard. 38" x 24"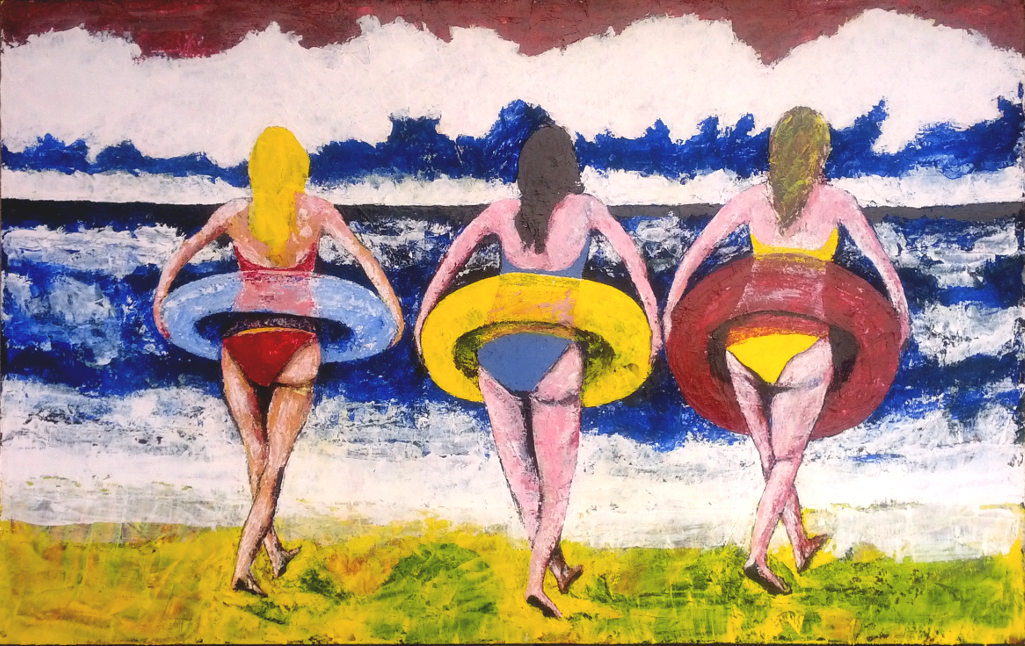 Three young woman wade into the water wearing tubes around their waists. Latex on hardboard. 38" x 24"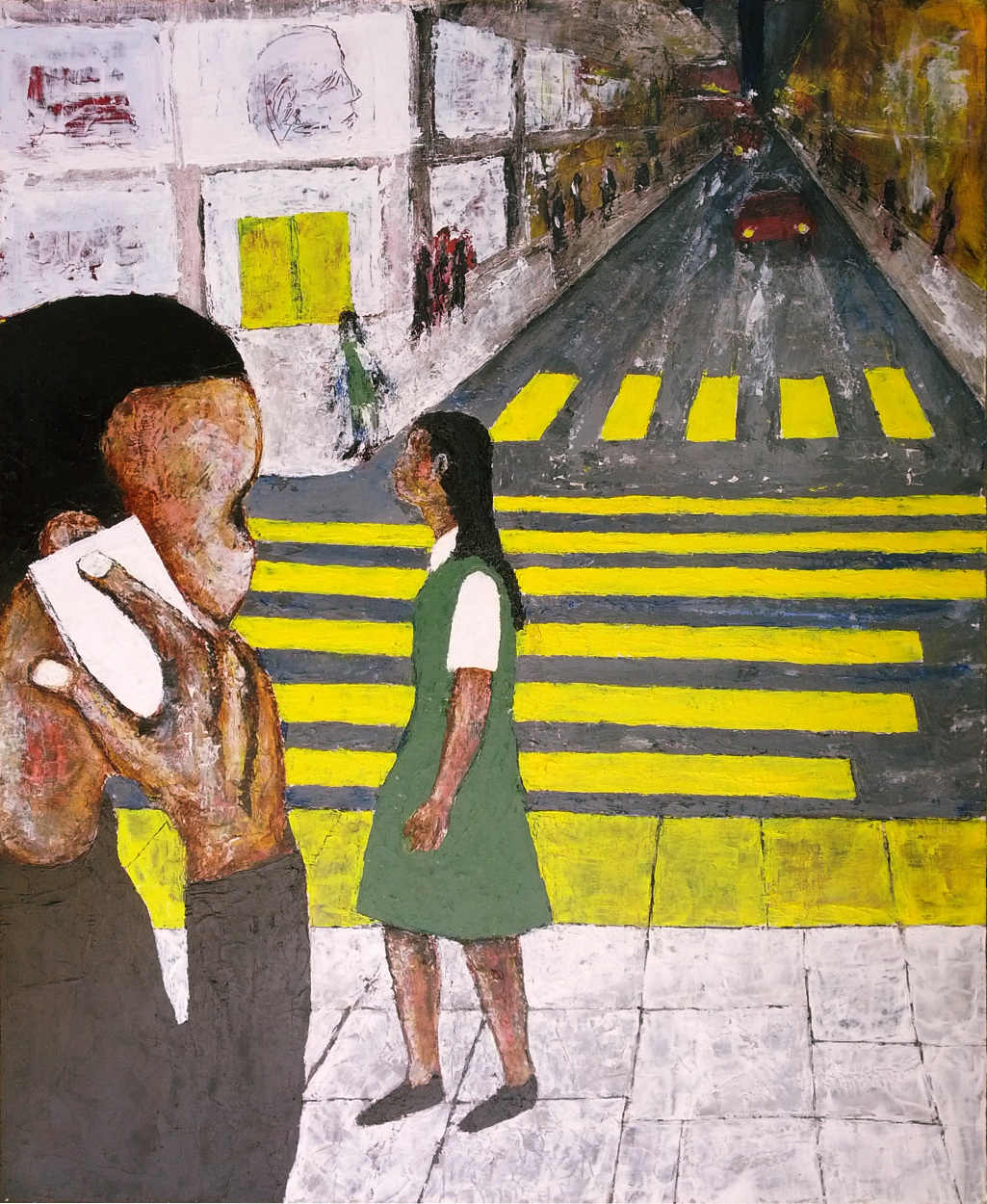 Young woman school in uniform watched by man phone; latex on hardboard. 38" x 24"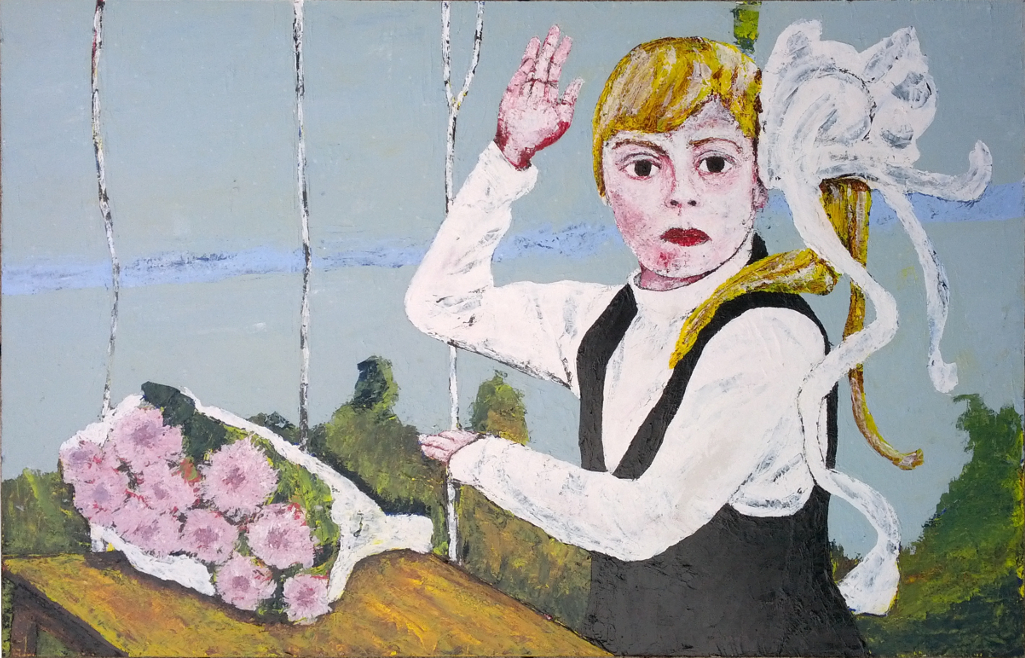 Russian girl starts first grades. Latex on hardboard. 38" x 24"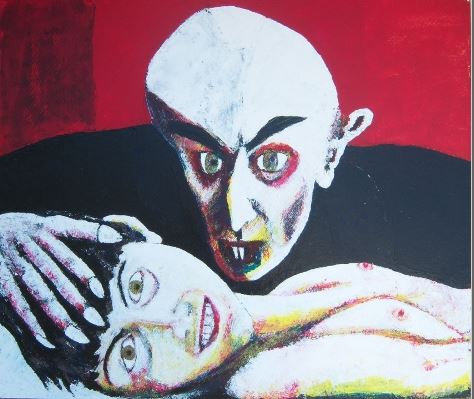 Vampire leaning over a naked body on bed, latex on hardboard 24"x 20"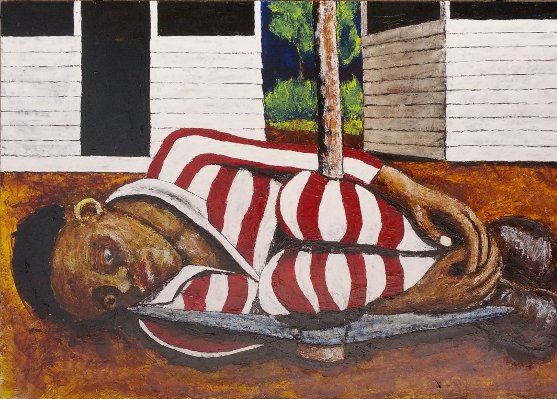 Young black man tied to a pickaxe; latex on hardboard. 38" x 24"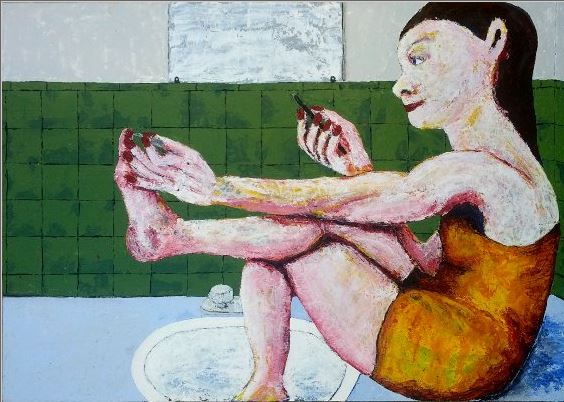 Woman painting her toes. Latex on hardboard. 38" x 24"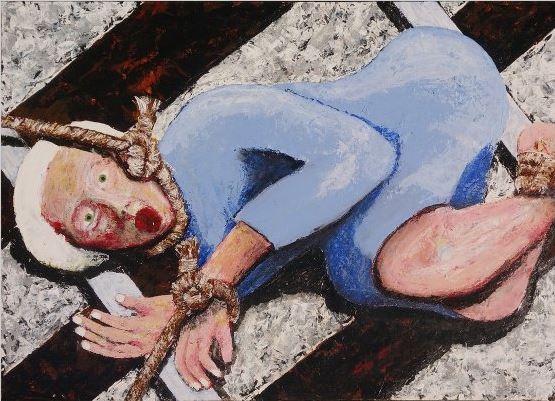 The freedom they desire is in the end their demise; latex on hardboard. 38" x 24"
---
***************
Also:
http://artchrisdale.com
http://artchrisdale.culturalspot.org
http://artchrisdale.wordpress.com
****************
"I do not have much of a bio I hope this will do and have included a cv which might help. Most of my work is on my website there is some Photography at http://photochrisdale.blogspot.ca/…."
T****************