AAA
Caroline Chevalier :
AAA
Out of the muddy water of life
AAAA
by Jean-Paul Gavard-Perret
Contributing Columnist
Caroline Chevalier, Dragonfly Series
Arles (France), summer 2015.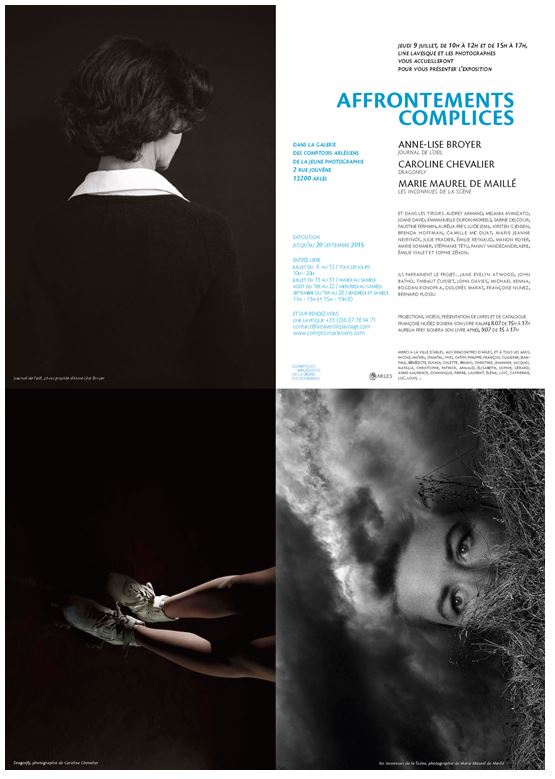 One can enjoy the photographs of Caroline Chevalier by their minimalism, as one might enjoy a  dragonfly. The photographs do not look for a narrative or dramatic  effect, but  for a feeling, and convey a sense of investigation − to reach out to the external world and fill the void, to appreciate what is out there, and reconnect with the poetry of life. Chevalier's photographs keep the sensual beauty of everyday experience. Seemingly mundane objects are transformed into gorgeous forms shimmering with a light peculiar to the Mediterranean Sea. At once these objects rise from an obscurity and reveal a sensitive artist searching for illumination out of darkness. This visual minimalistic translation  brings the work into the realms of a kind of psychology that makes the work sparkle with a verve touching on the temporal nature of life towards time quickly passing. The young artist has recently embarked upon a new phase in her works. While doubts remain, she has found a new pleasure of shooting.  Accompanied by her muses  (mainly young women) she is always expressing her loves, desires, challenges. Caroline Chevalier is tenaciously charging ahead of the fight of her life and her art.
---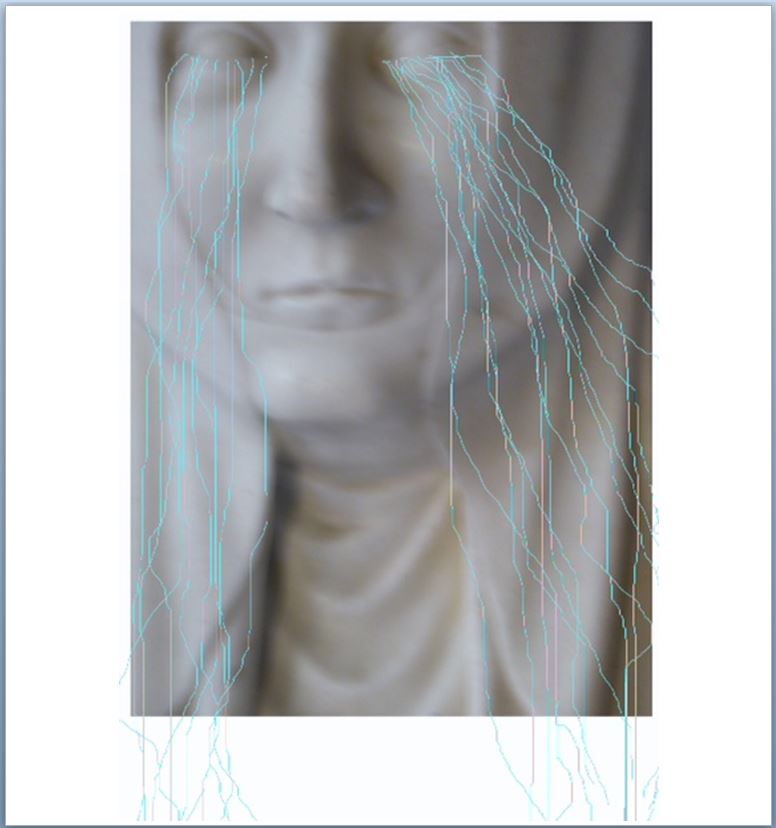 Veronique Sablery's meteors
Veronique Sablery, "Eternels", Caen (France), June-July 2015.
For some critics the photograph has no memory : in fact it is the material of memory itself. For Véronique Sablery the camera records time and make it physical in a minimalist manner. Capturing time moving instantly into the past like memory it is created from present perception. Véronique Sablery r states that she is interested in the collapsing and suspension of time that occur in the realisation of our short span within it. The artist processes for instance  the memory of someone  else's leg or hand. She is also able to encounter something sublime shooting a little part of a lanscape. The sublime created by Caroline Chevalier is something accompagnied with a certain dread or melancholy and in some photographs merely with quiet wonder. While giving access to the outlines of the space she chooses to shoot, the french photographer allows the viewer into a unique time-space arrangement. She agree the Bergson's idea of concrete perception : memory functions to interweave the past into the present in a sort of conscious continuum. This work permits a better understanding of how this artist uses "source images". It also brings  out how all of her practice bears connection with  many reference of art's history. For Sablery the photography allows her to do sequential variations and thus avoid the sometimes too frozen character of images in photography. Nevertheless in the photographer'images it is as if she adjusts the viewer's eyes to en new frequency and  space, arresting the motion of wind or stilling the ephemeral blaze of a sunlit shape on a wall.  The viewer gazes for a small eternity of the marvellous intricacies of fragile skins. There is nothing more to do than wait and take pleasure with the little part of world and its symbolic meaning. veroniquesablery.tumblr.com
---