Tom Deisboeck
Serial Killers, Successful Actors
and Crest Yellowing Strips
by Galanty Miller Contributor Columnist
I
know for a FACT that over 70 percent of American children under the age of 8 are affiliated with the Communist Party./ What's the world coming to?! Do you realize it now costs a family of four over 200 dollars for an afternoon out at the strip club?/ Rainy days and Mondays always get me hard./ NOTICE: I'm deactivating face-to-face personal interaction & conversation for a few months. If you wanna get in touch w/me, use Facebook./ I mean, it's 2018! If we can fake a man on the moon, then how come we STILL can't find Bigfoot?!/ I think it's ridiculous paying a fortune at some fancy shmancy salon when you can get a perfectly good haircut at Burger King./ I absolutely REFUSE to be bullied by impoverished orphaned children./ I read that 99 percent of the human body is made up of water. So when I get thirsty, I just lick myself./ Such a cruel God that He made us all so hungry all the time./ You know what's sad? It's 2018 and our genitals are still not allowed to vote./ Scary Statistic: Only 38% of Americans not in prison are innocent./ OMG I just found out that I'm a direct descendant of Thomas Jefferson! (I'm his son.)/ Is Mothers Day supposed to honor ALL mothers, or just the good ones?/ At parties, I find the most interesting people to talk to are serial killers and successful actors./ Do you know what's ruining our political system? People. /Medical Miracles: Since 2008, due to medical technology, the lifespan for people born inside-out has increased by 30% to 1.2 minutes./ switching to shitty beer./ Can you be arrested for outsider trading? I get all my stock tips from goth teenagers./ I painted my toilet bowl red, white, and blue because it's my patriotic duty./ In retrospect, I shouldn't have used these Crest Yellowing Strips. They really work!/ I'm currently working on a comic book superhero whose only power is that he can beat up Superman./ I listen to a lot of Christian rock music because of my loyal devotion to the Gods of rock!/ I adopted a foreign exchange dog, but it's hard to train him because he barks in French./ My son fell into the petting zoo so they had to shoot all the goats and sheep./ Life is just FULL of surprises. Want an example? Okay. The other day, I was taking a walk, and- out of the blue- something surprised me./ Are nightmares fun for people who like scary movies?/ I went in for a sex change operation and my incompetent doctor removed the wrong penis!/ Life has taught me a lot. And in turn, I feel that I've taught life a lot, too./ The only good zombie is a DEAD zombie./ I shouldn't have assaulted the umpire at my son's Little League game, but it's important my kids learn the value of making the right call./ Am I nervous that my 2-year-old is taking a 500-mile journey in a hot air balloon all by himself? Of COURSE I am. But it's his passion./ Never settle for less. Instead, try to ENJOY less./ I keep going to AA meetings in Hollywood in hopes that I'll get a sponsor who's famous./ As an actor, I won't do nude scenes unless it's absolutely integral to the wrap-up party orgy./How does one survive life in prison? Answer: laughter./ Friends come and go. But enemies last forever.
---
About the author: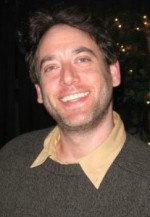 Galanty Miller is a writer for 
The Onion News Network
 and is a "Top Cop" in
Us Weekly
Magazine's popular Fashion Police section. His work has appeared on Comedy Central, the Independent Film Channel, in the
Huffington Post
, on theatrical stages, and in the national political arena. Follow him on Twitter at #GalantyMiller and on his website at www.scottgalantymiller.com.