The Infinite Doctrine of Water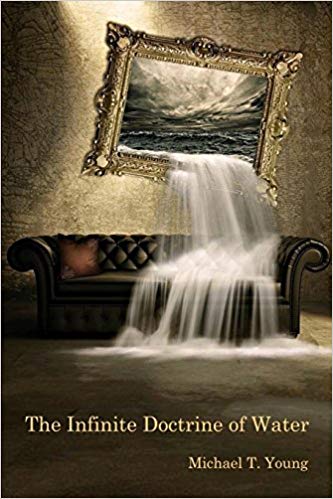 by Michael T. Young
Series:
 Terrapin Poetry
Paperback:
 96 pages
Publisher:
 Terrapin Books (April 1, 2018)
Language:
 English
ISBN-10:
 1947896016
ISBN-13:
 978-1947896017 $5.99 Kindle/$12.99 Paperback from AMAZON
Review by Emily Vogel
T
he overlying thematic arc of Michael T. Young's latest collection of poetry, "The Infinite Doctrine of Water", is contingent upon the day by day of closely observing nature and the speaker's surroundings. The nature and the surroundings which he observes may be tied to either traditions of Emerson and/or Thoreau, or the gritty urbanity of city life. The subject matter of many of the poems also contend with the collecting of writing, words, notebooks, coins, and memories. The labor of living also seems a theme in this collection, not as a chore, but more like an elucidation of something beautiful, even with what aspects of it are traditionally considered "ugly."
In many of the poems, "Contrast" for instance, he juxtaposes the idea of a photograph with a memory itself:
"The early cameras were not so instant./There was a precise count before pulling/the sleeve from the camera…"
And later in the poem (second stanza):
"It was 1974 during the gas crisis and once a week/we waited in a car line that was blocks long…"
The point here is that in many of these poems, the rift of memory and the atmosphere of the present day seems to want to reconcile and resolve itself.  In "Collecting Coins," for instance:
"Because others seem to remember my life/better than I do, because I never pretended I could win the wager,…"
And later in the poem
"…histories we never had or forgot to write down,/because the stories are all like the coin dug up/from the dirt basement in my grandparent's house…"
And among the collecting of objects, memories and writing, the speaker is also revealed as "reader…" His poem seems to emerge out of his passion for reading and for salvaging and resurrecting old writing. In the poem "Close Reading" he begins:
"I used to read while nestled in a crook/of maple branches…" which is much reminiscent of the Wallace Stevens poem, "The House Was Quiet and The World Was Calm."
This collection of poetry certainly has arisen from Young's passion for both reading and writing, and it is unequivocally clear that writing is not a "luxury" for him; it is a necessity. His world is full of words: words that move, words that create vivid images and stories which transcend the page. I would highly recommend reading this collection; and when you do, read it by the wan light that immures you in such a fine literature as this one.
---
About the reviewer:
Emily Vogel is the poetry editor of Ragazine.cc. You can read more about her in About Us.