November-December 2018 | Volume 14 Number 6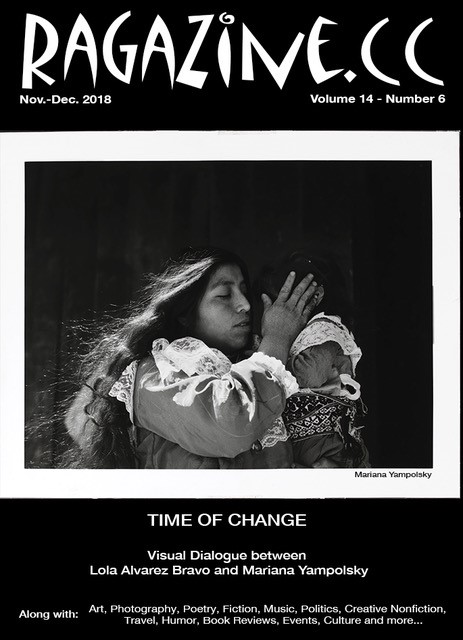 Lineup: November-December 2018/V14N6
Fabia Wong/In Search Of …
Jose Rodeiro/Artist Interview
Garciela Kartofel/Photography
& Interview with Spencer Throckmorton
Yoshiro Takayasu/Fiction
Bill Mesce, Jr./Fiction
Barbara Rosenthal/A Crack in the Sidewalk
Carl Oprey/Art Review
Alan Swyer/Fiction
Spencer Throckmorton/Interview
Evan Balkan/Travel
Steve Poleskie/Then & Now
Fred Roberts/Eurosound Reviews
& November Playlist
Jim Palombo/Politics
Cynthia McVay/Creative Nonfiction
Richard Kostelanetz/Fiction
J. T. Ledbetter/Poetry
Marc Darnell/Poetry
Galanty Miller/Re-Tweets
Benedito Ferrao/Creative Nonfiction
Joe Mills/Fiction
Bill Mesce/Book Review
Perle Besserman/Fiction
Ronald Primeau/Poetry
Alan Wetzien/Travel
William Crawford/Flash Photo
Karen Lethlean/Sports
The Whitney Point Poetry Group
Jennifer L Dean/Book Review
Emily Vogel/Book Review
---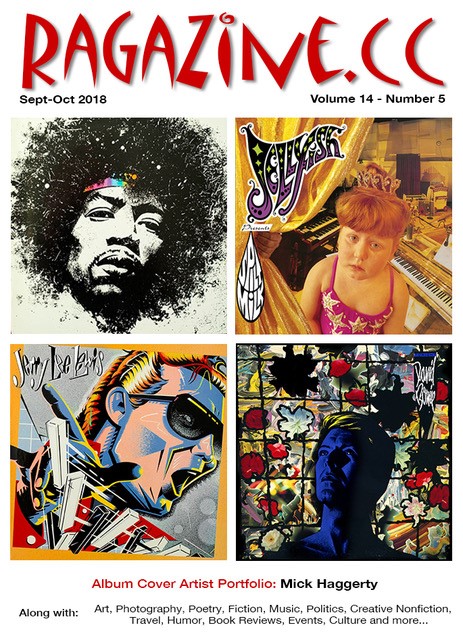 Lineup: September-October 2018/V14N5
Karen Lethlean/An Ironman's Story
Barbara Rosenthal/A Crack in the Sidewalk
Michael Goldstein/Album Art
Fred Roberts/Visit to the Old Country, Music
Fred Roberts/Poland Playist
Maria Gillan/Poetry
Ben White/Ocean Ghosts
Steve Poleskie/Then & Now
William Crawford/Flash Photo
Jean-Paul Gavard-Perret/On Location, France
T.R. Hummer/Poetry
Sherrie Harvey/Bermuda Triangle
Lyn Lifshin/Poetry
Rich Ives/Nonfiction
Ewa Mazierska/Scarves of Candolim
Jim Feast/Book Review, Thad Rutkowski
Michael T. Young/Poetry
Jean E. Verthein/Fiction
Ed Coffey/Why I Run
Suchita Bhhatia/Filmmaker Frustrations
Tom Kay/"Holy Shit: Computer Oral Art"
Jose Rodeiro/"NoWall@All"
Jessica Noyes McEntee/"Can You Say Capitalism?"
Joe Giordano/"At the Cemetery"
Editor's Note
It's a wrap…
W
e've got a great issue for you this time around, a fantastic way to close out our 14th year publishing Ragazine.  Not only have we gone back to our roots of poetry, photography, fiction and art, but also we've compounded with travel, politics, humor, satire, music and book reviews, and things you may not have thought about yet.
Fashioned as an online zine of Arts, Information & Entertainment, Ragazine has managed to stay afloat due to the efforts of our content contributors, financial donors, erstwhile editors – and readers.  We're glad to still be here while so many others of our trade have either ceased publishing, or shrunk to the size of Cracker Jack prize books. So, Welcome or Welcome Back as the case may be, and let's hope we've got another year or two still in us.
But enough of that…. while we're engaged in a prolonged era of presidential indecency, from the Throckmorton Gallery in New York City comes the ethnographically authentic photography of two amazing women whose work captures the emotional caliber of Mexico.  In "Time of Change," Garciela Kartofel's essay in the guide to the exhibition, one easily comes to better understand and appreciate both the realized and unrealized dreams of our neighbors to the South, evident in the photographs of Lola Alvarez Bravo and Mariana Yampolsky. Kartofel also interviews gallery founder and owner Spencer Throckmorton, a long-time collector of photography by and about Mexico, among other things. Find out what makes him tick in this articulate Q&A.
Our New York Arts editor, Carl Oprey, has written a piece on the acerbic work of pop artist Bruce Nauman, now showing at the Museum of Modern Art in New York City, and their PS1 location in Long Island City. Perhaps calling him a pop artist is rather restrictive, inasmuch as Nauman's career ranges from the fifties to present day, and encompasses a wide variety of media and expression beyond Pop. Oprey's critical observations and references show he's up to the task.
It would be easy for me to go on about all the fine work in this issue, from due process and "Me Too," by Fabia Wong, to the elders of the Whitney Point (NY) Poetry group, the innovative "flash photo" fiction by William Crawford, the music of Europe in review by Fred Roberts, political commentary from Jim Palombo, a short fiction by Richard Kostelanetz, travel to Sierra Leone by Steve Poleskie, "A Crack in the Sidewalk," by columnist Barbara Rosenthal, an interview with artist and former Arts Editor Jose Rodeiro, and "tons more…"  You can sort through it all in "Contents." And when you're done, we're fairly certain you'll be left with plenty to think about…and, hopefully, wanting more.
Thanks for reading, and for spreading the word.
Mike Foldes, Founder/Managing Editor
See you next time.
The first time I saw Field Farm it was the dead of winter, snowless and charmless, but even so, something about the soft curves of the land and open space captivated me. As the realtor fumbled for the key to the modest house, with thick plastic tacked to its windows, I turned to look over the short-cropped, amber field, unfazed by the fierce wind that came from all directions at once. I wrapped my scarf around my neck and head, and stuffed my bare hands into my coat pockets. My shoulders lifted to my ears to close out the cold. I could barely hear the realtor's answer when I announced I was going there. And then the wind swept me out into the land.
read more