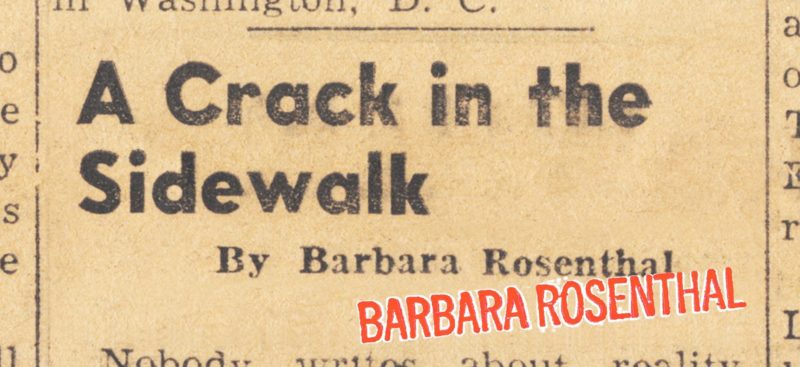 STUDIO ASSISTANTS:
Expect the Unexpected and What Else to Expect
by Barbara Rosenthal
Contributing Columnist
NYC Jan 1, 2019
H
appy New Year! Don't worry. I'm not going to write about the coming apocalypse. What is occasioning this month's column is a recent email from Ripley Whiteside, a wonderful studio assistant I had last year, who left for a full-time job but offered to continue helping via the net. I have been putting off hiring his replacement because I knew I'd be away on tour soon, and didn't want to cause a gap in a new-hire's employment. But beyond that civic concern, internally, the requirements of my multiple projects have been growing so complex that just doing it all myself trumped the dread of explaining and overseeing, at least until I get back (more later). That led to thinking about the nature of the job itself and also to doing a little research in my Archives.
I went to the file cabinets, and found the manila file Studio Assistants, which, since 1984 has enfolded papers from the unpaid Interns and paid Assistants who have worked at eMediaLoft.org, the studio I share with Bill Creston. The papers here present some kind of overview — our advertisements of the positions; statements of expectation from colleges that sent student-interns here; my evaluations of their work; and some correspondence.
I went to my desk, and found the Small White Binder Project Volume with the spine-label, Studio Assistants, 2018, to see what actual specific tasks I had assigned and are still in the binder. After completion, the pages move behind tabbed section dividers, or behind one labeled RETIRED PAGES. This volume has ten active, tabbed section dividers, in this order:
JOURNAL SCANS
SHOPPING/ERRANDS
iCLOUD
EMAIL LIST / RESUME / WEBSITE
HANDYMAN / CLEANING
BR BIO VIDEO
EDITIONS
TECH
So over the course of a few months, a typical Studio Assistant might be working on one ongoing art project comprising many elements (EDITIONS); two ongoing documentation projects (JOURNAL SCANS and BR BIO VIDEO);  a three-part ongoing career-updating backlog (EMAIL LIST / RESUME / WEBSITE); two kinds of studio maintenance (SHOPPING/ERRANDS and HANDYMAN / CLEANING); and two kinds of technical troubleshooting (iCLOUD and TECH).
I keep my own parallel Small White Binder Project Volume with its own set of tabs labeled according to my own concentrations. At the front of each volume is the task list for our day. Many pages accumulate there, of ongoing projects from preceding days, weeks or longer. Here is the page of a random day from the Studio Assistants binder:
Tues., July 23, 2018: 1-4PM
Fix the 2 electric wires
BEGIN TODAY: Tag the filing cabinets that need replacing / Show me. / Find replacements. / Show me / Order. / Accept delivery. / Show me. / Install — Replace the old cabinets.
Cut and pack Fly Paper Books edition final 6.
Cut, hole punch and ring bind Animal and Plant Joke Books, edition final 6 of each.
Our first experience with studio assistance came thanks to Claire Tankel, who ran the Arts Apprenticeship Program of the NYC Department of Cultural Affairs in the ex-Huntington Hartford Dali Museum with the circle cut-out white facade at 2 Columbus Circle. Jeanette Ingberman and Papo Colo introduced us to her at Exit Art in 1984, and Claire saw we could use some help. The Arts Apprenticeship Program was funded by the NYC Urban Corps, which in turn received funding from the Job Corps, a national program to assist workers, begun under President Lyndon Johnson. It paid $4/hr, which was above the $3.35 minimum wage at the time. Claire hired the applicants, who came from every walk of life. My first "Apprentice" was Stacey Brown, a secretarial aspirant who transcribed the handwritten Journal Volumes 25, 26 and 27 (Dec. 23, 1981- Sept. 5, 1984) that went into my book  Homo Futurus (VSW Press, 1986). Stacey sometimes brought her 4-year-old along to play with our daughter Ola, too. eMediaLoft was a raw A.I.R on the top floor of 727 Ave. of the Americas, in Chelsea. "A.I.R." was the "Artist in Residence" designation the fire department put on warehouse or manufacturing buildings that artists rented in illegally, to alert firemen there were people inside. We are in Westbeth Arts Complex in the West Village now.
An intern we are still in touch with is Adam Piken, who had been my Photography student at SUNY/Purchase first. And afterwards we were able to hire him for his own original audio soundtrack in a commercial venture. His 1993 SUNY/Purchase Career Development Office Request for the internship, is in the file. It lists under responsibilities, "Liaison to galleries / orgs." In later years, this was moved into within "Business Skills" and advertised as a separate position.
We advertised an internship to various colleges by splitting it into separate sub-specialties, with specific technical skills in each, the priority. We only wanted to fill one or two job-lines (and of course we never thought in these business terms at the time). One year, 2004, we filled three. We could use help in every field. No one had to be competent in them all, so some semesters an intern might do darkroom work, then next, another, website. In later years we have been able to hire more experienced, paid, Studio Assistants. I ask for a fairly broad range of general skills, for $15/hr, the current going rate for this job in NYC. When more expertise is needed, I don't offer "learn on the job." That can cost several hours and a shaky result, so for what neither Bill nor I nor the Studio Assistants can do, I hire an outside professional for $40-100/hr for a few fast hours.
An evaluation of an unpaid student-intern chosen at random from the file, reads thus:
Summer, 2004
           The New School
           Kurt Bayer.

           Kurt has always come early and stayed very late to continue to work with us on our projects into the evening. He has a lot of focus and drive. His knowledge of Final Cut Pro is very good to begin with and getting even more intricate, as is his understanding of the variables of DVD Studio Pro. He is a very good technician with a good, growing understanding of design fundamentals such as balance, as well as of the conceptual and organizational nature of esthetic editing and titling choices. He is becoming a good writer, too, with increasingly precise language skills. He appreciates and respects a wide range of thought.
A GREAT Studio Assistant seems to have a job-mindset like "art-butler" — personable, resourceful, efficient, organized, professional, intellectually adept at projecting the undertakings of their employer-artist to the extent that obstacles are cleared; preliminary tasks completed; materials readied for the next step only the artist can perform; then follow-up. Technically sufficient in various media or technologies; substantially skilled in at least one. A TERRIBLE Studio Assistant, on the other hand, doesn't see their role as "assisting." A terrible studio assistant spurns the grunt tasks that need doing, and instead attempts to hijack the project, tries to redirect the conceptual, design or manufacturing druthers of the artist. A Bennington senior once told me, "You can do all that stuff on your own, without me. I'm the only one who can do this!" What could I do? I shrugged and replied, "Don't let me stop you. Go work for yourself." An assistant must not take over the direction of a work unbidden. But sometimes, there is a freewheeling, lively, welcome collaboration, with due credit.
And sometimes, there is even fortuitous Dada whimsy accident, like when Montclair College student-intern Jamie Pena worked on Spine in Bluejeans Triptych. In 2003, my spine was X-rayed in two segments, upper and lower, but in different sizes and shades of blue-green. I gave Jamie the two big films, asking her to photograph them on the light table, and make a single composite in Photoshop, to be printed 400dpi, life-size. Neither of us noticed that Vertebra T-17 appeared in both plates. She stacked them one above the other, resulting in a gorgeous interlayering of blue-greens, and the mistakenly added stretch of one extra vertebra forms a bridge upward into a swiftly diminishing vertical scale and taper. The resulting image is of a spine like an exquisite, willowy reed rising toward the surface of a meadow pond, being anchored by an assertive X-rayed blue jean button and zipper at the bottom. Perfect! Better than imagined!
What should Studio Assistants expect from the job?
How to put one's skills to purpose. How art is conceived, fabricated, distributed, responded to and lived around. How to sharpen skills to achieve a "look" or a "feel" that isn't being described to you well in words. How to sharpen skills to achieve a "look" or a "feel" that might be beyond the usual limits of the materials. How doing something over is usually how things are done. Fair food allowance or lunch or break-time, etc. A contractual understanding of whether you love sticking around and working late and coming in extra days, etc etc, or whether you present a clear work schedule and stick to it. Lots of last minute things will pop up to interrupt ongoing tasks. Heavy, awkward objects, small spaces, grungy surfaces, wet or cold environments, difficult positionings: try to stay in shape, help the artist but unless of diminished capacity, the artist should be part of the work-crew, too; politely cease working if you are not up to it; don't injure yourself.
Try to leave the artist free for their own workday, but bring things over for a quick check or change. Develop an excellent memory, especially for locations of objects, and words spoken. Begin and end the day tidying. Follow the artist's protocols, look for "templates" for things. Don't start or suggest new "systems" for at least a year. You will meet a lot of interesting, influential people and have access to them, either by direct encounter in the studio or at an event, or by referral, but don't steal the address book (see my project Old Address Book). Don't steal anything, not objects or "ideas." Freely spread philosophy and anecdotes, naturally, but leave breakthrough art nuclei with the artist. Report damage and equipment failure. Stuff  happens.
So, as noted above, I have not yet found a replacement for Ripley. I plan to open the eMediaLoft.org Studio Assistant position to applicants in March. This month, Sat., Jan. 12, 6-8, come to my opening at the Mitchell Algus Gallery, 132 Delancey on Norfolk. My Conceptual Photo Distortions are solo in the back room through Feb. 17. I leave for Europe Jan. 20 to continue on in my "Seventieth Birthday International Retrospective" in Reykjavik, Helsinki, Riga, Antwerp, Brussels and Berlin. While there, I expect to get an idea for next issue, coming up March 1. Enjoy the winter!
---
About the author: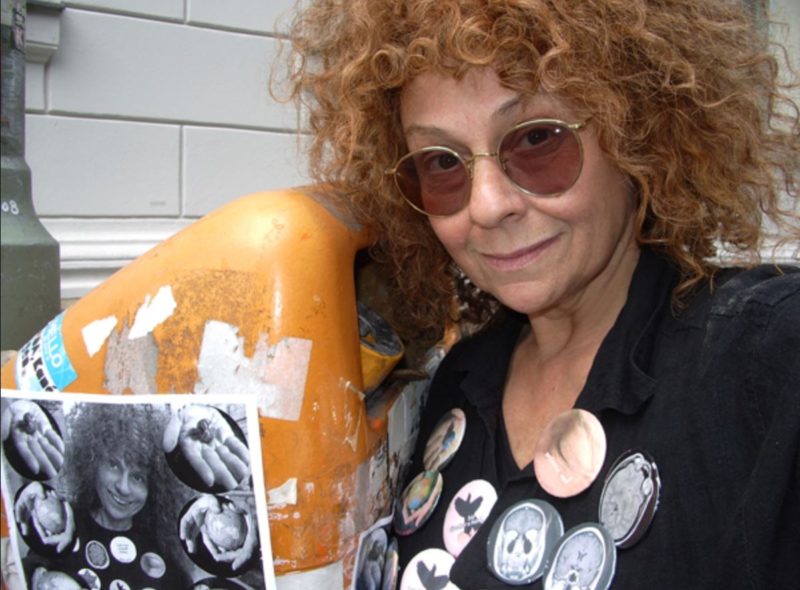 Barbara Rosenthal is an idiosyncratic New York artist/writer/performer/philosopher whose latest book, the novel,  Wish for Amnesia (Deadly Chaps Press, 2018) explores themes of idealism, innocence, esthetics, dimensionality, thought and corruption. She is particularly interested in the intersection of art and life.
About the novel: wishforamnesia.com
Calendar of events: http://www.emedialoft.org/artistspages/frameEleven.htm
To comment on this column, please message FACEBOOK:  https://www.facebook.barbara.rosenthal1.com
TWITTER: @BRartistNYC
WIKIPEDIA: https://en.wikipedia.org/wiki/Barbara_Rosenthal
WEBSITE: http://www.barbararosenthal.org
Bi-MONTHLY COLUMNS: Barbara Rosenthal, A Crack in the Sidewalk:
Nov-Dec 2018: Media Art Restoration: The Craft of the Art of the New Old New
Sept-Oct, 2018: Impositions or Independence: A Call to Reject Corruptions to the Artist

July-August, 2018:  Process vs Product: What is the Point of Art / What is The Interplay of Elements and Considerations in Artmaking
May-June, 2018:  Roles, Ideals and Job Descriptions: The Artist; The Viewer; The Naif; The Collector; The Curator; The Critic; The Art Dealer
March-April, 2018:  The Production of Meaning in Art Fabrication: What Are You Doing? Do You Know? When? Before or After? 
Jan-Feb, 2018:  Is There a Universal Esthetic? Naifs, Innocence, Education, Esthetics
Nov-Dec, 2017:  Journaling
Sept-Oct, 2017:  by this first sentence here now, back upon the Earth.