---
***
Baby, it's on you
by Mike Foldes
Review
I had a chance recently to visit the Karl and Helen Burger Gallery at Kean University in Union, New Jersey, where Brazilian-American artist and cultural activist Duda Penteado has a solo show running through to December 2. The exhibition is free and open to the public.
From the Kean website: "Penteado has lived in both the United States and Brazil for more than 20 years. His multidisciplinary work is based on performances, videos, installations, murals, sculptures, paintings, and other visual projects. He has dedicated much of his work to issues related to peace, globalization, dual citizenship, and other geopolitical and social problems of the 21st Century. He is known for pushing the boundaries of the status quo in order to improve society through the power of art." 
"Duda Penteado creates artwork that provokes us to think about issues in our social and personal world — the work is visceral and visually engaging," said director of Kean University Galleries Neil Tetkowski. "The installation includes sculptures made of real bones as well as high-tech video." If you are unfamiliar with Tetkowski's work, he's definitely qualified to interpret the world beyond immediate sensory impulses. His own exercises in clay far exceed what one commonly thinks of as "pottery." It's sculpture inherently impactful, especially when given further study.  
"The Burger Gallery exhibition includes a viewing room for Penteado's 2018 documentary film titled How Many Lives, in which he exposes how gun violence has affected a group of young people in Jersey City and across the nation. To explore this issue, the artist directed the creation of a 180-foot mural painting with the participation of young people who have been directly or indirectly affected by this type of violence. The painting of this mural is the subject of the film." Penteado has conducted a number of question-and-answer sessions following screenings of the film, which was the winner of the Spirit of NJ Award at the 2018 Golden Door International Film Festival.
I hadn't seen the sculptures incorporating bones, work that had been done early in his career in Brazil. The pieces, largely comprised of bones from cattle dressed with paint or other coatings and assembled in various combinations, present viscerally, as well as organically, telling stories of their own. Bringing these pieces to the States without damage was difficult and time-consuming, Penteado shared, but the added dimension to the artist's visions make it especially worthwhile for the viewer seeking continuity from his early work to more contemporary creations.
The sculptures, along with the paintings and the screening of the film, provide an informative retrospective of the artist's work and his perspective in a world where change too often features man's inhumanity to man, rather than progression to a Utopian "one world" where understanding and cooperation is more necessary and important than evident in what see around us every day.
Penteado also was one of the organizers of the We Are You Project International group to promote, in the words of Director Dr. Carlos Hernandez, "to inform, enlighten, stimulate, and educate the public on the many facets and realities of Latino identity as it emerged over the past four centuries and continues to evolve in this, the 21st Century." Find out more: A link to the WAY site appears below. 
---
Important Links: 
http://old.ragazine.cc/2013/11/brazil-transformation/
http://old.ragazine.cc/2012/04/brazilian-art/
http://old.ragazine.cc/2014/08/waypi-goes-to-colorado/
www.weareyouproject.org
http://www.dudapenteado.com
About the reviewer: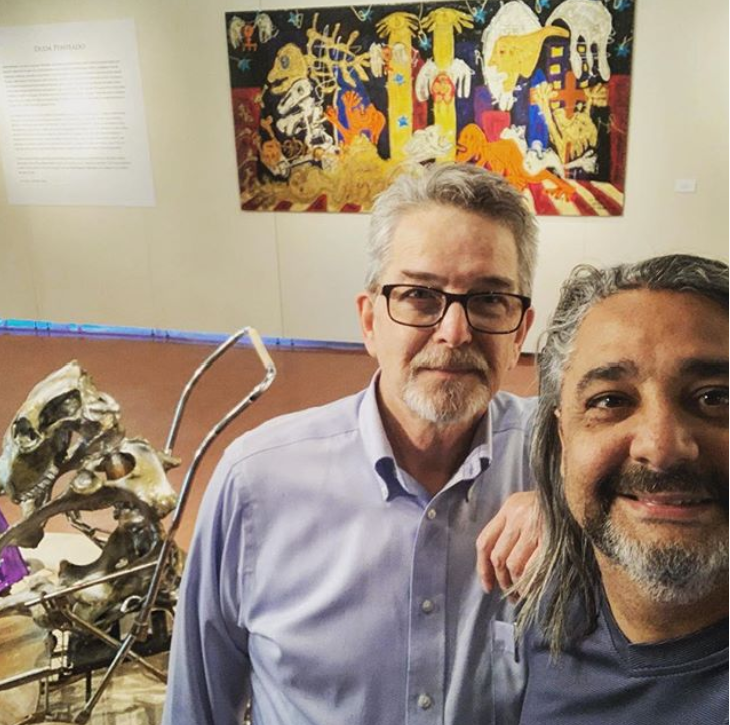 Michael Foldes, Founder/Managing Editor.  Mike is an electronics sales engineer specializing in electronic displays and power sources. A graduate of  The Ohio State University in anthropology,  he has edited and published magazines, poetry anthologies, chapbooks, alternate newspapers, technical publications, and was a news editor at High Times and an editor and columnist with Gannett newspapers in Binghamton, NY.
You can read more about him in About Us. 
Photo: Penteado & Foldes at Kean