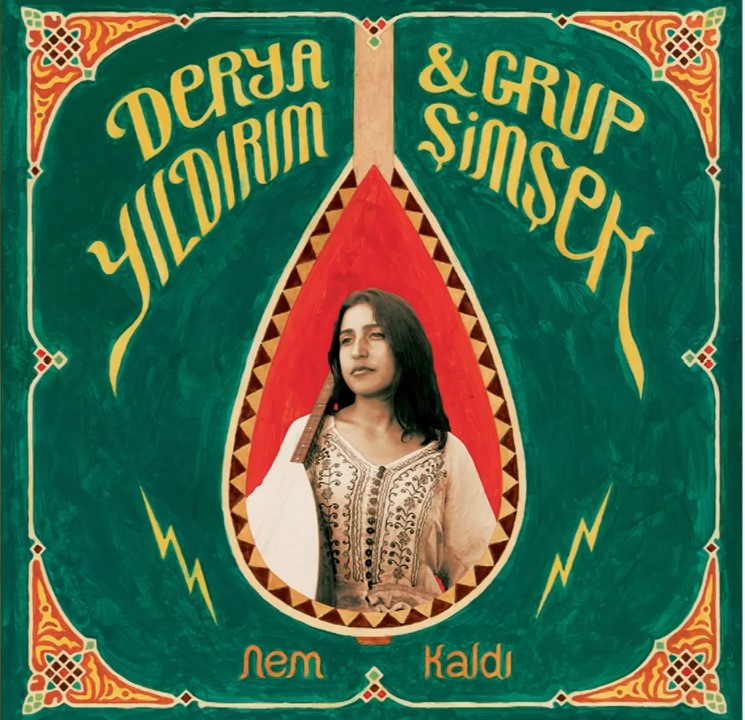 Anatolian Cultural Themes at Work Here
by Fred Roberts
Music Editor
"Grup Şimşek is an "outernational" band featuring Derya Yildirim, a virtuoso of the Turkish instrument saz, along with Graham Mushnik (organ) and Antonin Voyant (guitar) of l'Orchestre du Montplaisant and Greta Eacott, British composer and percussionist. Kar Yağar  is their LP debut, following their 2017 EP Nem Kaldi which put them on the radar with their unique blend of Anatolian culture. Folk songs in funky psychedelic interpretations with mesmerizing vocals in Turkish by Derya. It was a hint of what was to come.
The album holds 12 tracks, interpretations of Anatolian folk songs along with several original compositions by the band. The cultural moments they curated build a fascinating mosaic of Turkish culture and history. Üç Kız Bir Ana which opens the album tells the story of three daughters and one mother returning from the fields to discover the father has died. It's a song widely sung in the Kars region of Turkey, and shows us how his memory is kept alive by oral tradition. Hekimoğlu Derler Benim Aslıma sings of a virtuous rebellion, and its idolized hero, known for his bravery, courage and humanitarian nature. It would be fascinating to see how this story lives and evolves over the next generations. An especially poignant song is their version of Dom Dom Kurşunu, a song by Mahzuni Şerif based on a true incident. Şerif is playing his guitar and singing at a cafe, when a gunman tries to kill him. The bullet misses and kills a friend instead, the song written as his requiem. The songs are translated and explained in the liner notes.
One particular quality of the album transforms it into a notable work of art. It is the deep respect and appreciation that resonates from the interpretations. One senses the substance of culture that is brought to life. The band's own compositions blend seamlessly into this garden of homages, so that even if they are new, it seems as if they have existed for decades or longer. Seni Hala has to be a folk melody of ages past but it isn't. It is Derya's voice, her oud, the sound of a beautiful language that merge transcendentally in an entirely original creation. The piece Nefes, a lovely flute improvisation by Antonin, evokes images of ancient times, the sound carrying over the hills and into the moonlight as shepherds listen. Their instrumental Kurk defines the sound of the band: the tones of a church organ, sacred but at the same time playfully psychedelic, the bağlama following along, in a call and response with the electric guitar, and a steady rhythm that erupts into a dance. There is very often the sense of a communal dance, a fellowship of joy and celebration in the songs of the album, especially on Ey Şahin Bakişlim and Oy Oy Emine.
Two stellar moments present themselves on album. The first is the song Kar Yagar which means "snow falls" (words and music by Derya), a melancholy statement of lost love. Snow will fall in the summer since you are gone.  It makes me fall in love with Anatolian music. In Cocuklar (Children) the band pay their respect to the poet Nâzım Hikmet Ran (1902-63) with an instrumental including a narration of one of his poems by Derya's father. Mustafa Yildirim is a music enthusiast who taught his daughter to play saz. This album bears the fruits of that heritage.
---
About the reviewer:

Fred Roberts is a native of Cincinnati living in Germany since 1987 who enjoys subverting the arbitrary commercial process in which great works often go unrecognized. He has a dual B.S. in Computer Science and Psychology from Northern Kentucky University (1984) and a Masters in Psychology from Bielefeld Universität (1999). He contributed short stories to the early ezine "D A D A RIVISTA CULTURALE E/O TELEMATICA" (1995/96), and later to the short-lived Greenbeard Magazine, in 1997 receiving a Google Blog of Note citation for his Weblog indeterminacy.blogspot.com where he wrote 428 "one-minute short stories" inspired by found photos. Fred is also creator and designer of Elbot.com, an award-winning AI system. His interests include literature, film, photography and discovering all the well-kept sounds Europe has to offer.
And don't forget to check out Fred's monthly playlists!