Beast Boutique: Florist Shoppe 2 (France)
---
An American Witch in Paris  
by Jean-Paul Gavard-Perret
Contributing Art Editor
Jennifer Avery wants to be considered a witch. We agree (it's always dangerous to say "no" to such women…) The gothic and punk artist presents her poetry and her work in Paris. This opus is full of strange dolls.
They become transactional objects more than simple toys. Their body is not at all a beautiful mirror. The look creates a strange dialogue between the work and those who contemplate it. There is a promise of another horizon, another risk, plastic, but also existential.
Jennifer Avery veut être considérée comme sorcière. Pas question de la contredire ce serait trop dangereux. Punk et gothique l'artiste présente actuellement sa poésie et ses œuvres plastiques. Elles sont remplies de poupées étranges.
Elles deviennent des objets transactionnels plus que de simples jouets. Leur corps n'est en rien un beau miroir. Il crée un étrange dialogue entre l'œuvre et ceux qui la contemplent. Il y a là une promesse d'un autre horizon, d'une autre aventure à la fois plastique mais aussi existentielle.
Qu'est-ce qui vous fait lever le matin? La curiosité, la faim et la beauté.
Que sont devenus vos rêves d'enfants? Je les vis. Je voulais devenir un chat quand j'étais petite, devenue une sorcière de l'art j'en suis tout proche.
A quoi avez-vous renoncé? J'ai pratiqué la cartomancie avec les lames du tarot auprès de mon ami Alejandro Jodorowsky. Le Maître interprétait ce à quoi je devais renoncer comme n'étant pas bon moi ou risquant de me créer des problèmes. Ma chère amie Laurie dit toujours « tu dois t'arranger pour que tout soit bien et que tu puisses travailler».
D'où venez-vous? Je suis une chienne d'américaine. J'ai grandi et je rapetisse sur la côte Est. Mais ma famille vient d'Ecosse et d'Ukraine. Quand elle est arrivée pour la première fois aux USA en 1913 elle s'est installée à La Nouvelle Orléans.
Qu'avez-vous reçu en dote? Ma moitié écossaise se réclame du monde des fées et ma moitié ukrainienne des putains et des voleurs de chevaux. lol.
Un petit plaisir quotidien ou non? Je demande une immense indulgence pour chaque jour de ma vie.
Qu'est-ce qui vous distingue des autres artistes? Je suis une sorcière.
Comment définiriez-vous votre approche des poupées? J'ai appris à créer des poupées avec ma grand-mère puis j'ai étudié la sculpture à l'université. Les poupées sont des outils puissants et magiques en art !?
Pourquoi le choix de « Vinegar » (Vinaigre) comme aka? Le rythme du mot, l'odeur, les associations : Vous ne transformerez jamais le vinaigre en confiture… Un tigre est un tigre pas un agneau.
Quelle est la première image dont vous vous souvenez? Les dessins animés de Roméo et Juliette, des oiseaux morts, la lecture étant une lutte pour moi : certainement un alphabet.
Quelle fut votre première lecture? Je ne pouvais pas lire très tard dans mon enfance alors je voulais crée des poèmes, des scénettes, des histoires. Mes premières lectures furent mes premiers écrits. Mes miaulements pendant la nuit je les écrivais tout de suite en me levant. Je pense qu'il en était ainsi : je devais être un chat.
Lire est devenu plus facile maintenant. Je considère Edgar Allan Poe et Oscar Wilde comme mes pères et Anaïs Nin et Anne Rice comme mes mères.
Quelle musique écoutez-vous? En France je suis tombée amoureuse de la radio FIP. Habituellement je joue de la musique dans des groupes punk et gothiques donc je suis fréquemment poussé vers un monde émotionnel, théâtral et subversif.!
Quel livre aimez-vous relire? Beaucoup ! Actuellement « Ululu » (« L'Amateur d'oiseaux ») de Thalia Field et « What is not yours is not yours » (« Le blanc va aux sorcières ») de Helen Oyeyemi
Quel film vous fait pleurer? La catharsis est mon « sport » favori. Cela me permet de pleurer en lieu et place d'autres occasions où je devrais le faire. La beauté tragique et la poésie me rendent délicieusement sensible, comme la scène des obsèques finales dans le « Big Fish » de Tim Burton.
Quand vous vous regardez dans votre miroir qui voyez- vous? Une beauté enchanteresse, une importation ravageuse, un chat
A qui n'avez-vous jamais osé écrire? J'écris des volumes. J'ai performé mes poésies partout dans Paris principalement à partir de mon livre « Arch(i)texture ».
Quel lieu a valeur de mythe pour vous? Les lieux de ma famille d'origine : La Nouvelle Orléans, Odessa, une île dans le ciel. Les lieux de mes obsessions : la France, la maison de ma grand-mère, les cimetières, la forêt.
De quels artistes vous sentez-vous le plus proche? Louise Bourgeois, Paul McCarthy, Rachel MacLean pour les artistes. Je me sens très proche de Shelley Jackson et son travail de patchwork de fille.
Qu'aimeriez-vous recevoir pour votre anniversaire? Chocolat, pensées, taxidermie, tatouages, quoi que ce soit en velours.
Que défendez-vous? Le chaos, la magie, la beauté, l'espièglerie, le mélange des contraires.
Que pensez-vous de la phrase de Lacan : « l'amour c'est donné quelque chose qu'on n'a pas à quelqu'un qui n'en veut pas » ? Oh Lacan… Je me sens plus proche de Guy Debord et Brain Massumi. Aimer c'est donner quelque chose qu'on a à quelqu'un qui en a besoin. L'amour est une drogue. L'amour, l'amour nous déchirera de nouveau.
Et celle de de W. Allen "La réponse est oui mais quelle était la question?" J'ai tendance à penser qu'Allen est un pauvre type.
Quelle question ai-je oublié de vous poser?
Ma couleur favorite. Le Bordeaux : c'est sanglant sexy et sirupeux.
Votre animal favori ; les chats car ils sont mortels, chauds et gracieux.
Mon liquide corporel favori : les larmes causées par la beauté de la neige car elles sont à ce momentlà mélancolique.
Et enfin si je me suis réveillé dans une pièce sombre et que je n'ai eu aucune idée comment j'y suis rentré et comment trouver la sortie : je me sens curieuse, fâchée, excitée et affamé.
.
---
What makes you get up in the morning?  Curiosity, hunger, and beauty
What have become of your childhood dreams?  I live them! I wanted to be a cat when I was small, so being an art witch is very close to that.
What did you give up?  I just had a tarot reading with my hero Alejandro Jodorowsky and this was my question of the cards. Maestro Jodorowsky read that what I must give up is everything that is not me, or my need to worry. My dear friend Laurie always says, "You must surrender to the fact that everything is going to be OK and do your work!"
Where are you from? I am an American mutt. I grew up up and down the East Coast, but my family hails from Scotland, and the Ukraine. When the family first came to the USA in 1913 they settled in New Orleans.
What did you receive in dowry? The Scottish half claims descent from fairies, and the Ukrainian half claims whores and horse thieves (lol).
A small pleasure — daily or not? I demand a huge indulgence everyday!
What sets you apart from other artists? I am a witch.
How would you define your approach to doll work? I learned to make dolls from my grandmother, and then I studied figure sculpture at university. Dolls are a powerful tool in art and magic!
Why your choice of Vinegar as aka? The rhythm, the flavor, the associations: you'll never turn the vinegar to jam… a tiger is a tiger not a lamb…
What is the first image that challenged you? Cartoons of Romeo and Juliet, dead birds, reading was a struggle so certainly the alphabet.
And your first reading? I could not read until later in youth, so I would make up poems and plays and stories. My first readings were my first writings: meow through the night, and when I get up little footprints all in a row. I think it is, it must be a cat! Reading is much easier these days, I consider my father's Edgar Allen Poe and Oscar Wilde, my mother's Anais Nin and Anne Rice.
What music do you listen to? Here I have fallen in love with radio FIP. I used to play music in punk and goth bands so I am frequently drawn to the over emotional, theatrical and subversive.
What is the book you like to read? So many! I am currently reading "Ululu" by Thalia Field and "What Is Not Yours Is Not Yours," by Helen Oyeyemi.
Which movie makes you cry? Catharsis is my favorite; if it is made well and supposed to make one cry I usually do. Tragedy, beauty and poetry make me delightfully weak, like the final funeral scene in "Big Fish" by Tim Burton.
When you look in a mirror who do you see? A ravishing beauty, a mischievous imp, a cat.
Who have you ever dared to write to? I write volumes. I have been performing my poetry all over Paris, mostly from my book Arch(i)texture.
Which city or place has mythic value for you? Places of family origin: new Orleans, Odessa, the isle of sky. Places of obsession: France, grandmother's house, cemeteries, the forest!
Which artists and writers do you feel closest to? Louise Bourgeois, Paul McCarthy, Rachel MacLean for artists. I feel very close to Shelley Jackson and her Patchwork girl work.
What would you like to receive for your birthday? Chocolate, pansies, taxidermy, tattoos, anything velvet.
What are you defending? Chaos, magic, beauty, playfulness, the embrace of binaries.
What do you think about Lacan's sentence: "Love is giving something you do not have to someone who does not want it"? Oh Lacan. I am much more of a Guy Debord or Brain Massumi. Love is giving everything you have to someone that needs it. Love is a drug. Love, love will tear us apart again.
What do you think of that quote of Woody Allen: "The answer is yes but what was the question?"
I tend to think Woody Allen is a jerk.
What question did I forget to ask you? Favorite color: maroon, because it is bloody sexy and mischievous. Favorite animal: Cat because they are deadly, warm, and graceful. Favorite body of water: Tears caused by the beauty of snow because they are melancholy, beautiful and over dramatic. If I woke up in a dark room and had no idea how I got there and couldn't find a way out I would feel curious, angry, horny and hungry!
---
About the author: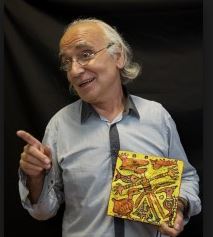 Jean-Paul Gavard Perret is a contributing editor to Ragazine.CC of On Location/France. You can read more about him in About Us. 
Présentation, interview et traduction de l'anglais (US) par Jean-Paul Gavard-Perret, le 17 décembre 2017.