MOTHER AND DAUGHTER
Growing up in the South,
she never felt she fit in,
being way too serious
and none too popular.
She came north to be educated,
and, leaning to the law,
clerked for a federal judge
and joined the Justice Department.
Reared among D.C. sophisticates,
her daughter returned to the South.
All that the mother had fled,
her daughter embraced—
football and frat parties,
good old boys and good-natured girls.
Prettier than her mother
and not so serious,
she countered blandness
with refinement
and reconciled her mother
with what she had rejected
and what had rejected her.
PROTEST POEM
       In memory of Katie Lee (1919-2017)
I only had a decade in Glen Canyon,
from my first visit to when they destroyed it.
In that blissful time when I was a river runner,
I swam in its potholes and waterfalls
and explored its hundred side canyons, each one unique.
The rapids and the breezes blowing over them
spoke to me like dear companions.
When I was with them, I never felt alone.
When they drowned that place, they drowned my whole guts.
I will never forgive the bastards. May they rot in hell.
My human race betrayed me, greedy fools
with the mania to destroy all the sanctuaries.
I don't care if we're all blotted out.
I'd rather be a coyote.
ACHALAY (REJOICE), FOR MUSIC IS EUPHORIA OF THE SOUL
In the Chiquitania, deep in the heart
of the Amazon basin, in plains
bisected by rivers, dotted with lakes
and swamps, flooded half the year,
the inhabitants built vast earthworks—
raised beds for farming, drained by ditches,
fish weirs, and canals and zigzag
causeways permitting year-round travel
in remote places unreachable by roads.
They were nomadic tribes
speaking unrelated languages
five hundred years ago
when the Jesuits established their missions
to protect them from the Mamelucos,
slavers who preyed on them.
Not with threats nor the sword
did the Jesuits evangelize,
but with soaring melodies,
sacred harmonies and counterpoint
played on organ, flute, violin, harp,
horn, cello, and viola—
sounds that pierced the hearts
of the Chiquitanos and the Guarayo,
who made the religion and its music their own,
lightened with their folk songs
and leavened of its sorrows.
They learned to build instruments
of native cedar and mahogany
that sounded true and did not warp or crack.
At night the fireflies glistened
among the heavy leaves of the mamey
and orange trees, and their music welled up
into the warm, scented air.
There never was a golden age;
their lives were often in peril,
and yet the eighty years of the missions
before the Jesuits were expelled
by the Portuguese and Spanish
seemed ideal compared with what came after.
Like its music, mission life
was based on order, harmony, hierarchy,
submission, worship, and celebration.
Crafts and learning flourished,
workshops, schools, and libraries,
a careful husbandry of plants and animals.
From a communal life arose a shared culture;
native words mixed with Spanish lyrics
among the ten thousand compositions—
operas, songs, cantatas, concertos—
preserved in the church of Moxos
long after the rest of the world
had thought them lost. In the years
after the expulsion, missions all over
South America were plundered,
abandoned, and fell into ruin. But not
in the Chiquitania, where the natives
claimed the Jesuit traditions
as their own to cherish and preserve,
not out of force, but from love.
They still care for the churches
with their balusters and cupolas,
live in the flat-roofed adobe houses
dazzling against the dark, metallic-looking
foliage of the trees, and travel the sandy streets
crossed here and there by rough-hewn stone
to break the force of water in the rainy season.
The people sit in the market-place
with baskets of fruits and flowers,
dressed all in white, their hair
cut square across the forehead
and hanging down their backs.
They are soft-voiced, keen-sighted,
and they say they are born with a violin
in their hand. Every child learns to play
an instrument. The older children teach
the younger ones.
Achalay, achalay!
Pputijnijpac, sosperar.
Achalay, chalay!
Llanquijnijpac, sollozar.
Achalay, achalay!
Rejoice, rejoice!
We shall grieve and sigh.
Rejoice, rejoice!
We shall work and sob.
Rejoice, rejoice!
NB:The quoted lyrics are from "Fuera Fuera," a villancinco or festal carol by Bolivian criollo composer Roque Jacinto de Chavarría (1688-1719).
---
About the poet:
Anne Whitehouse is the author of six poetry collections, most recently Meteor Shower (Dos Madres Press, 2016). She has also written a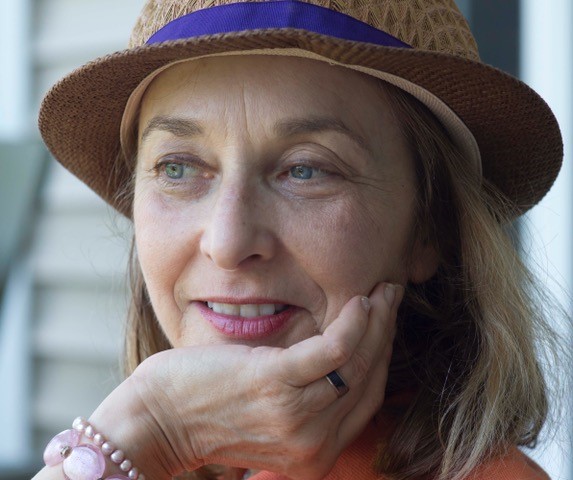 novel, Fall Love, which is now available in Spanish translation as Amigos y amantes by Compton Press. Recent honors include 2017 Adelaide Literary Award in Fiction, 2016 Songs of Eretz Poetry Prize, 2016 Common Good Books' Poems of Gratitude Contest, 2016 RhymeOn! Poetry Prize, 2016 F. Scott and Zelda Fitzgerald Museum Poetry Prize. She lives in New York City. www.annewhitehouse.com