Princess Nokia and Suzi Analogue
Rock the House at Villain
by Gregory Stewart
"My name is Suzi Analogue! We gonn vibe tonight!" A whirlwind of light beams out and around the crowd. A wall of sound comes through the two large towers of speakers hanging just above the stage from Analogue's table of DJ gear.  Her body surrounded by an austere aura of regal purple. Her outfit is a kimono-like robe with a pink bikini top and jean shorts, large-framed pink glasses, fishnets, and boots. Her pink hair shimmers each time she bounces with the music. The figure feels like a character out of a pop art comic but her performance feels like things I've heard in the underground basement venues of the LES. The high taps of trap, a low rhythmic drum and bass reminiscent of jungle house but a perfect attention to the reverb which harks back to the pioneer days of Jamaican dub.  The wubs of dubstep mixed with organs reminiscent of 1980 electro fill the large room more than the crowd does. This proverbial journey through sound was augmented by her voice, which she overlaid with highly processed effects. Suzi Analogue is a player in the international beatmaking scene. Suzi is originally from Baltimore, Maryland, but now bases all of her work out of New York City. She has collaborated with many important people on a variety of projects, both musically and politically. She has functioned as a cultural diplomat in Uganda for the U.S. Department of State through the hip-hop music initiative, "Next Level."
The milling crowd filled the warehouse space at Villain in Williamsburg between the performers with delighted vibrancy.  The whole aura was one of utmost excitement. Many took a step outside into the cool autumn air to smoke. The venue is located on Kent Street, right by the water in a neighborhood once populated with industrial facilities, warehouses, and lower-income families. Just a handful of blocks from the East River, everyone was now ready to turn up for this underground show in what is probably the hippest part of the city.
Princess Nokia took the minimalist stage with Analogue. The two have been friends for years, and clearly have a great performative energy together. Nokia started her set with a strong message, calling for everyone to give it up for the women in the venue. She claimed that every time there was an instance when women were put down, they only come up harder, they only make it louder. It sure got louder when she said this. It was satisfying to hear so much support for such a positive message. The crowd was largely comprised of younger women, my guess would be that the primary age range was 18-24. The atmosphere was vibrating with a feeling of togetherness and love. Nokia jumped from the stage onto the crowd, on top of a pool toy a few times. Honestly, this show was so much fun.
Princess Nokia stopped the show in the midst of an interaction between security and a kid who was smoking something in the crowd. She makes the issue about white supremacy only for the head of security, an older white gentleman to come over and continue to remove the individual with slightly more force than the African-American man who was handling the individual while Nokia was speaking to the situation. Nokia claimed this space to be safe for all black and brown bodies. She then made a comment about how to be a good weed smoker in a concert.
Nokia proceeded to light her own joints on stage during the performance of her next song. Nokia was sporting a Bulls crop top style sports bra, baggy beige pants, a leather belt with silver studded holes, and a pair of boxer briefs showing just above the belt. For her Bart Simpson song she donned the white sunglasses she wore for the remainder of the show. The bass heavy beats behind her raps are reminiscent of Aesop Rock while her witty cultural references littered with important social messages speak volumes that exceed the decibels in that warehouse space.
Nokia grew up between Spanish Harlem and the Lower East Side. Her heritage resides in the African communities of Puerto Rico. As a teenager, she was highly participatory in the club scenes of these neighborhoods. This is where she was introduced to a multitude of forms of music. She released her first song on SoundCloud and Youtube when she was 18 under the name Wavy Spice.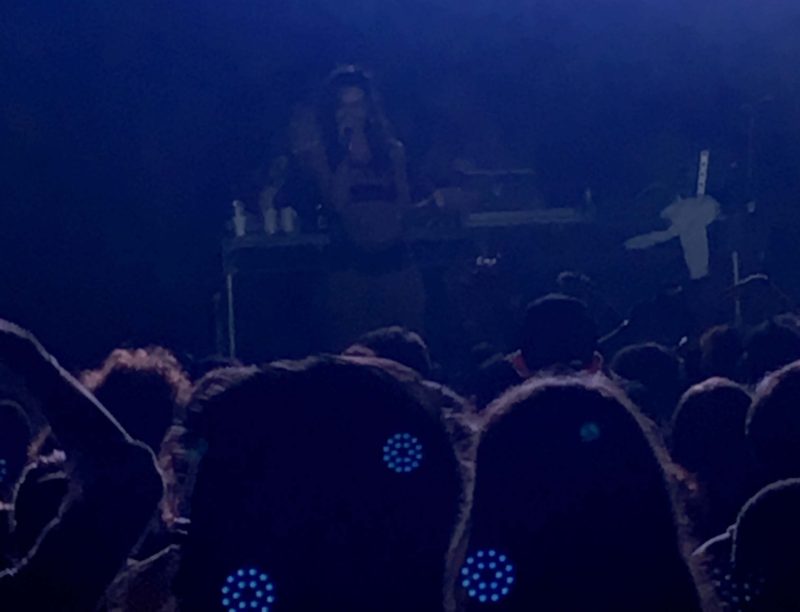 She changed her stage name after realizing that she wanted to expand her image and her sound. She adopted Princess Nokia in 2014. In an interview with Bullet Magazine she explained what it means to be Princess Nokia;
As Princess Nokia I can project the multi-dimensional aspects of myself that I could not express with the name Wavy Spice. I can venture into any realm of music or character of my choosing without confusion. I'm making worldly music—music that will talk to all kinds of people. Banjee girls in Harlem, teen brides in the Middle East, gay boys in East Asia. Labels no longer matter. My new music is cosmic and three-dimensional, and it will really speak of who Princess Nokia is. Princess Nokia is sound. It is progression. It is all that I am.
Nokia was approached by record companies after her first independent release on the internet. She decided to turn down the offers because she felt that they would put a lot of pressure on her to be something that she wasn't. She dedicates herself to creating new sounds and to representing the New York City underground musical culture. Her ambition to mix and match various genres and forms speaks to her abilities as a musician. She released the album Metallic Butterfly in 2014 through Vice's website and on SoundCloud. It has been described as a mix of everything imaginable, with African drums, hip-hop beats, weird jazzy melodies, and electro synths. Her high-tech-fairy-girl-music is a different sound. She pulls strands from so many places and weaves them together masterfully to send out a very important message.
Nokia represents the push for equality for people of color, LGBTQA+, women, and any groups that have been marginalized. She identifies with all cultures, but does so in a way that assiduously avoids appropriation. She never steps on anyone's toes, unless that person is harassing another individual. She stands by her convictions, as has been noted by many individuals. One experience which has made it into the public sphere was during a show at Cambridge University. A young, white male was allegedly screaming obscenities at her while she was on stage. Her response was to jump into the crowd, throw drinks at the perpetrator and give him a hefty slap before returning to the stage. She announced that that's what you do when a white boy disrespects you. Honestly, how can anybody argue about that.
All in all, this concert felt robust with the empowerment that she sends to those in the world who may feel powerless. It was a riveting performance that made you want to dance and jump with the crowd. She sends out as many good vibes as such a vehemently vocal performer could. I have the utmost respect for her for willingness to walk the walk. It isn't easy to turn down record-label money as a teenager for the sake of artistic integrity. It isn't easy to stand up against the powers that be in your world. It isn't easy to tell the world that no matter what your situation might be, you can rise up against  adversity. For all of that, I say thank you Princess Nokia.