FLYING HIGH, LYING LOW:
The Ups and Downs of an International Art Career
by Barbara Rosenthal
Contributing Columnist

Northern Hemisphere, March-April, 2019
March 1, 2019, BERLIN —
Whew! I am typing the first draft of this on Feb 10 while ingesting only a flagon of rum for breakfast with my last 5 euros in cash before sneaking onto the Berlin S-Bahn for a trip to Schönefeld Airport to see if I can change my ticket to leave Berlin 2 days early, though after my screening, because I was just informed of the immanent return of the person who normally occupies the room I'm being hosted in. If I move to another sleeping place, it would be my third move just in Berlin in a 5-day period. But then/now, through the magic of rewriting and time, it turned out that my host, the ever-smiling wizard Videokuenstler, Lars Künstler, only meant he was moving me to another room in his flat.
The previous week, however, in Brussels, after politely asking my host on the first night there, if I might take a bath, and been answered, "of course," the following night while drizzling water into the (very rare-to-find-at-all-in-Europe) tepid tub again, the bathroom door was suddenly pounded on and I was told in no uncertain terms that "there are rules my house" and that "shower it's ok, but bath expense! Get out!"
On the other hand, in Antwerp, a friend flew in from NY for a romantic, much-needed respite of 3 luxurious nights in a lovely, quaint budget hotel with hot-enough water and good-pressure shower. And in Cologne I paid for one night in a hostel single room, as I did on arrival to Berlin.
In Helsinki and Reykjavik I stayed in co-ed 10-bed hostel dormitories. Better than many, I must say, clean, fresh, respectful, and with good lockers. In most of the 19-bed co-ed hostels I've stayed in, particularly in in the East (Prague, St. Petersburg, Moscow), no one permits windows be opened, and by the end of a night the steaminess and male-farts have made the air unbearable. Americans enjoy fresh draftiness of windows and doors; much of the Northern Hemisphere sleeps stiflingly in summer.
This Jan-Feb 2019 tour of Reykjavik, Helsinki, Riga, Antwerp, Brussels, Cologne and Berlin has been a continuation of my Seventieth Birthday International Retrospective begun August 2018 on my actual birthday, at The Film-makers CoOp, directed by MM Serra in my hometown and base, New York City. I left NY on Jan 21, and, now as I redraft this March-April column, updating info since my tipsy Berlin breakfast, I have just returned. In NY, my Backroom Solo show of Surreal to Conceptual Photo Morphs, which opened Jan 12 at the Mitchell Algus Gallery before I left, was extended through Feb 24 after my return. Events are now beginning to materialize in Durham, North Carolina; Miami, Florida; Buenos Aires, Argentina; and Santiago, Chile for the fall of 2019, which would, truth be told, advance the birthday year past the summer, and thus into age 71.
Although my work does appear in countries at times I don't accompany it, and I do events in NY several times a month, my somewhat relentless international travel took a big skip during my psych-meds years 1997 to 2005, and then resumed with exhibitions, readings, screenings, installations and performances, mostly solo, in Beijing (2006); Moscow (2007); Berlin (16 shows from 2008-2019); Prague (2009 and 2010); London (5 shows 2010-2016, the 2016 by invitation of costume-performance artist Tom Estes); and Italy (5 in Barletta, Florence and Rome, 2015, by invitation of sculptor Claudio Scardino). This time in Europe I had 9 different kinds of video, performance and raconteur solo or featured gigs in 7 cities; 4 had been set up by 3 unrelated international artists residing in them, and 6 were street performances I did on my own.
I hear you ask about money (before I even tell you what I did).
        In the 1990s, when I first began touring (Paris, Brussels, Barcelona), even in 1996 to Vienna, Munich, Regensburg, Rovererto and Budapest with my collaborator Bill Creston and 3 children, ALL our expenses (air fairs, hotels, train tickets between cities, food and artist's fees) had been paid, without question, by the film and arts venues. In Hungary, György Galántai and Julia Klaniczay at Artpool Art Research Centre were especially helpful in housing us in a diplomatic mansion, and the more than 50 works they have subsequently acquired makes Artpool, currently, my largest collection in Europe. But even though my work is better-known now, money for its presentation is less forthcoming. An unexpected jolt of pleasure-payment, though, is that at almost every show, viewers tell me when and where in the world they've seen something before, and twice recently have offered future venues.
This trip, I earned €250 ($283.55) from the Finnish host-organization Muu, which means "The Other" and for which mine was their inaugural presentation. The event, arranged by their convivial director, Timo Soppela, was Raconteur and Videos, one of the 3 shows I did in Helsinki. I earned nothing for any others there or elsewhere this winter. I have never, however, ever paid to exhibit. My standing bottom-line is that I will agree to appear for free if audience entry is free, and that if food and or drinks are available, even for charge, I may eat and drink free all I want. This has always been granted by hosts, who usually even try to over-indulge me. Timo, Petri Kuljuntausta and Charlie Morrow, the innovative American-Finnish sound artist who extended the initial invitation and tirelessly put together 2 of the complex Helsinki events, producing much advance-work over many months, even arranged a fantastic surprise party, complete with birthday cake, in the Muu organization's snowy-night wonderland artists' park housing complex.
Wall shows, of course, garner potential sales, which was the case at the Visual Voice Gallery in Montreal, 2012, for example, reviewed by Natalie Zayne in The Belgo Report. But be prepared to arrange for shipping, or on-site framing or other display methods. Sales of books and videos in small quantities to individuals and larger quantities to universities, libraries and other collections, are also often possible. In my case they happen frequently, and sometimes can cover expenses.
This was especially true for my junket to Australia, 2013, when Monash University bought Existential Video Shorts, the expensive DVD compilation of 38 short-shorts I screened in their enormous theater as part of a 3-city, 8-show-and-radio tour reviewed by Cassandra Rijs in A-N Arts Network and by Philippa Hawker in The Sydney Morning Herald.  The beautiful, indefatigable performance artist, Rebecca Cunningham had extended me the invitation to Australia, and she found me housing with local artists, Sandra Carluccio in Sydney and with James Cunningham and Suzon Fuchs in Brisbane. But if you tour, and hope to count on such sales, prepare to physically carry a lot of heavy books, boxed DVDs and publicity materials with you, and to donate free several things in addition. Also be prepared to be hoodwinked by "collectors" who promise to send you payment or trade future accommodations for your works, which will never materialize. Universities also provide housing, as Monash did in Melbourne.
This is where I went just now, and what I did:
        Reykjavik, Iceland (1/21-1/26): Provocation Cards Interact, a self-initiated street performance hour in town square at jaw-dropping sunset. The front of the cards are in English, the back bears translations of the 6 countries I've done the piece in. I stayed 3 nights there, also getting over jet-lag and visiting glaciers, geysers, waterfalls, lava fields, the Northern Lights and The Mid-Atlantic Ridge.
        Helsinki, Finland (1/26-1/30):  
Existential Words and Moving Pictures,, A 3-part evening, Raconteur and Videos, I was invited to do by Charlie and Timo's group Muu in the Vuotalo Library and Cultural Centre. First, 30 mins of panel interview and reception in the Library, then 30 mins raconteur-with-slides followed by 47-min video compilation of 10 shorts (Fly Bus to Finland and Other Shorts) in the Vuotalo Theatre Klub, where 60 people showed up in a snowstorm. The second part of the bill was a striking 15-min piece by Finnish audio-video artist Pekka Sassi.
I'm Growing Up and Existential Ultraviolet Photo-Run Two, 2 mediated performances, at the charming, bohemian Lava Klub in the cave-basement of the National Theatre on the "Multi-Hat" bill with 8 local performers presented by Charlie, aka Mr. Bowler. It is advantageous to show with local artists because it's great to meet them, and they bring additional viewers, and you get to be featured as "special guest."
Provocation Cards Interact, an hour in front of the Helsinki Art Museum, out of which rushed 2 curators who heard I was outside in performance. I thought I'd be told to leave; instead they posed me for selfies. Very gratifying! But I always remind myself that an artist is the vehicle for the art, not a personality the art serves merely to glorify.
        Riga, Latvia (1/30): Provocation Cards Interact, a quickie in the RIX airport while changing planes and making sure I didn't attract attention of security. I didn't wear my usual Provocation Cards Hat, which, alas, eventually got lost in Berlin.
        Antwerp, Belgium (1/30-2/2): Provocation Cards Interact in the gorgeously restored gold-leafed town square during a spectacular sunset with drifting snowflakes. While in this beautiful small city for some r&r, I took a tram ride for fun to a neighborhood called Hoboken.
        Brussels, Belgium (2/2-2/6): Videos and Conversation, a solo 2 hours of casual discussion, slides of various works, and a 58-min video compilation, Boggle and Other Shorts at Nadine Laboratory for Contemporary Arts. I was invited here by the astounding Russian electronic-installation artist Alexandra Dementieva, whose own works will be in The Power of Intention show at the Rubin Museum in NY March 1 – October 14. Go see it.
        Cologne, Germany (2/6-2/7): Provocation Cards Interact, quickie in front of the centuries black-sooted otherwise magnificent Gothic cathedral.
        Berlin, Germany (2/7-2/12): Life in the Flesh, an hour of 6 stationary-camera "video vérité" shorts made with Bill Creston 1976-2019, The Haircut; The Bath; Pregnancy Dreams; Bird Rescue; In the Editing Studio;  and The Blow Job, during the Saturday evening screening-and-discussions of the Boddinale Film Festival. I was invited into this festival for all of its 7 years by its director, Gianluca Baccanico, the indefatigable Italian film connoisseur who invented an award for me 2 years ago, The Independent Life Award, which I mention now because that is the answer to the question I get so often about how such tours come about.
The answer is:
        I just go do something I want to do, on my own. Along the way I visit venues that interest me and happen to meet people likewise inclined, who sometimes turn out to like what I do, too, and stay in touch. I almost never formally apply for anything: no grants, no funding, no residencies, no curatorials. And I advocate this for every artist who has their own ideas and wants to spend most of their time producing them, and a bit of their time showing them to specific people and places they have reason to think would care — and to whisk through life-demands as expiditiously as possible.
I had been an adjunct instructor at various ranks and colleges in various subjects for a continuous 37 years, so some of my opportunities occurred during Spring and Fall semesters. I took the initiative to work out every kind of class-coverage possible, some even dubious or devious, to provide my students with meaningful learning-experiences relevant to the English or Art or Photography or Media subjects I was teaching, whether or not there was a physical-body instructor who'd exchange classes with me, and with or without administrative permission. I won't even go into the machinations undertaken to cover plants, pets and family responsibilities, and these past few years to cover my Medicaid-funded caregiving for erstwhile collaborator, Bill Creston, who will be 88 this month.
An interesting situation unfolded the first time I wanted to go to Berlin (June, 2008). I figured I would just do a Provocation Cards Interact in front of the premier venue, KW Institute for Contemporary Art. The piece itself had been performed live in the first place in 2005 when I crashed Roselee Goldberg's inaugural Performa festival, Performa 05, by handing out the cards (originally created as an independent, anonymous Mail Art piece in 1978, and then a video in 1990). I planted myself and collaborator Margot Niederland in front of Juan Puntes's White Box Gallery, reviewed by Milton Fletcher in NYArts, and then alone in front of the Guggenheim while Marina Abramović was reprising Vito Acconci's masturbation piece inside. But I didn't know if I needed a permit to perform on the streets of Berlin.
So I called around to many U.S. and German art and political offices until finally someone at the German consulate called me back to say he had set me up to be part of Wooloo, an organization running a performance art festival the week I wanted to be there! That unexpected windfall provided housing and a vast network of people, and led eventually to the cascade of 16 more shows in Berlin and a 2009 review by Clare Carswell in Flash Art International. What I am trying to say, is that if you think enough of your completed works to do whatever you can to show them on your own, others who agree they are worth seeing will help to make it so.
The Tate, by the way, bought 2 different Provocation Card Folios as I updated them and included translations, because all I did was go to the Tate Library when I was in London, ask at the desk if any of my bookworks were in their collection, and when I was told there weren't, I made an appointment with the Special Collections Librarian, Maria White, who bought about a dozen such pieces from me over the years. It helped, of course, that over 30 works are at MoMA and The Whitney in NY, but pretty much they got there in similar ways.
And, in 2009-10, several cards were made into billboards in Padua, Italy, because Padua happens to be the sister city of Prague, where I handed some out during the 2009 TinaB: The Prague Contemporary Art Festival, whose director, Monika Burian, happened to like them. See? One thing leads to another, if you keep doing things on your own. In TinaB 2009 and 2010, I represented the U.S. in both Text-based and Performance Art. But even being asked into that festival in the first place happened only because, on my way to to Berlin the year before, I thought I'd just visit Prague, and wandered into Monika's Vernon Gallery, and fell into conversation. I had no intention of anything developing from it, no idea she curated a contemporary arts festival in Prague or could have billboards erected in Padua.
This time, besides a few copies of Homo Futurus (Visual Studies Workshop Press, 1986), a prescient easy-to-carry 50-pg offset artists' book that I left as gifts for the artists in Brussels and Berlin who housed me in their own live-work spaces, I donated my latest book, the novel Wish for Amnesia (Deadly Chaps Press, 2018), to the Berlin Kunstbibliothek, an art-library that had purchased materials in the past. I might have been able to be paid for this book, too, but the librarian I've previously dealt with, Micha Lailach, wasn't in the day I brought it without an appointment. The librarians who were there were glad to add it to the collection, though, and I was glad enough they did. Among other reasons, I in no way wanted to carry that pretty thick book home again.
Airline regulations currently add baggage fees for both checked and carry-ons, and whereas I might have been willing to pay for bags on a single round-trip ticket to a single city, there were 6 flights this time. I brought only 2 small, featherweight, parachute-silk backpacks, which were free cary-ons. Baltic Air has an 8 kg (17 lb) limit, and the other airlines only 10 (22 lbs). Video and still cameras and 22 rolls of film, my books and DVDs for sale and gifts, press materials and program notes for the shows, an external drive and cables, a pair of orthopedic shoes besides the Clark ankle boots I wore, 3 types of inner-soles and 6 pairs of socks, (worn double all the time) accounted for most of my 8 kg. My iPhone Health app logged 5-10 miles of walking per day. Be prepared!
Interchangeable all-black clothing comprised a few pair of small undies and a cami, 2 pair of thin leggings and 3 rayon tops, which could be layered. The black cami and panties passed as a bathing suit the 3 times I found local natural springs to soak in, free in Iceland to anyone my age. Rayon is a natural fiber made from trees, dries fast when hand-washed, and can be packed into tiny rolls. My largest garment was a white rayon full length caftan I needed for the Lava Klub performances in Helsinki, but it doubled as a nightie. Extra clothing, such as thin sweat-pants, a flimsy ankle-length lightweight cotton culotte, a large button-down rayon shirt and a thin woolen sweater, I bundled up in and wore aboard the aircrafts, peeling items off once seated. For the 7-hour train ride Brussels-Cologne and Cologne-Berlin, I stuffed them into a shopping bag. Trains don't have unreasonable carry-on limits. My outer-garments were an orange parachute-silk, down "sweater" I'd bought at REI Seattle in 1973, under a 6-oz black, ankle-length sharkskin-nylon raincoat I'd bought in 2002 at a Pittsburgh Salvation Army.
So, what's coming next in terms of touring? And how?
           Charlie Morrow has known my work for 30 years, Alexandra Dementieva for 12 and Gianluca Baccanico for 7, but sometimes things might be telescoped if your work gets out there. Last summer, I met a video artist/curator at a White Box opening in New York, who is trying try to arrange for shows together in Miami and Buenos Aires. Last month, I met a performance artist/curator at my mediated performance I'm Growing Up at Lava Klub in Helsinki, who had seen its first iteration at Grace Exhibition Space, Brooklyn, in 2013, and asked me about joining her in Santiago, Chile. Last week, I met a video historian/maker/curator at PPOW who said, "If you're ever in Durham, North Carolina…" I answered with a great big smile, "I'll come if you invite me…" So she did! Thus a southern tour for autumn is shaping up (and 2 more invitations to Berlin next winter — again the Boddinale, and a green-screen/stop motion performance video project with Christa Biedermann, whom I first met at the Brussels Super-8 Festival in 1990. These trips will all be with housing! So bon voyage to you for all your own adventures out of town — be strong!
---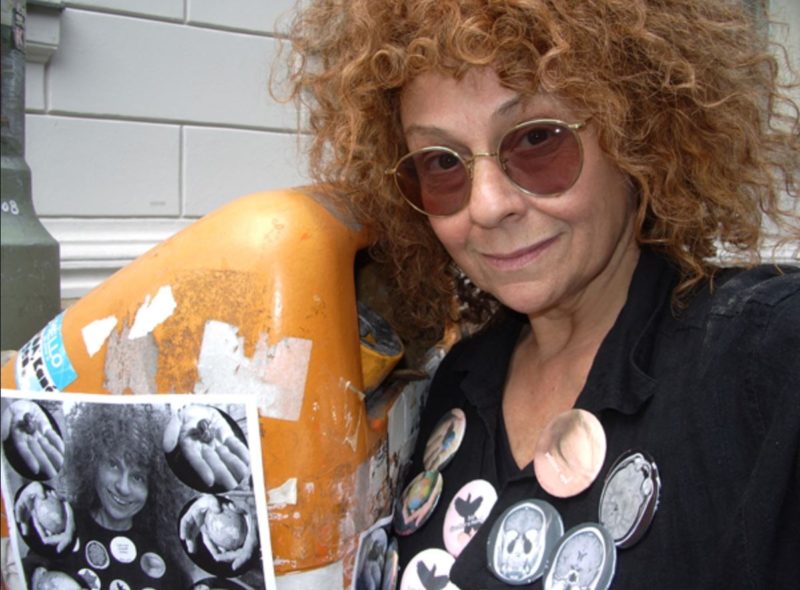 Barbara Rosenthal is an idiosyncratic New York artist/writer/performer/philosopher whose latest book, the novel,  Wish for Amnesia (Deadly Chaps Press, 2018) explores themes of idealism, innocence, esthetics, dimensionality, thought and corruption. She is particularly interested in the intersection of art and life.
About the novel: wishforamnesia.com
Calendar of events: http://www.emedialoft.org/artistspages/frameEleven.htm
TWITTER: @BRartistNYC
WIKIPEDIA: https://en.wikipedia.org/wiki/Barbara_Rosenthal
WEBSITE: http://www.barbararosenthal.org
To comment on this column, please message FACEBOOK:  https://www.facebook.barbara.rosenthal1.com
Bi-MONTHLY COLUMNS: Barbara Rosenthal, A Crack in the Sidewalk:
Mar-Apr 2019: Flying High, Lying Low: The Ups and Downs of an International Art Career
Jan-Feb 2019: Studio Assistants: Expect the Unexpected and What Else to Expect
Nov-Dec 2018: Media Art Restoration: The Craft of the Art of the New Old New
Sep-Oct 2018: Impositions or Independence: A Call to Reject Corruptions to the Artist
Jul-Aug 2018:  Process vs Product: What is the Point of Art / What is The Interplay of Elements and Considerations in Artmaking
May-Jun 2018:  Roles, Ideals and Job Descriptions: The Artist; The Viewer; The Naif; The Collector; The Curator; The Critic; The Art Dealer
Mar-Apr 2018:  The Production of Meaning in Art Fabrication: What Are You Doing? Do You Know? When? Before or After? 
Jan-Feb 2018:  Is There a Universal Esthetic? Naifs, Innocence, Education, Esthetics
Nov-Dec 2017: Journaling
Sep-Oct 2017: By this first sentence here now, back upon the Earth