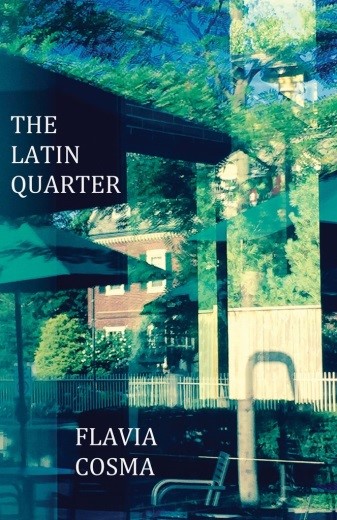 The Latin Quarter
by Flavia Cosma
ISBN #-13: 9778-1-941196-21-2
$14.95/paper…94 pages
MadHat Press
http://madhat-press.com/collections/hot-off-the-press/products/latin-quarter
Is life the way it should be?
Review by Antoaneta Turda
This question whizzes through my mind after reading the poetry book The Latin Quarter by Flavia Cosma, published in 2016 by MadHat Press, North Carolina, USA. If we are to take these poems as reference, surely it's hard to provide an answer to the question. My affirmation is based upon the way the Romanian-Canadian poet Flavia Cosma sees life itself. Written at maturity, after a series of troubling experiences, this book of an astounding realism, is nothing else than a quest in pursuit of the mirage of an all-saving love. We find the reason for this search here, in the words of the author:
Life diminishes until
It becomes no more than
A mathematical symbol,
A dot on the path of the sky,
A possibility on the horizon.
While love,
Grows impetuously careless of the passing of time… ("Now Life, Now Love…")
Solitary, the poet sets up on the arduous path of life, guided by the hope that perhaps she would be able to conquer all its provocations, thanks to the sentiment of love, love in all its possible aspects:
A love for nature as a Divine gift, that the author masterly invokes in the poem My Man, My Tree, the filial affection tied closely to the memory of her parents and grandparents as in The Soul of the Dead, and love as a strong bond between two persons, capable of creating a new family—I Gathered It All…
Embodied in these three aspects, love expands its tentacles as far as the most hidden fibres of the human being subjected to the impetuous passing of time that's always lashing at the body and soul thirsty for affection. "You are naked, facing \The world and time" (City's Arches), exclaims once the poet feeling helpless before a life of frustration, life reluctant to show its feeble and sporadic beauty. Constantly searching for her own inner equilibrium, attentive at her surrounding, Flavia Cosma seems to permanently conduct a monologue or carry on a philosophical conversation with her beloved, as we can observe in the poem "You, Keeper of Mysteries…":
Spin a parable only for my use.
            Tell me of a time that will never be
But never was, either,
Spin a deceptive bed-time fairy tale
Where you picked me from amid the stars
From arms of angels with slithery
Quicksilver bodies.
Of an extreme lucidity, despite her overflowing imagination, Cosma is a poet of contrasts who uses with dexterity the words to speak about "the air that, leavening, draws silt" or about "the bronze of statues that transforms to gold or to green, blissful water, that covers the beloved's alabaster hands".  This antagonist manner of watching the world doesn't generate passions but only a profound state of contemplation where one recognize now and then an interior struggle inevitable while she finds herself in the trenches of life. Sober, with profound feelings, the poet doesn't make a stand for changing the world, being aware that it would be futile, but asks herself questions, as we all do, either we acknowledge it or not.
The contemplation as modus vivendi makes the poet draw very close to the Divinity whom she invokes with intense feelings: "Be condescending, Father! / Lower upon me your steely eyes" she exclaims fiercely in "Ardent Prayer."
This approach to the tragic condition of a human constrained by his own helplessness, takes astounding capacities in the poems of Flavia Cosma, who through a very clear and concise  expression, without stylistic innovations, is capable to convey with maximum of accuracy, the bitter tossing and turning of destiny.
Placed under the sign of an absolute veracity, the poems of The Latin Quarter make one think of the impressionist poetry rather than the XXI poetry, crushed by all kind of anxieties, which Flavia Cosma only suggests, helped also by a very evocative coloristic palette especially prominent in the poem  "Colorful Hills":
…Heat scorches all in its big furnaces,
Wholly transforming
The Templars 'shadows walking through ruins,
Green and blue fields,
And the forest's leaves—red fans—
Into silvery smoke, into ashes of oblivion.
 
A late rain licks dried river-beds,
Touching in passing your absent ankles,
With voluptuous wings
Of emerald and sun.
The lecture of this book, a book with such a seducing title, is provocative, because within its 90 pages we can recognize our own lives, with its fascinating lights and shades, and we are getting carried away by the seduction of verses as "The silvery alphabet of leaves" and by the almighty, all-saving love.
About the reviewer: 
Antoaneta Turda is a Romanian, reviewer, essayist, librarian and scholar, working and living in the charming Northern Romanian city of Baia-Mare. ()
---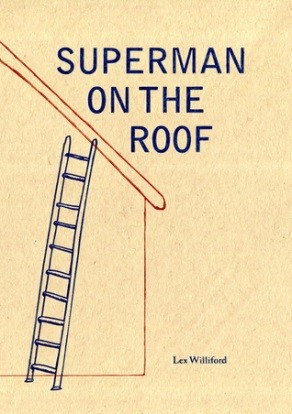 Superman on the Roof
by Lex Williford
Fiction
Rose Metal Press, 2016
$12.00, 56 pages, paperback
ISBN: 978-1-941628-06-5
Superman on the Roof
Review by Charles Rammelkamp
Winner of Rose Metal Press's 2016 Short Short Chapbook Contest, Lex Williford's Superman on the Roof is a haunting series of stories told in the voice of Travis Truitt, the oldest of four children. While they are told years later, the reader gets a strong sense of the child's consciousness, his helplessness against circumstances way beyond his control or comprehension. Travis is ten years old when his younger brother, Jesse, dies from a blood disease. In his introduction to the collection, judge Ira Sukrungruang reflects on the interconnectedness of all things, like the butterfly effect, and certainly the death and rage and grief persist down the decades, affecting the lives of the survivors in these ten linked stories.
The stories jump back and forth in time, which subtly emphasizes the yoyo effect of the emotional and psychological impact of the child's death. Jesse dies at the age of three in 1965, and the collection begins three years later with "The Coat," in which Travis is punished first by his seventh grade teacher, for insubordination (he refuses to remove his coat in class because he is cold) and then by his father, viciously with a belt by his father in the iron-cold of a Texas winter, this time for the insolent, sarcastic essay he writes in detention, on the teacher's orders.
Indeed, violence is how the parents tend to react to the anguish of the loss of their son. Travis' childhood seems to be one beating after another.
The second story takes place a year and a half earlier, in July, 1966, eight months after Jesse's death. In this story the sister, Maddie, acts out by way of resurrecting Jesse, insisting on playing in his wading pool and then running naked out into the street, as she and her brother had done the summer before. Her father gives chase but their dog Reveille is struck by a car. We learn later that its leg had to be amputated, a constant reminder of the guilt, to Maddie, who later goes through rounds and rounds of drugs and therapy, in her adult life.
In the third story, "A Rose for Sister Carmel," we at last revisit the day of Jesse's death, how his siblings, attending a Catholic elementary school at the time, learn that their brother is dead, secondhand, on the playground.  The son of one of the hospital nurses breaks the news in the heedless way of schoolkids, before the Truitt parents can tell their children.
The next four stories take us month by month from March to June of 1966, one sad brick after the other added to the foundation of the Truitts' despair and dysfunction, but also fleshing out who this family otherwise is or might have become. We gather that they are otherwise "normal." The father is a small businessman whose architectural firm is struggling. Cruelty and hostility do not seem to be part of the family's fabric until the truly awful befalls them. The medical expenses for Jesse's care take a huge hit on the family's finances. Tempers fray and the parents turn to drink.
The family is already floundering, but at the end of the fourth story in this sequence, "Texas State Optical,: in which Travis, always in trouble with the nuns at his school, gets a pair of eyeglasses. He has needed them for a while, adding to his behavior problems in class. Texas State Optical is the cheapest place to get glasses – the family needs all the help it can get.
But something seems to change for Travis at the end of the story, some emblematic metamorphosis. True, his parents will continue to beat him, but the story closes with these paragraphs:
The whole time Jesse was sick, every tree is summer had been a giant blur of a bruised gray and green like a thundercloud building on the Dallas horizon, but now I could see the individual leaves, thousands of them, their sharp outlines coruscating in the wind.
I let go of my mother's hand.
"I can see," I said. "I can see all the leaves on the trees."
It's clear that in some sense Travis is growing up. At eleven he has matured and gained a kind of confidence and independence he did not have before.
The final three stories take place in the twenty-first century but yoyo back and forth from 2000 to 2015 to 2012, again in the haunting way of nightmares. These stories all take place at Christmas, which we all know can be the bleakest day of the year. Moreover, "Superman on the Roof," the title story which takes place on Christmas Eve, 2015, not long after Travis' father's death, involves the family watching heretofore taboo home movies of little Jesse. Travis' father had hidden these away in a cigar box, ne administering a beating to Travis when he showed one to his brother and sister, These movies show us Jesse in clips from 1963, 1964, 1965. Jesse had worn a Superman outfit his parents had given him after his first coma, and he refused to take it off. In one, Jesse is shown on the Truitts' roof, striking a pose worthy of the Man of Steel, cape flowing behind. How Jesse happened to be there by himself and how his father came to take the movie are part of the story.
Travis' father suffered from Alzheimer's at the end of his life, and the forgetfulness had its rewards. Just as he tried so hard to repress the horrible memories, as symbolized by the cigar box with the forbidden films, the release from memory resulting from Alzheimer's has its blessings for him – and for Travis, watching his father, and there can be no more potent symbol of the haunting persistence of tragedy in individuals and families than this.
Superman on the Roof is a moving, melancholy collection but with glimpses of solace and redemption throughout, and for Travis, at least, the narrative ends precisely with these images of deliverance.
About the reviewer: 
Charles Rammelkamp is Prose Editor for BrickHouse Books in Baltimore, where he lives, and edits The Potomac, an online literary journal – http://thepotomacjournal.com . His latest book is a collection of poems called Mata Hari: Eye of the Day (Apprentice House, Loyola University), and another poetry collection, American Zeitgeist, is forthcoming from Apprentice House later this year.
---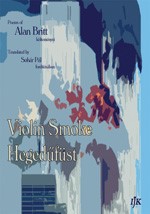 Violin Smoke
by Alan Britt
Translated by  Paul Sohar
Hungarian Publisher:  Irodalmi Jelen
(ISBN number:  978-973-7658-45-6)
http://shop.irodalmijelen.hu/forint/
For U.S. orders:
Vida Publishing
233 Northway Rd.
Reisterstown, MD 21136
Cover price:  $14.
Violin Smoke 
Review by Steve Barfield
Alan Britt has been familiar to the poetry scene since he was an undergraduate at the University of Tampa.  Even then he was one of the most published poets in America. When Britt was in the Writing Seminar at Johns Hopkins, Director Elliot Coleman proclaimed him one of the most published graduate students ever to enter the program.
With this in mind, it is not a surprise that this poet would appear in other languages.   His poetry has been translated into Spanish, French, German and now Hungarian.  Britt's latest book Violin Smoke is translated into Magyar by the renowned Hungarian translator Paul Sohar.
Britt's poetry is fresh, subtle and intelligent.  Britt develops his own language which is immanently available.  Britt offers a dense concrete image that confers meaning on several levels at once.  From the short poem "Destiny," Britt investigates poetry itself:
Each poem has its own feral destiny. So, why interfere?
Intellectual leaps are obtained
through blind faith anyway
or, we could continue slinging
fresh feces from behind the bars
of our miserable cages.
He offers a clear and concise vision and with the use of "our." The reader is included an intelligent moment of surprising intensity and into the universe of the image. His pacing offers rhythms that seem conversational.  This easily invites the reader to the experience.   His visions are stark in their simplicity.
From a poem titled "Alone with the Terrible Universe" Britt writes:
A dog,
a small brown and white
dog barks
across a dark sea
of crickets
all hunched together
like millions of glistening coquina shells
on a black shore.
You can feel the cool breeze of the evening blowing through his vision.  His images draw on many value referents found in nature.  The poet stands in awe of what is possible in nature.   This poet is not in the business of explaining away natural mysteries, though his art depends on them.  His pen finds the hard edges of truth creating an experience that flows intuitively through the poem with an organic logic that is immediately accessible.
The author turns to an old friend Yves Bonnefoy, paying him tribute.  Check this out:
Yves shows us blood illuminated by lightning
             and verbs that resemble swallows
             swarming around an abandoned church.
Britt is able to perfectly mimic Bonnefoy's poetry style as part of the tribute to the famous French poet.   Too, Bonnefoy is one of Britt's translators.  Britt's images are brief and highly accurate, avoiding long involved verse that struggles for relevance.   He creates a minimal language and with this economy creates a totally unique experience.  In the poem titled "Irony":
However, if we're lucky,
a few authentic moments
trickle from the gaping wounds
of a suffering Bartok violin.
For this poet the moment is the prize.  It is an encapsulated segment of time and space which he shares from an existential isolation.  Accuracy is what communicates and Britt is always highly accurate.  It can be no surprise that such an accomplished poet would achieve such an International presence.  Upon reading Alan Britt you will see why he is so well subscribed by so many publishers.
About the reviewer:
Steve Barfield makes his living as a Medical Journalist and editor working out of his Tampa, Florida home.  Chiefly, his expertise is in the nutrient iron's role in human health. He is a screenwriter and a playwright but is best known as an established poet of the Immanentist style of humanist poetry.  He has published several books.
Paul Sohar's work and translations appear frequently in Ragazine.CC.  He is a poet, translator, and writer, and lives in Warren, New Jersey.
Editor's note: Alan Britt is the book review editor of Ragazine.CC. You can read more about him in About Us.
---