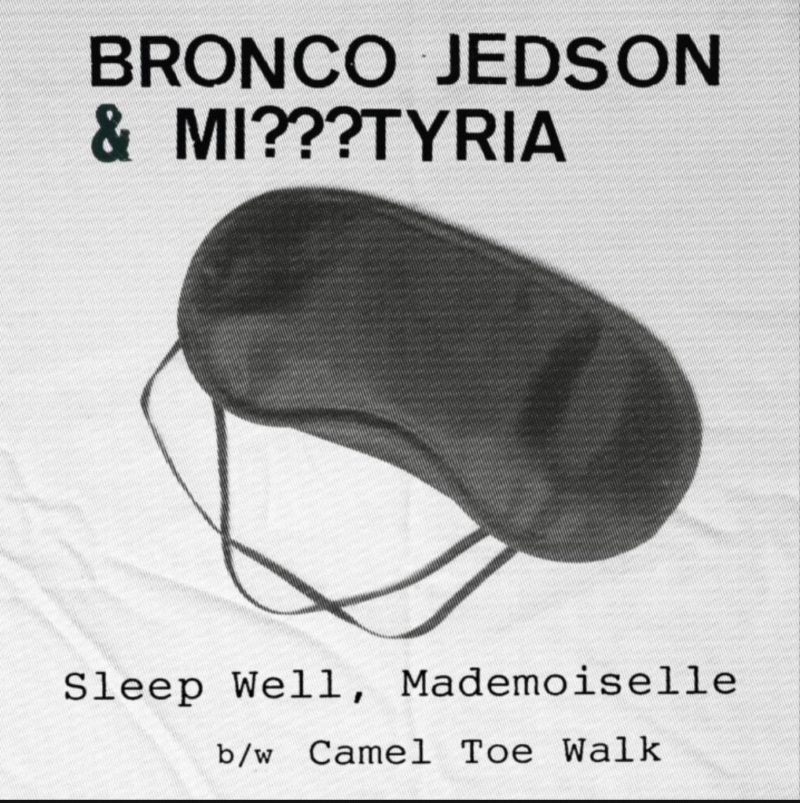 Bronco Jedson & Mi???tyria
(Amateurs For Life Records)
Bronco Jedson & Mi???tyria is a name reminiscent of ? and the Mysterians and simultaneously a reference to the band's location – Graz in the Austrian state of Styria. This is a clue to the kind of devious masterminds we're dealing with. It also hints at the mystery surrounding a band made up entirely of pseudonyms and next to no internet presence.  The references to Bronco and Jedson show their love for vintage Japanese equipment: the Squire Bronco and the Jedson guitars. Bronco Jedson are vocalist and frontman Mi???tyria who performs in a mask and wearing a fez, Captain Elektro on bass, Doktor Lumbago on guitar, and Madame Piff Paff on drums. The main online  information about them are a page in Discogs listing their entire output, several 7" singles since 2016 and a Youtube channel sharing audio clips of their repertoire. There is no Website, and no Facebook fan page, no Instagram. Their events are shared by a Graz DJ Mr. Farmer who has his own program on FM4, the country's cool station.
---
The wicked sense of humor is confirmed by a listen to their songs, any one of which might turn up on Dr. Demento's radio show. On their debut single in 2016 Mi???tyria goes from counselor to counselor and repeats his Lack of Ambition. On the B side he waxes philosophical about Barking at the Same Fly. Single number 2 contains the disturbing Sleep Well, Mademoiselle. Hard to imagine a creepier line than "I love to watch you in your sleep, when your breath is going deep" though there are quite a few more in the song. The B-Side Do the Camel Toe Walk is a dance craze nobody asked for that finally degenerates into the cries of a crazed hen. A subsequent cassingle holds two versions of the song Nights in Chicago, one in German, sung by Mi???tyria, and the other in Russian, sung by Madame Piff Paff,  offering a fascinating comparison to the two approaches, as well as diversifying the band's output. It's a cover of 1950s/60s Austrian exotica, as found on the recent Schnitzelbeat collection. An ultra-limited single-sided single (10 copies only!) is Mi???tyria Dreaming About Numbers, bombshell measurements it seems, fantasizing himself into a frenzy. The latest single One Day One Night is about all the permutations of love, boy meets girl, girl meets girl, girl meets wolf, boy meets boy which is what any reasonable love song should be about. It's backed with Hey Björn Borg which seems like a duet between Borg (Mi???teria) and one of his groupies (Madame Piff Paff).
The music is a fuzzy kind of garage rock with deadpan vocal delivery by Mi???tyria. It's raw, it's amateur, it's trash and somewhere tapping along the rim of insanity. This could not be any better. Maybe Fred Lane has some bastard kids in Austria that he doesn't know about. If not, they must have met at a self-help group for therianthropy. No EP or LP is planned. In the opinion of the band, 7″ singles are the perfect medium for rock and roll. In my opinion this emphasizes the love and attention to detail that went into each song they recorded.
A deeper search of the Internet turned up a band description at a Japanese Webpage, Bronco Jedson and Mi???tyria in their own words:
"Bronco Jedson are an Austrian (not Australian) garage rock band in love with Japanese guitars from the 60s. We play music inspired by eleki teenage attitude. We put the wabi-sabi into garage rock. We are amateurs for life and our minimal drums and vintage instruments don't leave room for perfection. Yes, our songs are about werewolves, monkeys in space and tennis. Having seen it all and reached it all, Bronco Jedson decided not to play stadiums anymore. A ground-level stage in a small room full of people reaching their forties, that is where we belong. See us play, make rock'n'roll memories."
https://www.discogs.com/artist/5330550-Bronco-Jedson-Mityria
https://www.youtube.com/channel/UCELm7PwdtGT-yEd8N6-AYxg
---
About the reviewer:
  About the columnist: 

Fred Roberts is a native of Cincinnati living in Germany since 1987 who enjoys subverting the arbitrary commercial process in which great works often go unrecognized. He has a dual B.S. in Computer Science and Psychology from Northern Kentucky University (1984) and a Masters in Psychology from Bielefeld Universität (1999). He contributed short stories to the early ezine "D A D A RIVISTA CULTURALE E/O TELEMATICA" (1995/96), and later to the short-lived Greenbeard Magazine, in 1997 receiving a Google Blog of Note citation for his Weblog indeterminacy.blogspot.com where he wrote 428 "one-minute short stories" inspired by found photos. Fred is also creator and designer of Elbot.com, an award-winning AI system. His interests include literature, film, photography and discovering all the well-kept sounds Europe has to offer.