The Invisible Man
By the window, on a black bone chair
the germs leave your body through smoke.
Can two tandem blankly
to bash out a cure?
I have read that drones die
in the act of mating.
Honey-stomachs busting
in the rub of it.
The longtime residents
warned me, wind-bitten and slow,
how the storms can peel off
a fishing boat's skin.
By the window, watching men
furl their sails, slick bag balm
along their limbs—turns out
I'm a lasting woman.
From you: blue beads round my neck
a graceless gossamer—
I'll hide within your passing shelter.
Question
Didn't the dog ruin the flowers,
didn't the stems break, weren't they a symbol
didn't the summer come,
or the nights shorten
to woolly bursts
wasn't the firmament clipped
to make us feel safe—
oscillation and blue heat.
Didn't we stop moving, wasn't the
winter ended a long time ago—
I remember how sky faded clear
in a plastic screen, and wasn't it a symbol
didn't drops fill the street
I don't see your car
through clear drops, banging on the street
didn't I want that rain?
Time Travel
Every day I am young again
in a dirty brown house on the mountain.
I want to carve out my recollection
like the core of an apple
I want to carve out the pit of my country,
discard it under the dirt.
Malevolent weeds pop up like cold sores on the landscape.
Do you think I am the slit in a floor-length dress?
Do you think I am here to look good for you?
Every cut of cloth hugs me mercilessly
a slip of venison strung outside.
Warning bangs the inside of my chest
I am carrying a child. Getting her out of here.
---
About the poet: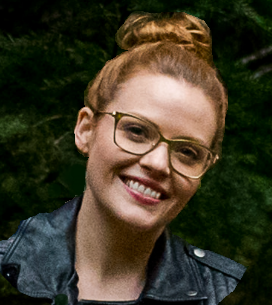 Cammy Pedroja is a poet and journalist living in Portland, OR, with her husband and daughter. With an MFA from Columbia University and a Ph.D. from SUNY Binghamton, Cammy's work has appeared widely in publications including FIELD, Mid-American Review, PANK, and New England Review.