Crystin Moritz photo
---
***
The Brilliant Dilettantes:
Modern experiments in Art & Music 
Introduction
One often hears the deliberately misspelled term "geniale Dilletanten" in Germany used to describe a performance that floats in the realm between virtuosity, art and experimentation. The term originates from a festival in Berlin 1981, performances which blurred the borders between music and art. The bands Einstürzenden Neubauten and Deutsch Amerikanische Freundschaft are alumni of that movement, to name the most famous. Roughly translated "geniale Dilletanten" means brilliant dilettantes. If Dali sat down to play the piano it might not be a world class concert, but it would be extremely interesting. The legacy of this movement lives on in Germany, as witnessed by recent exhibits in Hamburg and other cities, but also as furthered by contemporary (performance) art(ist) groups, one of which is Club Fortuna of Vienna.
Club Fortuna is a collective of four alluring lady artists: Kurdwin Ayub, Xenia Lesniewski, Julia Rublow and Sarah Sternat who together are reinventing the boundaries of art, and in so doing, creating a radical countercultural universe of their own. The group visited Hamburg earlier this year at three events organized by gallerist Frank Breker. This was weeks ago, but the intoxication is still floating around in my head.
Act One
The first performance was actually of Strand, a side project by Julia and Xenia, of songs falling definitely into the category of the "geniale Dilletanten". They appeared as part of a main event curated by Mariola Brillowska, one of the most radically provocative artists of Germany's underground. Xenia is a former student of hers with a number of film animations on her resumé. Mariola's exhibit was a collection of music videos by female artists/musicians in Germany held at the Frappant Gallery and including titles from musicians like Mary Ocher and Chicks on Speed. The exhibit was named Big Girls, big in the sense of empowered.
Julia and Xenia, supported by Jessyca Hauser, Gene Galaxo und Marfa Masternak performed an unplugged version of two Strand songs, including Spitzen spuren – an intriguingly absurd text of picking raspberries while fighting off wasps, and the subsequent salvation. They set it to a seductive choreography merging elements of medieval circle dance with the modern dance movement. Meanwhile, I felt the beginnings of an addiction.
Act Two
Two days later at Haus Seepferdchen (House Seahorse) the Strand appeared again to celebrate the release of their EP Aminorex with what can be described as a post dada karaoke performance, a genre which I had never imagined before. It is hard enough to get one's mind around the delivery, ranging from faux little girl voices to relaxed mature girl intonations. The lyrics convey the same sense. Some might have been written when the artists were nine years old, but at sudden turns are laced with profundities that go way beyond those years.
Witness a song about baking paper and chicken (Backpapier), or one about the human brain (Menschliches Gehirn) which repeats several sighs, and finally the realization that "the human brain is simply very simple."
My favorite passage is from Höhle Hölle Servus (Emptiness, Hell Goodbye), in translation:
Today, tomorrow, or the day after
I need another glass of water
The bare existentialism
Emptiness Hell Goodbye
The girls sang along to the programmed tracks, karaoke screen in view of the audience, and everyone invited to join in. Definitely a playful, partying mood.
With their octuplet of songs Strand present a return to the feminine psyche in the moments before coming of age, analogue to Alice in Wonderland, achieving seduction via the path of total innocence. A clue to the intention is the  completely non-sexualized content of the songs. The nearest allusion to sensuality is the passage "vereinen wir unser Luxuskörper" (Let's combine our luxury bodies) in the song Hol mich hier raus Schatzi (Get me out of here deary). A video for one of their songs was nominated for the 2016 Muvi contest in Oberhausen, Lichtwelle (Wave of Light): https://www.youtube.com/watch?v=mhVvVpHrfBA
A second EP is planned for this summer as well as an additional music video and the launch of their publishing house Furor Verlag specializing in art editions: http://www.furor-verlag.com.
Strand auf Soundcloud: https://soundcloud.com/ssstrand
Act 3
The final event took place at Galerie Oel Früh Cabinet, Club Fortuna's project "Klimaanlage" (Air Conditioner). We saw a room with three square card tables, and some chairs. The ladies of Fortuna entered the room and began their efforts to decorate the room in a most dynamic and volatile manner. The goal of the action, as Club Fortuna informed me later, was a literal and symbolic cleansing of the room to parallel the restaurant installation of the venue. While one of the team spread a mixture of soap and water over a section of the wall, another brushed her teeth, still another prepared a mixture of liquids, another drank of the wine available in abundance. Even a toilet brush was at hand, to apply cocoa powder onto sections of the wall. At one point Kurdwin peeled off her jeans to sit in the plaster and water intermingling on the floor. This was all accompanied by occasional outbursts of playfulness with one of the artists spraying water or dumping the undefinable substances onto one of her sisters. An industrial PVC strip curtain separated the spectators and artists, and was occasionally splashed by random materials.
The action reached its climax in a feast with wine, and a symbolic consummation of the artistic act by means of a round of cigarettes. Altogether Club Fortuna presented an orgy of sensuousness that finds its place as a counterpoint to hedonistic sexuality as a destructive force, as presented in the classic Czech film Sedmikrásky (1966) (Daisies). In the Club Fortuna variation this positive sensuality becomes instead a primal force of creativity. They themselves describe the action as "a semi-permeable procedure of continuous cleansing which functions as an inevitable requirement for well-tempered freshness."
The dedication to their art is sincere, and for those of us watching it was difficult not to succumb to the fascination, the delectability and the intellectual seduction of their combined actions. Free of alcoholic influence, I stumbled home, carrying the voyeuristic impressions of the raw, carnal creation of art, and the affect still hasn't left me.
http://www.clubfortuna.net
---
About the reviewer: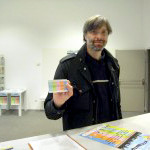 Fred Roberts is a native of Cincinnati living in Germany since 1987 who enjoys subverting the arbitrary commercial process in which great works often go unrecognized. He has a dual B.S. in Computer Science and Psychology from Northern Kentucky University (1984) and a Masters in Psychology from Bielefeld Universität (1999). He contributed short stories to the early ezine "D A D A RIVISTA CULTURALE E/O TELEMATICA" (1995/96), and later to the short-lived Greenbeard Magazine, in 1997 receiving a Google Blog of Note citation for his Weblog indeterminacy.blogspot.com where he wrote 428 "one-minute short stories" inspired by found photos. Fred is also creator and designer of Elbot.com, an award-winning AI system. His interests include literature, film, photography and discovering all the well-kept secrets Europe has to offer. You can read more about him in About Us.