© Curtis Salonick
The Departed 2
---
Pennsylvania GOTH
"The goth subculture is a contemporary subculture found in many countries.
It began in England during the early 1980s in the gothic rock scene, an offshoot
of the post-punk genre" … from The Urban Dictionary
♥
In May of 2013, we featured the work of German-American photographer Guenter Knop.  Guenter suggested that within his circle of friends and acquaintances were several artists/photographers whose works deserved mention. It's taken quite a long time, but we finally connected with one of those friends, Curtis Salonick. Salonick lives in the northeastern Pennsylvania city of Wilkes-Barre, what used to be known as "coal country," just a few miles from Scranton, childhood haunts of (for example) former Secretary of State and New York State Senator Hillary Clinton, and former Senator and Vice President Joe Biden. From a quick look at Salonick's website, one quickly understands the influence of the "dark side," for his exploration into the reaches of the human psyche go beyond the norm. Salonick's world is not populated by ordinary street scenes, or casual fashion photography, but by images that combine imagination and relativity in stark and often eerie detail. In this short e-interview, the artist-photographer explains how he came to expressing himself in this unique and impressive style. And why he has never seriously considered leaving the city he calls home.
With Ragazine editor Mike Foldes
RAGAZINE: Why photography?
Curtis Salonick: I would imagine because of my impatience  and its immediacy.  As a young man in grade school, I tried my hand at painting and sketching, even taking some private lessons in high school.  But I could not really decide on any one direction, realizing that I lacked the patience required and maybe the skill.
So on the auspicious occasion of my sixteenth birthday when I was presented with a 35 mm Pentax K-1000 film camera it seemed as though I had been handed the answer to my creative problem.  Since the camera allowed me to record an image in its entirety with the mere push of a button (if one could ignore the fact that it had to be sent out and  took seven to 10 days to develop and print the images).  So began my photographic journey. My first subjects were pets such as frogs, snakes, turtles and the outdoors, since I enjoyed hiking with friends.
After high school I enrolled at a local community college with the goal of being a science teacher. While continuing my education I pursued my photography both professionally and creatively but still did not consider it as a viable career path.  However, that would all change in June of 1972  because of a devastating flood named Agnes. I found myself on the doorstep of our local newspaper with camera in hand asking if they needed any photographic help. The answer was a surprising "Yes," when the editor said go and photograph everything you can. So I did… learning as I went along.
I graduated from community college with an associate degree in 1973 and decided to go full time with my photography, establishing my own business while still freelancing for the newspaper until 1978.  Due to a strike, I left the newspaper and concentrated fully on my business and artistic endeavors.
I learned a lot from the newspaper not only in the field but in the darkroom. As a result of these experiences I came to recognize photography's Narrative role, both editorially and artistically differentiating between the two.  No longer considering my landscapes, sunsets or any other scenes that reflect reality as art. Realizing that in order to reclassify a photographed image as an artistic representation, the image maker must make a physical change to the reality of the image either prior to its capture or in post production.
My first artistic realization came in 1978 when I found away to alter the appearance of an original  Kodachrome slide image by using a series of litho masks in the darkroom. This process allowed me to re-designate the colors represented in the original slide.  I printed the resulting image on Cibachrome print material and named it a litho-chrome print. This process satisfied  me for awhile, but it was too limiting.
My true epiphany happened in 1989.  When, while sitting at a traffic light on a hot August day, I noticed a row of elongated windows.  When the light changed, I made my way to the building and found the owner. I asked if I could see the space.  He, of course, thought I was crazy but said yes and took me there.  We went up four flights of steps to the top floor of the building. Upon entering the room I first noticed that it must have been empty for some time.  The only thing in the room was a scattering of small plastic swimming pools used to catch the rain from  the leaky roof. I next looked over to the windows, which to my disappointment were covered by insulation. Not a problem said the owner as he proceeded to tear off the insulation from the first window.  The light that filtered thru the dust was inspiring. So I asked the owner if I could photograph here.  He hesitated, not understanding why anyone would want to photograph there, but then said yes.  I returned to the space mostly on weekends.
This space and its emptiness would have a profound effect on the direction of my work, changing the approach to what I  photographed and how I photographed it.   Since whatever I photographed would be dependent on me to carry it up four flights of steps.  This change went further than the physical location and props used.  It was a psychological shift introducing for the first time the nude human form. It also brought about a change in hardware from 35mm and color to a 4X5 Cambo-Superwide camera with a 65mm lens, and to T-Max iso 400 black and white sheet film.
This shift to a larger format brought about a new opportunity in the darkroom, as I found the means to combine several negative images by contact printing them using black and white duplicating film. The result was a composite negative creating an image that did not exist in real time. I stayed in the space approximately ten years, until it was time to leave. I took what I learned and built my own space.
I was slow to come to digital, not making the transition until 2006, due primarily to commercial pressures. But when I did make the switch, I quickly found a way to mimic digitally what I was doing with film, with in-camera overlays and in post-production methods, such as using Photoshop.
Q: Is Goth a reflection of your mood?  Inner thoughts?
CS: I would say a little of both. But to understand why, you need to understand a little bite about me and how I view the world.  I see the world as a petri dish where we represent just one biological smear, an enigma torn between our physical reality and its emotional dependencies.  We don't have a soul but a conscience that does not always serve us well.  My work is an exploration of our physical and emotional boundaries and the resulting conflict between the two.
Emotions are how we respond to our physical reality, they are the consequences to an action.  Emotions are how we rationalize the events in our lives.  Physically these events are represented by our mortality and sexuality. While emotionally they are expressed thru feelings  of virtue and evil. Evil is a self destructive human affliction that exists nowhere else in the universe.  From our physical and emotional commonalities, we create realities. These realities are how we cope with our lives and are represented by the family, religion, government, and global warming.  But even the most basic of these realities the family is represented by our sexuality.
The purpose of all life is expressed thru our sexuality, everything else is the time we spend in between.  The origin of all emotion is contained in our sexuality, emotions are like tiny molecules attached to the atom of our sexuality.  And nowhere is this more evident than in the nude form, stripping away the confines of our social inhibitions and exposing our vulnerabilities and insecurities with the naked truth of who we are.
Q: You are self-taught, but along the way you probably met some people who influenced you more then others. If so who are they and what affect did they have on you?
CS: I admire the works of many and believe you can not go thru life without being influenced by life's interaction. Art is for the most part the retelling or re-asking of the same stories over and over again, but retold in the artist's own words.  Art is what is human. It is a purposeful act of human intent and not a random assurance or circumstance.  All art is a reflection of our physical and sexual interaction.
Q: You live in Wilkes-Barre, as I understand it, a coal mining and rail center in Eastern Pennsylvania. Have you always lived there, and how has that locale influenced your work?
CS: First of all I don t believe Wilkes-Barre can be categorized in those terms any longer.  It is a much more   diverse place today.  I believe it would be the same effect that any physical or social economic environment would have on anyone's life. It is up to the individual to find his or her own path and persevere, ignoring the distractions of every day life and the pronouncement of doubt by those less enlightened.
Q: If you were to move to another place to live and work, where would it be?
CS: Have not given that much thought.
Q: Do you also paint? Draw? Write?
CS: I use to paint and draw. I do attempt to write.
Q: Is there anything else you would like to add.
CS: First, allow me to say that photography represents a unique discipline that does not require the moniker of Art to be considered relevant.  However, having said that I must admit that Photography's role as Art is often misunderstood based solely on the existence of an image, not taking into account how the image was achieved.  The difference is clear when photography is practiced in its traditional role as a Narrative representation of a time or place the participant plays a more passive role acting as an actuator in a process that employs a device that records an image in its entirety.  While in the traditional  presentation of  Art the practitioner  plays a more direct role in the physical shaping and forming of the  raw materials used in the creation of a new reality from the start to its completion.
However in order for photography to transition to a more creative role. The image maker must take control of the scene and make a physical change to its reality. This can be done in the physical world prior to the recording of the image with the repositioning or the redirecting of the existing elements, which comprise the scene or in post-production either in the darkroom or digitally in a creative program such as Photoshop.  But of a greater significance to the integrity of the originality of the image is the introduction of original content which is unique to the image maker's message.  The resulting image is still not the art, but a representation of the physical scene created.  It only becomes something else when the original scene has been dismantled.   If before this occurs another should photograph the same scene having not contributed to its originality, then said image reverts back to the Narrative representation of a photograph.
While there is no doubt that the digital platform offers its practitioner the greatest array of opportunity to make changes to the image such as the adding of texture, the manipulation of color or the distortion of the entire scene.  While these changes do affect the appearance of the image they are superficial to its content.
---
Curtis Salonick/Photographer
[layerslider id="25″]
All photos by Curtis Salonick, used with permission.
---
This e-interview was conducted in October-November 2015.
About the interviewer: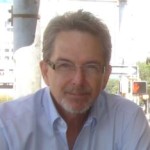 Mike Foldes is the founder and managing editor of Ragazine. You can read more about him in About Us.