Musical Molotovs: Burn and Bludgeon
By Fred Roberts, Music Editor
Wilhelmine Show Me the No No No
In time for the January 20 inauguration of America's 45th president, the venerable Austrian institution Wilhelm Show me the Major Label has pulled off a coup of its own. WSMTML is a noteworthy independent label situated in Graz, purveying a trove of musical freshness out of the central European region.The compilation goes by the name Wilhelmine show me the No No No. The no-nonsense description on the Website sums it succinctly: "This is a feminist zine about saying NO that comes along with a cassette tape about saying NO for all the times you don't want to do whatever thing you don't want to do." Magdalena Gasser and Lina Gärtner are the project's curators.
In a set of songs split into side A and side B thirty different grrrl bands contribute their approach to saying no. You will find no seductive sirens or bedroom voices in this compilation. Altogether the compilation is more like an instrument of blunt force trauma to the patriarchally defined worldview. The styles range from punk to lofi pop to rap to electronic to post punk and beyond. The approaches range from brutal directness, a chorus of nos by the Razor Cunts: No no no no, no no no no to metaphorical ingenuity (The Dives, Upwards) "There's something on the roof that is looking down at us," and Cry Baby with the pleasing sound of Popsicles. However delivered, there is nothing subtle about the message. The band Identified Sound with No Way sweeps away all the cliched re-interpretations of no means yes and discards them in the trash.
One by one the songs dissect the power of patriarchy, which strives to dictate standards of beauty and roles and behaviors for the genders. The songs also reveal facet by facet that this is not only a feminist struggle but a struggle for universal human rights and the survival of the species. Henry H. (Isolta Avila) in No makes that point with "I say no to global warming" while the Viennese band Шапка (Schapka) states the universality of the struggle with No no no: a declaration that "feminism is not a radical theory against men" delightfully intertwined with a chorus of surreal and orgiastic Nos, culminating in "all genders unite." King's Queer in No Future enumerate a long list of ways moralistic thinking threatens to reduce life to an empty existence: "No fuck, no suck, no queer / welcome to a boring life."
These thirty musical Molotovs are suitable for long term listening, and especially for the years immediately before us. The songs offer solidarity and strength to anyone who is oppressed and influenced by societal pressures presuming to define roles to the genders. They offer enlightenment to those who violate the integrity of another person. No means no, and what message could be more liberating?
Aside from the message, the Wilhelmine set is a gateway to a wealth of bands you never heard of but will definitely want to know better. Heading my current list for further exploration are the artistically innovative Croatian band Žen with several albums in Bandcamp (https://xzen.bandcamp.com), Lizzy & The Goldsoundz who contributed a sure summer hit titled Not arranged for guitar and violin, and Kristy and the Kraks whose No No No No No captures a sweet '60s garage sound.
Two of the bands represented on the sampler have been favorites of mine for several years. Lady bands, each of them, from Graz, singing in English, and with vinyl and digital releases. Just Friends and Lovers and Maneki Nekoč. They are intriguing in juxtaposition because of their differing approaches to music, but with equally fascinating results.
Compilation description and listing
Bandcamp: Listen to Side A and Side B 
---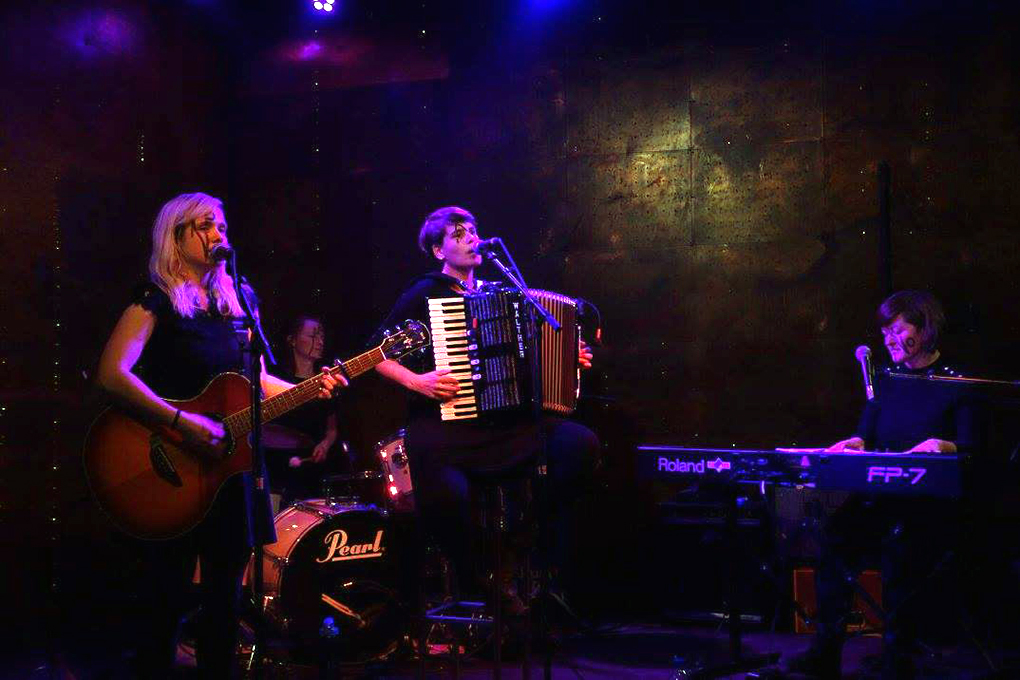 © Christian Sundl
Maneki Nekoč (Numavi Records)
Maneki Nekoč are Christina Lessiak, Sarah Schöberl, Daniela Oberndorfer and Angelina Groß. The band was founded in 2009 in Graz and has three releases available in Bandcamp. They contributed their piece  I'm Afraid They've Won to the Wilhelmine collection. The powers that be win by forcing us to compete with each other, a competition that can't be won because true victory lies in solidarity. The musical arrangement unites guitar, accordion and piano, vocals and handclapping into a joyous celebration of empowerment. This song is a good beginning to a discovery of the wonderfully kept musical secret of Maneki Nekoč
Their self-released debut Put the Cat Among the Pigeons (2012) contains a mind-blowing gem titled Peachick. It's the feeling of describing to a dear person how beautiful that person is. The song builds to a primal frenzy of emotion beyond language to capture, leaving the listener breathless and stunned. My Bike is another piece to relate to, capturing the godlike feeling of riding one's bike, of freedom, of travelling swiftly through the air, fully in control of one's destiny. It's a sister to Maia Vidal's tune God is My Bike (2011) in that it appears to capture the same emotion. Let's Call it Albatross is magnificent in every way, with a swirl of feelings, joyous to the point of dancing barefoot in the rain with the one you love, discovering new emotions budding into self-assurance. It's surprising that this album hasn't made it outside the borders of Austria.
The debut was followed by Beloved Memories, a self-released 10" vinyl in a hand-numbered edition of 300. It holds two songs: Tear Me Asunder backed with I Can Hear You Say "My Heart Is No Easy Prey." It summarizes the essence of the band, the intensity, the feeling of bittersweet melancholy, the climaxing emotions.
Their latest release is If You Don't Want Our Darkness, You Can't Have Our Light (2015) on Numavi Records, available on cd or digital download. This album emphasizes the band's introspective side. The thoughtful quiet of Wandering Light and Fear Well counterpoint the wall of sound of the other tracks. Cry Craven Cry conveys sadness and hope, managing with some magic to combine the two emotions into one entity. This album is also the source of the contribution to the Wilhelmine collection.
The ladies of Maneki Nekoč are classy, sophisticated, the daughters of divinity. Their songs are graceful reminiscences of Greek theater, rife with drama and emotion, and always telling a story. It is melodramatic at times, but they fully embrace that, and despite the drama it is never over the top or ridiculous. The intensity succeeds through the well-balanced vocal and instrumental arrangements, the relevance of the themes, and most of all by the parallel emotions building in the listener. Consider that a synonym for honesty.
The members of Maneki Nekoč participate prolifically in various other projects, such as Cryptic Commands, Crush, and Jayden, which explains why this project has been rather quiet in the last months. I hope they will find time to return to this place often, any time they wish to put to music some nuanced feeling of the soul. According to the band a new song and video are on the way later this year.
My Advice
Dear Unknown
Bandcamp: Listen here    Visit their Facebook page
---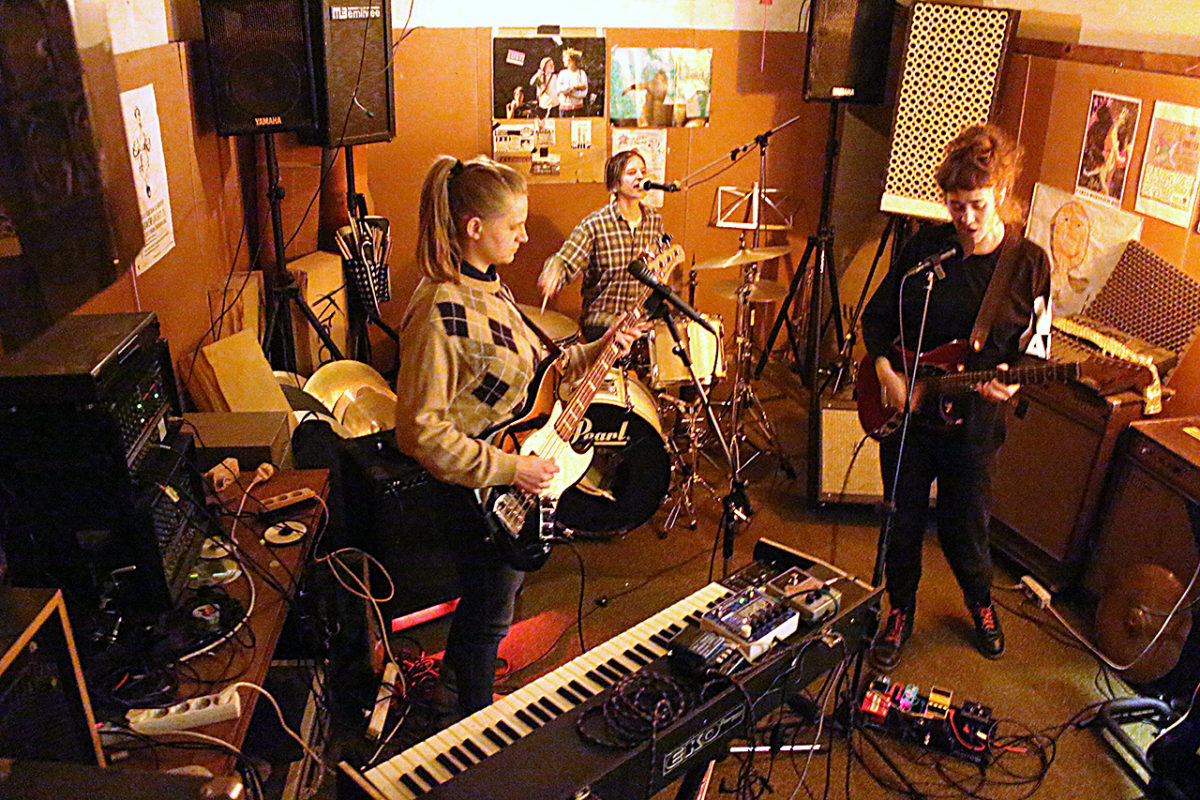 Fred Roberts photo
Just Friends and Lovers (Fettkakao, Numavi Records)
Vero, Lina, Lena are the grrrl fräulein wunders forming Just Friends and Lovers. They are a fun band to track down because several of their songs appear as exclusives decorating diverse compilations. Their song The Field with an especially delicious baseline lives in the Wilhelmine compilation. A recent soundcloud collection curated by grrrls.at features their Power. The rather direct Showdown appeared on the Fettkakao Sampler 2014  – "I need a showdown / I wanna go down on you." In the Eurnovision 2015, reviewed here previously, they represent Austria with their song Isaac. Their catalogue is further augmented by split releases with the bands Schapka and Love Is. These and other bread crumbs around the Internet lead the listener to an easy addiction to Just Friends and Lovers.
Just Friends and Lovers follow a lo-fi, post punk style that doesn't go for beats per minute, instead they produce songs that must be savored like licks of a lollipop. Their songs are lazy streams flowing to happy places. Roughly hewn, unpolished, but irresistible. That sums up Just Friends and Lovers.
What, Colour? (2014) on Fettkakao is their debut on vinyl, 13 songs in all. It is loaded with memorable moments, such as the pleasant sounding Sniper with its terrifying line "there's a sniper shooting from the roof." Life imitates art or or art imitates life? Russian Guy with its steady beat is the sound of a grrrl moving in on a guy she likes: "I wanna make out with the Russian guy / Bring him back, bring him bring back the Russian guy" and then contemplate what "na na na na, na na na na" means. In the House tells a creepy story of witnessing a murder, but the narrator doesn't mind: "I still kiss you, in your bloody face". "Nothing will go public, as long as you are mine," implying a force more ominous than mere murder. There is even a song Robot that shows the mechanical perspective, needing the prayers of humans to release it from its state of non-sin. Gangsta Fragrance No. 2 is apparently the band's theme song. Its funky delivery raises the suspicion of Falco somewhere in the bloodline of one or more of the Friends and Lovers. The song Bad is nasty and wonderful, describing a relationship that is erotically dysfunctional. Who knows what "bad" really means in the song but have fun wrapping your mind around it.
Good news for 2017: The band is planning a 7" single later this year on Numavi Records.
Showdown
Sniper
Visit their Facebook page and their website
---
About the author:

Fred Roberts is a native of Cincinnati living in Germany since 1987 who enjoys subverting the arbitrary commercial process in which great works often go unrecognized. He has a dual B.S. in Computer Science and Psychology from Northern Kentucky University (1984) and a Masters in Psychology from Bielefeld Universität (1999). He contributed short stories to the early ezine "D A D A RIVISTA CULTURALE E/O TELEMATICA" (1995/96), and later to the short-lived Greenbeard Magazine, in 1997 receiving a Google Blog of Note citation for his Weblog indeterminacy.blogspot.com where he wrote 428 "one-minute short stories" inspired by found photos. Fred is also creator and designer of Elbot.com, an award-winning AI system. His interests include literature, film, photography and discovering all the well-kept secrets Europe has to offer.