Invisible Departures
                         —internally displaced persons, Crimea, 2015
How long before choosing
to kiss an angel's hand,
to reach for heaven's
fruit-bearing boughs—
the bee not disturbed
too drunk—
How swollen the seeds
of heavy-headed sunflowers
that bow along the glass road
leading from home.
How silent the instrument
that comes down like a hammer
on some one leaving,
some place left.
Boston Burning:  Mission Hill, 1984
in the lit-fuse voice
of the Environmental Protection Agency:
mind your own business—
the phone receiver slammed down
hard.  My husband, naked as Ezra,
buckled in the corner, tearing out his hair.
PCB's reeking from subsidized housing,
dark smell, amber smell, moth ball
smell. In fire ablaze on our balcony,
Now you've been warned —
altar of wood, bed of hot coals,
no cherubim saved, no angelic guardians,
no garland of laundry drying in night air.
Shadow scurrying in the dark.
In the Bromley-Heath Projects—no one
hurrying—nothing here except
roaches rushing out of a cooking pot.
In the Mission Hill auto parts shop,

the owner sitting vigil, shot gun at his side.
In a van pulled into the Heath Street Brewery,
two men rolling out tire after tire.
I've seen the wind carry fire.
In charred bricks, shattered glass,
foreclosed churches, vacant pews.
Fire, a witness of windows.
Fire, the night light.
Massachusetts Fire Academy,
red spilling across the sky.
Fire in the firehouse
dog's breath, lying.
Fire rising in stairwells,
Mayor Kevin White
stepping down—
Would we survive it,
the fire hungry fire—
in restaurants, in famished news,
in spit sizzling,
trees bristling,
in breath behind closed doors,
in houses sitting quiet?
Some doors take hours
to burn through,
others go in a flash—
Fire in the named and unnamed,
in notes of falling ashes.
Our Names  
Coughed into hands, scrawled
on damp surfaces, misspelled,
un-recognized, anesthetized,
analyzed.  Our names tagged
as liars, out of control fires,
reinforced with wires, twisted
into barbs with pliers, claimed,
maimed—who put the blame on
the lame that spewed from us?
Before we fell in love. Before
Whatever Happened to Baby Jane
happened to us­, our hearts
crumbling like old mansions.
Before we signed off.
About the poet:
Dzvinia Orlowsky is a poet and translator.  She is the author of five collections of poetry published by Carnegie Mellon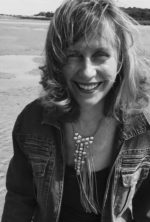 University Press including A Handful of Bees, reprinted in 2009 as a Carnegie Mellon Classic Contemporary; Convertible Night, Flurry of Stones, recipient of a 2010 Sheila Motton Book Award; and her most recent, Silvertone, for which she was named Ohio Poetry Day Association's 2014 Co-Poet of the Year. Her translation from Ukrainian of Alexander Dovzhenko's novella, The Enchanted Desna, was published by House Between Water in 2006; and Jeff Friedman's and her co-translation of Memorials by Polish Poet Mieczyslaw Jastrun was published by Dialogos in 2014.  She is a Founding Editor of Four Way Books, a recipient of a Pushcart Prize, a Massachusetts Cultural Council poetry grant, and a co-recipient with Jeff Friedman of a 2016 National Endowment for the Arts Translation Grant.  She serves as Editor for Poetry in Translation for Solstice Literary Magazine and teaches as poetry faculty at the Solstice Low-Residency MFA Program in Creative Writing of Pine Manor College and at Providence College.  Her sixth poetry collection BAD HARVEST is forthcoming from Carnegie Mellon in fall 2018.