Why Do I Race?
by Ed Coffey
Contributing Writer
I ran for 10 years before I ever even knew that ordinary people raced. I thought that racing was for elite or, at least, very talented runners. The people I saw on TV, I thought they were special people. I thought running, for me, was about physical fitness, about feeling good about myself. Every now and then when I felt great and was in shape I'd do what my old buddy Finbarr used to say about my V8 Mustang, "Hey, Eamonn, just let the horses out". When I was fit I'd just go for it. I'd light the biggest flame that I could burn and blow every bad thought I ever had about anyone right to Kingdom Come. To steal a phrase from an old Kenny Chesney song, "I was strick'n matches just to watch'm burn".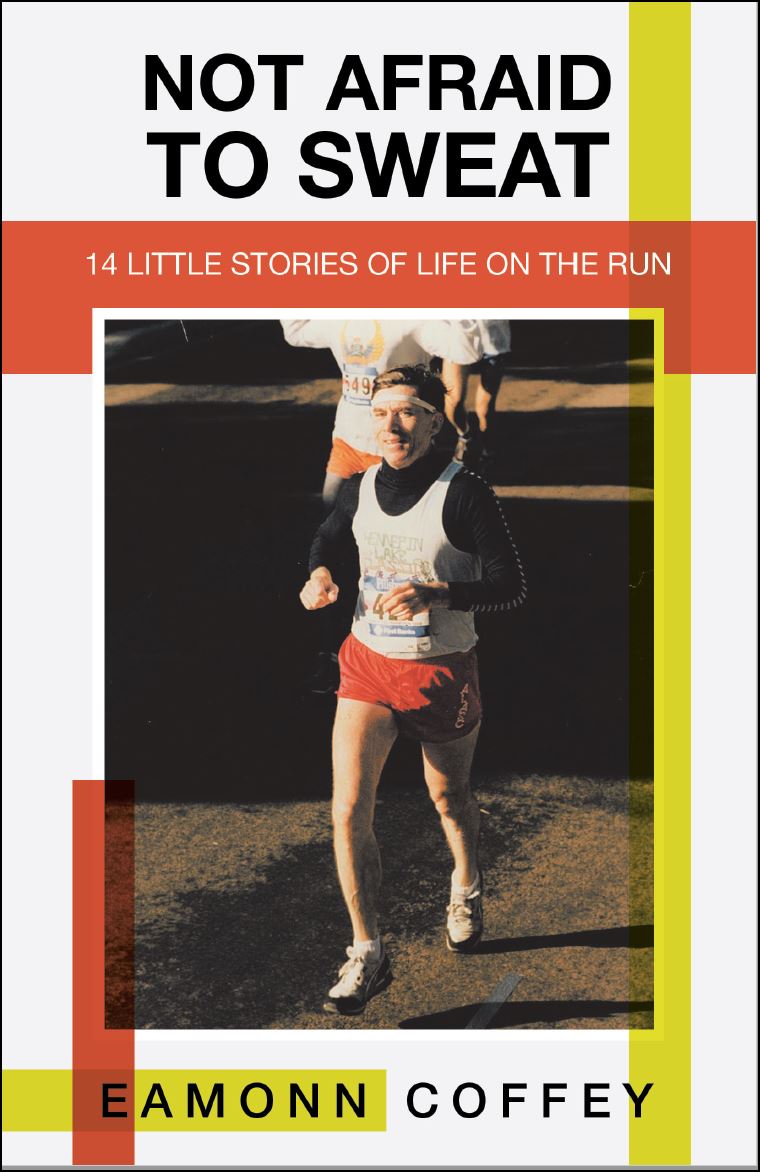 I was in a running clinic taught by Barney Klecker, former World Record Holder at 50 miles (at 4.51.25, it's still the American Record) when I discovered that maybe racing might be an alternative. He handed me a newsletter. It was called The Minnesota Runner.
In three pages I found a New World.
The first race I ever ran was in Burnsville, Minnesota, my hometown at the time. The high school coach organized a 5k race and it was a small local event. Not knowing any better I just went with the front-runners. That lasted for about a mile and I started to fade, but not that much. The course was flat at first, then a small incline, then a downhill, more flat and then a huge, gargantuan, uphill all the way up the last half-mile to the finish, right at the top. I came in fifth. They gave medals three deep and three of the four runners ahead of me were in my age group so I watched as the medals went elsewhere. That put a gnawing in my gut that I still have today.
Nobody's ever going to tell me that my running's so-so because the very fact that I'm out there putting one foot in front of the other, which is a good thing, tends to make people agreeable. Races are an instant reminder that no matter what I think or feel about my running there's a yardstick out there and it's called a race, and if I can't hack it in that foot rush then everything else I say is meaningless. There's a purity in concept about racing that I don't get in ordinary life.
It's easy for me to slip away into a distant world where I'm the winner and everyone else is a loser. I can fool myself any way I want if there's no measurement. The beauty of racing is, I can't fool anyone, especially myself. There's a mark and there are competitors and I better "haul ass" or I'm going to get left behind. Usually, competition brings out the best in people, if the playing field is level and everybody is playing by the rules and everybody knows that. Winners win and losers lose. It's that simple. That's why racing's good; the endeavor says, you've just succeeded or failed.
Racing hurts and it hurts for a reason. It hurts because you are at a maximum in terms of performance and you're "redlining it" most of the way. I don't know about you, but I never really feel good about myself until I've gone out and run the very best that I can run, whatever my age, whatever my finish time, and come in gasping afterwards wondering "Whatever drove me to do that?". There's an ecstasy about agony that racing probably personifies. It's an honest feeling that you and I should never, ever, let escape if we ever get the chance. As cogent, competitive, human beings, maybe racing is part of who we are.
That's why I race.
---
About the author:
Ed Coffey is an electronics sales engineer. He estimates he's run more than 50,000 miles. As a writer, he's published several short stories with various publications in the US and in Ireland.   The above article is Chapter 1, from his recently published book of essays on running, "Not Afraid to Sweat". Available as a download or print edition from Amazon and Barnes & Noble.