Konvoy performing in the national finals of the Local Heroes band competition in Germany.
………………………………………………………………………………………………………………………………
Local Heroes 2014
By Fred Roberts
November 2014, in a bus winding its way to Salzwedel in what used to be the German Democratic Republic, a mix tape plays over the speakers, an uncanny compilation of anthems of the late '70s/early '80s generation – "Smoke on the Water", "We Are the Champions", "Born to Be Wild", "We Will Rock You", AC/DC, Aerosmith, Joan Jett, Phil Collins and so on. These songs were the soundtrack during my last years at high school, heard constantly on radio, at sports events, or talked about whenever music was mentioned. The songs were curated by Caspar Clemens, the leader of Kids Plastique and accompanied the several hour journey to the national finals of the Local Heroes band competition. An occasional Rammstein track interspersed into the playlist established a link to the present. In a few hours the 14 regional finalists left standing from the circa 1500 that had participated over the entire year would vie for the title of Germany's best newcomer band.
Local Heroes was covered in an earlier edition of Ragazine (https://www.ragazine.cc/2014/04/bar-227-roberts). It is a band contest in Germany with autonomous chapters in each regional state. A combination of public voting and judge evaluations decide the result of each round. I attended three semi-final events in Hamburg, and was invited as one of the judges to the Hamburg finals, now again for the national event.
I experienced memorable moments along the way. Saskia Maas (http://www.saskia-maas.de), whose music goes against the current trends, embracing an earlier era when it was ok for songs to possess poetry, lyrical beauty and strong unifying ideas. Her song "Der nächste Stern" from her highly recommended EP "Für einen Moment" is a German language counterpart to "Somewhere Over the Rainbow" – about wishes that don't come true. Recently Saskia posted a delightful silhouette animation in the best tradition of Lotte Reiniger:
Part 1:
Part 2:
In 2014 she was featured on Tide TV and received airplay on various Internet stations. Saskia Maas is an artist to watch in 2015. Then there were the out of this world space rock-jazz fusion instrumentals of Äläx (https://soundcloud.com/aelaexmusic), planning an EP in 2015. The band Luise Casanova, in one of the semi-final rounds, won hearts and votes with a sincere love song to Hamburg. You can get snapshot of their raw embryonic style at their soundcloud page (https://soundcloud.com/luisecasanova). Saskia made it to the Hamburg finals which went to the evening's favorite Kids Plastique, in a decision that none of the other bands begrudged. Kristina Jung, whose EP release was reviewed in the Nov-Dec 2014 Ragazine made it to the Local Heroes finale in Mecklenburg-Vorpommern..
When I saw the list of judges for the final event it was quite intimidating to be among such an illustrious who's who of music. Adam Perry of The Bloodhound Gang was a judge. Michel Kroll of the successful German band The Love Bülow was another. There were producers, representatives from labels, as well as management and distribution agencies. Nearly everyone was a musician. I was the music journalist of the set, and took the task quite seriously. Before the event I visited all the bands' soundcloud, youtube or streaming channels to get an idea of their music. Other judges purposely avoided any exposure, leaving it all to the performances. I was struck by the consistently high quality of the 14 bands, styles ranging from hip-hop to heavy metal, folk, ska and more. Music representing the pulse of the times, the anthems of this generation. It was presented to us over the course of seven hours, in 20 minute sets. A glorious celebration of musical exuberance, energy, and honesty as close to the pulse of today as it is possible to get. These musicians were indeed heroes and received as such. It didn't seem fair to select only one as the "best". Tomorrow they will be the leading bands of Germany.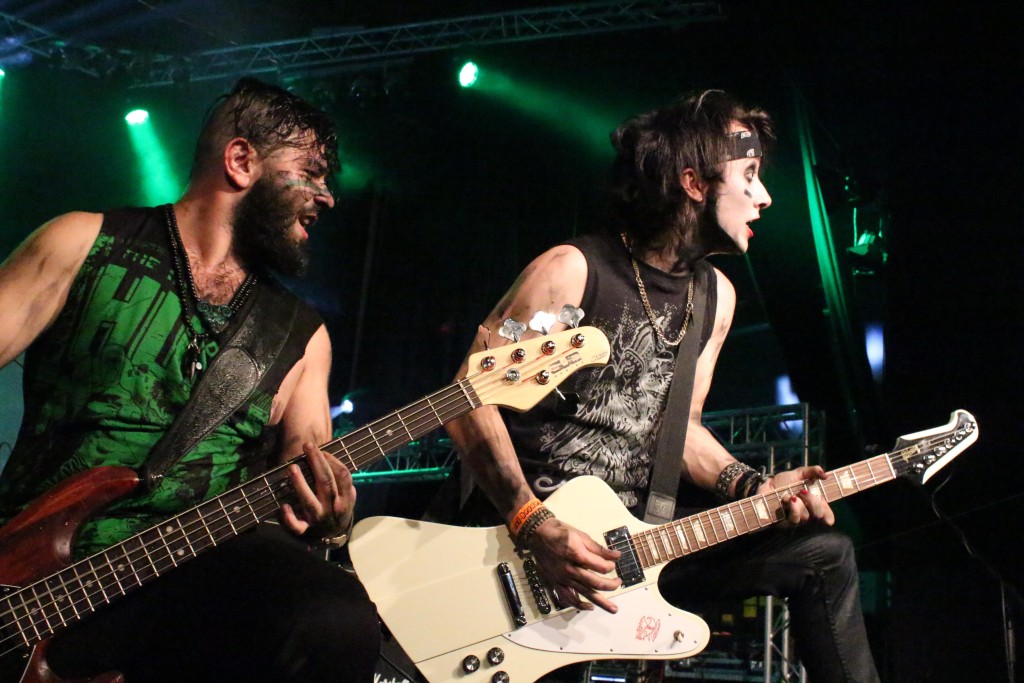 Beastless in action
My personal favorites of the evening all had one thing in common, a relaxed, fun approach to music, felt most strongly in the performances of Kids Plastique, Phaenotypen and Rabajah. Corona in the Pipebag also stood out with their innovative approach to folk music. Berlin Syndrome garners comparisons to Joy Division with their introspective, melancholic sound. Beastless, hailing from Lemgo, put on a fantastic hard rock show. There is no room to describe all the bands in depth, so I'll limit it to my top two.
Kids Plastique of Hamburg call their style hard beat or rough pop. The songs are pop masterpieces with stand-out vocal arrangements. The lyrics brim with playfulness and a distilled, subtle sense of humor that is unique to Northern Germany. With two EPs under their belt and their video "Kinder dieser Stadt" (Children of this Town) national success along the lines of Fettes Brot in the '90s, looks very near. Their video, filmed with students of the Hamburg Acting School, bears repeated viewing for all the well planned visual choreography and as representative of the spirit of the modern generation. The key refrain says it all:  "Meine Welt ist gerade ganz denn ich sehe deinen Tanz / Unsere Welt ist kaputt, das ist mir gerade egal." (My world is complete, when I see your dance / our world is kaputt, but it doesn't matter to me now). What could come closer to capturing the contemporary consciousness?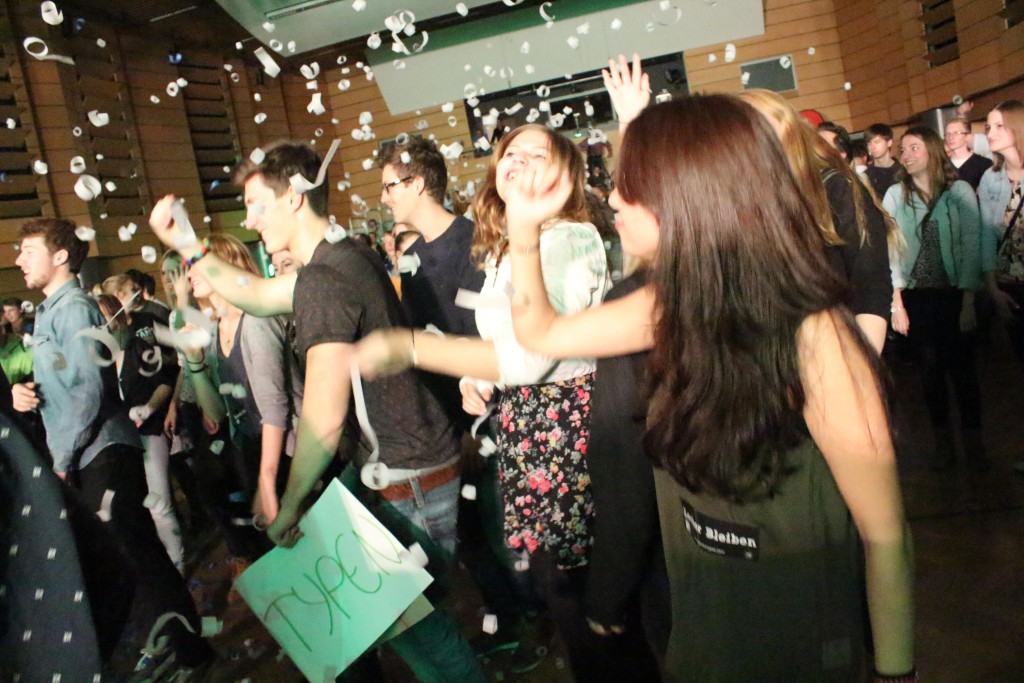 Dancing to Konvoy
Rabajah from Berlin was the biggest question mark for me. They were represented online with only one song, "Rich People", a reggae-ska number that reclaims the mood of protest heard in so many Bob Marley songs. They didn't play it that night but instead a mosaic of ska, Mediterranean and Middle Eastern instrumentation that sounded fresh and interesting, along with a bit of on-stage clowning. A relaxed, playful flow of music won over the audience (2nd place in public voting). Rabajah plan to record an album in 2015, so that is something to look forward to.
The big winners that night were Konvoy, with their sophisticated urban hip-hop style, as selected by the judges, and Phaenotypen, which were the popular favorite. To me it is only a matter of time before a repetition of the early '80s mini-invasion of the American music scene is seen, when German bands like Alphaville, Falco, Nena and Peter Schilling broke into the charts. Any number of songs by 2014's Local Heroes' alumni might be the ones to do it. Indeed, the winner in 2011 Denmantau, a band of street musicians from Hamburg, has since relocated to California where they are building a solid following. Their video "Little Darling", a smorgasbord of visual enticement and a catchy tune in its own right is waiting to be discovered.
………………………………………………………………………………………………………………………………
 Scenes from the National finals of the Local Heroes band competition
All photos © 2014 Fred Roberts. Used with permission.
………………………………………………………………………………………………………………………………
If you'd like to actively explore the bands of Local Heroes 2014 to find your own favorites:
Beastless (http://www.beastless.de) – Nordrhein-Westfalen
Berlin Syndrome (https://www.facebook.com/berlinsyndrome) – Sachsen-Anhalt
Campaign like Clockwork (http://www.campaignlikeclockwork.com/) – Hessen
Corona in the Pipebag (http://www.coronainthepipebag.com) – Rheinland-Pfalz
Elvis Dies Tomorrow (https://www.facebook.com/elvisdiestomorrowofficial) – Schleswig-Holstein
Junk DNA (http://www.junkdna.de) – Bayern
kids plastique (https://www.facebook.com/pages/kids-plastique) – Hamburg
Konvoy (https://www.facebook.com/konvoymusik) – Baden-Württemberg
Phaenotypen (http://www.phaenotypen.com) – Niedersachsen
Rabajah (https://www.facebook.com/Rabajah) – Berlin
Rabaukendisko (http://www.rabaukendisko.com) – Mecklenburg-Vorpommern
Studio 21 (http://studio21-band.de) – Bremen
Superheld (http://www.superheld-band.de) – Sachsen
The Tim Schultheiss Orchestra (http://timschultheiss.de) – Brandenburg
f
About the Author: