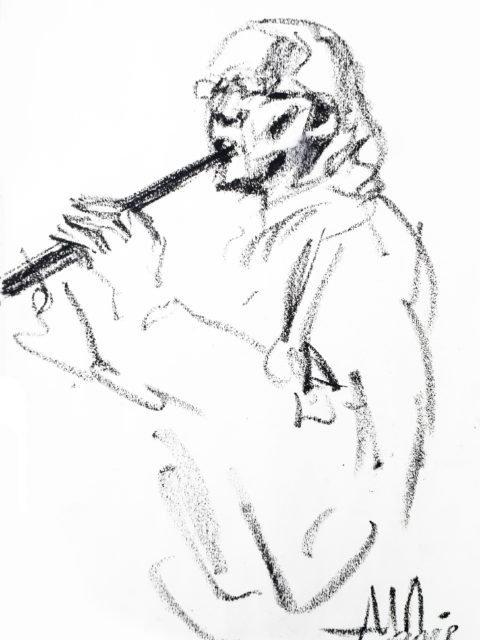 Jazz Masters Still Tuned In
by Greg Stewart
Events Editor
Drawings by Lidia Moroz
The world of jazz has such variety these days. Ranging from standards plucked and hammered out in any variety of basements and backrooms in cities all over the world to the most experimental combinations imaginable in the spheres of Soundcloud and Spotify. My personal favorites reside in the fuzzy recordings of jazz halls occupied by the greats of the mid-20th Century. I also love the young cats who remix old sounds into new beats with an ear for hip hop. Lately though, I am profoundly interested in the world of avant-garde jazz. This liminal space where musicians deviate from the jazz standards to create a new design for the genre holds such unique qualities, I just find it irresistible. Every time I find a show, I do my best to go. This spring I was invited by the wonderful visual artist, Lidia Moroz, whose illustrations run with this article, to see a trio of old time jazz greats jam at The Stone in Greenwich Village. Adam Rudolph, Ralph Jones, and Hamid Drake collaborated for the final performance of Rudolph's residency at The Stone.
The space is rather small, situated in the Glass Box Theater on 13th Street in a New School building.  It is filled with rows of chairs, and quite a collection of percussion, woodwind, and string instruments beside a piano in the front of the room.
The show begins with no introduction from the artists who enter from the side of the stage. Adam Rudolph takes up his position at the piano, and slowly starts to produce long, somber notes. Ralph Jones sits center stage and picks up a small flute. The wind is brought to life as his breath fills the gleaming instrument. In the background there is an ethereal, hollow and electronic noise emanating from a speaker. Hamid Drake sits behind a drum kit and slowly adds punctuated rhythms to the noise.
One aspect of this performance, and this genre, which defines and differentiates it from other jazz music is the propensity for multi-instrumentalism. Every player on the stage is clearly well-versed beyond the typical tools of jazz cats. It begins with Jones as he switches between flutes in the first few moments. 
Jones stands from his seat and quickly picks up a sax and blows amidst a symphony of percussion emanating from the hands of Rudolph, who switches to his elaborate set of congas, bongos, bells, and much more. Jones walks through the space, providing short lines mixed with wailing notes as the drummers jam with a bop sensibility.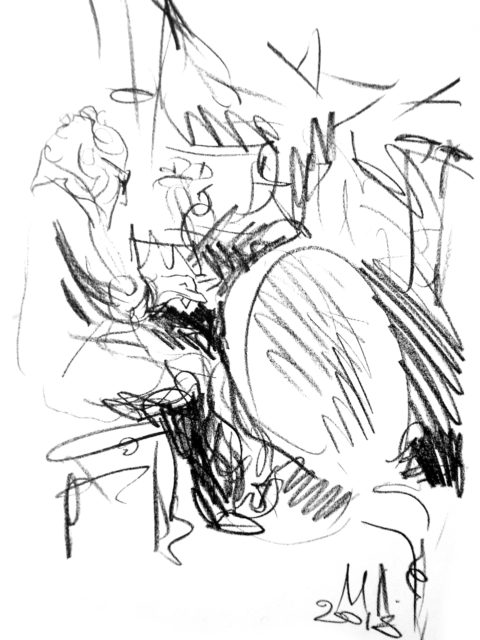 Rudolph has a unique technique of licking his fingers and running them over the skins to create a vibrant wub. This is exemplary of his experimentation with sound. This player doesn't see typical rhythms when he envisions his percussion; no, instead, he sees opportunities to tweak the instrumentation to create new feelings for listeners and collaborators alike. 
He runs a wooden stick around a bell and sings into it to create a soft, whirling sensation. Hamid utilizes a small paddle atop a bass drum to hammer out a bassy rhythm.
Jones reaches into the piano and plucks the strings directly while blowing into his reed. While this appears cacaphonous, the musicians clearly have a sense of direction they are following, as the drummers fall into and out of rhythm. This brings the audience a sense of cohesion, followed by a breakdown and an unsettlement.
Among the instruments Jones plays is a flute made from a gourd. Upon the bulbous top of it is a small illustration that appears to be Japanese. The sound it creates is reminiscent of a bagpipe, and as it mixes with the drums and the cowbells, one can sense the blending of national musical heritages. 
This area of jazz, the conceptual space, where the lines blur between form and genre and focus, provides the listener with a vivid landscape of sound to occupy. Musicians like Rudolph, who compose and perform with a critical sense of culture are providing valuable contributions to the discourse of art, beyond the musical sphere. By testing boundaries, adding new elements, and questioning convention and standards, Rudolph is generating cultural change. His influence might be undersung, with less notability and reputation than those who came to define mainstream jazz in the twentieth century, his oeuvre is an essay on how music should be conceived for the future. The manipulation of tone, rhythm, and tambour to impose an image and a feeling onto the listener is an art form that Rudolph has mastered. The poetry of jazz comes alive in the mind of this composer.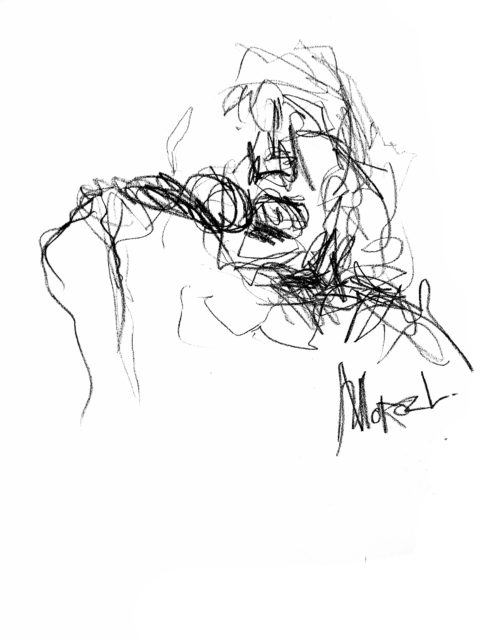 Rudolph stands by a mic, which appears to be hooked up to a reciever where he alters the qualities of the sounds he plays into it, including the soothing notes of a pan flute. This sensibility for the way music will be made in the future is important to note. As someone who has been on the scene since he was a boy jamming in Detroit, his foresight is remarkable. The digital manipulation of sound is common across all genres, but within jazz, this is an underutilized means of experimenting, especially the way in which Rudolph uses it.
Besides his innovation and vision, Rudolph is also a master musician. I have never seen anyone play such tiny drums with such expertise, and honestly, I don't ever expect to see a person manipulate hand drums as well as this man. 
A strong, rock-like ending to their first song is met with a raucous applause. The second song begins with light taps upon a gong by Drake. Jones plays a high pitched flute reminiscent of Japanese music, Rudolph jumps in with the same instrument then uses tiny cups to play his hand drums. By putting the little metal cup atop the drum, he creates a metallic, almost tinny quality, which, when paired with the high-pitched melodies of the flute, creates a strangely beautiful harmony.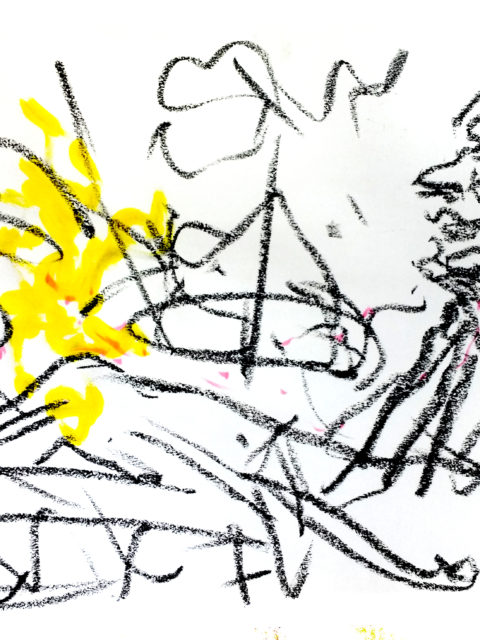 Wind and earth come together as one, through wood, metal, and air, the audience is delivered to a natural landscape in jazzy tones. Rudolph now places large metal bowls atop his large hand drums. Drake plays a large, round piece of wood. Jones uses a duck call, to punctuate these metallic and wooden tones.
Jones grabs a piece of bamboo with a hole drilled into the center of it. He holds it to his face and creates strange rhythms akin to a didjeridoo, but played horizontally. He taps on it to add percussive notes. Rudolph now makes his bowls sing atop the drum, first with a wooden stick, then with a bow.
Jones puts down all instruments and holds hands in a state of almost prayer as he speaks, "Follow Peace." Drake slowly sings the words behind him in a throaty echo.
The two engage in a conversation, swinging the crowd's attention from player to player. They speak;
"Follow love
Love is here today
Find compassion
Follow mercy
Find truth
Follow
Ya wah do
Follow
Ya wah do
Follow
Follow
Follow"
The music continues as Jones stands with his alto sax in hand. He leans to his other sax and blows notes in both, then sits and blows along with the drummers, interspersing his instrumentation with brusque words delivered. "Follow compassion, Find Mercy."  With the almost breakbeat style drumming and the throaty echoes of Drake, this has a poetic sensibility reminiscent of hip hop, while still maintaining it's jazzy hand made rhythms from Rudolph. The vocal expressions of this performance bring to mind the work Amiri Baraka did with jazz musicians.
The wubs and the saxophone create a respiration of rhythm Drake slides his sticks together and slowly rubs all his kit, it mimics a heartbeat The drummers lock eyes as their rhythms sart to fall into line with one another. They don't look away, until Drake slams out a micro solo
Jones stands and walks out the room but then enters from the door in the back and plays this wailing whizzing noise akin to a kazoo on two very tiny flutes
And finally, he picks up the horn, which appears to have belonged to a goat at one point. It is hollow and has a hole drilled into it where Jones blows furiously to create a hollow sounding call. This aged African American man bleats like a goat and moos like a cow into the horn.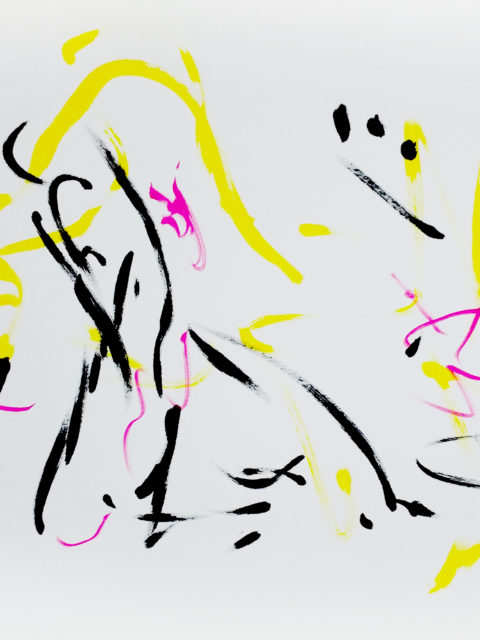 Rudolph picks up a horn as well and they start having a conversation which develops into a beautiful duo that is fueled by the fluctuating highs and lows from Drake. Rudolph plays a beat, soft and electronic, which reminds me of contemporary hip hop collaborations. He then starts making noises upon a xylophone with effects on it. Jones and Drake sit in silent revery as they listen to the seasoned composer, musician, and improvisor.
Through windows covered in type promoting The New School, red brake lights peer through as this mostly full venue is filled with some of the most interesting sounds I've ever heard. Rudolph picks up a large gong and the room is filled with slow vibrations as Jones lets out soft breathy grunts and moans that mimic a didgeridoo again.
All in all, avant-garde jazz has a lot of strange qualities. It is not everyone's cup of tea. I wouldn't recommend this show to everyone I know, but for those who have a sensibility for the experimental side of music, I say it is an experience that must be had. Adam Rudolph is legendary. His work spans five decades and includes some of the biggest names in jazz. Hamid Drake and Ralph Jones were fantastic counterparts to this man. I would attend this show time and time again.
---
About the author:
Greg Stewart writes the Around New York column for Ragazine.CC. He is in Alaska for the summer checking out the midnight sun. You can read more about him in About Us.
About the illustrator: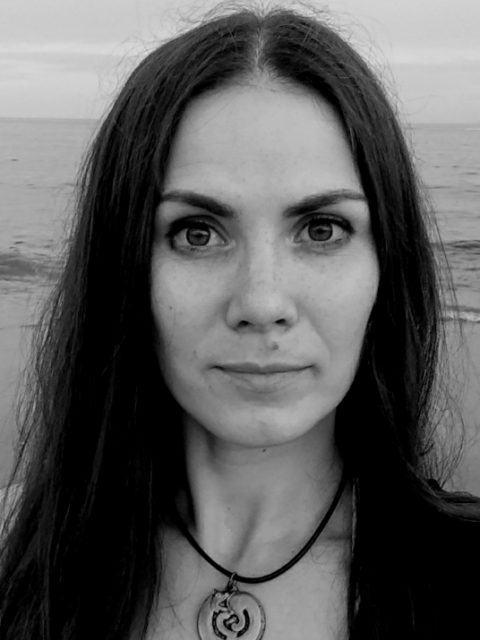 Lidia Moroz is a visual artist from Ukraine. Born in Kieve in 1988, she began making art at an early age. She works with 2D and 3D mixed media, designs clothes and draws, among other things.  She finished Boychuck Kyiv State Institute for Decorative-Applied Art and Design and Kyiv Children Academy of Arts. She has collaborated with "KARAVAY" and "ELENAREVA" – famous Ukrainian fashion brands. You can read more about her her: https://www.lidiamorozart.com
​