---
***
Guinotte Wise:
Mad Man Escapes to Kansas
with Mike Foldes
Managing Editor
Ragazine: I see you've had a lot of experience in a score of occupations before becoming an advertising exec…. What led you astray, and how did you metamorphose into writer/sculptor?
Guinotte Wise: Many of those were during college years, during school, and summers. I spent a lot of time in school, but after art school I got an adult job. I was a field engineer for a paving company but also drove dump truck during snow removal, when they found out I had driven steel haulers, water trucks and large flatbeds. I began putting together a portfolio and got a job in advertising as an art director. I escaped into the ad game. Those were the mad men years. Skinny ties. Snap brimmed fedoras. The days of giants like Bill Bernbach, George Lois.
RAG:  How long have you lived where you live, and did you grow up in a farming community?
GW: My wife, Freddie, and I have been at this address in Resume Speed, Kansas, for over thirty years. We're checking it out to see if we want to stay. I grew up in wildly diverse places, Manhattan Island, St. Joseph, Louisiana, Winchester, KY, Tulsa, OK, Mostly Kansas City where I was born. Some were rural. One was practically bayou. But I have lived in Los Angeles and other large cities where I have worked in advertising.
RAG: You work a lot in metal. Why not stone? Wood? Clay?
GW: I work in metal, mostly steel. I've done bronzes, which started with clay, but mostly welded steel. That's what I'm comfortable working with. The welding, the joining. I like that.
RAG: Did you study art, or was art one of those electives in your advertising/marketing portfolio during college? Oh, I forgot to ask, did you go to college?
GW: I spent six or seven years in colleges. It was a good life. I worked off campus, in filling stations, bars, a beatnik coffee and booze shop (before barista was a word) and sometimes in the campus cafeteria, but had to get a real job, finally. With a paving company in Omaha. I went to Westminster, the University of Arkansas and The Kansas City Art Institute. This was before student loans, which seem to be a way of life, now. I don't know how anyone pays them off. Summers I worked construction, all bridges, for the same company, made great money toward tuition, as a laborer and steelworker.
RAG: Great covers on all your books. Do you have input or do you give it all over these days to Ben?
GW: I depend on Ben. I give him the title and a synopsis and, sometimes, a manuscript, and he comes up with several ideas per book, all great. The difficulty is picking one. He has no business spending time on my stuff — he's a busy multi-talented creative director with a global company, a top ten ad firm. Maybe THE top, I don't know. I joined the same firm when it was a dozen people. Now it's over 3,000 with offices in China, Africa, Poland, New York, the UK, everywhere. I admire the people who grew it. I led a small offshoot of it that handled traditional advertising before the mother ship did all things (and all things well) as they were first involved in the early days of the tech revolution. Ben joined our group of creatives and is now integral to the whole. I think he thinks I have something on him. I will cultivate that.
RAG: Short stories and poems… what do you find is the key to crafting a fine poem? An engrossing story?
GW: I do aspire to those. I'm grateful that you ask me, as though I knew. I read a long list of favorites and just keep writing. To me, a Ted Kooser poem is the ultimate, and a Thomas McGuane story. Kooser, for his beautiful simplicity and ability to create allusions from everyday surroundings that are…graspable. Is that a word? And McGuane for his irony, humor, and mesmerizing flow of words. And that unflinching little bit of surprise violence or bizarre terror that pops up. Like Flannery O'Connor if she was laughing and chasing you with a rock. So I guess I can't answer that question.
RAG: Who/what have been your greatest influences in transitioning from the working world into the really hard working world of writing and sculpture?
GW: Writing: (Fiction) Thomas McGuane, Jim Harrison, Annie Proulx, Pam Houston, Bob Shacochis, Barry Hannah, Ron Hansen, Denis Johnson, Ann Beattie and many many others.
Poetry: Ted Kooser, Billy Collins, Dylan Thomas, Robert Frost, Kwame Dawes, Catfish McDaris, Jim Harrison, Langston Hughes, Charles Bukowski, Lawrence Ferlinghetti, Allen Ginsberg, John Ashbery, and on and on.
Sculpture & art: John Chamberlain, Louise Nevelson, Lee Bontecou, Frank Stella, Joel Shapiro, Marcel Duchamp, Franz Kline, Willem DeKooning, and many others, both classic and contemporary.
RAG: You've had quite a few books published… how difficult is it for a person to make a living these days writing and sculpting?
GW: I don't wish to discourage any artists. We truly need artists of all kinds. I do show at a couple of good galleries, and have sold plenty of work through them. My main gallery, The Hilliard Gallery in KC has brought me good commissions, and a solo show every May that sells some things. And I sold well at a show in Santa Monica. But it's not enough to live on. And my last royalty check from a book was $12.74. Being "discovered" is what I need. Barring that, I'll do what I love, write and sculpt. My wife, bless her, works and helps greatly. She's a wonderful silversmith, by the way, when she gets the chance. Man, she does beautiful work. Bracelets, rings, pendants. She's at that same firm that I was with for years. We met in advertising way back in the Mad Men days. So the ad biz has been kind to me.
---
Guinotte Wise / Sculpture 
All images use with permission © Guinotte Wise
---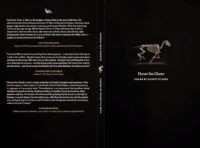 Horses See Ghosts
Poems by Guinotte Wise
Pski's Porch Publishing
323 East Ave.
Lockport, NY 14094
Copyright 2018
ISBN: 13-978-1948920001
Cover Design: Ben Carmean
163 pages, Price: $10.99
Excerpts from Horses See Ghosts
Kansas is Big Sky Country
You don't get a bigger sky, even in West Texas
reason is there are no mountains
to measure it against.
The plains roll on forever
and the sky presses down on the prairiescape
flattening it pancaking it
You can fall over from dizziness watching it
I really think that sky weight
would break a silo scale
Sometimes you have to watch the grass so the
upper nine tenths of the universe
doesn't squeeze your mind shut
And push the meager contents out all orifices,
I myself keep digging post holes
concentrating on the augur
Penumbra and the Cellar Door
Pretty word, Penumbra, deserving of a poem
and Cellar Door, two more together, a gift from
some English teacher many many years ago when
I was in third grade, she said the words and said
they were so lyrical and some words, when combined
had that magic beyond the meaning, it cut a pathway
in my mind, though it puzzled me for years until it
didn't and I understood some of what she meant.
The eclipse mooned Kansas yesterday and with the
cardboard eyewear I registered the slight scythe of
sun, the crescent slimmer than any moon on any
Arab flag, and then the word Penumbra flared around
the full black moon, and grass was individualized, no
longer just a pasture, but single stems dimensional.
My horses grazed around me, their grass-pull
squeaks the only sound, one gazed around when
darkness rose among the brome, and said the equine
equivalent of hmmm, went back to grazing. I may
have had a rapture of the dark where I quit breathing
for a moment, but it passed with the moon, and time
began for me again. Thin tattered veils of clouds slid
high and fast across the moonbit sun then it was whole
again and so was I. Penumbra Cellar Door I prayed.
Guinotte's website for more of his art and writings: wisesculpture.com
---
About the interviewer: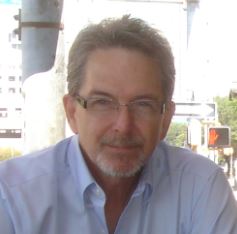 Mike Foldes is founder and managing editor of Ragazine.CC. You can read more about him in About Us.