Another Cannes, Alison McCauley
---
***
Alison McCauley : Une Américaine au Festival de Cannes
Alison McCauley : An American in Cannes' Festival
by Jean-Paul Gavard-Perret
Contributing Columnist
A l'origine c'est par hasard qu'Alison McCauley photographie pour la première fois le Festival de Cannes. Son seul objectif : la curiosité. Celle-ci est bonne conseillère. Poussée par le désir autant de voir que de savoir, la jeune photographe découvre le dessous des cartes. Un tel évènement cinématographique demande une organisation impressionnante et tout azimut :  l'artiste est très  impressionnée. Elle n'est pas loin d'imaginer que si toute la France était structurée de la même façon le pays serait le plus efficace du monde…
La photographe n'en était pas à son coup d'essai. Elle a individuellement exposé en France et en Suisse et collectivement aux  États-Unis, au Royaume-Uni, en Géorgie. Ses photographies ont été publiées par Al Jazeera, BBC News in Pictures, France 24, Courrier International, The Daily Mail, Houston Chronicle, The Hindu, etc.  et elle contribue régulièrement à Carnet d'Art qui publie ce livre. C'est pourquoi un tel ensemble est un coup de maitre(sse).
Après sa première expérience festivalière en 2013. Le festival devient pour elle sinon un guet append du moins une addiction.  Stimulée par l'ambiance et l'énergie de l'événement elle y revient. Désormais avec un but plus précis. Pendant cinq ans elle en capte l'atmosphère autant dans les rues, les marches du Palais que dans les hôtels, plages et lieux de fête. Elle shoote  les stars, les professionnels, le vulgum pécus ; les body-guards, les play-boys, les starlettes et call-girls, les fans et les vacanciers.
De telles photos proposent une vision coruscante et originale. L'artiste édite des instantanés parfois surréalistes, souvent absurdes ou drôles. Elle ouvre une sorte de back stage pour montrer ce qui habituellement demeure caché. C'est d'ailleurs ce qui constitue l'originalité de toute son esthétique. Dans son précédent livre et au sein d'un lieu et d'une problématique bien différente ( "Temps d'attente – Tant de vie", sur  la vie des requérants d'asile à Genève) elle montrait déjà un autre dessous des cartes. L'enchantement fragile de certaines luttes sourdes ou  de certaines mises en scène spectaculaire comme la banalité commune de la vie ordinaire sont  exhaussés à l'état de signes visuels afin de suggérer de divers types d'emprises.
— Jean-Paul Gavard-Perret
---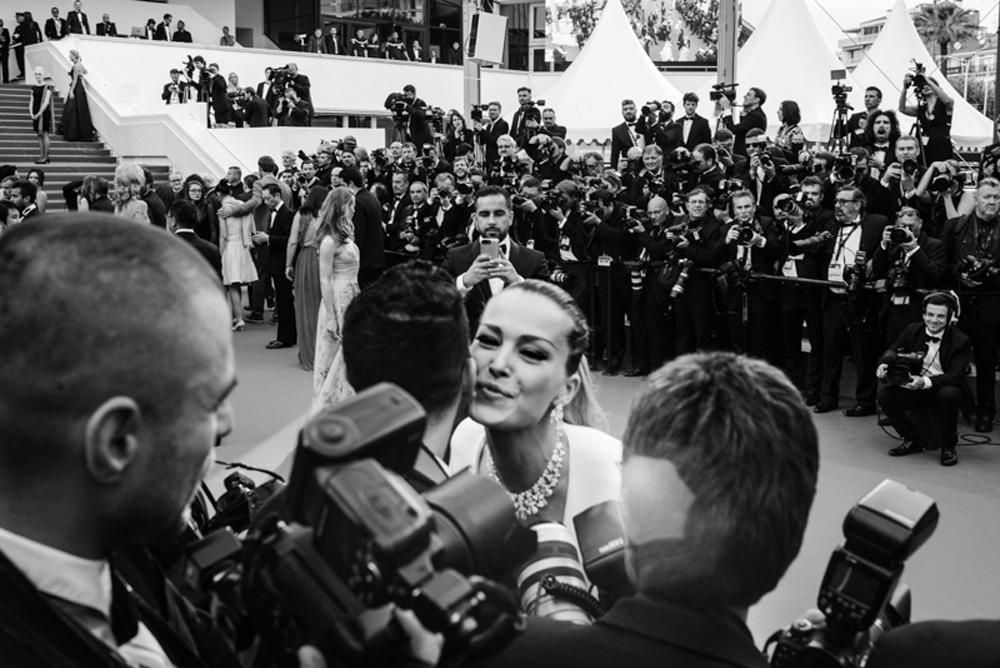 Another Cannes
Alison McCauley
Editions Carnet d'Art,
Aix les Bains, 2018
25 E. En prévente sur le site des éditions
http://www.carnetdart.com/

In 2013, Alison McCauley photographed the Cannes Film Festival for the first time. Mainly and originally by curiosity. Nevertheless she discovered complex and disparate elements amongst the well organised chaos.
Her works have featured in solo exhibitions in France and Switzerland and in group exhibitions in the US, UK and Georgia. Her photographs have been published by Al Jazeera, BBC News in Pictures, France 24, Courrier International, The Daily Mail, The Houston Chronicle, The Hindu, etc.
After her first experience at the festival, Alison, intoxicated by the mood and stimulated by the energy emanating from this international film event, came back to Cannes five times. She documents what she saw, both in the streets and on the red carpet. She focused her attention on surreal, absurd, artificial, extravagant moments. She turned her camera towards the stars, business men and women, hotel employees, bodyguards, playboys, call-girls, fans and tourists. She captures the unexpected moments, showing situations unknown to the general public.
Through 56 unconventional black and white photos, Alison McCauley shows her distinctive and offbeat view of the Film Festival. Walking the streets, rubbing shoulders with the famous on the red carpet or letting chance lead her in the streets of Cannes, Alison captures the essence of this global rendezvous.
—Jean-Paul Gavard-Perret
---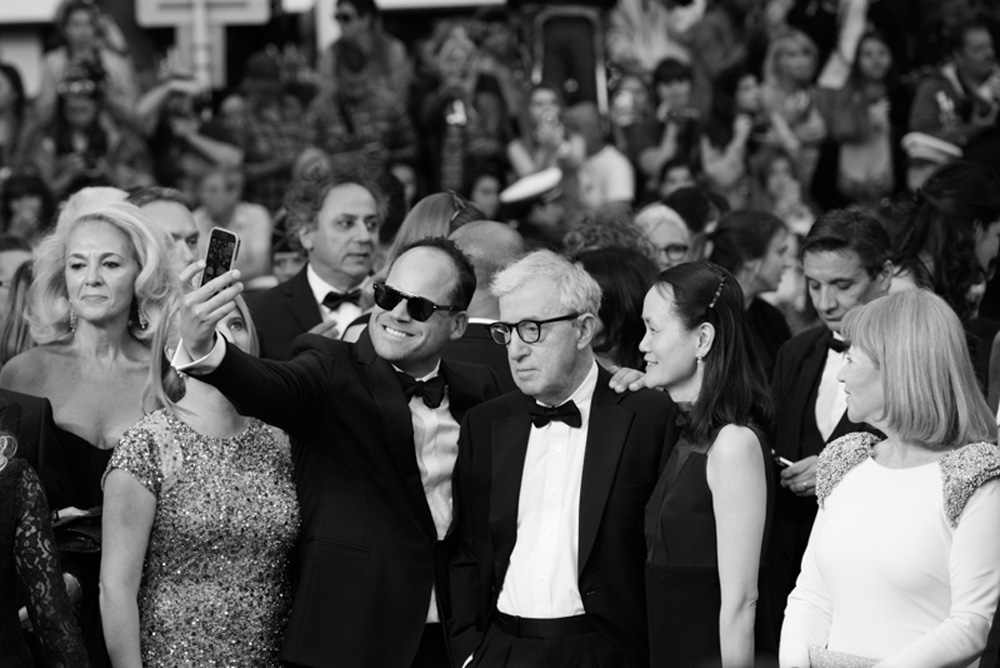 Interview d'Alison McCauley – interview et traduction
Jean-Paul Gavard-Perret, le 23 mars 2018.
Qu'est-ce qui vous fait lever le matin ?
Le café et le désir de savoir ce que le monde est devenu à mon réveil.
Que sont devenus vos rêves d'enfants ?
Je n'ai jamais eu l'idée de devenir une exploratrice intrépide de la jungle mais je voulais devenir quelque chose de ressemblant mais dans d'autres domaines en un souci incessant de chercher, regarder et d'interroger le monde.
A quoi avez-vous renoncé ?
J'ai eu la chance de n'avoir à renoncer à rien bien que j'ai eu un temps de rejet et de doute sur mon travail dans la fin de mes dernières années de ma vingtaine et les premières années de ma trentaine mais maintenant je sais où je vais et ce que je fais..
D'où  venez-vous ? 
je suis né au Royaume-Uni mais j'y ai mal vécu et je me sens beaucoup mieux en France et Suisse. J'ai passé beaucoup de temps dans ces deux pays.
Quelle est la première image dont vous vous souvenez ?
Une reproduction dans le livre de peinture de John Singleton Copley « Watson et le Requin».
Et le premier livre ?
"Le Chat  Chapeauté" du Dr. Seuss
Qu'est-ce qui vous distingue des autres photographes ?
Peut-être le fait je fais les choses sans le soucier d'entrer dans un genre particulier.
Comment choisissez-vous vos thèmes ?
J'avais l'habitude de programmer mes projets mais désormais je me laisse guider par mon coeur et mon instinct.
A qui n'avez-vous jamais osé écrire ?Personne.
Je ne peux pas penser à quelqu'un que je n'oserais pas écrire.
Quelles musiques écoutez-vous ?
C'est tout à fait aléatoire. En ce moment "Portugal The Man"?
Quels livres aimez vous relire ?
Les seuls livres que j'ai relus plus d'une fois sont "Le Quatuor d'Alexandrie" de Lauwrence Durrell, "Le roi des Mouches »  deWilliam Golding. Je les ai  lus adolescente pour la première fois et je les ai relu pour  voir ce que j'avais raté en les lisant trop jeune. Beaucoup chez Durrell, peu chez Golding. Mes deux livres favoris restent « La trilogie Cairote » de Maguib Mahfouz et  « L'Attrappe Cœur » de J. D. Salinger.
Qui voyez-vous dans votre miroir ?
La plupart du temps celle que j'espère voir ? Mais parfois c'est une étrangère.
Quels lieux ont valeur de mythe pour vous ?
Les forêts, les jungles et les déserts. Ce sont des espaces mythiques et spirituels pour moi.
De quels artistes vous-dentez-vous le plus proche ?
Mes amis photographes. J'en ai rencontré beaucoup d'abord en ligne puis en personne.
Quel film vous fait pleurer ?
« Loin du Paradis » .Je trouve que l'idée que la vie de personnes soient détruites à cause des préjugés et de la discrimination est parfaitement mise en scène. C'est un film si poignant, subtil et beau. Todd Haynes est mon réalisateur favori.
Quel cadeau pour votre anniversaire ?
Le financement pour mon prochain livre de  photos ou un chaton tigré.
Que pensez-vous de la phrase de Lacan « L'amour c'est donné quelque chose qu'on n'a pas à quelqu'un qui n'en veut pas » ?
Je pense qu'il veut dire  simplement que quand nous aimons quelqu'un nous ferions quoi que ce soit pour lui … ou cela pourrait signifier aussi que l'amour rend aveugle.
Et celle de W. Allen "La réponse est oui mais quelle était la question ?"
Il me fait penser que c'était la question. Il me fait aussi penser à FOMO (fear of missing out). (la crainte de manque de ).
Quel question ai-je oublié de vous poser ?
Le nom de mon prochain livre : « Another Cannes ».
---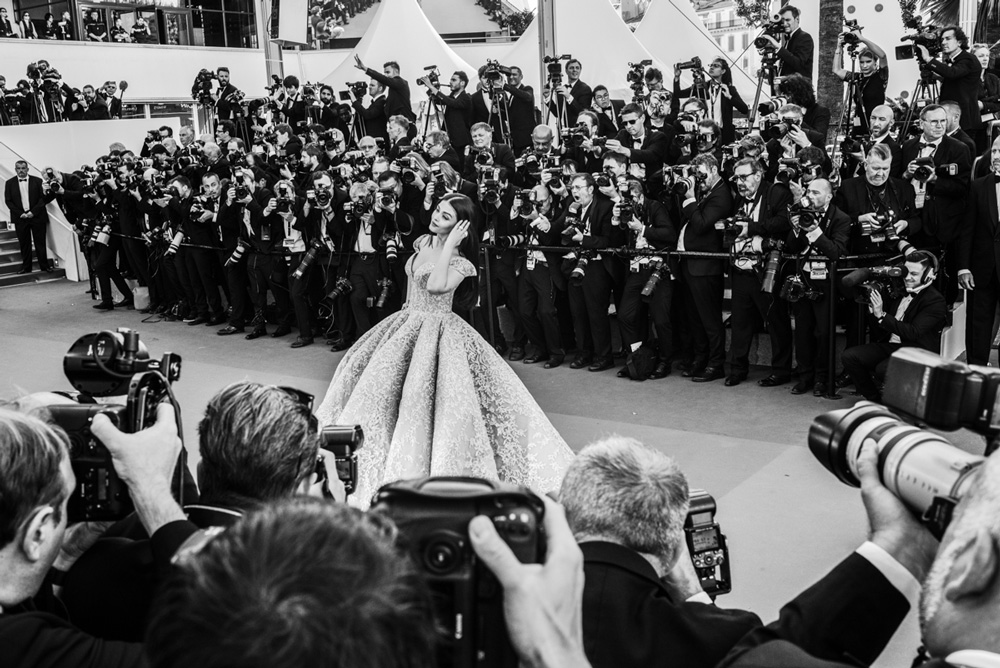 Alison McCauley's interview and translation
by Jean-Paul Gavard-Perret, March, 23th, 2018.
What makes you get up on morning? 
Coffee and the desire to see what the world looks like when I wake up.
What happened to your dreams as a child ?
I didn't become an intrepid jungle explorer but I think what I do now is quite similar in many ways, in that I'm driven by a constant need to search, look and question things.
What did you give up?
I feel fortunate not to have given up too much although there was a period of doing work I hated from my late twenties to my early thirties, but I'm sure it's fed what I'm doing now.
Where do you come from? 
I was born in the UK but I've hardly lived there and I feel more connected to France and Switzerland.  I've spent a lot of time in both those countries.
What is the first image you remember ?
A reproduction in a book of John Singleton Copley's painting Watson and the Shark
And the first book ?
"The Cat in the Hat" by Dr. Seuss
What distinguishes you from other photographers?
Maybe the fact that I do my own thing and I don't worry about how it fits into any particular genre.
How do you choose your themes ?
I used to plan and deliberate but now I just follow my heart and my gut instinct.
To whom do you never dare write ?
I can't think of anyone I wouldn't dare write to.
What music do you listen to ?
It's quite random.  At the moment I love "Portugal. The Man".
What is the book you love to read again?
The only books I've ever read more than once are Lawrence Durrell's "The Alexandria Quartet" and William Golding's "Lord of the Flies".  I read them first time around as a teenager and I wanted to see if I missed anything because I was too young.  I had missed a lot with the Durrell book but Golding's book was as I remembered. My two favourite books are Naguib Mahfouz's "Cairo Trilogy" (it's three books really) and J D Salinger's "The Catcher in the Rye".  They are burnt into my mind and I don't need to reread them.
When you look yourself in a mirror who do you see?
Mostly the person I expect to see.  Sometimes I see a stranger.
What city or place has value of myth for you?
Forests, jungles and the desert are mythical, spiritual places to me.
Who are the artists you feel closest to?
To my fellow photographers, many of whom I "met' online and then got to know in person
What film made you cry ?
"Far from Heaven". I find the idea of people's lives being destroyed because of societal prejudice and discrimination to be particularly upsetting.  It's such a poignant, subtle and beautiful film.  Todd Haynes is my favorite director.
What would you like to receive for your birthday?
Funding for my next photo book or a tabby kitten.
What do you think about Lacan's sentence: "Love is giving something that we don't have to someone who does not want"?
I think it simply means that when we love someone we would do anything for them … or it could mean that when we love someone our judgement is impaired.
And W. Allen: "The answer is Yes but what was the question?"
It makes me think that that was the question.  It also makes me think of FOMO (fear of missing out).
What question did I miss ?
Did you ask me about my new book, "Another Cannes"…?
To purchase the book:   ANOTHER CANNES
---
All images use with permission © Alison McCauley
---
About the interviewer: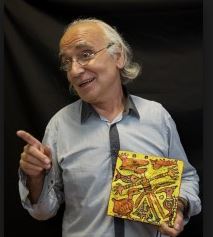 Jean-Paul Gavard Perret is a contributing editor to Ragazine.CC of On Location/France. You can read more about him in About Us.