© Maurice Renoma
Maurice Renoma : Purple Roses of Cairo
Maurice Renoma at the National Hotel,
Miami Beach, 2st december 2016 – 30 April 2017
by Jean-Paul Gavard-Perret
The National Hotel showcases nearly 100 photographs and playful scenography of French designer and photographer, Maurice Renoma
The artist creates diverse links between imagination and reality. His photos always return to the cinema (mainly American) with a lot of action, where apparently there is nothing to do. Thus, the must still use his or her imagination.
The photographer recomposes the movement with the motionless, and the immobility with the movement. Eros is Astronomy or rather Cosmos. But not timeless. With Renoma, the form of the time is given: she has a name. It is the existence.
Maurice Renoma likes playing with the beautiful masks of the feminine. He does not create a "human comedy" like Balzac but that of the game for the game. The photographs are created by him to look back at the childhoods of women who, on summer evenings, went to the dance-floor then left her dance partner in the arms of a lover. He saw them passing: the light of the small lights of the party lit their hair before they were replaced by those of the moon.
Over time, thanks to the condensation of multiple elements (the childhood, the cinema, the readings, the study but also the ground, the journeys, the fashion) Renoma transposes all knowledge of the world into works that mix eroticism and humor. So the artist's "Purple Roses of Cairo" distill their poison.
---
Les roses pourpres du Caire de Maurice Renoma
Renoma crée divers liens entre l'imaginaire et le réel. Ses photographies ramènent toujours au cinéma (principalement américain) avec beaucoup d'action mêmlà où apparemment il ne se passe rien. Si bien que chaque fois c'est au regardeur d'imaginer encore.
Le photographe recompose le mouvement avec de l'immobile, et l'immobilité avec le mouvement. L'Eros c'est l'Astronomie ou plutôt le
Cosmos. Mais pas hors du temps. Avec Renoma la forme du temps est donné : elle a un nom. C'est l'existence.
Maurice Renoma aime jouer avec les beaux masques du feminin. Il ne crée pas une « comédie humaine » à la balzac mais celle du jeu pour le jeu. Les photographies sont créées pour lui remémorer les femmes de l'enfance qui, les soirs d'été, allaient au bal puis le quittaient dans les bras d'un amant. Il les voyait passer : la lumière des lumignons de la fête éclairaient leurs cheveux avant qu'elle soit remplacée par ceux de la lune.
Au fil du temps, grâce à la condensation de multiples éléments (l'enfance, le cinéma, les lectures, l'étude mais aussi le terrain, les voyages, la mode,) Renoma transpose toute sa connaissance du monde dans ses œuvres qui mélangent l'érotisme et l'humour. Les « roses pourpres du Caire » de l'artiste distille leur venin.
---
***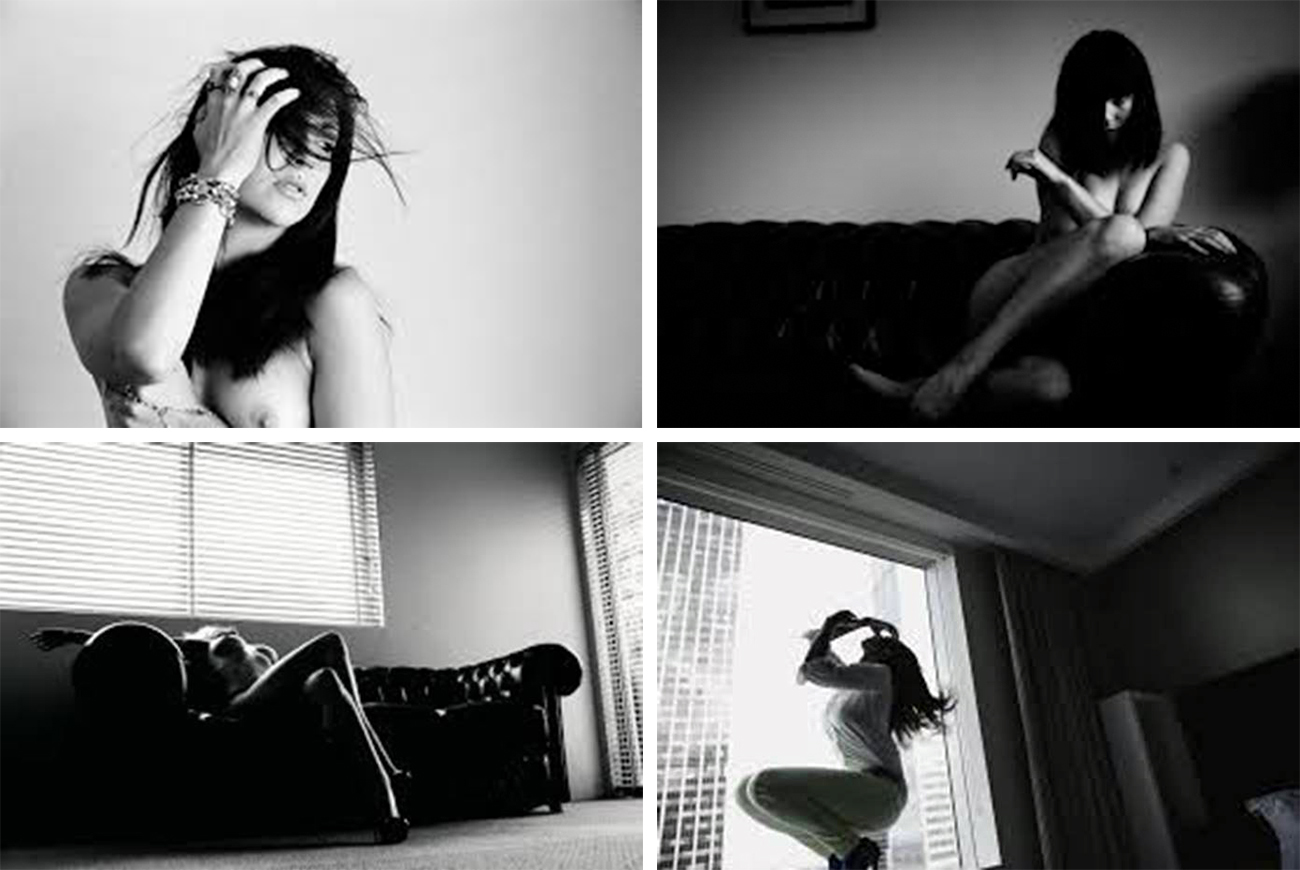 © Lee Nutter
LEE NUTTER
"So many photographers focus on the ugly in the world. I just prefer to focus on the beauty".
by Jean-Paul Gavard-Perret
In Lee Nutter's works the nudity keeps all the rights. But his excess escapes the basic voyeurism. Venus speaks another language in the middle of a word considered erotic but who is only pointless. Lee Nutter rethinks nudity in the name of the idea of beauty. It's not anymore a representation in a striptease way, it becomes the "figure of the figure".  The photographs go beyond pleasure to something deeper.
JPGP: What makes you get up on morning?
LN: If I have anything planned, then I won't sleep, so I hate getting up in the morning. If I don't have anything planned, then the day is full of possibilities, and I can't wait to get started.
Q: What happened to your dreams as child?
A: I always enjoyed reading and drawing, it was all I wanted to do. There was a period of obsession with aircraft, and several years of air league, but the regimentation got to me and my enthusiasm waned. This isn't something I lose sleep over. The books I read offer more variety than a job as a pilot would ever allow, and an empty page has infinite potential.
Q: What did you give up?
A: Money.
Q: Where do you come from?
A: I'm not really sure. I was born in England, but I'm hardly English. I grew up in New Zealand, but despite fond memories, I'm definitely not a Kiwi. I've spent most of my life in Australia, and find it hard to relate to anything about the place. I've recently moved to Cambodia, and I'm happier than I've ever been. I've wanted to be here for years, and now I've arrived. Every morning I wake up here I come from Cambodia.
Q: What is the first image you remember?
A: I don't usually think in or remember concrete images, I remember sensations, visceral responses, vague notions, impressions. I think this is why so many of my own images are blurry, or shrouded in shadow.
Q: And the first book?
A: I'm not sure. One of the first 'big' books I read was probably the Bible? I loved the texture of the pages, and the look of the text in two columns. It was full of vivid imagery, and seductively mysterious. I'm not religious, but I still love reading religious texts.
Q: What distinguishes you from other artists?
A: My particular perspective and my life experiences. Everyone is different, everyone has their own unique perspective. In my more indulgent moments I'd say my great taste. In my more vulnerable moments I'd say I'm not really sure there's anything that distinguishes me. There's so many photographers, some of them are good, others not so much. If I sit somewhere towards the good end of the spectrum, at least that's something.
Q: Why your interest in nude photography?
A: So many photographers focus on the ugly in the world. I just prefer to focus on the beauty.
Q: Where do you work and how?
A: At home if at all possible, and very slowly.
Q: To whom do you never dare write?
A: I don't tend to hero worship, maybe because most of my heroes are dead? I've taken every opportunity to meet the people I respect and admire, and rarely regret it. If I love their work, I'm usually quite confident of their character.
Q: To what music do you listen?
A: Lots! Mostly hip hop and jazz, but also a lot of ambience, and then a whole lot of other stuff too.
Q: What is the book you love to read again?
A: Anything by Henry Miller. I've read every one of his books I've managed to get my hands on, tens of them. I've read many of them twice or thrice, and a some of them many times. I've got a few of them on the Kindle, but I've arranged for a physical copy of Tropic of Cancer to be brought over to Cambodia later this year.
Q: When you look yourself in a mirror who do you see?
A: More and more I see my dad. Occasionally I see my mum. Sometimes I see the little kid I once was. It depends on my mood, sometimes a dropkick, sometimes a visionary.
Q: What city or place has value of myth for you?
A: I love Bangkok of a decade and more ago, I love Phnom Penh now. I love Paris in the 1920s.
Q: What are the artists you feel closest?
A: Henry Miller. Not because I can write like him, but because when I read him, I feel understood. It's that feeling of finally meeting someone who understands my situation, and sees (or saw) the world through similar eyes.
Q: What film make you cry?
A:  I'm unreasonably empathetic towards people I'll never meet, and easily sucked in to a great film. There's many films that have made me cry. They aren't always tears of sadness. Beauty can quite often bring me to tears. Off the top of my head, I'd have to say anything that Wong Kar-wai and Christopher Doyle did together. Especially "In the Mood for Love", and "Chungking Express".
Q: What would you like to receive for your birthday?
A: More time, less responsibility, and enough money to keep doing what I'm doing.
Q: What does this sentence by Lacan inspire in you: "Love is giving something that we don't have to someone who does not want"?
A: I feel incredibly sad for Lacan, not because he was attempting to give something that he did not have, but that he was giving it to someone who didn't want it, whether he had it or not.
Q: And W. Allen: "The answer is Yes but what was the question?"
A: That would definitely depend on who was asking.
Q: What question have I missed?
A: Not because I have the answer, but because I'm interested in others who might. Perhaps asking what to do about the declining appreciation for the arts, particularly in the western world. It's not about money, it's not about status, it's about understanding the contributions that arts and culture makes to the human condition, and respecting what it represents.
Interview and translation, November 5, 2016, by Jean-Paul Gavard-Perret
---
Lee Nutter : « Tant de photographes sont focalisés sur la laideur. Je préfère me concentrer sur la beauté ».
Dans les travaux de Lee Nutter la nudité conserve tous les droits. Mais son excès échappe au voyeurisme basique. Vénus parle un autre langage au milieu d'une société qui se croit érotique mais n'est que futile. Lee Nutter repense la nudité au nom de l'idée de beauté. Elle n'est plus une figuration façon strip-tease, elle devient la « figure de la figure ». La photographie la fait passer l'ordre du plaisir à celui de l'approfondissement.
Qu'est-ce qui vous fait lever le matin ?
Si je planifie quoi que ce soit, alors je ne dors pas, donc je déteste me lever le matin. A l'inverse quand rien n'est planifié, le jour est plein de possibilités et je suis impatient de commencer.
Que sont devenus vos rêves d'enfant ?
J'aimais lire et dessiner, c'est tout ce que je voulais faire. Puis il y eut ma période d'obsession pour les avions et j'ai passé plusieurs années dans une ligue aérienne. Mais la répartition par groupes est arrivée et mon enthousiasme a décrû. Ce n'est plus quelque chose qui me fait perdre le sommeil. Et les livres que j'ai lu offre bien plus de variétés que le travail de pilote permettrait. C'est comme une page vide avec un potentiel infini.
A quoi avez-vous renoncé ?
L'argent.
D'où venez-vous ?
Je n'en suis pas sûr. Je suis né en Angleterre mais je suis à peine Anglais. J'ai grandi en Nouvelle-Zélande, mais malgré des souvenirs affectifs, je ne suis certainement pas un Kiwi. J'ai passé la majeure partie de ma vie en Australie mais j'ai beaucoup de mal à me souvenir de quoi que ce soit. Je suis installé depuis quelques temps au Cambodge et j'y suis plus heureux que jamais. J'ai voulu habité ici depuis très longtemps et maintenant j'y suis. Chaque matin je me réveille en me considérant Cambodgien.
Quelle est la première image sont vous vous souvenez ?
Je ne me rappelle pas des images concrètes, je me souviens de sensations, de réponses viscérales, de notions vagues, d'impressions. Je pense que c'est pourquoi tant de mes propres images sont floues, ou enveloppées d'ombre.
Et votre première lecture ?
Je n'en suis pas sûr. Un des premiers « gros » livres que j'ai lu est sans doute la Bible. J'aimais la texture du papier et le fait que le texte soit imprimé en deux colonnes. C'était plein d'images vives, séduisantes, mystérieuse. Je ne suis pas religieux, mais j'aime toujours lire des textes religieux.
Qu'est-ce qui vous distingue des autres artistes ?
Ma perspective particulière et mes expériences existentielles. Chacun est différent, chacun possède sa propre expérience. Dans mes moments plus indulgents je dirais mon grand sens du goût. Dans mes moments plus vulnérables je dirais que je ne suis pas vraiment sûr qu'il y ait quoi que ce soit qui me distingue des autres. Il y a tant de photographes, certains d'entre eux sont bons, d'autres pas tellement. Si je suis assis quelque part vers la bonne partie du spectre, c'est toujours ça de pris.
Pourquoi votre intérêt pour la photographie de nu ?
Tant de photographes sont focalisés sur la laideur. Je préfère me concentrer sur la beauté.
Où travaillez-vous et comment ?
Chez moi lorsque c'est possible et très lentement.
A qui n'avez-vous jamais osé écrire ?
Je n'ai pas tendance à l'adoration de héros, peut-être parce que la plupart de mes héros sont morts ? Chaque fois que cela a été possible j'ai saisi les opportunités de rencontrer ceux que je respecte et admire et je ne l'ai rarement regretté. Si j'aime leur travail, je suis d'habitude tout à fait confiant en leur caractère.
Quelles musiques écoutez-vous ?
Beaucoup ! Surtout du hip-hop et du jazz, mais aussi d'autres musiques d'ambiance et plein de trucs.
Quel livre aimez-vous relire ?
N'importe quel livre d'Henry Miller. J'ai lu chacun de ses livres et j'ai réussi à mettre mes mains sur des dizaines d'entre eux. J'ai lu beaucoup d'entre eux deux fois ou trois fois et certains plusieurs fois. J'ai quelques-uns d'entre eux sur « Kindle », mais j'ai pris des dispositions pour une avoir une copie physique du « Tropique du Cancer » pour l'apporter au Cambodge plus tard cette année.
Quand vous vous regardez dans votre miroir qui voyez-vous ?
De plus en plus mon père. Parfois ma mère. Parfois le petit enfant que j'étais. Cela dépend de mon état d'esprit, parfois un manipulant, parfois un visionnaire
Quelles villes ont valeur de mythes pour vous ?
J'aime Bangkok depuis dis ans et plus. J'aime Phnom Penh. J'aime le Paris des années 20.
De quels artistes vous sentez-vous proche ?
Henry Miller. Pas du fait que je peux écrire comme lui mais parce que j'aime le lire. Je pense le comprendre. J'ai l'impression de retrouver finalement quelqu'un qui comprend ma situation et voit le monde par des yeux semblables aux miens.
Quel film vous fait pleurer ?
Je suis de façon peu raisonnable ouvert à autrui et ceux que je ne rencontrerai jamais. Donc je suis facilement absorbé à un grand film. Il y a beaucoup de films qui me font pleurer. Ce ne sont pas toujours des larmes de tristesse. La beauté me tire souvent des larmes. Autant que je m'en souvienne, je pourrais citer Wong Kar-wai et Christopher Doyle. Particulièrement « In the Mood for love » et « Chungking Express ».
Qu'aileriez-vous recevoir pour votre anniversaire ?
Plus de temps, moins de responsabilité et assez d'argent pour faire ce que je veux réaliser.
Que vous inspire la phrase de Lacan « L'amour c'est donner quelque chose qu'on n'a pas à quelqu'un qui n'en veut pas » ?
C'est bien triste pour Lacan. Non parce qu'il essayait de donner quelque chose qu'il n'avait pas, mais qu'il était généreux envers quelqu'un qui ne l'a pas voulu – qu'il soit amoureux ou non n'importe pas.
Et celle de W. Allen « La réponse est oui mais quelle était la question ? »
Cela dépendrait certainement de ce qui m'est demandé.
Quelle question ai-je oublié de vous poser?
Pas celles dont je n'ai pas la réponse, mais celles qui m'intéressent. Peut-être pourriez-vous ma demander que faire contre la dépréciation des arts particulièrement dans le monde occidental. Ce n'est pas une question d'argent ou de statut mais il s'agit de comprendre les contributions que les arts et la culture accordent à la condition humaine et au respect de ce qu'elle représente.
Présentation, interview et traduction : Jean-Paul Gavard-Perret, le 5 Novembre 2016.