© Alix Delmas
---
***
Alix Delmas' french kisses
Les baisers d'Alix Delmas
Alix Delmas, « Le Baiser et Persona » in « Love Stories – Phantomnales 2016 », Beauvais, octobre2016 – février 2017.
by Jean-Paul Gavard Perret
Contributing editor
Alix Delmas proposes strange kisses. They make us smile because they are more to be seen than felt.  But they are more than sketches of possibly delicious scenographies; they do not create a real love story. These kisses are not fantasies realized, they are not agreements in spite of appearances. The fever is not always there. They are only preludes to what has no expected outcome. Their power is that they are more theatrical than visceral. More spectacular than effective.
Gestures are at the same time demonstrative and rather ridiculous.  As in a figure skating (double axel, etc.) video, the photos create narrative processes at several levels. Borders cross. It is a question of living on love alone, even if love is only an appearance. The disembodied images testify to the master's ability to reveal in film the process of a play. It imitates the expression of truth revealed in the casting of the kisses. Enjoyment seems absent. The distress not all that visible.  The artist avoids the purely emotional effects of voyeurism. The image no longer fuels the fantasy. Alix Delmas shows the fragility of beings. Any kiss is held by a too light rope. It risks breaking, but we do not know at which moment it will snap.
***
AlixDelmas ropose d'étranges baisers. Ils font sourire car ils sont lus fait pour être vus qu'éprouvés. Mais ils sont plus qu'esquissé dans des scénographies peut-être délicieuses, mais qui ne crée pas une réelle histoire d'amour. Plus joués qu'éprouvés ces baisers ne sont pas des accords en dépit des apparences. La fièvre n'est pas toujours au rendez-vous. Ils sont des  préludes à cequi n'aura pas de suite. Leur effet est plus théâtrale que viscéral.
Les gestes sont à la fois démonstratifs  et assez ridicules. Aux figures cognitives de haut patinage (double axel, etc.) vidéos et photos des procédés narratifs à plusieurs niveaux. Des frontières se traversent. Il s'agit de vivre d'amour et d'eau fraîche même si l'amour n'est qu'une apparence. Les images qui témoignent de la maîtrise d'un processus cinématographique révélateur d'un jeu. Il imite l'expression d'une vérité admise sur la distribution des baisers. La joie semble absente. Mais la détresse n'est pas pour autant visible. Mais l'artiste évite les effets de voyeurisme purement émotif. L'image n'est plus le combustible aux fantasmes.  Alix Delmas montre la fragilité des êtres . Tout baiser tient par une corde trop légère. Elle risque de se casser mais on ignore à quel moment.
---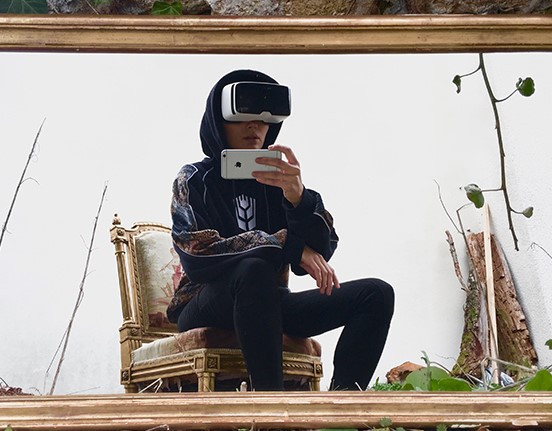 Maria Guta : Women's Empire 
Maria Guta : l'empire des femmes
With Jean-Paul Gavard-Perret
Contributing Editor
Maria Guta was born in Bucharest, Romania, where she studied graphic design and made her practice in fields as visual communication, art direction and fine arts. She moved to Switzerland in 2010 and got a Master`s degree in Art Direction and Photography at ECAL (Lausanne). She is currently living and working as a freelance artist between Switzerland and Romania.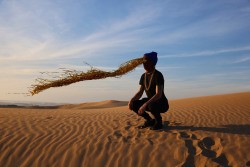 Maria Guta stages women humorously and phantasmagorically. Their presence is transformed in artifices. Man is ruled out. He is only an invisible witness. What remains is the women's empire. The lights and the shadows enlighten or darken bodies suspended in a funny or spectral fixedness. Maria Guta knows how to insist on a detail, without forgetting what plays an important role in the shadow of an internal theater.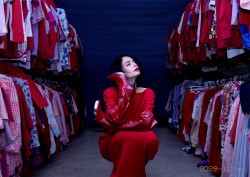 With "POV VR"  she created an experience from several points of view. Before she never dealt with Virtual Reality in her practice, so it was a challenge and a revelation to do so. Shooting in 360° changed her perspective. From building up the concept to the final result there were many discoveries. The most important was to  focus mostly in her presentation on simulating someone else's point of view.
Maria Guta est née à Bucarest où elle étudia le graphisme et le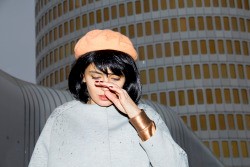 design. Elle s'installe en Suisse en 2010 et complètesa formation à l'ECAL de Lausanne. Elle vit et travaille en artiste freelance entre la Suisse et la Roumanie.
Maria Guta scénarise les femmes avec humour et fantasmagories. Leur présence se transforme en artifice. L'homme il est écarté : il n'est qu' un témoin invisible. Ne reste que l'empire des femmes. Les lumières et les ombres éclairent ou obscurcissent les corps suspendus dans une fixité drôle ou spectrale. Maria Guta sait insister sur  un détail, sans oublier ce qui joue un rôle important dans l'ombre d'un théâtre intérieur.
JPGP: What makes you get up on morning?
MG: The sun, my boyfriend or a really irritating iPhone alarm.
Q: What happened to your dreams as child?
A: Some came true, some changed 180°, some I forgot about.
Q: What did you give up?
A: Gave up some preconceptions about life, family, work and individual in general that were put in my head as a child by a rather traditional/patriarchal and orthodox oriented society and its education system that was at the same time struggling with the remains of a totalitarian system.
Q) Where do you come from?
A) From Bucharest, Romania.
Q) What is the first image you remember ?
A) I cant remember 🙂
Q) And the first book ?
A) Marry Poppins.
Q) What is it that distinguishes you from other artists?
A) I guess my personal experience as a source of inspiration.
Q) Where do you work and how?
A) For "cooking" new projects I mostly work in Switzerland, in front of my computer or in dialogue with people I collaborate with. I also love Swiss trains for thinking and writing down ideas. Otherwise, I am very mobile and so are my projects. I mostly produce them in Switzerland or Romania but then they travel around and I try to travel together with them.
Q) To whom do you never dare write ?
A) I cant think of anyone, writing to someone is what I actually do when I don't dare talking to them.
Q) What music do you listen ?
A) Depending on my moods, a very wide palette of sounds. But, unless I have to sit and work, I love music that makes you wanna stand up and dance.
Q) What is the book you love read again?
A) As a kid I was reading on and on the same fairy tales books. Now I don't really re-read books. Maybe I'll start doing it at some point, for now there's always something new waiting for its turn. My father has a huge library and both of my parents read a lot, so apart from what I buy on my own, they're also always sending me new goodies.
Q) When you look yourself in a mirror who do you see?
A) Sometimes I see just a reflection of myself (or my personas), sometimes it's like looking at another person.
Q) What city or place has value of myth for you?
A) Bucharest, my home town. Its literally massive, but it has massive emotional charge for me as well. And maybe Marrakech, which made me feel like going back in time or straight into the pages of One Thousand And One Nights.
Q) What are the artists you feel closest?
A) It's a delicate question, I admire many artists but don't really have "close" relations to them. Maybe Cindy Sherman, just because I love playing the same games as she did/does.
Q) What film make you cry ?
A) First that comes to my mind is Melancholia of Laars Von Trier.
Q) What would you like to receive for your birthday?
A) An HTC Vive set.
Q) What do you think of when you hear the sentence of Lacan: "Love is giving something that we don't have to someone who does not want"?
A) As I know how it feels to be loaded with love and sharing all of  it with someone who really wants it, I'd rather see this sentence as a metaphor for unconditional love. Although it might also be interpreted in much more pessimistic ways, I guess, with references to love inequality (which is relative and discussable) or to how no one owns anyone (which I agree with).
Q) And w. Allen: "The answer is Yes but what was the question?"
A) Are you hungry?
***
 Qu'est-ce qui vous fait lever le matin ? Le soleil, mon copain ou l'irritante sonnerie de mon iPhone.
Que sont devenus vos rêves d'enfants ? Certains se sont réalisés, d'autres ont virés à 180 degrés, d'autres encore je les ai oubliés.
A quoi avez-vous renoncé ? A certaines idées préconçues sur la vie, la famille, le travail et l'individu en général telles que je les avais dans la tête en tant qu'enfant eu égard à une éducation plutôt traditionnelle, patriarcale et orthodoxe orientée vers la société et son éducation mais qui était néanmoins en lutte les restes d'un système totalitaire.
D'où venez-vous ? De Bucarest, Roumanie.
Quel est la première image qui vous frappe ? Je n'arrive pas à m'en souvenir.
Et votre première lecture ? « Marry Poppins ».
Qu'est-ce qui vous distingue des autres artistes ? Je pense qu'il s'agit de mon expérience personnelle en tant que  source d'inspiration.
Où travaillez-vous et comment ? Pour "mitonner" mes nouveaux projets, la plupart du temps je travaille  en Suisse, en face de mon ordinateur ou avec mes  collaborateurs du moment. J'aime aussi les trains suisses pour penser et écrire quelques idées. Autrement, je suis très mobile. Et mes projets aussi. Je les crée la plupart du temps en Suisse ou en Roumanie mais ils voyagent. Et moi avec.
A qui n'avez-vous jamais osé écrire ? Je peux dire à personne, écrire à quelqu'un est ce que je fais actuellement quand je n'ose pas l'aborder verbalement.
Quelles musiques écoutez-vous ? Cela dépend de mon état d'esprit. Une très large palette de sons. Mais seulement quand je m'assois et travaille. J'aime la musique qui fait qui fait se lever et danser.
Quel livre aimez-vous relire ? Enfant je relisais toujours les mêmes livres de contes de fées. Maintenant je ne relis pas réellement de livres. Peut-être parce que je suis arrivé à un point où il existe toujours quelque chose à découvrir. Mon père a une énorme bibliothèque et mes deux parents lisent beaucoup : à part ce que j'achète moi-même ils m'envoient beaucoup de nouveautés.
Lorsque vous vous regardez dans un miroir qui voyez-vous ? Parfois seulement un reflet de moi-même (ou de ma « persona »), parfois c'est comme si je regardais quelqu'un d'autre.
Que lieu a valeur de mythe pour vous ? Bucarest, ma ville natale. Elle est énorme comme est massive l'émotion positive que j'éprouve face à elle. Et peut-être Marrakech parce que cela me fait ressentir que je retourne vers le passé ou que je m'insinue dans les pages des « Mille et une nuits ».
De quels artistes vous vous sentez proche ? C'est une question délicate. J'admire beaucoup d'artistes sans éprouver des relations proches avec eux. Peut-être Cindy Sherman seulement parce que j'aime pratiquer les mêmes jeux qu'elle.
Quel film vous fait pleurer ? Le premier qui me vient à l'esprit : « Melancholia » de Lars Von Trier.
Qu'aimeriez-vous recevoir pour votre anniversaire ? Un set HTC Vive.
Que pensez-vous de la phrase de Lacan "Aimer c'est donner quelque chose qu'on n'a pas à quelqu'un qui n'en veut pas" ? Comme je sais comment être chargée d'amour et le faire partager avec quelqu'un que j'aime je préfère plutôt prendre cette phrase comme une métaphore de l'amour inconditionnel. Bien sûr cela peut être interprété dans un sens plus pessimiste avec des références aux amours inégales (ce qui est relatif et discutable) ou en considérant que personne n'appartient à quelqu'un (ce que je crois).
Et la phrase de W. Allen "la réponse et oui mais quelle était la question ?" Avez-vous faim ?
---
Présentation Jean-Paul Gavard-Perret, traduction Lara Gavard-Perret, le 29 septembre 2016.
About the author: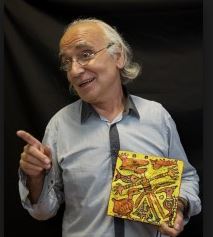 Jean-Paul Gavard Perret is a contributing editor to Ragazine.CC of On Location/France. You can read more about him in About Us.