© Joseph Thompson
Labyrinth VII
---
***
JT's Labyrinth
My name is JT Thompson, a Columbus, Ohio-based artist.
I create large-scale abstract pieces, using canvases ranging from two to nine feet high or wide.
I have been working on a new series, "Illusion of the Labyrinth." The style is Geometric Surrealism.
In breaking a painting down into compartmentalized units of color, stripped of all extraneous detail, the composition becomes open to interpretation. My paintings don't offer a representation of reality, but an idea of it. The shifting physical spaces mirror the shifting interplay between the varied psychological perspectives of the viewer's mind; stairways and corridors appear and disappear, a metaphor for the challenges that arise in seeking a path aligned with your higher self, a struggle sometimes shadowed by hidden aspects of the psyche that are not readily shared or easily understood.
The featured paintings were completed in 2015-16.
---
Labyrinth / JT Thompson
Images use with permission ©2015-2016 Joseph Thompson
---
A Short Q&A with Mike Foldes:
Q)  Where did you study? 
A)  Sinclair Community College Dayton, OH, then transferred to Columbus College of Art and Design (1991) Columbus, OH.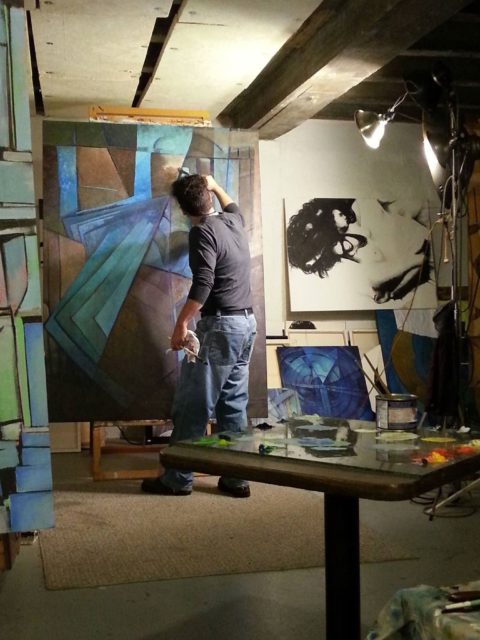 Q)  What other "styles" have you worked in?
A)  Realism, expressionism, abstract expressionism, cubism.
Q)  Whose work do you most admire? Braque? Escher? 
A)  Admire many Da Vinci, Van Gogh Francis Bacon, Amedeo Modigliani, Cezanne, De Kooning, Kline, Braque…. My favorite is Picasso, Picasso would master any style and make it his own!
Q)  What is the difference between Geometric Surrealism and Curvilinear Symbolism?
A)  Curvilinear Symbolism has organic movement and is heavy on symbolism. Art Nouveau mixed with symbolism. Geometric Surrealism is heavy on angles, mixed with surrealism it seeks to release the creative potential of the unconscious mind, for example, by the irrational juxtaposition of images or view points to combine images or events in a very strange and dreamlike way.
Q)  Are these oil, acrylic?
A)  Oil on canvas
Q)  Anything else you'd like to add?
A)  I am getting ready for a Solo Show at Arts Place in Portland, IN (September show).
For more information: http://www.jtoriginals.net/publication.html
---