Jez Timms, Unsplash
---
***
THE LADY OF THE LAMP
by Linda C. Wisniewski
Helen stood squarely before the garish old lamp in her living room.
"You're Ed's, not mine. Never mine. And after today, I will never have to look at you again."
She carried her morning coffee to her blue and white plaid wing chair, and eased her body into it with a sigh. The house had finally sold. The auction people were coming at ten to take away all that was not to her taste. She took a sip, hot, bitter. She looked around the living room. It would be easy to let go of the dinged-up coffee table, the rocker, the overstuffed couch.
"Easiest of all to get rid of you, Ed's favorite lamp."
The dark skinned lady with a turban held up the bulb, her face smirking under the lampshade.
She thinks she's tossing me out. Well, get a grip on yourself, lady. You think it's been a picnic for me all these years, feeling you switch me off with your fat little fingers? Ed was the one who loved me. Why, the very day he died, he gave my tummy a little pat as he walked to the closet for his coat. I knew it was the end when I heard his heart get all weak and skippy. I'd cry real tears if I could. So go ahead. I see that cardboard box. I'm ready.
Helen glared at the lamp. She put down her cup so hard coffee sloshed onto the low table. Then she lifted the lampshade off the harp and placed it on the center cushion of the couch.
"Hmmm. Maybe I'll keep the shade. No, it won't fit any of my other lamps. It's out of here, too."
She wrapped a hand around the neck of the lady of the lamp. Whatever possessed Ed to buy this horrid thing? Turquoise robes with red and gold trim, bracelets on her arms and big gold earrings like circles of ostentation. Ugh. He never listened when she said it didn't go with their other stuff. As soon as they married, the second time for both, he put it in their new living room where she had to see it every day. Three feet tall, how could she miss it? In those days, she'd been so in love with him, his ways were quirky and cute, even his cigarette smoke a minor annoyance. She had vowed to tolerate this one oddball item in a house they both adored.
Now Helen lifted the lamp, surprised by its weight. She needed two hands to wrestle it into the box. A sharp stabbing in her lower back made her cry out but no one was there to hear her. She got down on her knees and rubbed at her back with both hands, tears filling her eyes.
Damn you, Ed. You knew I hated this ugly thing. Twenty years I put up with it, twenty years of parties, all those embarrassing moments when our guests walked up to it, peering at the garish colors, then at me, a question in their eyes.
"That's Ed's," she always said, with a roll of her eyes.
"What?" he'd say. "I like it." Well, now he was gone. She didn't have to keep it one minute longer.
"Why I could have boxed you up six months ago," she said to the lamp, and why not? No one could hear her talking to an inanimate object. Why couldn't she say out loud what she'd been thinking? No more worries over starting an argument. She could say whatever she wanted now. Do what she wanted. She could sell the house he said he'd die before leaving. She could move to Florida, a state he hated, even though he'd come with her last winter to Punta Gorda and stayed two weeks before leaving to come home without her. To come back to this house and his stupid ugly lamp.
Helen wiggled her shoulders. The lamp lady stared at her.
 "I didn't have to wait for the house to sell,: Helen said. "I could have put you in the trash the day he died. What was I waiting for?"
She pressed her hand on the couch to stand then grabbed the box from the floor. The lamp felt a flush of warmth as though she was still plugged into the wall.
He loved me, he really loved me. He stood up for me against everyone and he never let me feel alone. He even dusted me, his hands a soft caress as they moved over my body. So go ahead. Who needs you? Send me to a better place. A better house with someone who cares.
Helen reached for a sheet of old newspaper and wrapped it around the lamp but the woman's face kept tearing through the paper. Her little nose and eyes pointed, accusing. Helen wrapped more paper but it tore at the feet, the hands, the pointy nose. Oh, hell. She found a roll of packing tape in the kitchen, scurried back and wound it around the lamp like a mummy's case then stuck it sideways into the box and taped the lid shut.
Her coffee now cold, she went back into the kitchen for a refill. When the doorbell rang, she stepped into the hall. The auction guy's shadow filtered through the curtain at the front window. Helen's heart pounded. She put down her mug, ran to the box that held the lamp and kicked it hard.
"You're gone, damn it."
Before her, the table held only a pale circle surrounded by dust. She kicked the box again. Once more, hard.
The doorbell rang again. And again. A loud knock followed, three times, like the rat-tat-tat of gunfire. Helen jumped. She glared at the door, took three slow steps to the table and stared down at the dust-free circle, an empty spot she had never seen before.
About the Author
Linda C. Wisniewski is a former librarian who teaches memoir workshops and speaks on the healing power of writing. Her work focuses on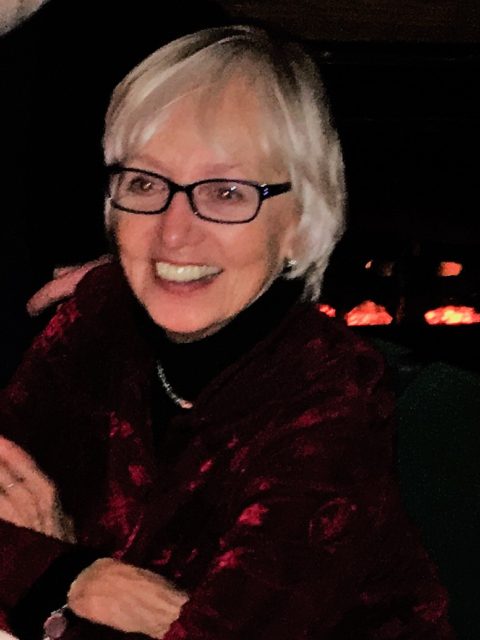 memoir and personal essay and has been published in literary magazines and anthologies as diverse as the Philadelphia Inquirer, Massage, The Quilter, the Christian Science Monitor, gravel and Foliate Oak.  She has won fiction and essay contests from the Wild River Review, the Pearl S. Buck Writing Center, and Mom Writers Literary Magazine and was nominated for a Pushcart Prize. Linda's memoir, Off Kilter: A Woman's Journey to Peace with Scoliosis, Her Mother and Her Polish Heritage was published by Pearlsong Press. More information is available at www.lindawis.com.