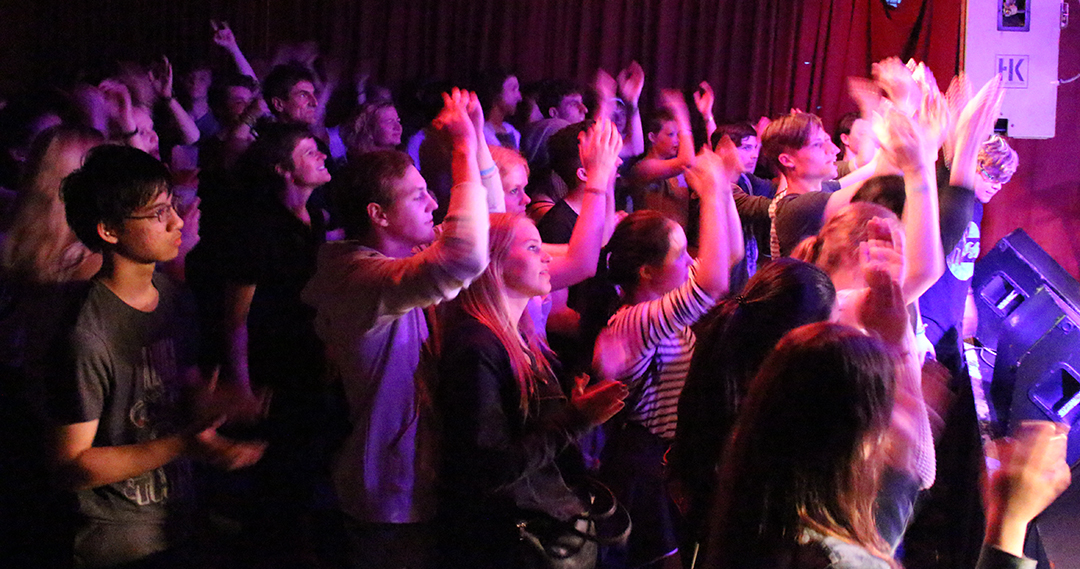 Fred Roberts photos
Grapefunk, top, performs at the Local Heroes Band Contest in Hamburg, Germany. 
***
---
***
Music Editor Fred Roberts Takes a Spin
AAA
as Judge in German Battle of the Bands
***
***
by Fred Roberts
Contributing Music Editor
***
What is that magic that makes a band click with the audience? That is the million dollar question for any band trying to break through, as well as for any record label wanting to reach a mass audience with one of their bands. I don't know the answer any better than anyone else, and everyone who has ever enjoyed music carries the answer somewhere inside themselves. Through the wonderful experience of serving as a judge for the Local Heroes Band Contest in Germany, I've come to understand more about how it works.
My perspective is as a music journalist, someone who enjoys listening to music, and then putting my feelings into words, but other judges have been musicians, music teachers, sound engineers or music producers. They know much more about the technical aspects than I can ever hope to, but through their eyes I've learned to understand some of the aspects that make a band work or not. I'll return to that later.
During two summer weeks in June and July 2015 I saw the best new bands in the Hamburg area. 18 bands in four nights at the Local Heroes semi-finals. Local Heroes, which I wrote about last year, is a band competition throughout Germany with local organizations throughout the country. There are competitions at the state level, and at the end of the year the winners of each final event compete at the national level. This year I was invited back as a judge to the Hamburg events. I'm very glad I accepted because I know that I saw a good number of bands that we are sure to hear more of in the future.
The good news is, if you read this article just as it goes online, you will still have time to book a last minute flight to Hamburg to see the final event on September 5th, at the Markthalle. This will include the 12 bands who made it past these semifinal rounds, as well as a guest appearance by Kids Plastique, last year's winners.
It would be much too long to write in depth about every single band I saw, so I want to focus on just a selection.
The semi-finals opened with Tape Shapes, a band of four playing alternative grunge rock:
Laura (lead singer/second guitar), Elena (bass/backup vocals), Dominik (lead guitar), Julian (drums). Laura's vocals are like a modern-day answer to Chrissie Hynde, full of power, raw, emotive. They played a rough set that night, no ballads, concerned about the competition which included disciples of death metal, black metal and metalcore. Thinking of the Pretender's cover of Stop Your Crying, they do a song Cry, Cry, Cry with some very direct language, "Go fuck yourself." Combine that with their song No More Complications "tonight we'll do it", front girl Laura turns a great image as a bad girl rocker. I cannot wait to see where they go with this.
https://www.youtube.com/watch?v=_k0YnTB8XP4
https://soundcloud.com/tape-shapes
The Vagabonds brought with them a set of catchy tunes brimming with exuberance, a strong sense of composition and excellent songwriting. The charming piece Forever and it's refrain "I just wanted to be yours forever, forever forever forever" echoes even after the music ends. It has a coming of age feeling, not the easiest idea to capture. A guest musician joined them on violin for some of the numbers, a nice bonus to the original set. This was my favorite band of the first night.
https://www.youtube.com/watch?v=j-ZOeTAVS6s
My highlight of the second night was Lumo, a freak folk band with an urban, power-folk sound that would be right at home Ohio/Kentucky, where such genres thrive. They sound like a mix of The Happy Maladies (Cincinnati) and the Super Desserts (Columbus), though I admit it's an obscure comparison. The use of a harp among guitar and bass, gives the band an eclectic feel. They have a number of stand out songs, my favorite being Desire Toy with language that leaves much to the imagination "I like to play" and "obtaining a desire toy". It belongs on the radio. Between songs, lead singer Lia painted strokes on a painting that developed throughout the set, a beautiful symbol of art born out of music. Lia was the first place winner in the Hamburg Local Heroes event two years ago competing as a singer-songwriter.
https://www.youtube.com/watch?v=kxLtmQTUa1s
Grapefunk was a refreshing change of pace. Fun, original, and delicious. Imagine a garage-punk band with a lead singer something like a young Mick Jagger drawing out every syllable to the max, singing about food. Songs like Fruitfly, Junkfood, Superfruit, Happy Meal and Frankenfood. That song has a three second stop while the lead singer pauses to eat a grape. Grapefunk have the makings of a cult band, and as strange as it may seem, they remind me of that incredibly funny children's book The Magic Pudding, which Norbert Lindsey wrote on a bet, that he couldn't come up with a book about eating, and keep it interesting.
https://www.youtube.com/watch?v=BMx1cnPdjr8
Schwech und Pefel are a band that has reached a level of raw sophistication not unlike Kids Plastique last year. Playing in masks, they imparted their version of pop-rock: driving rhythm, vocal choreography, and addicting hooks. The songwriting captures the definition of a generation like on Zu Bunt:
Immoral and much too offensive
we are and remain forever immortal
we build ourselves statues and tear them down
break the rules, and abide by them too
(my translation)
Their song Unfasslich is just fantastic, if only for the use of the German word unfasslich in a new sense: du bist unfasslich – incomprehensible, but also a mystery. They had a strong chemistry with the audience. Before long everyone was wearing the masks they passed out, and it felt like a party.
https://www.youtube.com/watch?v=MurcgHeUyYs
Axid Rain was my highlight of the 4th semi-final night. They call their genre flatrock, which I attempted to google but finally gave up. They're a hard rock band, in the classic vein of MTV or Huey Lewis and the News, with a fantastic live show. Frontman Yannick Mense, in his leather hat and seaman's jacket was all over the stage. Pure charisma and wild guitar riffs. All in all an electrifying performance.
https://www.youtube.com/watch?v=ulXJTvLbYIQ
At least two of the bands that did not make it past the semifinals deserve an honorable mention. The first is Non Aging. With their red bow-ties, black dress shirts and clean-cut appearance, Non Aging presented a uniform image and sound that reminded me of the early Bee Gees and Beatles, but without entering the realm of imitation. The second is Karo Fontana which presented franco-influenced folk featuring trombone, violin, accordion and contrabass, drifting on some songs into the realm of rap. They are the picture of a classic street band you might come across in large cities. I was sorry the two bands didn't make it into the finals, but it should be worthwhile to keep an eye on them.
These were my favorites in the semifinals. What will happen in the finals is another story. After the performances, most of the bands participated in a feedback round with the judges. They will all be working on improving their performances, and the band with the best chemistry is the one that will succeed in Hamburg and make it into the national finale in late autumn.
But returning to the original question, what makes a band click with an audience? The criteria we used as judges to help us pin down the effectiveness of a band was to give ratings in six areas: artistry, appearance, variety, songwriting, impact, and special. Some specific aspects of those might be confidence, enthusiasm, interacting with bandmates on stage (not appearance as separate musicians but as a synergy), interacting with the audience, moving with the music, playing the instruments well. Some sort of similar appearance helps, similar t-shirts, all wearing sunglasses, masks, any small detail. The main criteria for me was that the band should look like they are having fun. That in turn makes the music flow, and ignites the same feeling in the listener. The music has to be good too, fresh, original, unpredictable. The more surprises, the better. In the end, it is still magic, because music is more than the sum of all its parts. That is what the category "special" is for. That category for "it."
I wish all of the bands the best of luck in the final event. Here is an overview of the bands that participated in the semifinals:
Axid Rain (flatrock): https://www.facebook.com/axid.rain.band (finalist)
Captors (metalcore): https://www.facebook.com/captorsmusic
Curado (alternative rock): https://www.facebook.com/CuradoMusic (finalist)
Fat Imo (punk rock): https://www.facebook.com/fatimomusic (finalist)
Freigeist (black metal): https://www.facebook.com/Freigeist.Band (finalist)
Grapefunk (garage rock): https://www.facebook.com/GrapefunkGer (finalist)
In Ivory (post-hardcore): https://www.facebook.com/InIvory
Karo Fontana (folk): https://www.facebook.com/KaroFontana
Lumo (freak folk): https://www.facebook.com/lumoband (finalist)
Maggie's First words (death metal): https://www.facebook.com/maggiesfirstwords
Non Aging (indie rock): https://www.facebook.com/NonAging
One Left Behind (metalcore): https://www.facebook.com/oneleftbehind.official (finalist)
Schwech & Pefel (acoustic pop rock): https://www.facebook.com/SchwechUndPefel (finalist)
Soulforger (death metal): https://www.facebook.com/pages/Soulforger/101197393372301
Suicide Dog Bridge (metalcore): — (finalist)
Sunray (alternative): https://www.facebook.com/SunrayMusic (finalist)
Tape Shapes (alternative rock): https://www.facebook.com/tape.shapes.HAM (finalist)
The Vagabonds (rock): https://www.facebook.com/thevagabondsband (finalist)
Visit the Local Heroes Hamburg finale on September 5th, 2015 at the Markthalle, Hamburg, Germany: http://www.markthalle-hamburg.de
---