Light V
---
***
The Sweep of Greece
Sea, Air, History and Light Come to Life
by Jean-Paul Gavard-Perret
Columnist
The work of Maria Foskolaki seems to me of the greatest interest both in the treatment of light and the narrative poetry between figuration and abstraction that she proposes – among other things, some of the Greek myths revisited.  An important point: Maria's style is always recognizable. So you have to speak more LANGUAGE than simple style.
 
Not seeking an ornamental pictoriality, the painter creates her own path, contrasting lightness and joie de vivre with anxieties and doubts of the time. Such freedom and alacrity seduces and can, if need be, confuse those who expect a pastistic vision of art. (Ed. note: The numerical value of patistic in Pythagorean Numerology is: 7.) Maria Foskolaki imposes a phantasmagorical universe where the presence of Ovid is never far away.
 
The artist dares to oppose the old age of the world and the weight of history. If everything seems airy and winged in the work, it remains nonetheless of a deep nature that questions and feeds the viewer.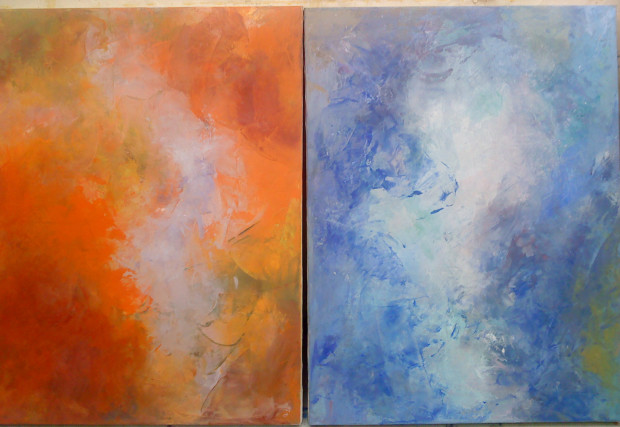 ---
---
Artist's Statement:
I believe that life is as simple or as complicated as regards the point of view of each person. Sincerity and simplicity are the key elements to me in art as in life.
But it is a hard effort to achieve, and of course talking about art and one's technical skills have to absolutely obey the artist's expression.
The crucial point is what every artist brings to art. So , I think that my mature artwork is about pure emotion. Every piece of artwork of mine has its own existence as a human affair common to us.
We are alive so we feel, we feel so we are alive. This is my story.
---
About the artist:
Maria Foskolaki is an artist living in Greece. She was trained and worked as an architect, but after her art studies in the Athens School of Fine Arts, painting has become her main profession.