So Many Things I Wish I Had Done
So many things I wish I had done, so many things I wish
I had said, all those words
that could have comforted
but that I withheld,
so now even so many years after my father's death
I wish I could call him back
from inside the mausoleum drawer at Calvary Cemetery,
reach him through all that steel and metal,
tell him how now that my own children are grown
and have children of their own, 
how much he taught me about how to love,
how to forgive even the sharpest words
hurled in anger,
even the biggest betrayals,
I want to thank him for understanding 
how much I would regret my cruel and thoughtless words,
how even sixty years after I called him disgusting
for drinking his coffee from a saucer
as all the immigrant Italians did,
that I can still see his eyes,
the pain in them,
though he did not yell or grow angry.
He grew quiet instead
pretending he did not understand
that I wanted that middle-class father
he could never be.
I imagine I can sit with him once again
in his crowded little living room,
he, in his brown recliner from Medicare, 
I, in the chair next to him, 
and I would hold his hand.
Today I Celebrate My Body
that body that suddenly couldn't move, 
the hand that couldn't hold a pen or open a cap,
that body that couldn't turn over in the bed.
Each new thing I can do—
close my hand around the pill bottle,
hold a book,
write my name—
I celebrate.
I even celebrate my faltering step,
my one leg dragging. 
These and other movements we take for granted 
until we can no longer do them 
and only then, do we learn gratitude 
for our ability to get out of a chair
and walk even a few feet with help.
Each day I get stronger.
One more thing that I can do
and I celebrate each small victory,
although I know I probably will quickly forget
and take all theses daily miracles for granted again,
ones I deserve and don't ever want to lose.
---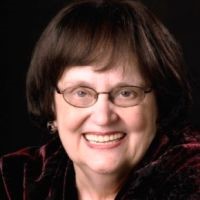 Maria Mazziotti Gillan is the author of twenty-three books. Her most recent books are the poetry and photography collaboration with Mark Hillringhouse, Paterson Light and Shadow (Serving House Books, 2017) and the poetry collection What Blooms in Winter (NYQ Books 2016.) She received the American Book Award for All That Lies Between Us (Guernica Editions). Ms. Gillan is the founder and executive director of the Poetry Center at Passaic County Community College in Paterson, New Jersey, and editor of the Paterson Literary Review. She is Professor Emerita of English and creative writing at Binghamton University-SUNY.