Norman Mailer
………………………………………………………………………………………………………………………
America's Scrappy Novelist (and Poet?)
A Memoir by John Smelcer
Norman Mailer holds a special place in American literature, and not simply because he won the Pulitzer Prize for Fiction twice (in 1969 for The Armies of the Night and again in 1980 for The Executioner's Song), a feat few other novelists have achieved. There was something different about his writing.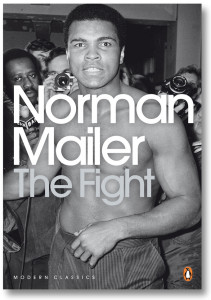 Like the fighter he wrote about, Mailer's prose was lean and tough, winning (literary) bouts only after putting in the necessary hard work, anguish, and sweat. Like his contemporary Ernest Hemingway—who also wrote about fighting—Mailer thought of himself as a man's man and often impressed others as pugnacious. Fair or not, something about Mailer's prose dares anyone to find a sparer, more direct way of hitting the mark. I had the honor of knowing him in the last years of his extraordinary life.
Aptly, our friendship began because of a book.
In 2004, my book The Trap won the James Jones Prize for First Novel. Winston Groom (Forest Gump) and Ray Bradbury later provided blurbs for the dust jacket. Jones, a contemporary of Mailer's, being a year older, had also served in the Pacific Theater during WWII. Both later published bestselling novels about their experiences and observations. Mailer wrote The Naked and the Dead, which spent 62 weeks on the New York Times Bestseller List and at one time was considered one of the 101 greatest books in English (though it is little read today); Jones wrote From Here to Eternity and The Thin Red Line, both of which were made into now-classic war films.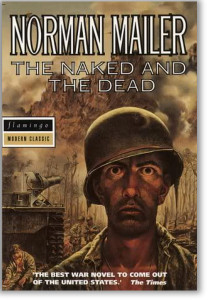 Throughout their lives, Mailer and Jones moved in the same literary circles, and both won a National Book Award. The James Jones Prize is awarded by the Jones estate, the James Jones Literary Society, and in association with Wilkes University. Jones's daughter, Kaylie Jones, presented me with the award at a ceremony in the small town of Robinson, Illinois, where her father was born in 1921. After receiving the prize, I was asked to join the faculty of Wilkes University's low-residency graduate program in creative writing, directing theses in poetry and fiction. My years on the faculty there were among my happiest, allowing me to meet other writers, and getting me out of Alaska twice a year, especially during early January, the coldest and darkest time of the year. It was at Wilkes that my literary friendship with Mailer began.
The fledgling program might have been young, but it boasted Norman Mailer on its advisory board, thanks to the efforts of the program's co-founder, J. Michael Lennon, Mailer's long-time bibliographer and now his biographer. Norman's son, Michael Mailer, was also on the faculty. In the evenings, after a day of classes,
workshops, and symposia, we faculty convened in a local pub to imbibe and to cultivate lasting friendships. Michael and I enjoyed our share of pints and good cigars. We were similarly aged, and both our fathers had served during wartime (mine in Vietnam). More than once we debated which of us had the toughest son-of-a-gun father, regaling each other with our own "war stories," similar to the scene in Jaws where Quinn and Hooper compare scars ("I got that beat"). Michael conceded the contest.
When I told Lennon that I was writing a novel influenced by Mailer's The Gospel According to the Son, he kindly provided me with Mailer's home address and encouraged me to contact him and to mention his name and my connection to the creative writing program to open the door. Over the next two years, Mailer and I collaborated on a number of literary projects. He helped me structure one of my novels and encouraged me to write my next book, Stealing Indians, a historical novel about the Native American boarding school experience. When I told Norman how Groom told me not to publish the book for fear "it would give America a black eye," Norman said, "fug him!" an anachronistic term he used often in The Naked and the Dead.
But the most interesting part of our literary friendship had to do with something unexpected. It turned out Norman was a poet. Norman Mailer . . . poet. I have to say the notion had never crossed my mind. But then, Hemingway began his writing life as a poet (bet you didn't know that) before he (fortunately) turned to the novel and nonfiction. By then, I had been poetry editor at Rosebud for well over a decade. I asked Norman for a few poems, which I edited and published in issue 35. With permission, I offer an excerpt from his ars poetica poem.
"If Poetry is the Food of the Soul":
I want
my poems to be like bones and shine
silver in the sun.
For poems which
are like bones crackle in my teeth.
Look for the death within the death.
A year later, in 2006, I moved from Alaska to upstate New York, four thousand miles closer to Mailer's home in Provincetown, MA. Not long after my move, Norman invited me to visit him in Provincetown. At 83, he was smaller and more fragile than I had expected. Old age does that, I guess, even to literary giants. We talked about Stealing Indians and about a war novel that I was reluctant to write. Norman agreed to let me publish his acceptance speech for his Lifetime Achievement Award from the National Book Award Foundation. He died a year later in November 2007.
I count myself lucky to have known Norman Mailer, even if it was only at the end of his life. His influence on American literature was profound, despite the marginalization of his work in academe today. He and Truman Capote innovated a genre now known as creative nonfiction. He encouraged so many writers, including me, and he still does through the Norman Mailer Society, the Norman Mailer Writer's Colony (his home in Provincetown), and through numerous writing awards. It took eight years, but I'm currently working on The Field (Das Feld), the war novel that Norman encouraged me to write. In fact, it's dedicated to him.
f
About the Author:
Website: www.johnsmelcer.com