Introduction to "Notes from Wheeler Hill"
As I sit writing this I'm nearly 3,000 miles away from Wheeler Hill, NY. When I look up I see Pacific waves crashing against numerous rocks and sea stacks beyond the 250-foot cliff that lies just a few dozen yards from this room. I'm here in Trinidad, CA, visiting with friends I met a year ago at a poetry reading I was giving at the local library. I arrived here a couple of days ago and will be staying for another four days, after presenting another program at the library. I won't return to my country home on Wheeler Hill for another three-and-a-half weeks.
There is no way I could have envisioned as a youngster living in the eastside, blue-collar, Polish community of Buffalo, NY, that I would someday be making my living through poetry. Yet, that is what I have been doing for nearly 25 years. No way could I have envisioned that someday I'd be sitting in a house on a cliff gazing out at the vast Pacific and writing a column for a magazine. Yet, that is where I am, what I'm doing.
How did I make it here?
I wrote my first poem in Mr. Kerr's English class at Hutch Tech High School in Buffalo. In the weeks prior to that we had gone over American poetry. Read and discussed poems by Frost, Sandburg, Whitman, Lindsay, Cummings, etc. I found much of it interesting, but the poetry didn't really grab me. Then Mr. Kerr gave us a homework assignment to bring to class the lyrics of a song that we liked, and to look at it as poetry. That excited me because I was very much into song lyrics but never connected that to poetry. The problem I had was what ONE song to bring in. I easily could have taken in twenty. After much consideration I decided on "Masters of War" by Bob Dylan. For two classes we went over lyrics that were brought in. The following class Mr. Kerr had us write a poem. I can recall sitting there wondering what I was going to write about. Then an idea came and the words started flowing out. When I was finished I looked at what I had just done and said to myself, "Wow, I wrote a poem!" I have continued to write poems ever since.
That was 50 years ago.
In that same class I came across two quotes that, when I read them, I immediately knew they were very meaningful and important. Both were in Walden by Henry David Thoreau and both had to do with dreams.
If one advances confidently in the direction of his dreams, and endeavors to live the life which he has imagined, he will meet with a success unexpected in common hours.
If you have built castles in the air, your work need not be lost; that is where they should be. Now put the foundations under them.
Thank you Mr. Kerr!
Poetry and dreams entrenched themselves into my being. Four years later came the next important shaping element of my young life. I left college in my junior year (too many philosophy classes – I asked myself what I was doing there and didn't have an answer), and went on the road with a backpack, tent and my thumb. Those days everybody was heading west to California, to the Rocky Mountains, so I went east to the Adirondacks, New England, the Maritimes. I hitchhiked over 30,000 miles, off and on, over three years. I'd head out from Buffalo in Spring, return in Autumn, work again till next Spring and head out once more. I backpacked on mountain trails for days on end. Hitched on expressways, highways, small country roads. Stayed a third of the time in peoples' houses without ever asking once. Spent time with folks who lived in the country and had gardens, chickens, put food up and lived simple lives close to nature. Through all of those hitchhiking miles I never had a bad experience.
I learned a lot in those 30,000 miles on the road. Learned how to talk with strangers. Learned how to make a good campfire. How to trust my instincts. But the main thing I learned came from the people I stayed with, people who lived a simple life in the country, especially Ma Stickney.
Ma lived with her husband and son in an old, rundown farmhouse on a hillside overlooking Lake Champlain. She stopped to give me a ride and I stayed at her place for a week, working in a garden for the first time in my life, feeding the chickens and pigs, gathering eggs.
That week in the old farmhouse had a profound influence on the direction my life took. It gave me my first glimpse of there being an alternative to living in the city. Maybe a place in the country with homegrown food was a possibility.  I also learned from Ma that contentment in life wasn't connected to the amount of material possessions one owned. Everyone who knew Ma seemed to have a high regard for her, seemed to cherish her friendship. It didn't matter that her house was run down and in need of repair, that she drove an old beat car, that the family had to sometimes trap fish illegally or shoot a deer out of season to help keep food on the table. Her heart was kind, her door was always open.
Maybe I didn't have to stay working and living in the city like all of my relatives. Maybe I could live in the country, have a garden, raise some animals. Maybe it didn't matter how much money I earned. Maybe it was more important what my heart was like. I started dreaming of doing just that.
Less than two years after the hitchhiking journeys were over I left Buffalo behind and have lived in the country ever since, for the last 33 years on Wheeler Hill, in the far northwestern portion of the Susquehanna Watershed.
Throughout all of that time I continued to write poems. The poetry was only shared with a few people who were close to me. In 1985, though, another big event occurred in my life. I wrote a long poem and for the first time in my life I knew I needed to share it orally. The poem was about the idea of Nuclear Winter and I felt I had to read it to the local peace group. The poem was inspired by a program they presented and so, at the next program, I asked if I could read my poem before the main presenter began. They agreed and I nervously stood up in front of the group of twenty or so people and spoke a poem of mine out loud to an audience for the first time in my life.  The audience applauded when I was done but the guest speaker, when he got up to start his program looked at me and very seriously said, "You call that a poem? Poems are supposed to rhyme!" Luckily, even though this was my first time going public with my poetry and my first feedback, I knew that was his problem, not mine.
The effect on me of sharing a poem in public for the first time was similar to the effect writing that first poem in Mr. Kerr's class had: I haven't stopped since.
It's a long way from reading and writing poetry to making a living through that work. A year after going public as a poet, I began publishing poetry, starting FootHills Publishing. Two things I committed to when I started the press. One was to never take money from poets to publish their books. The second was never to take grant money for publishing. I wanted the poetry to be able to exist by standing on its own. The first book and a few chapbooks were co-published with Walt Franklin and his Great Elm Press. I had interests in publishing that were a little broader than Walt's focus on bio-regionalism and nature, so I then continued to publish books solely through FootHills.
In the first decade or so of FootHills, there were a number of years when no books were released, or just one or two. Money was tight and we had a difficult enough time making ends meet life-wise, so money for poetry was out of the question. Yet, I never entertained the thought of abandoning FootHills.
In 1994, while working for a local winery selling wine, another life-changing moment occurred. I was driving back home and reflecting on my life. I thought about how probably there was less time ahead than behind in my life (I was 43), and that I should be spending my time doing what was important to me, what my heart called me to do. Besides publishing poetry, I had been expanding my own work as a poet, giving more readings, conducting workshops, doing some poet-in-residence work at schools. This was the important work of my life and I knew this is what I needed to be doing. So, with the support of my wife Carolyn, I quit the winery and set out to make a living through poetry. There was no other income coming in and we had two children and a third in the belly. But there was no other choice. This is what I had to do. This was what Thoreau's quotes about dreams were talking about.
Within a few months I connected two words I never connected before. If you take the word "poetry" and add a "v" and rearrange a few letters – "poverty". I just knew they must have a common root in the language! Yet, like I always say, it is only poverty in dollars, life is rich, and that is certainly the more valuable commodity.
So, the above is a way of introducing myself and where I am at presently, where I've been for the last 23 years. Poetry is my life (thank you Mr. Kerr) and I live a simple life in the country on Wheeler Hill (thank you Ma Stickney.) I often leave Wheeler Hill and go out on the poetic road across America, giving readings and conducting workshops.
This column will present views of what that life is like. Some columns may focus on life on Wheeler Hill, with our wood cook-stove, old-order Amish neighbors and occasional poetry gatherings. Others may be about being a poet on the road, which is always full of wonderful people, places and experiences. Whatever the columns are about, I hope you enjoy them and I'd love to read your questions and comments if you have any.
With appreciation,
Michael
---
About the author: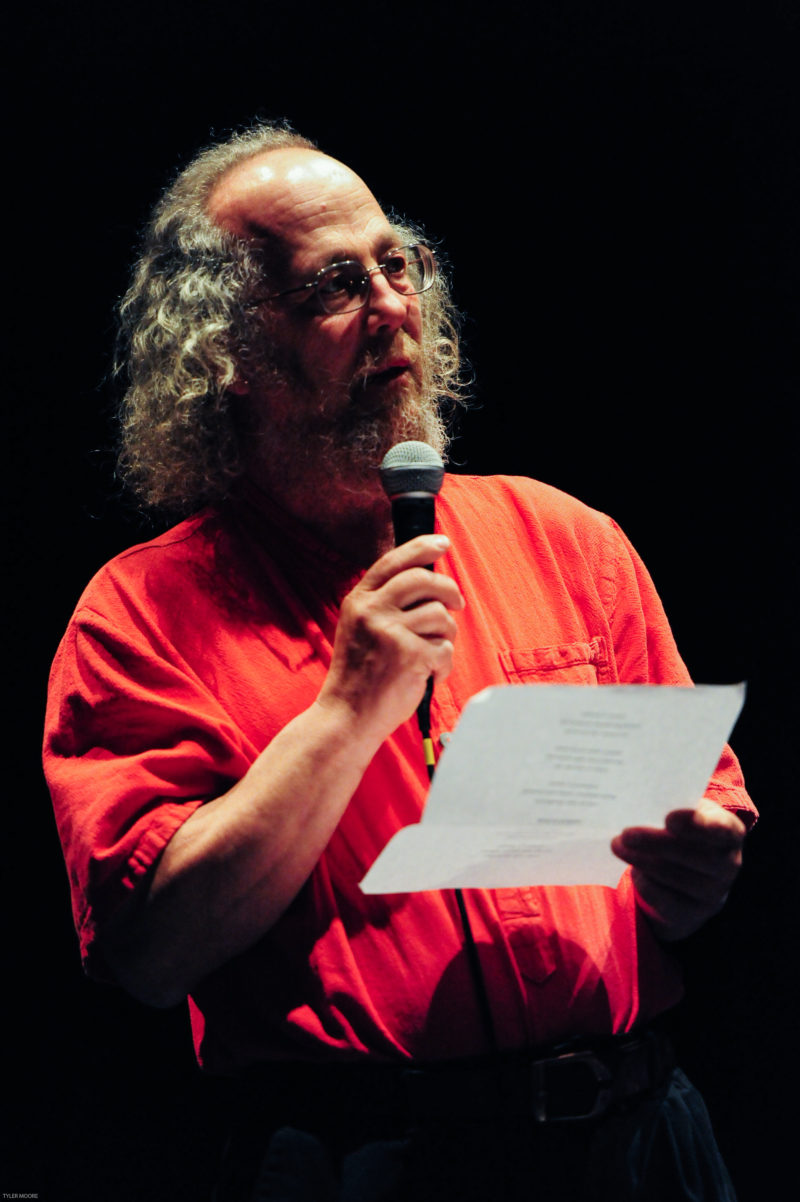 Michael Czarnecki founded FootHills Publishing in 1986 and has made his living solely through the creative word since 1994. He lives in the far northwestern region of the Susquehanna Watershed and often goes out on the poetic road across America giving readings and conducting workshops. Find out more in About Us, and on Czarnecki's website, www.foothillspublishing.com/poetguy/index.html.