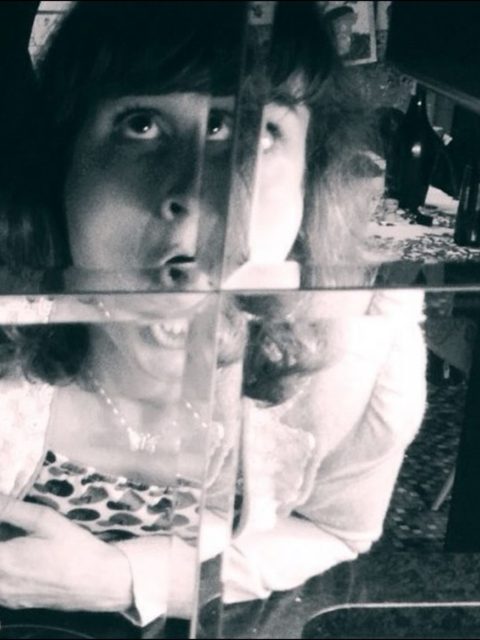 Cayo Scheyven : liberté et amour
(Cayo Scheyven : freedom and love)
by Jean-Paul Gavard Perret
Contributing Columnist
Cayo Scheyven est une artiste d'origine néeralandaise. Elle est le parfait exemple d'une artiste libre qui se moque des convenances. Son travail refuse toute prétention. Et l'artiste cherche avanr tout la vérité de la vie.  Le monde est parfois en guenilles mais parfois fait de dentelles. Et la créatrice rapièce tout sans forcément rester  à bonne distance. Au besoin elle sait empiéter sur certains passés pour que  la vie avance. Et elle avec. Elle sort toujours de l'immobilité absolue, sait surgir, rebondir. Son corps et ses corpus photographiques  n'ont donc  rien de figé : s'effectuent – parfois même avec de la musique – les déplacements des déplacements.
JP: Qu'est-ce qui vous fait lever le matin ?
CS: Mes rêves.
JP: Que sont devenus vos rêves d'enfant ? 
CS: La Réalité. Et je continue de rêver. Je n'ai jamais cessé d'être une enfant.
JP: A quoi avez-vous renoncé ?
J'aimerais pouvoir dire aux cigarettes. Je renonce rarement mais j'oublie quand ça m'arrange.
JP: D'où venez-vous ?
CS: D'un mix entre le « upper » et l'underground. Je suis originaire d'Utrecht en Hollande ce qui explique mon besoin de faire court et précis. Mais je me suis attardé longtemps à Londres, et les choses sont devenues plus subtiles. Pour finir (du moins pour le moment) je vis à Bruxelles où je fais partie d'un espace collectif d'art (une manière de vivre et d'être vécue) appelé « Le Lac » (www.lelac.info).
JP: Qu'avez-vous reçu en dot ?
CS: Le monde est mon huître.
JP: Un petit plaisir – quotidien ou non ?
CS: Vous me faites revenir aux cigarettes ! Ma cigarette du matin et un café sous un pétale d'une fleur géante et dorée près de ma caravane. Mais seulement après j'emmène mes filles à l'école et je peux les regarder grandir tandis qu'elles prennent toujours le même chemin. Un plaisir quotidien qui m'effraie parfois.
JP: Qu'est-ce qui vous distingue des autres artistes ?
Je n'ai jamais cherché à me comparer. Ou me distinguer par quelque voie que ce soit. Je trouve dans cette question un aspect de type trop compétitif.  J'apprécie d'être entourée par d'autres artistes. Je crois vraiment à la synergie.
JP: Comment définiriez-vous votre approche du portrait ?
CS: Un ami m'a dit une fois que j'attrape juste le moment d'avant.
JP: Quelle est la première image qui vous interpella ?
CS: « The Cottingley Fairies »,  une série de  5 images photos prises  en 1917 par deux cousines anglaises : Elsie Wright et Frances Griffiths. Elle représente une petite fille entourée par les fées. Et l'histoire de ces  photographies était la suivante :  si vous avez cru à ce que vous imaginez, vos pensées apparaîtraient sur l'image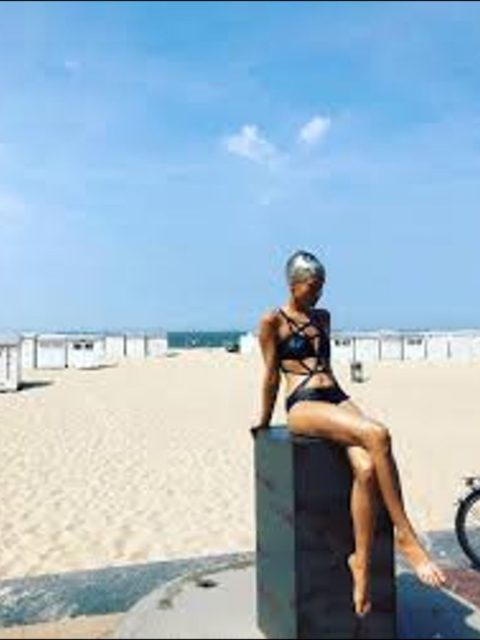 Pas encore adolescente je demandais à ma mère de m'acheter plusieurs pellicules. Et j'empruntai son appareil. Et après mes tout premiers shooting je donnai à ma mère mes pellicules pour leur développement. Elle revint avec 48 prises du même coin de notre jardin. Décue je lui est dit « j'ai vraiment cru imaginer ».
JP: Et votre première lecture ?
CS: « Le livre de la Jungle » de Kipling.
JP: Quelles musiques écoutez-vous ?
Depuis trop de nombreuses années et en boucle "Pale Blue Eyes" par le  Velvet Underground. Le seul autographe que j'ai demandé est celui de Lou Reed.
Et récemment j'écoute quelques rares opéras. Je suis musicienne aussi et je combine ma fascination pour les arts visuels avec la musique.
 Avec Matthieu Ha, un très talentueuxHaut de contre, nous avons créé un pas si mauvais  duo pour une performance de cinéma-opéra. Un mélange entre les opéras de chambre du XIXème siècle et le home-cinéma du XXIème siècle.
 JP:: Quel est le livre que vous aimez relire ?
Il y en a vraiment beaucoup trop si bien que je veux toujours les lire avant que je n'aie lu un autre même livre de nouveau…
JP Quel film vous fait pleurer ?
CS: « Certains l'aime chaud »
JP: Quand vous vous regardez dans un miroir qui voyez-vous ?
CS: Cela dépend de l'heure du jour. Mais la plupart du temps je vois la croyance que tout  est possible.
JP: A qui n'avez-vous jamais osé écrire ?
CS: Mon père, et avec l'espoir qu'il ne lira pas cet interview.
JP: Quel(le) ville ou lieu a pour vous valeur de mythe ?
CS: Ce doit être « Le Lac » un lieu destiné à devenir un mythe. J'ai rencontré des personnes parmi les plus profondes (mais aussi  des superficielles). Elles me conduisent vers d'autres niveaux.
JP: sont les artistes et écrivains  dont vous vous sentez le plus proche ?
CS: Mary Ellen Mark, Diane Arbus et Matthieu Ha, mon partenaire dans mon crime d'art.
JP: Qu'aimeriez-vous recevoir pour votre anniversaire ?
CS: Du chocolat, j'aime le  chocolat.
JP: Que défendez-vous ?
CS: La Liberté et l'Amour.
JP: Que vous inspire la phrase de Lacan : "L'Amour c'est donner quelque chose qu'on n'a pas à quelqu'un qui n'en veut pas"? 
CS: Etre inconditionnel. L'aspect le plus important de l'amour.
JP: Que pensez-vous de celle de W. Allen : "La réponse est oui mais quelle était la question ?"
CS: Très vrai. Je suis rarement capable de répondre non à une question – comprise ou non.
JP: Quelle question ai-je oublié de vous poser ?
CS: Pensez-vous que je vous connais maintenant.
Cayo Scheyven : freedom and love
by Jean-Paul Gavard-Perret
Contributing Columnist
Cayo Scheyven is the perfect example of a free artist who laughs at proprieties. Her work refuses any claim. She tries mainly to find the truth of the life. The world  is sometimes in rags but sometimes made of lace. And the creator patches everything without staying necessarily in good distance. When needed, she knows how to deal with the past so life moves forward. She always goes out of the absolute immobility, knows how to appear, bounce. Her body and her photographic body thus are never motionless: only the movements of the movement are made – sometimes even with the music.
JP: What makes you get up on morning?
CS: My dreams
JP: What happened to your dreams as child?
CS: Reality. And I am still dreaming, I never stopped being a child.
JP: What did you give up?
CS: I wish I could say cigarettes. But I can't. I rarely give up but sometimes I conveniently forget.
JP: What is the first image you remember ?
CS: The Cottingley Fairies, a series of 5 pictures taken in 1917 by two cousins from England. Elsie Wright and Frances Griffiths. It's a little girl surrounded by fairies. And the photographers' story was that if you believed, your thoughts would appear on the picture. 
Not a teenager yet, I asked my mother to buy me several films, I borrowed her camera. And after my very first photo shoot, I gave my mother the films for development. She returned with 48 pictures of the same corner of our garden. Disappointed, I told her, "I really believed".
JP: And the first book ?
CS: The Jungle Book by Kipling 
JP: What is it that distinguishes you from other artists?
CS: I never thought about comparing. Or distinguishing myself in such a way. I find the question of a rather competitive type. I relish being surrounded by other artists. I truly believe in synergy.  
JP: How do you work ?
CS: A friend once told me that I catch the moment just before.
JP: What music do you listen to?
CS: For too many years, on repeat, "Pale Blue Eyes" by the Velvet Underground. The only autograph I ever asked for was of Lou Reed.
And recently, I listen to rare operas. I am a musician, too, and combine my fascination for visuals with music. Together with Matthieu Ha, an extremely talented Haute Contre, we created a not-so-fashionable duo performing opera cinema. A mixture between 19th century living room opera and 21st century home cinema. A duo whose aim is to bring an utopian elegance in experimental music, somewhere between renaissance-opera & electro poetry. The duo's lips belong to Matthieu Ha, Euro-Asiatic composer &…
JP: What is the book you love read again?
CS: There are too many books I still want to read before I read the same book again.
JP: When you look yourself in a mirror who do you see?
CS: It depends on what hour of the day. But mostly, I see the belief that everything is possible.
JP: What city or place has value of myth for you?
CS: It has to be Le Lac, a place destined to be a myth. It has linked me with some of the most profound people (as well as the shallow ones). And driven me to other levels.
JP: What are the artists with whom you feel closest?
CS: Mary Ellen Mark, Diane Arbus & Matthieu Ha, my partner in art crime.
JP: What do you struggle for?
CS: Freedom and Love
JP: To whom do you never dare write?
CS: My father, in the hope that he doesn't read this interview
JP: What film make you cry?
CS: "Some Like it Hot"
JP: What would you like to receive for your birthday?
CS: Chocolate, I love chocolate.
JP: How do you respond to this sentence of Lacan: "Love is giving something that we don't have to someone who does not want"?
CS: Being unconditional. The most important facet of love.
JP: And Woody Allen: "The answer is Yes but what was the question?"
CS: Very true. I am rarely able to say no to any question, understood or not.
JP: What question have I missed?
CS: Do you think I know you now?
---
About the author: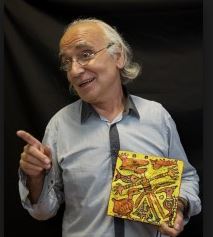 Jean-Paul Gavard Perret is a contributing editor to Ragazine.CC of On Location/France. You can read more about him in About Us. 
Présentation, interview et traduction de l'anglais (US) par Jean-Paul Gavard-Perret, July, 16th, 2018.