© Rosy Lamb
Harriet (two), oil on plaster | 120×95 cm | 2013
vvv
---
fff
ROSY LAMB:
American Artist in Paris
vvv
Interview by Jean-Paul Gavard-Perret
On Location/France
vvv
By her seizing upon feminine intimacy, Rosy Lamb does not look for indecency. Her models partially escape full view. They are shown partially hidden, and do not give answers in the abyssmal nudity of the body. The pleasure of the "Peeping Tom" to form with the image a duet is ruled out. Rosy Lamb proves that nudity is not flesh, but painting. The exhibition raises the question of solitude, not to push it away, but because it engenders a particular "remotio." It articulates what is revealed to what cannot be penetrated. The human being is felt in his fragility. The viewer must discover it in crackling, plans and feelings.
JP: What makes you get up on morning?
RL: Hunger. Sometimes I wake up carefree, just to play with the day. Often a piece I am working on has me in purgatory and then I wake up only to jump back into the fire. But I am always very hungry in the morning.
JP: What happened to your dreams as child?
RL: As a child I never thought much about becoming anything. I dreamt and did stuff, and I still do.
JP: What did you give up?
RL: Not much. My first childhood impressions are of the loveliness of the world, of the fun of being alive.  I still love this life so very much.
JP: Where do you come from?
RL: I was born in a rural part of NH, USA.
JP: What is the first image you remember ?
RL: A little bit of sunlight shining in my hand and making my bones look red.
JP: And the first book ?
RL: Little Bear by Else Holmelund Minarik with illustrations by Maurice Sendak.
JP: What distinguishes you from other artists?
RL: The only time I ask myself this question is when I am worried about the rent. When I am fully lost in my work, I go in the direction of my struggle and my pleasure without reference to others or a clear idea of what I am doing or why.
JP: Where do you work and how?
RL: I work in my studio in Paris. Obsessively.
JP: To whom do you never dare write ?
RL: I like the intimacies that come to me through chance and DNA. I don't dream much of  writing to anyone out of the blue. I like to know other artists through their work and then I like to stay home and be in my own work.
JP: What music do you listen to ?
RL: The usual mix of digital music. A few old favorites: Arvo Part, Lhasa de Sela, Leonard Cohen, Nick Drake and Fats Waller.  I also spend a lot of  studio time listening to audio books and English language radio. When I paint, I often don't listen to anything.
JP: What book do you love to read over and over?
RL: There are a few books that I started reading when I was very young and I seem to pick up like old friends when I see them on a shelf. The Catcher in the Rye, Pride and Prejudice,  Lolita and "Hamlet" are a few of these.
JP: When you look at yourself in a mirror who do you see?
RL: I am the life that is looking out and so even as my face changes and ages I seem to see nothing, to remember nothing of what I saw. Perhaps this is why self portraiture is so difficult for me, it is so hard to make something out of nothing.
JP: What city or place has value of myth for you?
RL: The home where I was born in New Hampshire, where my mother still lives. It is a small and humble old wooden house, which sits on top of a hill and looks out over woods and mountains in every direction-it has always been the very center of the geographical world for me-even long after I had moved away to the city to go to art school.
JP: Who are the artists you feel closest to?
RL: As with the books I have been reading since my youth, there are a few artists that I first discovered on my mother's bookshelf that have an everlasting mystery for me. Vermeer, Holbein, Degas, Matisse and Van Gogh are amongst them. And then, there are so, so very many paintings and sculptures and so many individual artists that I have loved since those first loves. But I don't actively think about any artists when I am working, less than ever in fact. Waking and then painting is, for me, a way to sometimes connect strongly with the moment which unfolds in the air around me as well as a chance to witness , first hand, how very blind I am to the wholeness of everything.
JP: What film makes you cry ?
RL: It is very easy for me to cry in movies, in fact I often even cry watching trailers. Recently I cried at the end of the Hindi movie "Lootera."
JP: What would you like to receive for your birthday?
RL: A massage or better yet,  a whole bunch of massages.
JP: What does the  sentence of Lacan inspire: "Love is giving something that we don't have to someone who does not want it"?
RL: I don't see much sense in it. For me love is accepting ourselves and life as it comes – incomplete perfection.
vvv
---
Rosy Lamb / Artist 
vvv
[easymedia-gallery med="1828″ filter="1″]
 © Rosy Lamb. All rights reserved. Used with Permission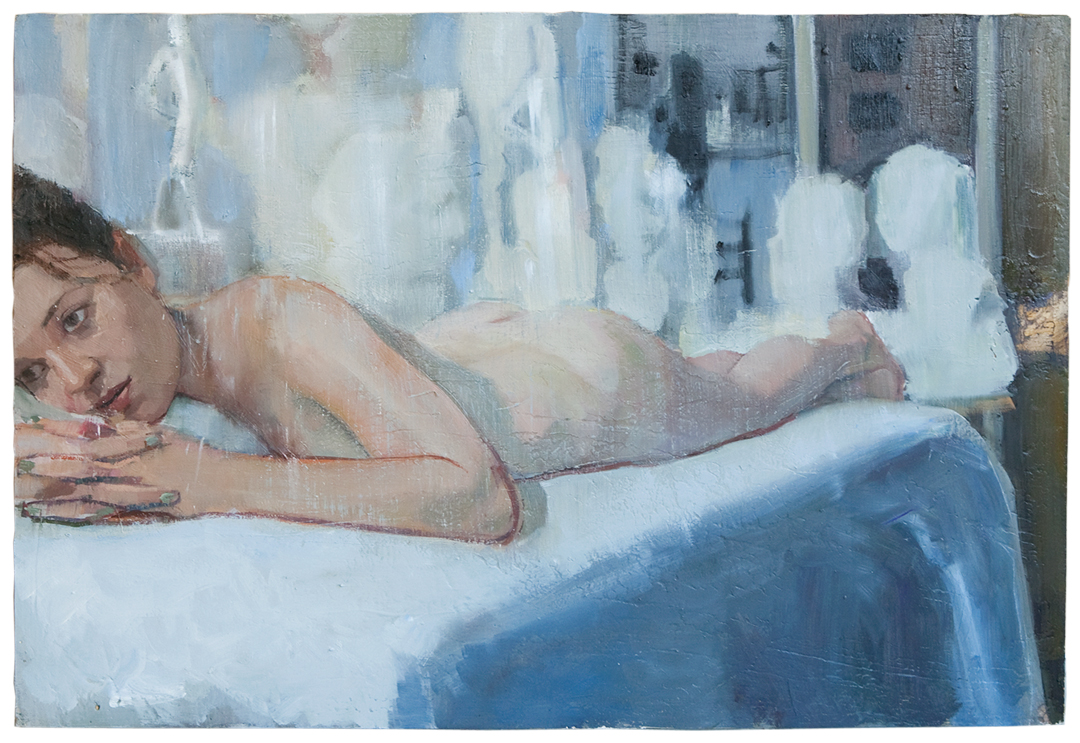 Harriet | oil on plaster | 85×59 cm | 2014
Rosy Lamb's painting, above, is of  her long time model, the young writer Harriet Lye. Vice magazine recently published a essay by Harriet about her experience modeling for Rosy and her thoughts on her own mortality. You can read it here.
vvv
Muse from Sam Gordon on Vimeo.
 A film of Rosy Lamb painting Harriet Alida Lye
vvv
vvv
---
Portrait Rosy Lamb by Miniature Films on Boum! Bang!.
A film in french by Cléophée Demoustier and Othmane Madiou
vvv
For more about Rosy Lamb's paintings and sculptures, visit: rosylamb.com
---