© Polixeni Papapetrou
Ocean Man, from the series, The Ghillies, 2013
Pigment ink print | 120 cm x 120 cm 
---
***
Greek goddess of Australia : Polixeni Papapetrou
Beyond Eden
Monash Gallery of Art
Melbourne, 22 October – 2 December 2016

Human Nature
European Month of Photography
Berlin, 1-31 October 2016
EN: Ten years ago Polixeni Patapetrou was a victim of a stupid controversy in her country. The pretext was there that she photographed her daughter (six-years-old) nude. It was to understand nothing that Polixeni Papapetrou explores. Mainly the theme of the transformation and processing from childhood to adolescence, from adulthood to old age. Her  experience of the disease made her even more susceptible to the fragility of the life. The beauty remains the essence of her women's vision. The creator fights for the freedom of the women and of her own work. The Australian knows how to create a very particular "romanticism".  In the lyric which dissipates the intelligence she prefers the latter while remaining capable of offering feelings. They allow her to take the plunge of past in the present and towards the future, which the work announces subtly within its particular ceremonial.
FR: Il y a une dizaine d'années Polixeni Papapetrou a été victime d'une stupide controverse dans son pays. Le prétexte en était qu'elle photographiait sa fille  (à l'époque âgée de six ans) nue.  C'était ne rien comprendre à ce que Polixeni Papapetrou explore. Principalement  le thème de la transformation de l'enfance à l'adolescence, de l'âge adulte à la vieillesse. Son expérience de la maladie l'a rendue encore plus poreuse à la fragilité de la vie. La créatrice lutte pour la liberté des femmes et de sa création. L'australienne sait créer un « romantisme » très particulier. Au lyrisme qui dissipe l'intelligence elle préfère cette dernière tout en demeurant capable d'offrir des émotions. Elles permettent de franchir le pas du passé au présent et vers le futur que l'œuvre annonce subtilement au sein de son cérémonial particulier.
---
Interview with Jean-Paul Gavard-Perret
Q) What makes you get up in the morning? 
A) There is always so much to be done in the morning that I need to get out of bed. The first thing that I do is to prepare breakfast, read the paper and complete the crossword. Food is a strong motivator. Lately I have been gormandizing on almond croissants for breakfast as a new French bakery has opened in my neighbourhood.
Q) What happened to your dreams as child?
A) As a child I remember having a strong urge to leave the family home and have a life different to the one that I was having. I guess that my dreams were centered around the whole idea of escape: the main dream was the escape to university and this was realized, forever changing my life as I new it would.
Q) What did you give up?
A) I do not feel that I gave anything up, it's more the opposite. I feel that I have gained so much.
Q) Where do you come from? 
A) I was born and raised in Melbourne by Greek-born parents. I am an Australian with Greek heritage. Yet I also feel as if I come from Greece because when I visit Greece it feels as much a home as does Australia.
Q) What is the first image you remember?
A) Under my parents' bed was a box of photographs containing pictures of my parents as teenagers in Greece and also pictures of their early years in Australia. I would pull out these photographs on a weekly basis and study them. They held such mystery for me. I cannot specifically remember any picture as a first image, but this box of photographs was certainly my first significant encounter with the image. Much later when I traveled to Greece I was given the only surviving photograph of my paternal grandparents who I never met. It is not the first image that I remember, but it has become the most memorable image for me.
Q) And the first book?
A) When I started primary school I could not speak any English. I was taught to read by the state school reader called "John and Betty". That book defined the expectations of girls and boys for the time. As we did not have any English books in the house, I stole one from but was found out and a letter was sent to my parents which resulted in my punishment.
Q) That is what distinguishes you from other artists?
A) I feel a lot of commonality with other artists in photography and other arts, like literature. Maybe what distinguishes me, apart from my background as an individual, is the opportunity that I have had to work with certain inspiring people, especially my own children. I feel that I have had a unique privilege in gaining access to their innocence, their apprehensions, their imagination, their incomparable shrewdness as well as naivety, their immediate appreciation of the symbolic, their sense of wonder. I realize that not everyone can enjoy the enchanted fresh perspective that children can bring adults when they are both empowered and thoughtful.
Q) May you say that you are a feminist photographer ?
A) Yes, in the sense that one cannot say no. I am not overtly feminist but what I take from feminism is the recognition of power structures that operate along gendered lines, which many of my photographs seek to subvert.  A persistent theme throughout my work is cross-dressing, shape-shifting through role-play, where my female and male children—I am blessed with one of each—take on the dress of the opposite sex ('Phantomwise' 2002).  I also take from feminism a desire to understand the girl dynamics ('Games of Consequence' 2008) and the phallic symbol ('The Ghillies' 2013); and most recently, on girls and flowers and the garden has been interpreted along feminist lines as a deconstruction of female passivity which underlies historical decorative horticultures ('Eden' 2016).
Q) Where do you work and how?
A) I always work in Australia.  Each body of work is either created in the landscape or the studio.  I move from one to the other, depending on the kind of space that I want to surround the figure.
Q) To whom do you never dare write ?
A) Mmm, my mother? Just joking! I am a somewhat intrepid letter-writer.  When I was just setting out in my photographic studies, I wrote to Richard Avedon (and got a lovely reply) and I also wrote to a former Australian Prime Minister to express my disappointment at his philistinism.  The only problem that I have in writing to people is a fear of not wanting to waste their time.
Q) What music do you listen ?
A) I love music and listen to many epochs and genres.  I often sing from a small list on my iPhone, containing popular pieces that I grew up with as a teenager in the 70s. Classical music is a big part of the family culture.  My daughter Olympia plays violin in an orchestra and I love her repertoire.  My favourite composer is probably Bach.
Q) What is the book you'd love read again?
A) Gustave Flaubert's 'Madame Bovary' for Emma Bovary's psychological makeup and how her demise was partly determined by the position of women in the nineteenth century. Her moral, financial and psychological decline whilst tragic is a cautionary tale on many levels.
Q) When you look yourself in a mirror whom do you see?
A) Gratefully, I see myself.  But it is a great question. In English, we use the reflexive 'myself':  I see myself.  But we could also say 'I see my self', meaning my inner nature.  I would not make that claim because I am still trying to understand who I am.  Maybe it's not for me to know.  As with the camera, the mirror does not return an analysis.  That is for the artwork to do.
Q) What city or place has value of myth for you?
A) Paris, enormously, for reasons of pure delight.  There are other centres of world capital, London for example, which for me is majestic and admirable; but Paris, for all its baroque grandeur and nineteenth-century bombast, never ceases to be intimate, lyrical, conversational, pictorial and cheerful.  It makes me happy thinking about it. But there are other places that entirely lack the charismatic elegance of Paris but which resonate powerfully with me.  The land around Mildura, in the north west corner of my home state of Victoria, is an example. The whole of pre-colonial Australia was a huge map of stories with deep spiritual significance; and you can still feel it strongly in that dry but beautiful part that we call the Mallee.
Q) Who are the artists you feel closest to?
A) These are the artists who are my friends or artists whom I know personally. Of course to have a close relationship means that I also admire their work and commitment to it.
Q) What film makes you cry?
A) This is a good question. I always and only seem to cry in films about the holocaust. Although I find these films difficult to watch, I push myself to watch them and also take my children to these films (aged 17 and 19) to never become complacent over the wrongness of what happened and to understand their paternal grandmother's history.
Q) What would you like to receive for your birthday?
A) Ah, sadly, I would like my doctor to tell me that I will get to experience the one after the next one.
Q) What do you inspire the sentence of Lacan: "Love is giving something that we don't have to someone who does not want"?
A) Lacan's idea is a deficit model of love. It assumes that you have a finite repository of love-assets, for which you borrow or feign or promise to render what you lack.  And on the other side, our lover is not lacking anything and so has no need for the love, else the relationship would be dependency and not true love.  The line is clever but false.  It proposes a reality close to the ritual of giving flowers.  You don't have the flowers (so have to buy them from the florist) and the person receiving them (like my husband, for instance) may consider that they are unnecessary.  But I would say that the miracle of love is that the more one gives, the more one has to give. It is not a deficit model. It is generative.
Q) And W. Allen: "The answer is Yes but what was the question?"
A) We know what the riddle is. The question must be: 'does life have a meaning'?  Of course the answer must be 'yes'.  But after this affirmation, we still don't know the question. And all the other beautiful semantic questions follow.  Do art and music have a meaning?  Yes! but what is the question?
Q) What question I missed?
A) Do you like shopping? And the answer is………
---
For more about Polixeni Papapetrou, click here.
---
Qu'est-ce qui vous fait lever le matin ?
Il y a toujours tant de choses à faire que je dois sortir du lit. La première chose que je fais est de préparer le petit-déjeuner,  lire le journal et achever mon croissant. La nourriture est une puissante motivation. Récemment je suis devenue gourmande des croissants pour le petit-déjeuner car une boulangerie française s'est ouverte près de chez moi.
Que sont devenus vos rêves d'enfant ?
Enfant je me rappelle que j'éprouvais une forte urgence de quitter ma famille et découvrir une  autre vie que la mienne. Je crois que mes rêves  tournaient tous autour de l'idée de fuite : le rêve majeur était de partir pour l'université et je l'ai réalisé. Ce qui a changé ma vie pour toujours.
A quoi avez-vous renoncé ?
A rien je pense et c'est plutôt le contraire : j'ai beaucoup gagné.
D'où venez-vous ?
Je suis née et j'ai grandi à Melbourne de parents grecques. Je suis australienne avec un héritage grec. Aussi je me ressens comme si je venais de Grèce parce que lorsque je visite ce pays  je me sens autant chez moi qu'en Australie.
Quelle est la première image dont vous vous souvenez ?
Sous le lit de mes parents il y avait une boîte qui contenait des photos de mes parents adolescents en Grèce et aussi les photographies de leurs premières années en Australie. Je sortais ses photos toutes les semaines pour les étudier. Elles étaient un mystère pour moi. Je ne peux pas précisément me souvenir d'une seule image comme la première mais cette boîte de photographies fut certainement pour moi ma première rencontre avec les images. Beaucoup plus tard, quand je voyageais en Grèce, on m'adonné la seule photographie survivante de mes grands-parents que je n'ai jamais  rencontré. Ce n'est pas la première image dont je me souviens mais c'est l'image la plus mémorable pour moi.
Et votre première lecture ?
Quand j'ai commencé l'école primaire je ne savais pas parler anglais. On me demanda de lire un livre d'école intitulé « John et Betty ». Ce livre définissait les attentes des filles et des garçons de l'époque. Comme nous n'avions pas de livres en anglais à la maison, j'en ai volé un à l'école  mais je fus découverte : une lettre fut envoyé à mes parents avec comme résultat une punition.
Qu'est-ce qui vous distingue des autres artistes ?
J'éprouve beaucoup de rapprochements avec les photographes et les praticiens d'autres arts et la littérature. Peut-être ce qui m'en distingue – en dehors de mon passé et de ma personnalité – est l'opportunité d'avoir pu travailler avec des êtres inspirés spécialement dans mon enfance. Je pense que j'ai eu un privilège unique en ayant accès à leur innocence, leur compréhension, leur imagination, leur intelligence incomparable et leur naïveté, leur compréhension naturelle du symbolique et leur sens du merveilleux. Je me rends compte que tout le monde ne peut aimer la perspective fraîche, enchantée que les enfants peuvent apporter aux adultes quand les deux sont trop réfléchis et conditionnés.
Acceptez-vous le terme de photographe féministe ?
Oui dans le sens que je ne peux dire le contraire. Je ne suis pas ouvertement féministe mais ce que je retiens du féministe est son appréhension du pouvoir des structures qui fonctionnent dans les lignes de démarcation de la notion de genre – ce que beaucoup de mes photographies tentent de subvertir. Un thème persistant au cours de mon travail est comment se travaille les « changes » à travers les formes et  par le jeu de rôle. Par exemple mes enfants – féminins et masculins – ont été bénis habillés de la robe de baptême dévolues au sexe opposé (« Phantomwise », 2002).  J'ai aussi emprunté au féminisme le désir de comprendre les dynamiques des filles   (« Games of Consequence », 2008), le symbole phallique  (« The Ghillies », 2013) et plus récemment comment les femmes, les fleurs et le jardin ont été réinterprétés par les féministes en tant que déconstruction de la passivité  féminine que souligne toute l'histoire de l'horticulture décorative (« Eden », 2016).
Ou travaillez-vous et comment ?
Je travaille toujours en Australie. Chaque corpus est créé soit à l'extérieur, soit en studio. Je vais de l'un à l'autre cela dépend du type d'espace que le désire pour entouré mes portraits.
A qui n'avez-vous jamais osé écrire ?
Mmm, ma mère ? C'est juste une plaisanterie. Je suis une épistolière quelque peu intrépide. A peine sortie de mes études photographiques j'ai écrit à Richard Avedon (et j'ai eu une belle réponse) et j'ai aussi écrit à un ancien Premier Ministre australien pour exprimer  ma déception face à son philistinisme. Le seul problème que j'ai à écrire est la crainte de leur faire perdre leur temps.
Quelle musique écoutez-vous ?
J'aime la musique et j'en écoute de tous les genres et de toutes les époques. Je chante souvent à partir de la petite liste de mon iPhone. Elle contient des airs populaires avec lesquels j'ai grandi en tant que  teenager dans les années 70. La musique classique représente une grande partie de la culture de ma famille. Ma fille Olympia joue du violon dans un orchestre et j'aime son répertoire. Mon compositeur favori est sans doute Bach.
Quel livre aimez-vous relire ?
« Madame Bovary » de Flaubert pour la structure psychologique d'Emma et comment celle-ci est en partie déterminée par la position de la femme au XIXème siècle. Sa morale, son déclin financier et psychologique est un récit  tragique et édifiant sur beaucoup d'aspects du  XIXème siècle.
Quand vous regardez dans un miroir qui voyez-vous ?
Par chance moi-même. Mais c'est une grande question. En anglais nous utilisons le pronom réflexif  "myself' (moi-même). Mais nous pouvons dire aussi je vois « my self » : signification de ma nature intérieure. Je ne ferais pas cette allusion sous prétexte  que j'essaye toujours de comprendre qui je suis. Comme  l'appareil photo, le miroir ne renvoie pas d'analyse.  C'est à l'œuvre d'art de la proposer.
Quel lieu à valeur de mythe pour vous ?
Paris, énormément, et pour raisons de pur plaisir.  Il y a d'autres villes en tant que capitales du monde. Londres par exemple qui est pour moi majestueuse et belle. Mais Paris possède une grandeur baroque et la grandiloquence du dix-neuvième siècle qui  ne cessent jamais d'être intimes, lyriques, parlantes, décoratives et gaies. Cela me rend heureuse d'y penser. Mais il y a d'autres endroits qui manquent entièrement de l'élégance charismatique de Paris, mais qui résonnent puissamment avec moi. Les terres autour de Mildura, au nord-ouest de mon état de Victoria en est un exemple. Tout l'Australie pré coloniale Australie est chargée d'histoires avec la signification spirituelle profonde. Vous pouvez toujours le sentir fortement dans cette partie sèche mais belle que nous appelons le Mallee.
Quels sont les artistes dont vous êtes le plus proche ?
Ce sont des artistes qui sont des amis ou que je connais personnellement. Bien sûr pour avoir une relation proche il faut que j'admire  leur travail et leur engagement.
Quel film vous fait pleurer ?
C'est une bonne question. J'ai toujours et seulement pleuré devant les films sur l'Holocauste. Bien que je trouve ces films difficiles à regarder  je m'oblige à les regarder et je demande à mes enfants (de 17 et 19 ans) de le faire afin de ne pas se tromper sur ce qui est arrivé et  de comprendre l'histoire de leur grand-mère paternelle.
Que voudriez-vous recevoir pour votre anniversaire ?
Ah, tristement, je voudrais que mon docteur me dise que je fêterai le prochain après celui-ci.
Que vous inspire la phrase de Lacan : "L'amour c'est donner quelque chose qu'on n'a pas à quelqu'un qui n'en veut pas " ?
L'idée de Lacan est un modèle du déficit d'amour. Il suppose que vous avez un dépôt fini d'actif d'amour selon lesquel vous empruntez, simulez ou promettez de rendre de quoi vous manquez.  De l'autre côté, « notre » amant ne manque de rien et n'a  aucun besoin de l'amour, autrement la relation serait la dépendance et non de vrai amour. Cette vision est intelligente mais fausse. Je dirai qu'il propose une réalité proche de l'offrande particulière  des fleurs. Vous n'avez pas de fleurs et personne pour les recevoir (comme mon mari par exemple). On peut donc considérer que c'est inutile. Mais le miracle de l'amour fait que plus on donne, plus on doit donner. Ce n'est pas un modèle déficitaire mais génératif.
Et celle de Woody Allen : « la réponse est oui mais quelle était la question » ?
Nous connaissons cette énigme. La question doit être : « La vie a-t-elle un sens ? ». Bien sûr la réponse est oui. Mais après cette affirmation nous ne connaissons toujours pas la question. Et toutes les autres et belles questions sémantiques suivent. L'art, la musique ont-ils un sens ? Oui ! Mais quelle est la question ?
Quelle question ai-je oublié de vous poser ?
Aimez-vous faire du shopping ? Et la réponse est…
---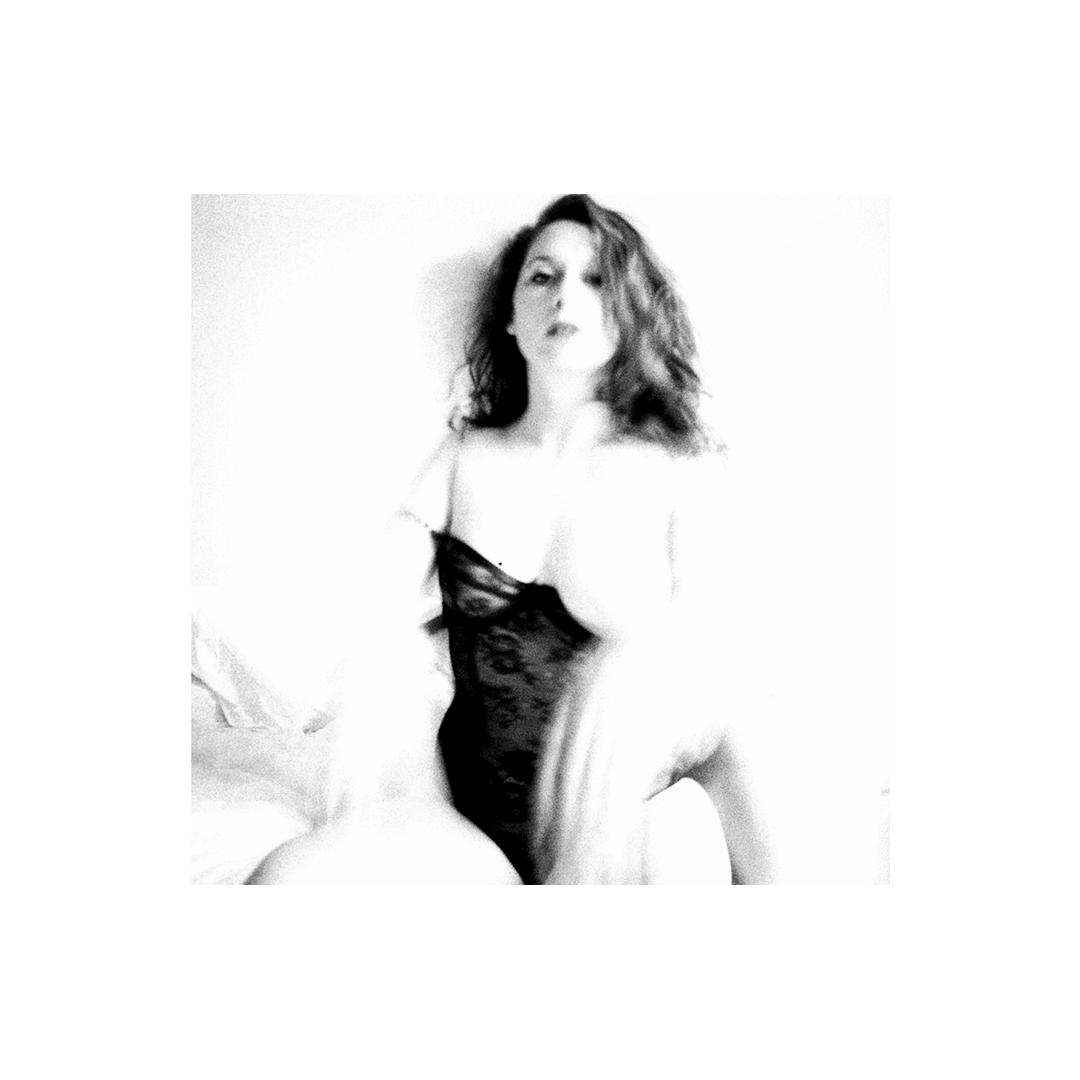 ©Camille Moravia
Camille, from the series, The Day I Had
---
***
Camille Moravia : The age is a party
(L'âge est une fête)
Camille Moravia, « Lejour où j'a eu… »
Galeriede la Voûte
Paris, du 15 au 25 septembre 2015
The age is a party (holiday)
Review by Jean-Paul Gavard-Perret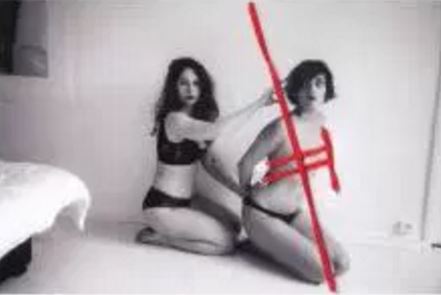 To celebrate her birthday, Camille Moravia puts her body in imbalance. It is true that if she still has fears, outside of romanticism she is afraid of nothing. Life hangs by a thread. But it is necessary to have to roll it up. It is not new, will say those who know the work, but, in fording two waters of age, the artist rises on the deck of a drunk boat where she offers her self-portraits. The life rebels. At the top of naked arms – or somewhere else – the flesh makes impertinent. The women are happy. The eulogy of the life builds up itself in the sweatiness of their flesh. And if they promise nothing they give themselves everything with a mischievous shape.
Upside down bodies appear from their wells. Through their clothes or in their nudity they draw movements of a courtship display which has nothing legal or of illegal. A universe of delights is there. And breasts although in black and white are made for the mouth as two ice creams for raspberries. Lacing-up, dismasting, thick clouds of nudity. A skirt lets see between its lapses the intimacy of the woman. Fragments of skin tattooed here and there. But if the life is parodic the photographer gives her a wrongly trivial and fairly impulsive interpretation and performance. Proof that the solitude can be absolute but never ideal.
---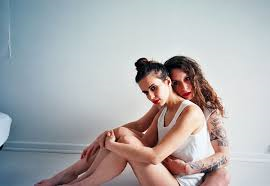 Pour fêter son anniversaire, Camille Moravia met son corps en déséquilibres. Il est vrai que si elle a encore des peurs,  en dehors du romantisme elle ne craint rien.  La vie ne tient qu'à un fil mais il faut s'avoir l'enrouler. Ce n'est pas neuf diront ceux qui connaissent l'oeuvre mais,  en gué entre deux eaux d'âge,  l'artiste monte sur le pont d'un bateau ivre où elle offre ses autoportraits.  La vie s'insurge. Au haut de bras nus – ou ailleurs – la chair se fait insolente. Les femmes sont heureuses. L'éloge de la vie se crée dans la moiteur de leur chair. Et si elles ne promettent rien elles se donnent tout avec un air  mutin.
Sans dessus dessous les corps fleurissent de leurs puits. A travers leurs vêtements  ou dans leur nudité ils dessinent des mouvements d'une danse nuptiale qui n'a rien de légal ou d'illégal. Un univers de délices est là. Et les seins quoiqu'en noir et blanc sont faits pour la bouche comme deux glaces aux framboises. Laçage, démâtage, nuées de nudité. Une jupe laisse voir entre ses laps l'intimité de la femme. Fragments de peau tatouée ça et là. Mais si la vie est parodique la photographe lui donne  une interprétation faussement anecdotique et passablement primesautière.  Preuve que la solitude peut être absolue mais jamais idéale.
---
For more about Camille Moravia, click here.
Traduction, présentation et entretien par Jean-Paul Gavard-Perret, le18 juillet 2016.
---
About the interviewer: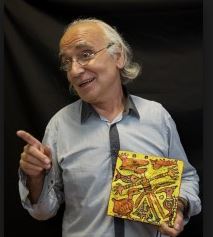 Jean-Paul Gavard-Perret contributes the On Location/France column to Ragazine.CC. You can read more about him in About Us.