*
---
*
The 9th Annual International
London Burlesque Festival 2015
Interview with festival founder Chaz Royal
* * *
by Ginger Liu
In its 9th year, the London Burlesque Festival dares to be the biggest burlesque festival on the planet with a staggering seventeen days of neo-burlesque shows and more than 100 performers from around the globe. From it's opening night at Dingwalls on May 15, the two week festival packs in show themes and genres such as Hollywood Revue, Nerd-Lesque, Twisted Cabaret, Boylesk Revue and Sexy Circus Sideshow.  There's also the first exhibition of the British Burlesque Museum which showcases the UK's 200 year burlesque history. Also included in the festival are 40 vendors, workshops, fashion shows and other social events for the burlesque aficionado.
I caught up with festival founder Chaz Royal and asked him how the festival got so big.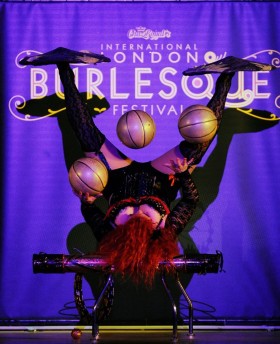 Ginger Liu: Tell me about your background and how and why you founded the festival.
Chaz Royal: I've been producing events of all types since 1994. In 2002 after a few years of seeing burlesque as a mere interest, I took it on the road with a tour across North America. In 2007, I launched LBF after 500 shows behind me and two full UK tours in 2004-2005. The timing was right. The industry exploded big time after LBF launched.
GL: When and how did your love affair with burlesque begin?
CR: I would say that it stems from my interest in Bettie Page from 1992. I knew of her through bootleg t-shirts and a skateboard video that used her image on the sleeve. By 1998, while living in Toronto, I started renting old VHS tapes of burlesque stag reels and from that kept a keen eye on anything burlesque related I saw. A new resurgence was bubbling up and by 2002 I created Chaz Royal as a division of my music events company. I was already touring bands and started touring a burlesque show. That lasted until 2006, and by the end of the year I announced LBF was launching in May 2007. I had also produced a few burlesque festivals in Toronto & Vancouver under the name 'Burlesk Goes North' in 2004 and 2006, Amsterdam Burlesque Festival 2009-2010, Australian Burlesque Festival in 2010 and have been at the Edinburgh Fringe annually since 2012.
GL: How has the festival evolved over the years?
CR: Initially we ran five events in four nights and by the next year doubled in size. The event has grown every year, eventually to a week long and then to ten days, eleven days and now seventeen days for the 2015 run. We've been able to program a diverse and rich festival with dedicated theme shows, showcasing a vast array of styles and genres within burlesque. There's no other event like it on the planet!
GL: What differentiates burlesque and the festival in London to other cities around the world?
CR: LBF has become a prestigious event and we only use the best artists. We see upwards of 500+ submissions annually and from that curate the event at a high standard. A lot of upstart festivals in Europe try to rival the success and popularity of the event, but they are mere vanity projects. LBF pushes the entire industry forward. It's influential, whether rivals want to admit it.
GL: Why do you think neo-burlesque in all its forms attracts so many talented artists and such a devoted following?
CR: People want to feel like they are apart of a scene and that they themselves have the power to change perceptions of modern entertainment. The industry moves forward each year, some people drop off, but the majority keep supporting what we do. Even though the industry can be quite competitive, many artists and patrons stay neutral and benefit from the amount of shows appearing all over the world.
GL: Why has the festival grown so much since its inception?
CR: LBF has quantity and quality, and the numbers to back it up. We are expecting over 6,000 attendees for the 2015 run of shows.
---
*
Scenes from the London Burlesque Festival…
*
[layerslider id="7″]
*
---
GL: Does it scare the hell out of you that you are quite literally putting on the biggest burlesque show on earth?
CR: I've been producing events for 22 years now and I surround myself with a great team of people that help reassure me that the event and the customers are well looked after while at LBF. When problems occur we deal with them to the best of our ability and that's all we can really do.
GL: The festival incorporates a variety of neo-burlesque genres, what's your favorite?
CR: I'm not a snob when it comes to genres, as long as the act is good I will find a place for it at LBF.
GL: What are some amazing stand out moments from past festivals?
CR: Seeing complete newcomers come to LBF and launch careers from it. Some have won titles and now headline stages all over the world.
GL: What is different about this year's festival?
CR: We've got a few new shows, The Tattooed Revue, Nerd-Lesque, a new exhibition showcasing the history of Burlesque in Britain. From the 100 performers appearing we've selected many new performers to the festival, some of whom are award winners and quite famous in their respective markets. We tend to bring the best in burlesque to London, acts that are game changers.
The 9th Annual International London Burlesque Festival 2015
May 15-31, 2015 at selected London venues
Visit: londonburlesquefest.com
*