"Illusion of an Overwhelm"
by John Amen
New York Quarterly Books
First Edition
72 Pages
Paperback
ISBN-10: 1630450480
ISBN-13: 978-1630450489
By Paul Sohar
It was no illusion, but a real "overwhelm" that this reader experienced going over John Amen's latest volume of poetry. Luckily, he was prepared for it, for the laborious pleasure of immersing in a form of poetic language the poet adapted to his own use, starting with the title. So let us step beyond the title, let us step inside and see what it was that gave the poet the illusion of being overwhelmed. If we let the title stop us and puzzle over it, we ask the question what lies behind the words instead of what the words tell us, and we will never get to sample the contents. Poems should not be constructed as riddles, nor should they be approached as such; they should be allowed to come alive as works of art in words, and they should be appreciated in these terms. A great poet expropriates the language and uses it for the purpose of his or her poetry in the same way an artist takes pigments and oil and turpentine to create a painting where the materials are transformed into something insubstantial, a work of art. But enough of the title; let's get to the main course, let's get overwhelmed.
John Amen has been working up to the dense language of this book over five previous ones, and to his devoted fans there should be no surprises, except perhaps that he can maintain that high-strung tone without ever repeating himself, without becoming predictable in his phraseology. His metaphors are never less than original, his descriptions immediately conjure up vivid and clear images and his narrative momentum never lags—even when sentences are chopped up and left breathlessly unfinished or if there is no narrative at all but some feeling the poet feels compelled to pour out with words he happens to have at hand.    Only some of the poet's favorite themes are familiar and further explored here, such as identity (under Hallelujah Anima, the first of four sections) and love (under Portrait of Us, the last section), while the second section (The American Myths) explores race relations, and the third (My Gallery Days) gives a sardonic view of the art scene in New York City.
Speaking through several different personae is a reliable, old poetic device, but in Amen's case it is a lot more than that; it seems to be the manifestation of identity crisis or just the recognition of something like it, a part of human consciousness that the poet chooses to make not only the subject of his poetry but something he used to even demonstrate in his publicity photos where he posed with huge goggles or other masks hiding his face, obviously the message being: Don't look at me but read my poems and construct your own image of the persona you hear speaking in my words. His photo in this book shows no such accoutrements, only a graying beard on a plain face with an alert expression that seems to say: Listen to me, but remember you're listening to a poet who animates several personae, maybe even himself, you figure out for yourself who's talking. And more: extrapolate the lines and see if the various voices are saying what they believe or just talking, repeating the words of someone else, saying what is appropriate to the occasion, expressions of collective consciousness. In that respect we may be talking about ambivalence that is best demonstrated by contradictory voices; furthermore, voices that keep changing their tune. Anima is not a repressed guiding spirit here, but one of the alter-ego's vying for a voice.
A man drags his secrets from dream to dream,
           secrets that drag him through a hundred skins,
           Anima says give them to me, but
           she never takes them,
           & I can't just let them go.
Self-preservation demands the preservation of a hundred selves, and Anima seems to exist only as a need for control that seems to be sorely absent. That is why the poet needs to keep talking; there are so many voices yet to be heard.
I crash in diners, art houses, &
crumbling cinemas, fall into line as if applying for a day-job,
another pig frozen in a hotel bar, burdened by a story he carries
but can't manage to sing.
In the last poem of this cycle the tune changes; ambivalence and the multiplicity of personae are deemed not to have enriched life but added to its feeling of uselessness.
Like bullet-proof wings I flap to find
           someone else already signed the contracts, delivered the mail,
           threw his body between the exploding grenade
           & and the rest of the world.
In his earlier works  Amen occasionally satirized some of the contradictions of the human condition especially in the context of life in the USA, but in this book he has something new, a whole section inspired by the racial tensions of the recent years. The American Myths section consists of eighteen poems. The first one is the story J's growing up until he
… unzips his innocence like a clown
           shedding a costume. He steps forth a full-grown man.
The mother is represented as a sacrificial figure, a role she retains for the whole cycle. There is more than a hint of identification with the black son, a character that takes over in subsequent poems along with the white father and the white God.  Add to that systemic racism invoked without the rant, without the slogans but fortified only by the energy of language and the almost palpable poetic images:
The wrath of the white God is systemic,
           the secret ingredient of your dead mother's
           blood casserole.
           **
           Nine months in the dead mother's womb,
           decades under the white father's tongue—
           dread's a crowbar wedged between your ribs
           neither Prozac nor Ambien can dissolve.
The pace speeds up in My Gallery Days to the breathless accounts of misadventures in the rat race that is the New York art scene. Art, music, poetry and drugs are exhibited on one side and on the other grants, granting agencies, buyers  and gallery managers—in other words, money standing and staring at the artists who are all competing for fame and fortune. Amen summarizes the situation in these lines:
Amidst the racket & regret,
           I skulked past being famous.
The language becomes almost telegraphic as it goes into high gear and sounds like members of the in-crowd exchanging greetings as they run past each other. The uninitiated outsider, eager to catch on to what's going on, can only rivet his eyes and ears from one character to another—all of them the poet, or the poet playing them all, some of them even bearing a name, and it's not clear whether the reader is expected to recognize them. But clarity would wipe out the shadows, and it's in them that the mood and the message are to be found. It is quite a successful device, it produces—or rather suggests—human figures, or their shadows sketchily delineated in figurative abstract paintings.
… We fled ourselves
           for a season, clutching our self-portraits,
           we were ghosts long before we knew it.
In the last cycle of poems (Portrait of Us) the frenetic pace gives way slowly unfolding, undulating lines meditating on the nature of love and anything else that the process may lead to. Like the passing of time. In fact, these poems are as much about that as love.  And death. And afterlife. But:
Can life be said to exist
           that can't reflect upon itself?
This is a beautiful paraphrase of Socrates: An unexamined life is not worth living; but it merits quoting for its rhythm alone, and this may be a good place to call attention to the musicality of this otherwise very modern poetry. Whether these words just poured out of the poet, or were carefully chosen, they make real poetry, not just entertaining narrative.  And very thoughtful poetry too. Besides helping us discover the time dimension of love these poems are not dedicated to the loved one alone but also to everyday life spent with the loved one, to the realization that, actually, everyday chores make up a large part of life. If we treat them as nuisance, we stand to lose a lot, lose life itself. We should cherish chores as much as the more dramatic expressions of relationships, more exciting and monumental human interactions.
I yearn for the details once disdained,
           a sugar pack under the leg of the dining-room table,
                the Persian rug we moved an inch to the right,
                           light bulbs that needed changing.
                                 Heartbreak's the beauty
                          we're  handed is already seizing:
                            I'm in love with what I call you,
                            but these illusions, so hypnotic,
                              have no place in the clouds.
Perhaps this is the illusion the title refers to; the overwhelm we experience in love is an illusion, because it, too, will pass with everything else in life. This may not be news to every reader, but it is definitely worth reading in Amen's very intense retelling in his very authentic and mesmerizing poetic voice.
---
About Paul Sohar: 
Paul Sohar has been writing and publishing in every genre, including seventeen volumes of translations, among the latest being Silver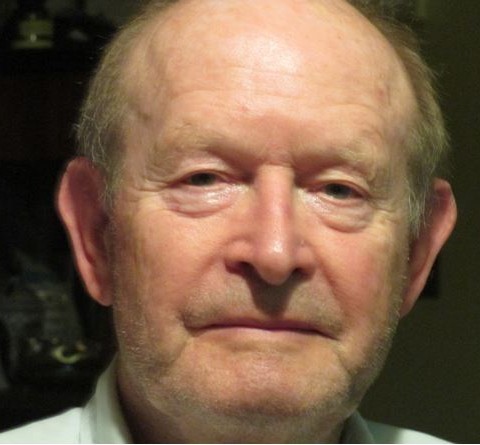 Pirouettes, Gyorgy Faludy's poetry (Ragged Sky Press, Princeton, 2017). His own poetry: Homing Poems (Iniquity Press, 2006) and The Wayward Orchard, a Wordrunner Press Prize winner (2011). Other awards: first prize in the 2012 Lincoln Poets Society contest and a second prize from Rhode Island Writers Circle prose contest (2014). Translation prizes: the Irodalmi Jelen Translation Prize, Toth Arpád Translation Prize and the Janus Pannonius Lifetime Achievement Award (both in Budapest, Hungary). Magazine credits include Agni, Gargoyle, Kenyon Review, Rattle, Poetry Salzburg Review, Seneca Review, and others. He is a frequent contributor to Ragazine.CC.