HERON: MONTEREY WHARF, CALIFORNIA
Heron, hunchbacked,
Drab chapel-grey,
Bedraggled loner,
Still as a statue
On guard, staring
Away and stood
In a calmness
Perfected since birth.
What is a moment
In unbothered composure?
The ridiculous legs,
The ungainly posture,
The dagger of a beak
Too big for its head.
A bit of a tramp,
A second-hand bird.
Yet the flap into flight
Becomes an expert glide,
A serious focus,
A hunting ride,
A visual beauty
Snapped by the tourists,
As his wide wings seem to dream
Across his stretch of heaven.
OLD WOMAN
Memories decay and rust,
Fall away like leaves lost
To a standing, wounded tree.
In an unknown, rushing street
The roots of your mind are axed.
A taxi stops and you stare
At a man who could be your son.
The woman mouthing "Okay?"
Has a smile filed in your mind.
The city breaks before you,
The jigsaw of your life flung
To the rolling, heavy sky.
The keys in your pocket hurt,
They could open any door
To a room of shocked faces.
You drop a handful of coins
That sing along the pavement.
You are so far from home,
Looking for a school not yours,
Where a girl you never were
Sits in a room of strangers.
"Je est un autre"
("I is someone else")
You ran away from the frenzy of your fame.
They could never keep up, as each mile added
To the new life you imagined
And the legend you made was a ghost in your mind.
Who would know you in a backstreet café,
Or as a loner with a frown on a rhythmic train?
You followed no map, only your heart,
And the freedom you sought like some kind of dream.
Would they find you in a bar or by a river at night?
Your words left no trail, though they blazed in the salons.
The clothes of their worship you'd already outgrown:
The precocious schoolboy was now a young man.
You moved like a shadow among the crowds,
Emptying your thoughts of a runaway past.
You who had sought those new heavens and hells
Found yourself in the strangest of lands,
On a continent where you were unknown,
Where you could explore the poetry of life.
Note: "Je est un autre" :"I is someone else" – Arthur Rimbaud
---
About the poet:
Peter Thabit Jones was born in Swansea, Wales, in 1951. His work, particularly his poetry for children, has been featured in books from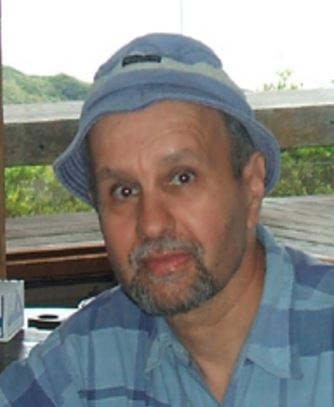 publishers such as Penguin, Puffin Books, Letts Education, MacMillan Education, Oxford University Press, Simon and Schuster and others. In April 2014, he was inducted into the Phi Sigma Iota Society at Salem State University, Massachusetts, USA, for his contribution to literature and literary translations. He is the recipient of the 2016 Ted Slade Award for Service to Poetry (The Poetry Kit, UK). You can read more about at http://www.peterthabitjones.com.