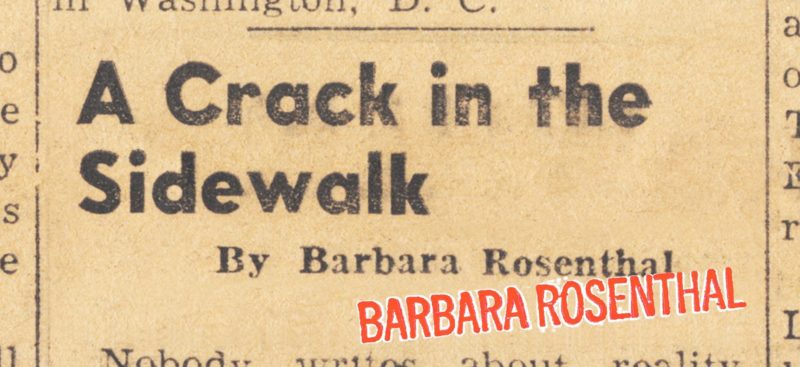 DAMAGED EGOS, ILLUSIONS and ARTWORKS:
Consignments, Drop Offs, Pick Ups, Presentations and Studio Visits
by Barbara Rosenthal
Contributing Columnist
July-Aug, 2019
July 1, 2019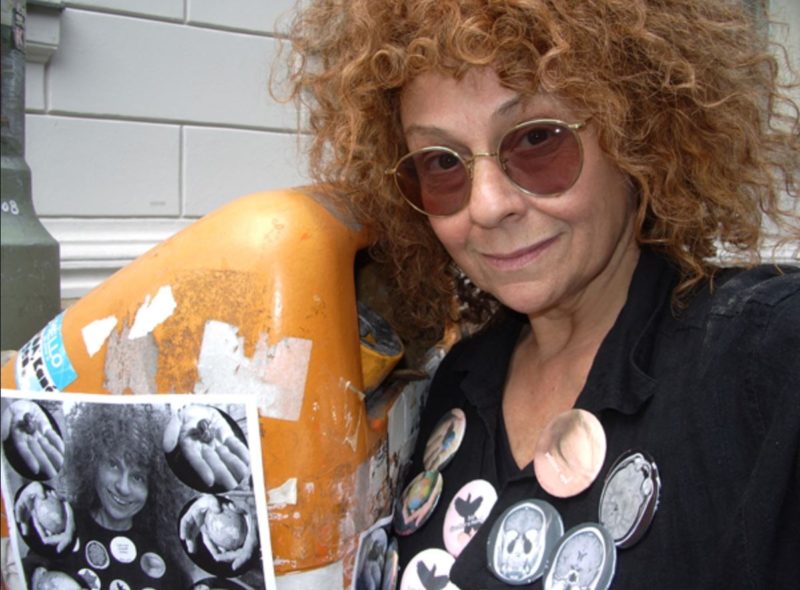 "Hey! You returned my painting with a big hole in it!!" Bill Creston phoned in to a (now deceased) curator of a 1990s show reprising the 1950s Ten Downtown movement Creston had been a founding member of.
          "Sorry," the curator said, "nothing I can do."
          Ever happen to you?
Or scrapes to the carefully-packaged-as-part-of-the-piece bookworks?
Or mars to the piece itself?
Or how about the consignment you didn't get all of which returned?
Or the always rainy day you must transport work?
Or the lack of space or time  to pitch it, or distracted attention by the curator you're there to pitch it to? Or the curator who spends all the time allotted on talking about him or her self?
Or the unduly haste, or tiny area in which you're expected to pack up?
Or pieces delivered to portfolio reviews that are returned looking unopened?
Or museum directors or curators who select — even take back with them from a studio visit — works to be "added to the permanent collection," only to have another staff member return them, with all attempts at communication going round and round? 
Or the gallerist who mounts your exhibition deciding to add "charges" to your 50% of the sales revenue?
Or non-payment for performances for which you were told you would be paid?
Or the no-show, no-notice, studio visitor?
Well, join the club. If you stay in this game, you'll experience and be expected to swallow it all.
          WHAT CAN YOU DO ABOUT IT (all but the rain):
Nothing, if you ever want to work with any of them again.
Complain, but you'll feel soured, and it might get you restitution for that one damaged item, though unlikely, and then it will be unlikely they'll work with you again.
Anticipate all of the above in advance, and assemble to mitigate. Stay simple.
Write, sign, deliver, file and return with a clear Consignment Contract, possibly stating responsibility for condition of return. Even if the venue has its own.
          WHO DOES WHAT
The individuals in direct face-to-face contact with you from very best museums and galleries, in my experience, are the most professional, reliable, and respectful of the artist and the works. They consider pieces carefully, ask meaningful questions, have delightful dialogues, and offer surprising feedback, often giving you startlingly prescient insight into your work.
          Museum department portfolio reviews, however, while keeping the material pristine, often seem to ignore what is sent; you never know who supposedly saw it, and their protocols are usually undisclosed.
          Middle-tier galleries and independent curators aren't consistently good or bad: I've gotten back marred works from some, while others have allotted considerable time and space to a pitch.
          The worst have been the personnel of alternative spaces, the more prestigious the space, the more arrogant and dismissive have been many curators.
          There are also cases of outright theft. To wit, Brooklyn curator Adam Parker Smith, whose 2013 Lu Magnus Gallery show featured objects he stole during studio visits.
          PRESENTING YOUR WORK / STUDIO VISITS
Sometimes the pitch takes place at the venue, sometimes at studio visits. Here are some points most artists follow when expecting curators:
          Prepare a nice, light snack that won't get anyone's fingers sticky. Put it in a slightly different area from the works, but in sight. Don't waste time with preparing it while they are there.
          Be clear about which works the individuals are most apt to respond positively toward, and show them in the context of each other, and of your career as a whole.
          Let them look before you start talking, but have some idea of what you want to get across. I believe it is the responsibility of a critic to really understand works and bodies of work, not the artist, but even so, you can explain, in simple terms the reason that you made it, or even just your method.
          Have your CV online, but also as part of a file-folder or binder with other press materials.
          Don't have distracting things around, including art by other artists.
          Be knowledgeable about the person coming, and the venue, and how your work fits their tastes, and tell them what you appreciate about their past shows and writings.
          Do some touch-up painting and cleaning. Put guest towels or paper towels in the bathroom.
          Have everything you want seen out and ready to view.
          Be wise about name-dropping. By both of you. It's good if you have worked or shown with someone that comes up naturally and whom you can mention seamlessly in conversation. It's not good if you compare yourself with known artists, unless you can, with respect, compare AND contrast. Some visitors almost seem to test your knowledge of the art world by dropping names themselves: If I don't know their work, I write their names down as the visitor says them, thank them for telling me about them, say I'll check them out. And move on.
          Don't take a "maybe they'll like this if they don't like that" approach. Be calm, but show your best work of the genre, etc., they have come to see.
          Don't ask if they'll put you in a show. You can ask what they are doing now, or what's upcoming. Build a relationship.
          Stay off the phone. Manage your pets, children and other dependents.
          Don't make excuses for anything, nor expect visitors to "imagine" something finished or in some other form. If you show work in progress, do so in context with the finished works you've prepared.
          Send a "looking forward to your visit tomorrow at …" email the day before. You might mention two or three things or types of things you've prepared. If your building is difficult to navigate, add directions and your phone number.
          If your studio isn't located conveniently to the visitor, be prepared to offer to send a car.
          There are also several web pages and paperback books about the Studio Visit, both for artists and visitors, including collectors and patrons, that you might check out, too. (http://www.artnews.com/2013/09/30/a-guide-to-doing-studio-visits/)
          One visit I had went extraordinarily well, but then got bungled. For years, I have been intermittently searching for a 1999 letter regarding a studio visit by Marcia Tucker, the famed first director of The New Museum. As she left, she put into her beautiful black, leather backpack a trove of my books for the collection, not long before her death carrying these books on her back, only to have them returned by others later, not knowing why they were found among her things. I know there was follow-up correspondence. But, for a person who saves every scrap of written material, I must have filed this letter too specially to find. I was asked by Lisa Phillips there to please start over, but so far, I haven't, still hoping to find Tucker's letter first.
          But yesterday I had a 2-1/2 hours visit by curators from the Whitney, after a presentation I made in their offices last month whereupon they made several new purchases. The contexts in which they verbalized my work, and news about how the Whitney has dealt internally with some of them, and plans going forward was a great lift and inspiration.
          Not all successful artists follow those rules above, however, and still meet with a good results. I had lunch last week with Lester Rapaport (www.lesterrapaport.com), age 72, a painter of large, powerful, spiritual abstract works, who has had several recent New York shows, and last month a solo at the David Richard Gallery, which has recently begun representing him. The catalog essay for that show is by Peter Frank, too, so Rapaport must be doing something right. He described his usually successful studio visit methods, also recalling a terrible one from the past.
          Rapaport does not create an exhibition environment in his large, raw Brooklyn studio loft. Even with deep knowledge of what the visiting gallerist shows, he leaves the paintings in their many carefully-organized racks, first swiping their well-photographed images on an iPad for the visitor to select the ones they want to view, one at a time, propping each against the wall in a work-area under excellent lighting.
          Only once in Lester Rapaport's long career has a visitor objected, and that was Ivan Karp, late famed curmudgeon of the SoHo gallery OK Harris. The paintings Karp wanted to view that day had been unstretched and rolled, and so to be seen straight on, properly, the artist expeditiously pinned them to the wall. Karp said, "Can't you just lay them on the floor one on top of the other?" Shocked, as artists tend to be when someone disrespects their work, especially when that disrespect could damage it, Rapaport, first thinking that the effect of his compositions would be lost if viewed at that foreshortened angle, then realizing that the surfaces themselves would be harmed by the floor and the stacking, replied, in defense of the art and sacrifice to career-moves, "No, I can't."
---
About the columnist:
Barbara Rosenthal is an idiosyncratic New York artist/writer/performer/philosopher whose latest book, the novel,  Wish for Amnesia (Deadly Chaps Press, 2018) explores themes of idealism, innocence, esthetics, dimensionality, thought and corruption. She is particularly interested in the intersection of art and life.
About the novel: wishforamnesia.com
Calendar of events: http://www.emedialoft.org/artistspages/frameEleven.htm
TWITTER: @BRartistNYC
WIKIPEDIA: https://en.wikipedia.org/wiki/Barbara_Rosenthal
WEBSITE: http://www.barbararosenthal.org
To comment on this column, please send an email to the editor: or message the columnist via FACEBOOK MESSENGER:  https://www.facebook.barbara.rosenthal1.com
Bi-MONTHLY COLUMNS: Barbara Rosenthal, A Crack in the Sidewalk:
July-Aug 2019: Damaged Egos, Illusions and Artworks: Consignments, Drop Offs, Pick Ups and Studio Visits
May-June 2019: Tax Tips for Starving Artists: Relax and Have Fun Claiming Your Loss
Mar-Apr 2019: Flying High, Lying Low: The Ups and Downs of an International Art Career
Jan-Feb 2019: Studio Assistants: Expect the Unexpected and What Else to Expect
Nov-Dec 2018: Media Art Restoration: The Craft of the Art of the New Old New
Sep-Oct 2018: Impositions or Independence: A Call to Reject Corruptions to the Artist
Jul-Aug 2018:  Process vs Product: What is the Point of Art / What is The Interplay of Elements and Considerations in Artmaking
May-Jun 2018:  Roles, Ideals and Job Descriptions: The Artist; The Viewer; The Naif; The Collector; The Curator; The Critic; The Art Dealer
Mar-Apr 2018:  The Production of Meaning in Art Fabrication: What Are You Doing? Do You Know? When? Before or After? 
Jan-Feb 2018:  Is There a Universal Esthetic? Naifs, Innocence, Education, Esthetics
Nov-Dec 2017: Journaling
Sep-Oct 2017: By this first sentence here now, back upon the Earth