Mary Ross photo
Eric Ross performing at the Theremin Festival in Germany. 
---
* * *
Eric Ross – Music From the Future
* * *
(For Theremin and Ensemble)
* * *
Review by Fred Roberts
* * *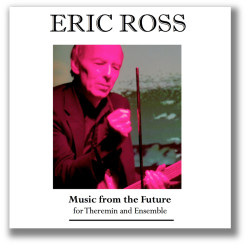 It's a shrewd move to call an album Music From the Future. In the first place it evokes the expectation that the music will be an embodiment of future musical culture. It must avoid the cliché of merely sounding futuristic through gimmicks commonly used to evoke associations of coming ages. Even more difficult, the music must be at least one step ahead of the avant garde. The title Music From the Future is especially audacious today because, according to the contemporary consensus, we don't have any future at all. A project of this name will at first glance be met by a skeptical and demanding mind set.
Who is Eric Ross to attempt such a move? His biography sounds promising. He began playing Theremin in 1975. He was friends with Clara Rockmore, seminal purveyor of the Theremin, and with Robert Moog, builder of Theremins and inventor of the Moog synthesizer. He met and played for the father of the Theremin, Professor Lev Termen. Beyond these associations he has an impressive range of credits, has composed numerous serious works for Theremin and in 2010 was guest artist on Aqi Fzono's Cosmology, 2010's number one best-selling album in Japan.
Music from a future age should be difficult for a contemporary listener to describe, because it will be immersed in the context of an era that hasn't yet occurred. I found a work that blurs the lines between avant garde, classical music, free jazz and dadaist performances. The Theremin is the cornerstone of the wall of sound, but blends seamlessly with the other instruments and performances.
The theremin
To me it was as if the music had in fact been composed by a mind of some distant future who was aware of some fragments of today's culture. One hears disembodied voices crying out in an unknown language, sounds of an asteroid shower intermingling with Saturn's rings, subway announcements in an unknown language for an unknown metropolis, texts of today read at a time when they have become ancient, recited by a high priest of a new time, surreal ravings with an aura of holiness. There are references to the Orpheus legend and sounds inspired by unfathomable visual landscapes. All of this is interspersed with fragments of the past (our present) that could be the result of an archaeological study.
In some passages themes of current progressive jazz drift by, some note sequences on guitar (Eric J. Roth) sound displaced from a classic rock solo, in the spirit of John Mclaughlin. The piano on "Pastoral" sounds decidedly Cagean, with traces of Czech avant garde classical à la Viktor Ullmann. In our day we are preoccupied with an approaching apocalypse, not entertaining the idea that somehow, somewhere it will signal not an end but a cycle. The final and powerful track of the album, "Apotheosis", abandons all connection to the modern, the Theremin voices of the future wailing at their own apocalypse, ending with a harpstring whisper, that it was not bad at all.
The illusion of the future is so convincing that it gives hope that our coming catastrophes are survivable and will one day be seen by eyes of centuries far removed from us. Regarding the references to Orpheus, it's the way I would envision the future, the ancient mythologies better preserved than the superficial civilization we've built millennia subsequent. The performance would fit as a soundtrack to Metropolis because analogue to that film, it is a captivating vision into the future. Eric Ross stands with one foot in another time, and has managed to channel the musical conception of coming eras. His project is a success.
*
Listen to the tracks at CD Baby, Amazon or iTunes
*
---
 *
Eric Ross Live at Signalraum, Munich, Germany, April 2013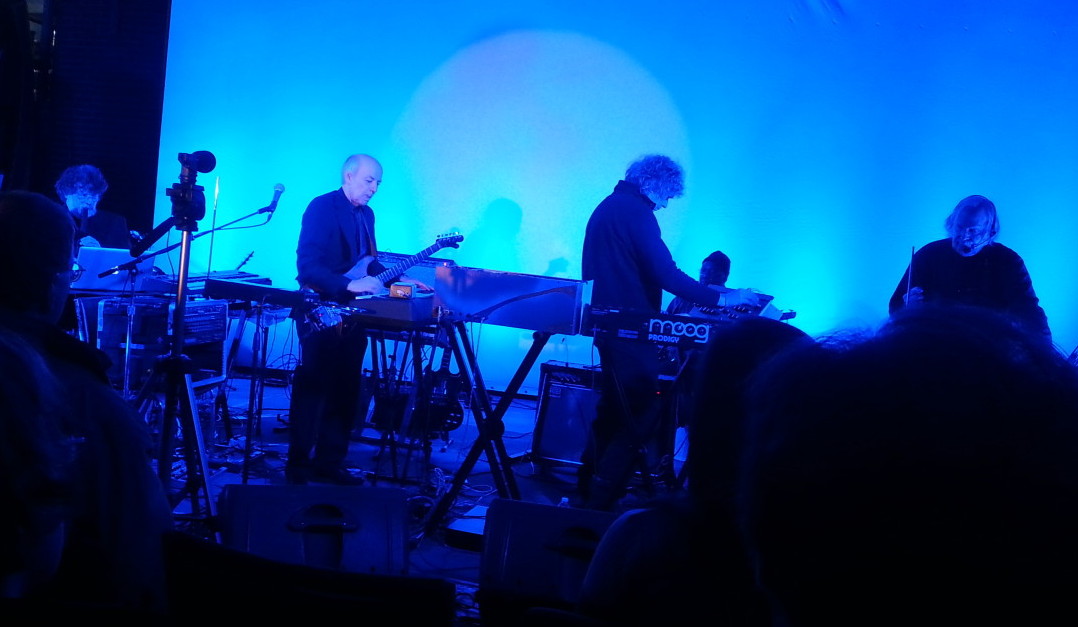 Mike Foldes photo
Eric Ross' ERA Ensemble perform at The Center for Technology and Innovation in Binghamton, NY, 2014. 
v
Eric Ross is currently touring with his ensemble in USA and Europe. It will be an amazing performance to witness live. The following dates are available:
March 8, Binghamton, NY : The Center for Technology and Innovation. Eric Ross ERA Ensemble with special guest dancer, Atsuko Yuma.
March 19, Ithaca, NY: Historical Society. Solo concert.
April 16, Marlboro, NY : Falcon Center. Solo concert with video by Mary Ross.
May 23, Ithaca, NY: Bob Moog Birthday Bash Celebration, Historical Society. ERA Trio with Trevor Pinch and Peter Rothbart.
April 21-May 15:  European tour. Dates TBA.
September 24, Wayne, NJ: William Paterson University. Solo concert with video by Mary Ross.