What our staff and contributors are up to these days:
---
Mary  Gregory shares editing award for Arts Coverage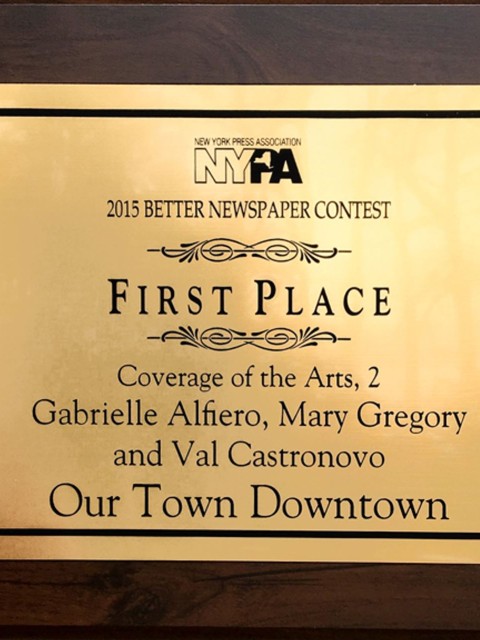 Ragazine contributor Mary Gregory often writes reviews for NY Press/Straus News newspapers. This year, the NY Press Association gave its 2015 first place award for best overall arts coverage  to Mary and two other Our Town Downtown arts beat writers, Gabrielle Alfiero and Val Castronovo.  "Straus News publishes 17 local weekly newspapers and associated websites in contiguous towns in New York, New Jersey and Pennsylvania," according to its site. The New York Press Association is a trade organization for weekly community newspapers in the state.
ERIC ROSS: Contributing Music Editor
Composer ERIC ROSS , with the work of the late video artist Mary Ross (USA), presents their Ultimedia Concept − Music from the Future − on tour this year.  Eric Ross performs on guitar, piano, synthesizer and is a Master of the Theremin, one of the first electronic instruments. Eric's compositions include elements of jazz, classic, serial, and avant garde. Mary's videos, projected in performance, are organized, arranged and edited to his music. In an hour-long performance, Eric will present their most recent collaborative work, the Boulevard d'Reconstructie (Op.54).
2016 Tour Dates
Apr. 1    Ann Arbor, MI. Univ. of Mich.
Apr. 3   Ann Arbor, MI. Kerrytown Theater
May 1.   Den Bosch, NL. Toonzaal
May 3.   Koln, Germany. Altes Pfandhaus.
May  6.  Haarlem, NL. Pletterij.
May  7. Tilburg, NL. Paradox. Theremin Summit features  four Thereminists-Eric Ross (USA), Lydia Kavina (Russia-UK) Wilco Botermans and Thorwald Jorgensen (NL) with Electric Storks & Eric Ross in  a performance  of solos, duos and ensembles (with videos  by Mary Ross)
May 8.  Bergen, NL. Museum Kranenburgh . solo with video by MR
July 5.   Binghamton, NY. Jazz Festival. ER Blues Band
Oct. 14. Indianapolis, IN. Univ of Indiana.
Oct.15 . Indianapolis, IN. Museum of Art
www.ericross.info
www.maryross.info
---
Jim Palombo, Politics Editor
TRAGEDY'S CAST
A Stageplay by James Palombo
"Tragedy's Cast" reflects on what is called "political theater." It provides an exposè of contemporary political, economic, social, religious and human nature concerns. Set amid the Cuban Missile Crisis of 1962, with a bit of satire, the play promotes the notion that to have an informed citizenry all these elements must be considered for legitimate public dialogue to occur. The play is framed around the rehearsal of a play, an approach somewhat unconventional in style.
Written by James Palombo and inspired by the internationally successful book, The Tragedy of Fidel Castro by Joao Cerqueira, the production is directed by Binghamton University professor Tom Kremer, with a cast drawn from the Theater Department.
One Performance Only: SUNDAY, MARCH 20, 7:30 AT BINGHAMTON UNIVERSITY THEATER, STUDIO B
---