Calais View Lighthouse Church Belfry
---
Eating Peas in Calais
by Stephen Poleskie
Columnist
My friend and I were talking about our travels. I don't go anywhere anymore, for reasons I have related in a previous Ragazine article, though I like to recall my past journeys. My friend recounted his experience when arriving in Calais and finding that he was low on money, he took a job there and remained for several weeks. I didn't ask him what kind of work permit he had at the time. This was in the 1960s; the world must have been kinder to "illegal immigrants" back then.
So what of my own trips to Calais? There have been a few, but let me tell about the experience there that almost caused me an early death.
I had been traveling in Europe for a month with another friend. We were staying overnight at a hotel in Calais, waiting to take the ferry to Dover on the next morning. The restaurant we were eating in was connected to the hotel. When the waiter arrived he asked, in English, would we prefer the English menu or the French menu. Thinking that he was referring to the language, I said "English." When the menus arrived it was apparent the he had been referring to the cuisine. My friend, who had the French menu, ordered the "Noix De St. Jacques au Safran," which put a smile on the waiter's face. Oh well, I had been eating French food for several weeks now; I ordered the fish and chips, which came with a side order of peas. Thanking me rather gruffly in French, the waiter took our order and disappeared into the kitchen.
When the meals arrived my friend's Noix De St. Jacques au Safran looked magnificent, my fish and chips was less inspiring. In fact I can recall a better looking fish and chips platter wrapped in newspaper at the Charing Cross train station in London the last time we were there. And there were no peas.
"Excuse me," I said to our waiter as he turned away, "Where are my peas?"
Looking askance he replied: "What peas?"
"The peas that were supposed to come with this dinner. . . ."
"Oh, there are peas to come with this order? I will check with the kitchen."
I began eating my meal. The waiter passed in and out of the kitchen several times with other customer's orders, but was careful not to look in our direction. My friend was enjoying her dinner; we wanted another glass of wine. I did what I always considered rude; I snapped my fingers, which caught his attention.
"Yes?" the waiter said arriving at our table.
"Two more glasses of the same," I said, waving my finger at our empty wine glasses. Then I added, "And where are my peas?"
"Peas?"
"Yes, Peas were supposed to come with my dinner."
"They were? I will check in the kitchen."
When our waiter returned with our drinks he did not have my peas, so I reminded him again. He seemed as annoyed as I was. Without saying a word he nodded his head and walked away.
Our busy, and sullen, waiter managed to ignore us until we had finished eating. Then he came to clear our table and ask us if we would like dessert. "No dessert for me," I growled, "but I would like my peas!"
"But you have already finished eating your dinner, sir," the waiter protested.
"Yes I have, but an order of peas was supposed to come with my meal. I never got them, so I would like them now."
"Well, I wasn't going to have any dessert, but since you are I'll have the chocolate-torte," my friend joined in.
"Yes, miss," the waiter replied, scribbling on his pad. "One chocolate-torte and one order of peas.
This time, when the waiter returned he did have an order of peas, in fact it was more than just a side helping. "Here you are, sir, enjoy. . ." he said sliding a large soup bowl filled to the brim with peas in front of me. He gave me a wry smile, as if he was challenging me to finish the whole portion, as he laid a soup spoon down next to me.
"You're not going to eat all that are you?" my friend said as she gracefully dug into her torte.
I dived into my bowl, scooping up peas with the spoon that the waiter had provided, chomping down whole mouthfuls. My companion finished her torte. Our waiter, who now apparently was watching us, came over to collect her plate. "Are you finished with your peas, sir?" he asked, even though I obviously was not.
"No," I mumbled, my mouth full of the little round green objects.
"You're  not  planning to eat all those peas. . . ." my friend gasped. It was apparent now that the people at the neighboring tables were aware of what was going on. I could feel them staring at me as I scraped at the bottom of the bowl.
Finishing the last pea, I pushed the bowl away from me and leaned back in my chair. I sensed a look of triumph coming over my face. Our waiter saw me and rushed over almost instantly.
"La addition sil vous plait," I spouted in my high school French, which I had up until that point not been using. But I had just drunk three glasses of wine with my dinner.
That night I woke up in a cold sweat, my bed sheets were damp. I was shaking and there was a violent burning in my stomach.  I got out of bed to go to the WC, as they refer to it over there, but the room began to spin. I fell down. The noise woke my friend. Surprised at finding me lying on the floor, she helped me up and into the bathroom, where I promptly threw up.
I will not go into a litany of my distress that night, which I remember clearly even after these many years. I do count it among one of the worst nights of my life. As I sat on the creaking bed, sopping my head with a damp cloth while cautiously leaning over the empty wastebasket, my mind went immediately to the large bowl of peas I had so wantonly consumed just a few hours earlier.
Were the peas bad, which was why the waiter hadn't wanted to serve them to me? But he had brought them out eventually. Was it only because I kept insisting, or had he perhaps put something in the bowl, maybe rat poison? The thought crossed my mind that he might even have urinated on my peas.
I didn't sleep at all after that and kept making trips back and forth to the bathroom, a horrible pain growling in my stomach. When dawn finally came I was still shaking and sweating. We had a ferry to Dover to catch later that morning, I wondered if I would be able to make it. My friend wanted breakfast, so I sent her off by herself, urging her not to go to the restaurant where we had eaten last night.
When she returned, my friend reported that she was fine, and I was feeling a little better so we decided to pack our bags and check out, I was still dizzy, hot and had a severe pain in my stomach. However, I was tired of the surly French and eager to be on my way.
The first thing that I did when we got aboard the ferry was to find the nearest men's room. I couldn't believe how much I expelled after all I had passed the night before. I kept thinking of my bowl of peas.
A ferry trip in my condition was not a good idea, as I discovered soon after we got underway. I was shaking and sweating.  As the ship rocked on, just looking at the water made me want to throw up.  I found a seat in the corner next to a men's room door and suffered across the Channel.
The plan was to take the train to London. My friend suggested that as I was in such distress we should overnight in Dover. Trying to act brave, I nixed that idea and suggested that we soldier on. I can't recall the train ride; I believe that I may have passed out and slept through most of it.
When we got to London my friend took charge. She had been playing nurse, taking my pulse and swabbing my forehead with damp paper towels. When we got off the train she decided that we were not going to any hotel without a visit to a doctor first. I was in no condition to argue. She hailed a cab to the nearest hospital.
I had never been in an English hospital, so didn't know what to expect. I must admit that I was shocked. This was London, and yet this hospital looked like some place from a previous century; dark halls, run-down, with a crowded waiting room full of anxious people.  My turn finally came.
After taking my temperature and blood pressure the nurse introduced me to a doctor with a heavy Indian accent, who asked me what had happened. I told him my story of the peas. He looked at my tongue, and in my eyes, and took my temperature again. His diagnosis; "I think that you may have been poisoned."
I asked him if it was simple food poisoning or something more serious. The doctor admitted that he could not tell without extensive testing, which he was not about to authorize. He mumbled something to his nurse, and then the two of them concerned themselves with my paperwork.
"Do you take med-sin?" the doctor asked, pronouncing the word the way the English do.
"Yes I do take medicine," I said giving the word the American pronunciation just to be sure.
"Then I will write a prescription for you. You can take it to any chemist."
We were soon outside, pulling our suitcases behind us. There was a cab. We asked him to take us to the nearest chemist. He told us not to get in; a Booth's Chemist was just around the corner.
When the prescription was filled, I didn't even bother to read the label, but opened the jar and swallowed a handful of the pills.
Thankfully we also found a hotel in our price range on the same block.
We stayed at the hotel in London for three days, with me lying in bed most of the time, while my friend went about seeing the sights. It was time for us to go back to America anyway.
The end
---
 About the author:  Stephen Poleskie is a writer and an artist. His writing, fiction, poetry and art criticism have appeared in journals in Australia, Czech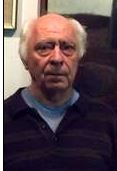 Republic, Germany, India, Italy, Mexico, the Philippines, and the UK, as well as in the USA, and in the anthologies The Book of Love, (W.W. Norton) and Being Human, and been three times nominated for a Pushcart Prize.  He has published seven novels. His artworks are in the collections of numerous museums, including the MoMA, and the Metropolitan Museum, in New York, and the Tate Gallery, and Victoria and Albert Museum in London. Poleskie has taught or been a visiting professor at a number of schools, including: The School of Visual Arts, NYC, the University of California/Berkeley, MIT, Rhode Island School of Design, and Cornell University, as well as a resident at the American Academy in Rome. Poleskie lives in Ithaca, N.Y., with his wife the author Jeanne Mackin. Website: www.StephenPoleskie.com