Summer's Over, but Don't Let That Stop You…
from burying yourself in these fine reads
by Mike Foldes
Took awhile to get enough traction to settle down and actually plow through anything but a few hundred emails containing repetitive updates on news of the day, week, month and year. SPAM! And a couple of meaningful announcements from friends, art galleries, theaters and other venues announcing events I'll never have time for, either because they're too far away or don't coincide with my OTHER LIFE schedule. Pronounced "shed-ule", not "sked-jewel". I did have the good fortune to attend an enjoyable festival in Binghamton over Labor Day Weekend, "LUMA", a presentation of video projections created for specific buildings around the city that were used as canvases. Binghamton has a number of late 19th and early 20th Century architectural delights designed by noteworthy architects and constructed during the city's boom times when it was a center for tobacco, lumber and shipping on the Chenango and Susquehanna rivers. Long before its late 20th Century downturn and subsequent loss of landmarks during the so-called urban renewal that failed to renew. Fortunately, a turnaround seems to be under way.
OK, enough of that. This piece is supposed to be about Reading. Books. The kind of stuff you make time for, much as one can.
---
UNTITLED
A novel by Michael Goldberg
The Third of The Freak Scene Dream Trilogy
Neumu Press, 2016
ISBN: 978-0-9903983-6-3
First on the list: Untitled, A Novel by Michael Goldberg, third in the Freak Scene Dream Trilogy. I've written about the preceding two parts in the series: True Love Scars, and the middle child, The Flowers Lied, and waited nearly two years for the denouement as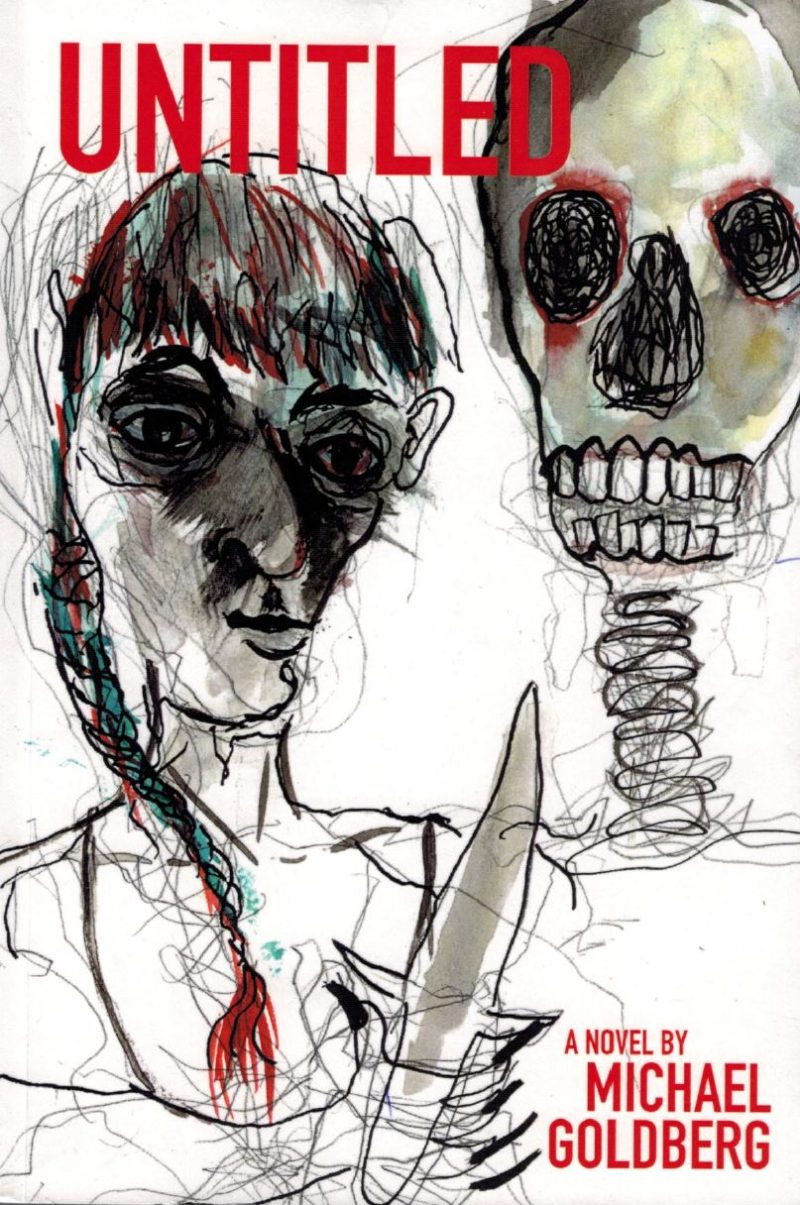 our hero Michael Stein, aka Writerman, matures into the kind of MAN he was destined as a BOY to become. That is, driven more by hormones and inexperience than common sense, respect and overall rejection of the values of middle America.
Taken in by sex, drugs and rock and roll, and carried in excess to places never before seen, Stein is all over himself. Through making time for past loves, re-examining the loves he's lost, and slovenly falling into the arms of an older woman whose imminent departure opens a door to further descent he falls into a junkie lifestyle brought to a more or less abrupt halt, TIME being relative here. He returns to REALITY from places only understood by the individuals who have stepped foot into those worlds. Painful as it was to read the last page knowing there will not be another, I read it anyway and now I'm experiencing a deep and lasting withdrawal. Maybe next time I'm on a plane to who knows where I'll pick it up again in hopes that I'll receive the initial high that junkies like Stein constantly seek.
Goldberg the musicologist does not leave his passion for music behind as Stein runs, walks and crawls through "the good old, bad old days" of random eccentricity where YOUTH plays Chicken with DEATH, rather than follow the directive "LIVE LONG AND PROSPER."  Friendships both male and female, are lost, found, lost again, found again on a path to the clarity that is key to growing up a lost boy without becoming a casualty of CHANCE and CHANGE.
This book is not a narcotic, but as the third in a series, is highly habit-forming. There are lessons to be learned here; for many they will be lessons for life in a parallel world, for others a vicarious experience of self-destruction and recovery, a flight from reality and fall to earth. Read at your own risk.
---
Liberty, Rats and Sandpaper
by Géza Szőcs
Poems translated from the Hungarian
by Paul Sohar
Iniquity Press
2017
ISBN: 978-973-7842-31-2
If you love Eastern European poetry, if you enjoy the Eastern European temperament in literature, if you appreciate the history of Europe with all its misogyny, totalitarianism, ethnic and racial animosity, mixed with an enduring love of country and heritage, you'll find gold in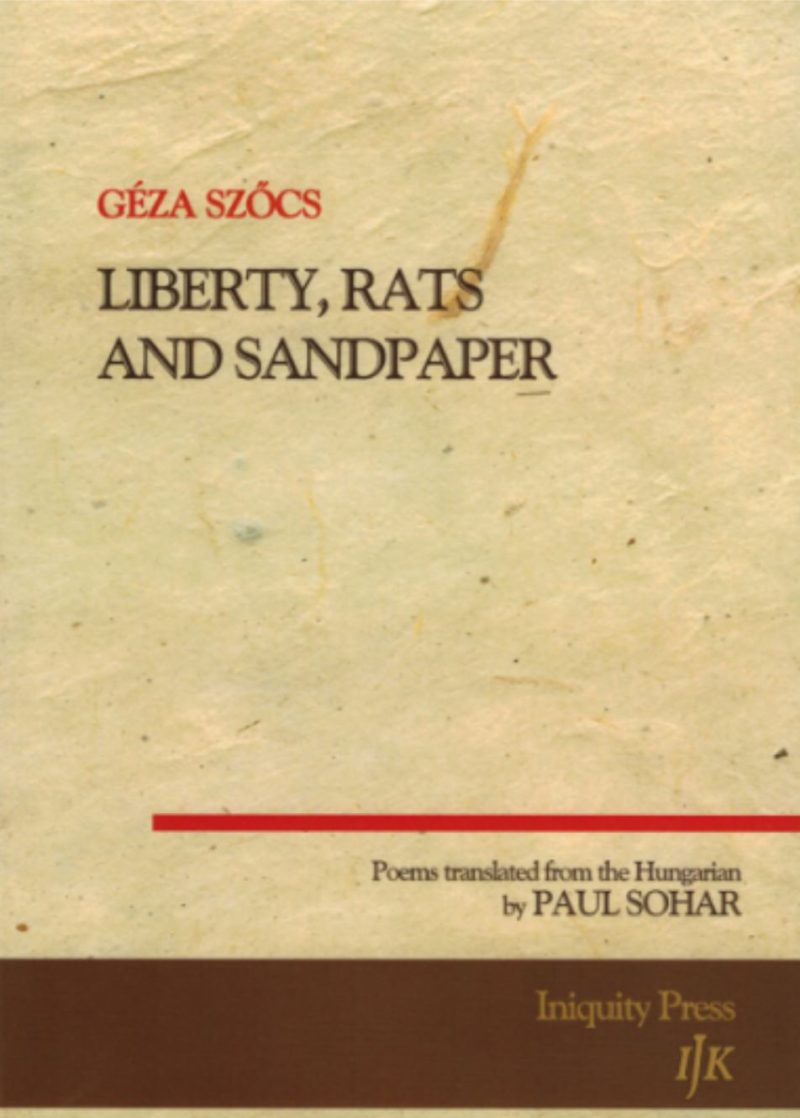 translations by the award-winning writer, poet, and translator Paul Sohar of two Hungarian poets, Géza Szőcs (Liberty, Rats and Sandpaper), and György Faludy (Silver Pirouettes). This is not the first tangle by Sohar with Faludy, but it is the first with Szőcs, and for that we all should be grateful, as Sohar's understanding of what he reads in Hungarian comes through with power and pain in what we see and hear in translation.
Keeping to the style of verse and heart of meaning, Sohar's translations carry the weight of emotion that embroiled Szőcs in a life of outspoken dissent despite being subject of oppression by consecutive brutal political regimes. Add to this ethnic prejudice of the Transylvanian Romanian majority toward resident Hungarians, a region where the two groups co-existed for centuries prior to these so-called Modern Times.
Szőcs' wry humor comes through nicely in this recounting of a police home invasion:
BALLAD ABOUT THE POLICE SEARCH OF OUR HOME,
                         With love to the Kertész family in Nagyvárad :
The doorbell rings: who could that be?
The police! Let's all get dressed, one-two-three!
So says Lori, slightly raising the window shade
In November, Sunday dawn about to break.
Someone shakes loose the pockets of my suit.
Ma, our Sunday dinner has derailed en route.
It's a mob scene out in the street
                         — we were departing,
                              Dear neighbors, it's nice that we meet.
Thus we exchange greetings as we pass.
Colonel, sir, don't forget to turn off the gas.
A local shower, a little soak, so what's the kick?
The summer's gone, and we missed every out-door flick.
                                                                                                    1984
"Silver Pirouettes"
by György Faludy,
ISBN: 978-1-933974-24-8
Ragged Sky Press,
Princeton, NJ
http://www.raggedsky.com/silver-pirouettes
$15.00/Mail Order
I was familiar with some of György Faludy's work from Sohar's previous translations of Faludy's poetry, but had never heard of the much younger Szőcs' work, and there is a good reason why, as clearly explained in an epilogue, a short biography of the activist-journalist-writer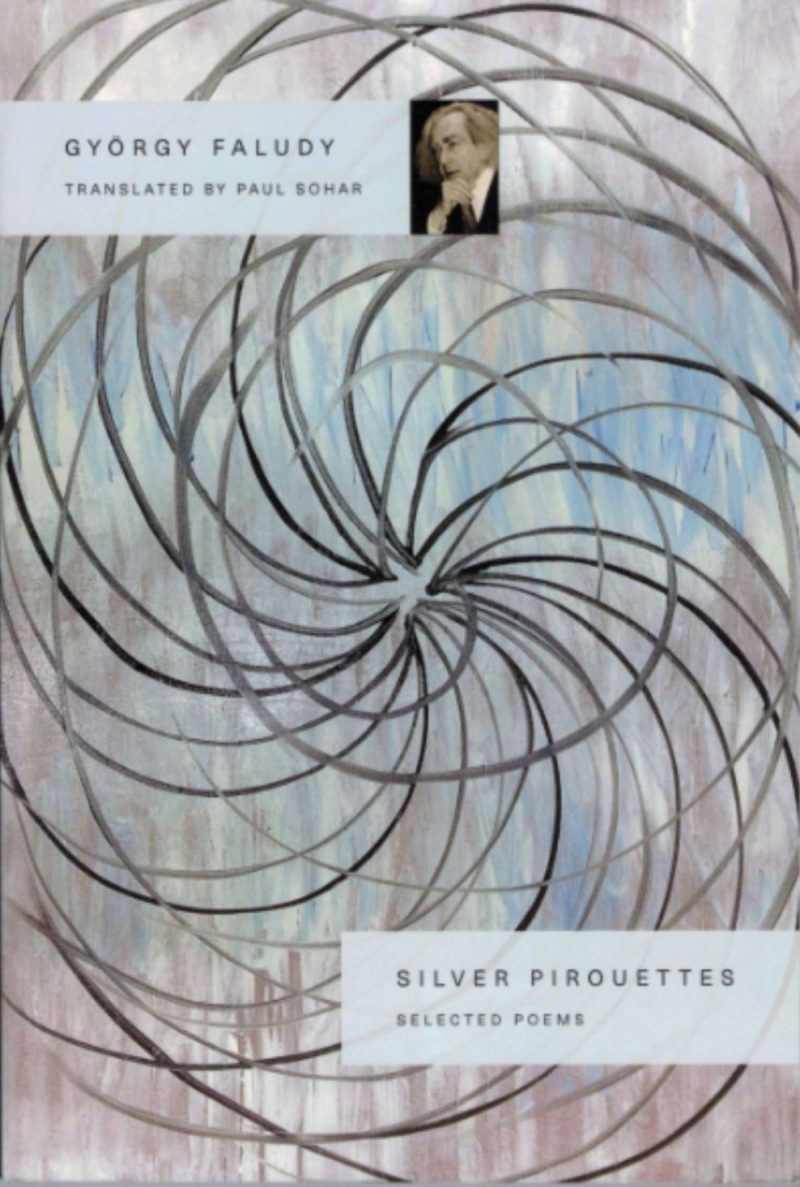 whose works appear in many languages, but until this slim volume not in English.
As is the case with many Hungarian poets, Faludy's poetic accounts of imprisonment and treatment, which are almost too cruel to imagine, bear witness to the disease that afflicts tyrants and their followers whose fears of dissent and difference prevails in the face of Right. As they say, Power corrupts…; those who stand up to it are the nails that get hammered down, Faludy among them. Faludy's poetry sails through these times with esoteric abandon, as his ability to memorize the poems for transcription later is itself impressive enough. Tie that in with historical references obscure enough that having reference books (or the web) at hand at all times becomes an imperative to understanding the minute details of recent Hungarian history.
Sohar's selections are divided into several sections that put Faludy's life on full display, giving a first-time reader continuity with beginning-middle-end that helps explain "where" these poems come from. "Early Poems," "First Exile," "The Red Byzantium/Hungary 1946-1956", "Second Exile A: Letters to Posterity/ 1956-1989", "Second Exile B: One Hundred Sonnets (Selections)", and "Late Poems/1989-2006," capture Faludy's journeys through prison, exile and return to homeland without him forgetting anything along the way.
What can be learned from such hardship — his own and others — comes through in CONSOLATION:
For sixty years in a bare room, my friend V. I.
scratched away at his repulsive raggedy plays
with pride because he felt sure to inherit
Shakespeare's mantle by the end of his days.
W.K. had no interest in women, money, news,
job, politics. He collected toy soldiers of lead
and paid attention to nothing else. That was the sole
source of serenity in his life till he was dead.

Others manage to acquire similar relief
by a more common form of defense such as
a political system, religion, a cult belief;
all these fancy toys can help you through
the pain of living and dying in this world
with consolation. Who cares what's true?
Budapest, 1997
What pleasures Faludy does discover along the way are keenly felt in FEDERICO GARCIA LORCA:
It was twenty-four years ago, the first time I read Lorca,
maybe five or six of his verses. My body temperature
shot up to fever pitch, to thirty-seven-point-two centigrade;
two lukewarm shaving brushes stuck to my face;
I was gasping for air with pleasure; around me
light loops started to whirl; I jumped into
the fountain of his metaphors, letting the streams
splash against the hollows of my shoulders; life and death
lost their quotidian tedium; black mares with
unshod hooves were beating the meter of a verse;
I could hear the orchestra of assonance from far away;
I felt I was growing bigger than myself and as carefree
as if caught in the midst of wild love-making, happy and
yet very tense at the same time.
This is how I felt about Lorca twenty-four years ago
and I'm getting the same thrill today.
London, 1959
We lose much being unable to read works in their original language, which is what makes Sohar's translations such an important part of understanding and appreciating the Magyar poems he brings to English with polish. In this case, Szőcs and Faludy both have been done great justice by the translator in bringing these works by two of Hungary's best to our attention.
---
DREAMING IN THE DARK
An anthology edited by Jack Dann
PS Australia
2016
Greg Bridges
Unsigned Jacketed Hardcover — ISBN  978-1-848639-68-3  [£25]
200 Slipcased JHC signed by the contributors  — ISBN 978-1-786360-17-5  [£50]

Last, but not least by a long shot, DREAMING IN THE DARK, an anthology of Australian science fiction and fantasy edited by the multiple award-winning science fiction writer and editor, Jack Dann. This collection of short stories by some of Australia's best writers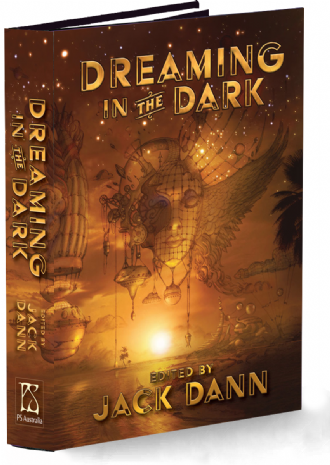 includes Dann's introspective and versatile introduction to work from Sean Williams, Paul Brandon, James Bradley, Rjurik Davidson, Terry Dowling, Lisa l. Hannett, Jason Nahrung, Kim Westwood, Sean McMullen, Angela Slatter, Richard Harland, Adam Browne, Venero Armanno, Rosaleen Love, Alan Baxter, Anna Tambour, Janeen Webb, Garth Nix, Kirstyn McDermott, Kim Wilkins and Simon Brown.
The slipcase edition is available with signature pages signed by all  the contributors, which with the matching cover illustration will provide childlike pleasure to any book lover. If there were an electronic edition online I might buy it just so not to disrupt the virgin quality of the pages, but having it in hand is what books on paper are all about, so on with the show.
Each story is preceded by an author's bio, and each includes a short explanation at the end by the author explaining what motivated him/her to write the story.
This is sci-fi/fantasy short story writing at its best coming from a part of the world that may well be the sci-fi writing epicenter at this point in the beginning of the 21st Century. A "Golden Age" indeed, and a collection that flows effortlessly from Mars to ghosts, to meaningful preoccupation with deconstruction and reconstruction of a body based on its genetic code and molecular anatomy to strange deaths, dreams and discovery. These stories will have the ardent sci-fi fan, and those unfamiliar with the Australian sci-fi scene, searching out these writers' other works for further reading.  As for the anthologist, "Congratulations. Mission accomplished."
---
About the reviewer:
Mike Foldes is founder and managing editor of Ragazine.CC. You can read more about him in About Us.