---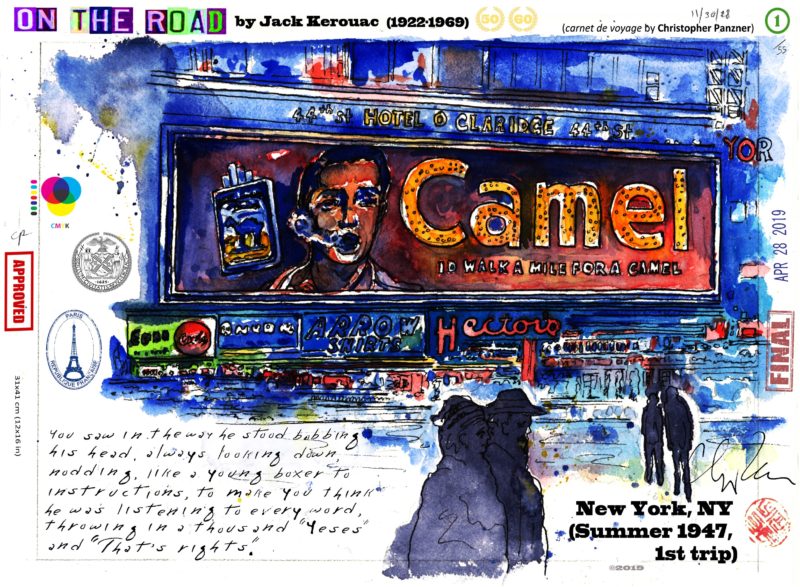 "The Illustrated On the Road," by Jack Kerouac
Illustrations by Christopher Panzner

Project Details:
The idea was to create a watercolor/ink carnet de voyage (travel sketchbook or "Moleskine") to make it appear to have been done on the road while travelling with the real people in the book;
All of the real people — and in color — were used to show who they were in the book for each of the 55 illustrations (with younger versions of each to correspond to their age in 1948-50);
Famous musicians like George Shearing and Perez Prado were used from the era and other Jazz stars resembling famous musicians were included;
Images of the real people were as authentic as I could find according to my exhausting research;
All of the cars are authentic;
I took Jack Kerouac's handwriting — fortunately, he always wrote in block letters — from his letters and notes to make an alphabet and then used that to quote him in his own handwriting;
The location of each illustration shows where Jack was when he wrote the quote from On the Road (New York, San Francisco, Los Angeles, etc.), including on what trip he based the experience from: Summer 1947/1st trip, Winter 1949/2nd trip, Spring 1949/3rd trip, Spring 1950/4th trip;
The roads he was on for each quote is included (based on maps of his trips) or the city seal of the big cities he spent time at or passed by on his trips (New York, San Francisco, Chicago, etc.);
Jack Kerouac's date of birth is on each illustration (1922) for this fiftieth year (1969) after his passing, the illustrations an homage to his classic On the Road;
All of the buildings, clothing, cars/buses/trucks/tractors/trains/etc., props, decorations, signs/logos/advertisements/street signs/etc., are actual places from historical information (like Mill Valley or "Birdland," for example), from 1948-1950 (or before);
I've included my own 60th birthday ("60"), this year and the date that each illustration was done, the date all was finished (April 28th 2019), copyrighted "2019," with my own Asian stamp, a stamp of the Eiffel Tower (all of the illustrations were done in Paris, a wink to Kerouac's — Jean-Louis Lebris de Kerouac (Kirouac) — French-Canadian roots, his family was originally from Brittany, Huelgoat, but a hamlet in the commune called Kerouac (Breton: Kervoach) has been established as the source of the name of the American writer Jack Kerouac), the original dimensions of the illustration, and a "CMYK" reference for accurate color correction for printing, with each corresponding number of the fifty-five works, and signed — with approval of artist's proof and "FINAL" for the master — and "carnet de voyage");
Some effects like lightning, rain, headlights, street lamps, snow, sparks, etc., were added in Photoshop (with color correction on all of the illustrations to give them uniformity and/or continuity).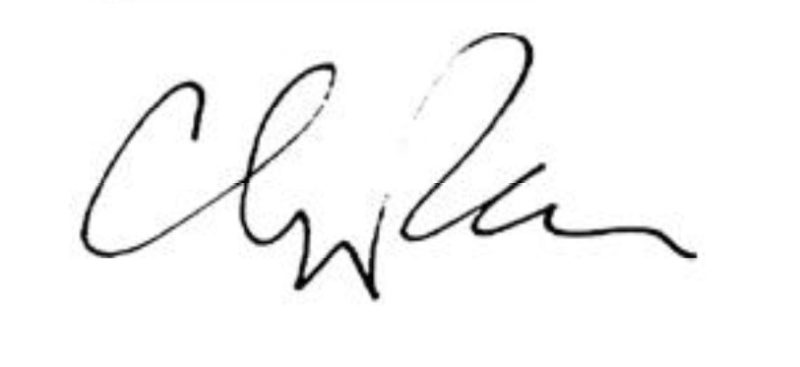 Quotes from the book according to each illustration are taken from the Penguin Books, 1991 – ISBN 0 14/01.8521 6.
'
For further information on CP, see Wikipedia https://en.wikipedia.org/wiki/Christopher_Panzner or the Internet Movie Database https://www.imdb.com/name/nm1574552/?ref_=fn_al_nm_1 . 
Full disclosure: Panzner and editor Mike Foldes collaborated on a project, Panzner's "Fashions & Passions", for which Foldes provided poems inspired by each of the altered images. You can see the series here: https://www.pinterest.fr/indigo9461/fashions-passions/