Photos by Rishi Shankar
The snow laden peaks of  the Kanchendzonga (in the center) range create a shape like a man sleeping on his back.
---
***
Into the land of The Sleeping Buddha
by Rishi Shankar
My memory strained hard
To believe
In the sweltering days under the tropical sun
A day perfect
For long adventures
Akin to the ones in the story books
The mountains beckoned. Some quick research and I zeroed in on a trek to Sandakphu, the highest point in West Bengal, India. The only trek, the blurbs claimed, where you can view four of the five highest mountains in the world. Also, walk among the coniferous forests of the Singalila national park. And if you were really lucky, you might end up sighting a red panda. I signed up with Indiahikes and the next few weeks of waiting seemed arduously long. Closer to the end of March, I reached Siliguri from the sweltering heat of Bengaluru. Met some of the other trekkers as we excitedly made our way to the base camp at Jaubari. A small picturesque village dotted with pretty houses on its hillsides, with every house showcasing a melange of bright potted flowers, Jaubari seemed idyllic. A heavy downpour started sometime after midnight and we woke up to a wet, foggy day. The signs were ominous. But in the mountains, there goes a saying – 'the only certainty is that the next moment can change everything'. And so it did. It cleared up quickly and off we were climbing the pine ensconced hills. Soon, the 25+ people in the trekking group formed a serpentine line stretching a few kilometres as we made our way to Tumling, via Chitrey, Meghma and Tonglu.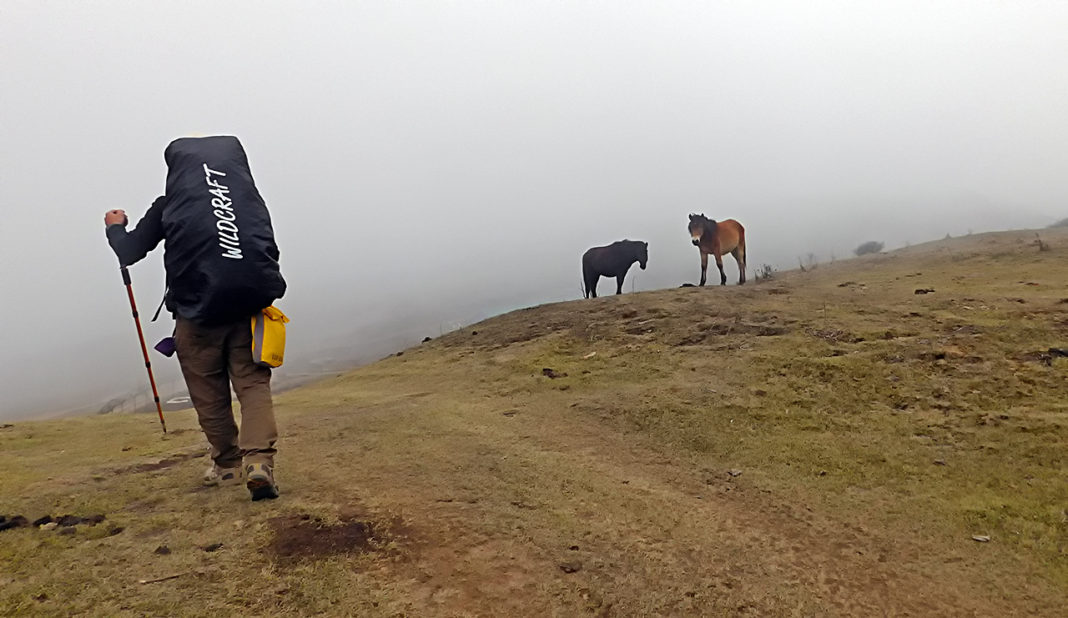 Hiking towards Phalut among the mist-laden hills.
Cold and fog
And the sound
Pine cones make
Luring in myriad beings
On languid winds
The colourful forests of Gareybas and Kayakhatta are awash with rhododendrons and magnolias, ferns and other alpine plants. A bright multi coloured bird (Flame of the forest) appears, and though I am awake and walking, it is no less than a dream. I would like to view the mighty Kanchenjunga range. I would like to sight a red panda. but if I do not, that is alright too, for all along the path are different birds, butterflies and insects – flycatchers, sunbirds, pheasants, laughing thrush, the ravens of the high places, bright coloured beetles, and eagles soaring above the valleys.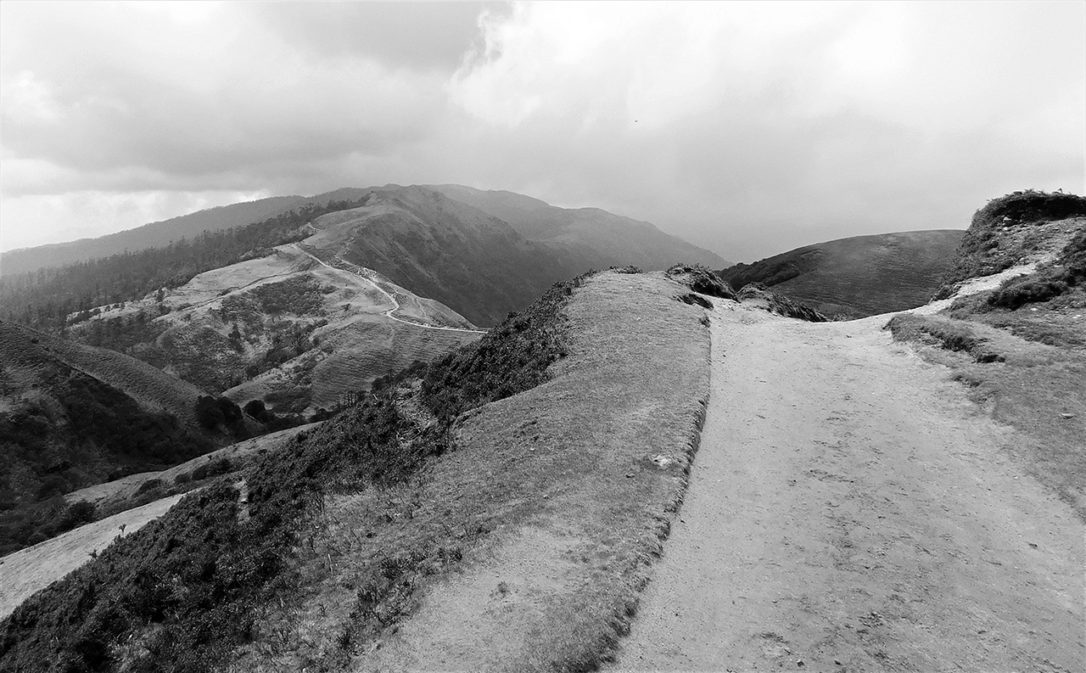 The long trail to Phalut (3600 meters above sea level) from Sandakphu is along a ridge. The Sleeping Buddha and other Himalayan peaks are always in view during this walk.
Each day turned out to be different. The terrain. The views. The bird songs. Some days the fog covered the distant mountains. And on other occasions, it engulfed us, with visibility dropping to just a few metres. We could make out each other only by our shadowy outlines, framed by our large backpacks. Other days found us high above the clouds. The Indiahikes team did a splendid job, having planned the trek to the last possible detail, available and ever ready to listen and act on our needs and demands. We were led ably by our passionate trek leader – Ankit. Gajen with his endless Nepali songs guided us, Subhash cooked up tasty meals even in the barest of kitchens, all served with his warmth and smile. And 'John'-bhai sang and identified all the flora and the fauna and even mimicked the birdsongs, as we walked alongside. And all along the people we met were warm and caring.
A raven
Wise beyond his ancient years
Soaring higher than the clouds
Looks down on lesser mortals
Weathered faces
Hunch like spectres
Over slow burning fireplaces
And blackened pots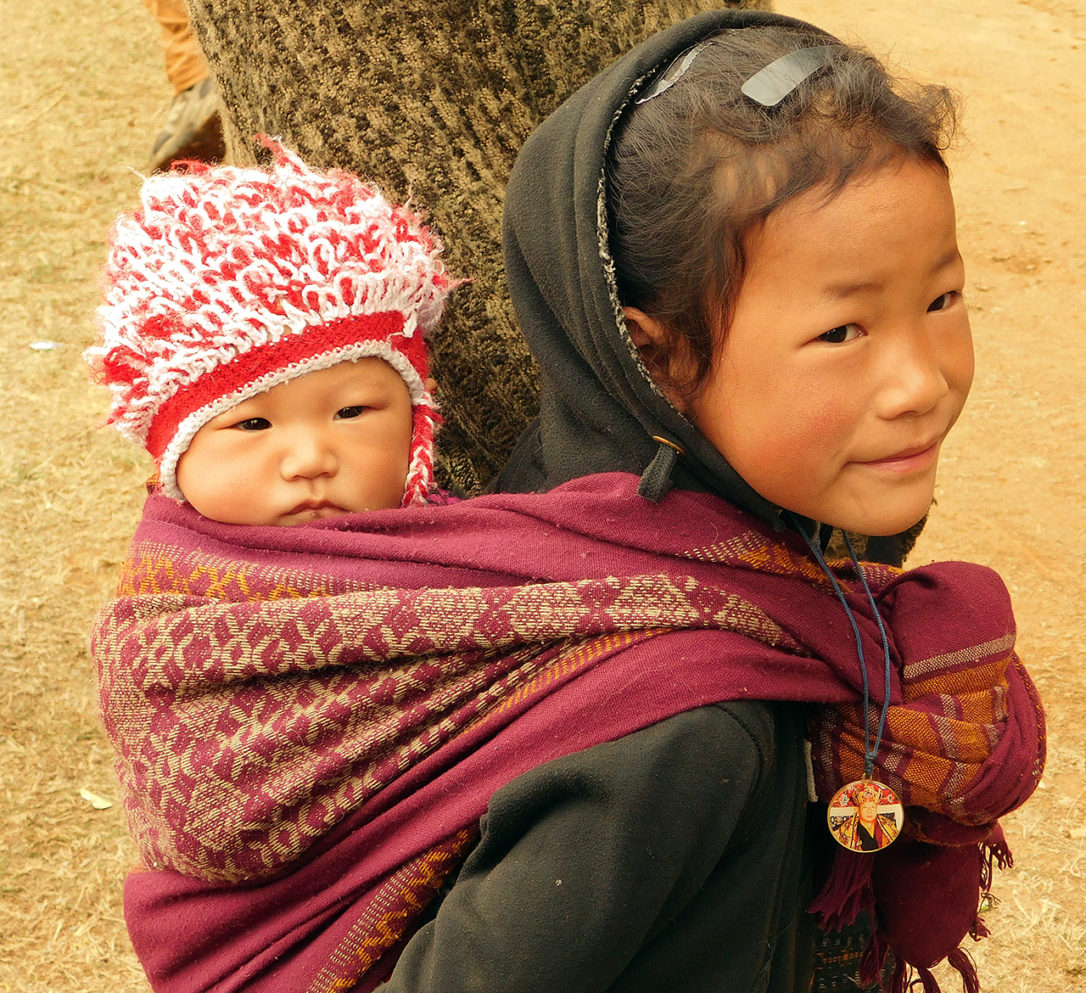 A young girl carries her baby brother, in the traditional style, near the village of Rammam (Darjeeling district, state of West Bengal, India)
We had the barest glimpse of the Sleeping Buddha at Tumling. And it was foggy and cloudy from then onwards. We waited for the skies to clear up as we reached Kalpokhrey, but they did not relent. An old woman with a heavily lined forehead framed in a first floor window is turning a prayer wheel, chanting in a low voice. We camped at All near Sandakphu and woke up to a bitterly cold and foggy morning. We made our way to Sabargram and experienced hailstones. 
All night inside
The dreaming yellow tents
Droopy eyes and tired voices
Strange stories
Whispered
And the next day we woke up to the most magnificent views. It was as if someone had painted the Sleeping Buddha on a huge canvas right before our eyes. And all I could do was look with my mouth agape. It suddenly feels like I have entered a new world. An endless labyrinth of hills and valleys rise up towards the mighty snow-peaked . And then the sun rays painted Mt. Everest in hazy golden hues. And then it slowly spread to Lhotse and Makalu. An apt golden crown. 
I stop
Pause
Stare unabashedly
At the perfect canvas
Unravelling in front of me
Soon the fog made a reappearance. But with new found vigour we made our way to Phalut and then down the arduous pathways to Gorkhey. A well-deserved rest and soon it was the last day of the trek. A steep climb for two kilometres and then through firs, blue bamboo and smiling hill people to Sepi, from where we made our way back to our different destinations. On the descent to Sepi, observing the people of these beautiful hills was like watching them from behind a curtain – for they pretended we were not there. A middle-aged man is building a new house and is chopping a huge log of wood, while a woman in a bright-coloured long skirt is grinding some grain in a stone mortar, small children laugh and play in the cauliflower fields as prayer flags flutter and whisper to the winds. It was just a few days in the mountains, but the memories were brimming over, new friends made, stories and experiences exchanged. For now, it is back in the plains, but the calling can come any time…
That elusive romance with the mountains
A particular kind of madness
A jazz-like vigour whisking us
Till we are close enough
But not enough to switch endings
First light beyond
The mighty Himalayas
Fingered buttons of foggy dawn
How we rush
To meet tomorrow
Gathered at the seams
And lighter in the heart
There were moments
That needed a poem
Or a song
The kind that flood the chest
Overwhelm you
Spilling out from overtly misty eyes
Down the face
Silent
Unobserved
And
In all the madness
Of observing those majestic mountains
I felt like
I was in a
Quiet corner
And
In a blink
The moment went away
I so wanted to
Write what I felt
I can only clutch at fleeting words
Tis better to leave the paper blank
For I could not have described it any better
How could I leave
Without stealing
A little bit of the
Mountains and its air?
Tucking them into my rucksack
For eternity
All folded neatly
In a clean white handkerchief
To bring smiles and memories
On a rainy day
Far from there…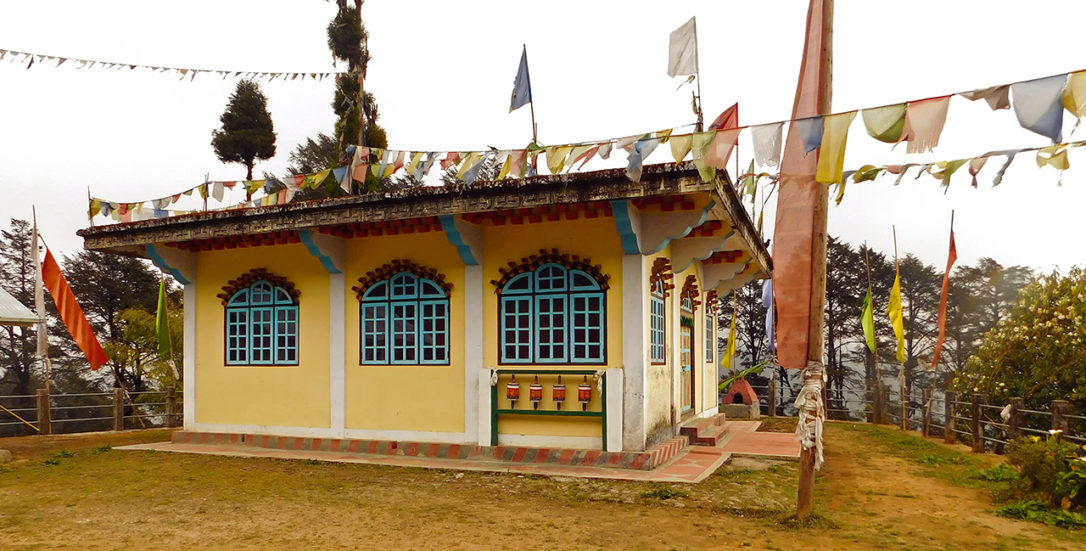 A Buddhist temple near the Rammam (Darjeeling district, state of West Bengal, India)
Getting There:
The trek to Sandakphu starts at Jaubari (on the Indian side) or Manaybhanjang in the state of West Bengal, India. Jaubari is about 6 hours by road from Siliguri (well-connected by trains to other parts of India) or 6.5 hours by road to Bagdogra (to fly from here to Kolkata and other destinations).
---
About the author:
I am Rishi Shankar, living in Bengaluru, India. By profession, I am a marketing specialist in the tech sector. I am an amateur poet and I am passionate about travel. The piece is a personal travel essay about a recent hiking trip I went to on the Indo-Nepal border. The hike was a 6-day trip to Sandakphu, the highest point in the state of West Bengal in India, which lies among the Eastern Himalayas.