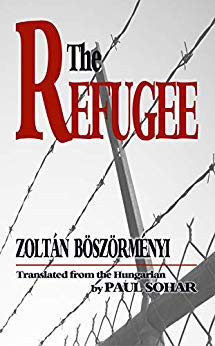 The Refugee
by Zoltán Böszörményi
Translated from the Hungarian by Paul Sohar
Your Specs/An imprint of SynergEbooks
ISBN 978-0-7443-2357-3
Copyright 2019
204 pages
Paperback
$12.98 on Amazon
---
"There is only one way in which one can endure man's inhumanity to man and that is to try, in one's own life, to exemplify man's humanity to man."
— Alan Paton
---
Reviewed by
Mike Foldes
It is difficult enough to experience what it must be like to be a migrant in search of home, but to share the personal mental and emotional anguish with which it is accompanied is another matter altogether. Yet, that is what "The Refugee" provides, a look into the hearts and souls of refugees on their various paths to freedom – or back to the countries from which they came. Such is the matter of Zoltán Böszörményi's recent book, successfully translated into English from Hungarian by the poet and author Paul Sohar.
Böszörményi's understanding of the immigrant's plight is demonstrated early on in the following passage (italics the reviewer's):
For the second day I hear nothing from my family. The last time I talked to my wife I told her only what I felt would help preserve her peace of mind. it was not an easy job to perform. How can a husband restore his wife's serenity after his unexpected departure, leaving her alone with their two children? That sudden change is hard to bear if the husband has to live in the next town. How much harder if he is – having committed the serious crime of illegal border crossing – living in another world, separated by historical forces beyond the control of ordinary mortals? The voices of my two little boys came to me only to the extent of a hurried greeting on the telephone. In my mouth the sour taste of separation and despondence, before the challenge of solving an existential mathematical equation with several unknowns:
Will I be successful in obtaining an immigration permit to one of the countries of the Free Word?
Will I be able there to stand on my own feet, find a job and forge a new future?
Will I manage to have my family join me there before my absence can estrange me from them and they become used to life without me?
What goes through the mind of the refugee is thoroughly explored in this volume. What drives a person to leave everything she or he has known to venture off to an uncertain future in an uncertain world and an unknown country, where not even one's native language will be of help? The person whose life was so miserable, whose yearnings are so suppressed, that taking a chance on dying while running away, escaping, is easier to accept than a life of servitude where thoughts alone are punishable by death, a life in prison, or a future of compliance with rules & regulations one would never choose to accept — if it weren't for the alternative. Where, at the risk of death, the only door open remains Escape, though it might mean leaving family behind in the hope of being rejoined in a new land – that hope alone being the remaining force driving one on.
Böszörményi brings to life the thoughts and emotions of a journalist-poet  from "the Carpathians" whose destiny is to begin a new life in one of a few nations willing to accept refugees. Among the favored, Canada, Australia and the United States. The road to freedom after escape, however, has its own panoply of perils to negotiate, among them internment camps where frustration, volatile fellow refugees, and hostile guards each present obstacles to negotiate. Uncertainty, itself, plays a major role in this psychological parade of adversities, from formulating the plan to flee, through a period in a prison-like holding facility, to a step more toward freedom living in an open dormitory where residents come and go on strict schedules while awaiting interviews and hearings by various host states. A place where unlikely friendships form, dreams are shared, failures denied, and successes celebrated.
Speaking of the guards at the Regal, a halfway house where eligible wheat is separated from the unwelcome or unwanted chaff, the author writes: "They don't consider a Regalist human, they don't invite that ostracized foreign pariah to their table; the thought comes to haunt my mind. But how would I act in their place? I ask myself with a bitter smile slipping across my lips. Surely not like this, not like this, I keep reassuring myself silently."
It is one thing to look at photographs of immigrants detained in holding cells, and another to be there – to explore in depth the physical, emotional and psychological journey to a place off the map. Böszörményi takes us on this ride, and Sohar's able translation puts us in their shoes, allows us to see through the displaced person's eyes, feel what they feel – what goes through their hearts and minds. To more clearly understand the desperation that drives the refugee to persist in efforts to be free from the shackles of his or her past. The Refugee is as timely and detailed an account of chasing freedom as one could hope for to explain why,  in a contemporary world afflicted with racialism and xenophobia, free nations must open their doors to those whose energies will fuel a future improved by learning from one another, as well as from the past. A fiction as real as it gets.
---
About the reviewer:
Mike Foldes is founder and managing editor of Ragazine.cc. You can read more about him in About Us.