Steve Poleskie with his drawings that were "not art" in Rome exhibited at an art gallery in Manhattan.
---
***
This Is Not Art. . . .
by Stephen Poleskie  
Have you ever been insulted, I mean really insulted, and then felt good about it? You say that you can't imagine this ever happening. Well I can, because it happened to me.
The year was 1987. I was living on Rome, the city in Italy − not the one in upstate New York, and teaching in the Cornell University Art Department's program there. This was a good period in my life because my aerial art had become very popular in Europe, especially in Italy where one of the leading art critics Enrico Crispolti had referred to my work as "the logical extension of Futurism." I had a show of my drawings scheduled for the spring at Galleria Schneider, one of the leading galleries in the city. So I was there in Rome, with an apartment and a studio, ready to make the drawings for my show.
My studio was right next to the large room where the art students worked. And so we had a somewhat cordial relationship. I let them come in and see what I was doing, and even chatted with them while I worked. If I were a student I would have considered this a great learning experience, watching my professor making work and then being able to see the actual show hung in a gallery. Unfortunately some of the students seemed to view my time spent working on my own work as time taken away from them. Although the schedule there was quite loose, I was careful to put in as many formal contact hours as I would have done back in Ithaca. But still I felt some hostility. After all, they were paying big bucks to be there: I should pay attention to them.
Additional demands on my time were being made by the director of the program, a local architect with ties to Cornell. He insisted that I accompany him on all the field trips he took the students on, to every castle and church in Rome and environs, of which there are many and to many of which I had already been or had no desire to see. These trips were usually scheduled to occur in my free time, which was becoming less and less. I had drawings to make.
I also had to take off one weekend to go up to Poland for the opening of a show of my prints which was being held at the Museum Sztuki in Lodz.  And so I was running out of time. But I had a back-up plan. The art museum in Kassel, Germany had mounted a group show of artists working with reference to the sky. Although I was technically part of the show, I had been honored with a whole room dedicated to my work, and I had also created a temporary mural in one of the stairwells. The show was now over. I would have the works shipped to Rome to fill out my show there.
There was a note on my door from the program secretary. My Kassel drawings had arrived in Rome. I had to go down to the customs office to claim them. There was also a mention about some "tax" that would have to be paid. Checking, I found out that I would have to pre-pay the sales tax on the retail value any artwork I brought into the country. I should keep my receipts and if I didn't sell the work, and removed it from Italy, I could apply for a refund of the sales tax that I had pre-paid. Lots of luck! Having learned this information, I headed off to deal with Italian bureaucracy, which if you have ever done so will know is no simple matter.
I can't remember where the place was but I do recall that there were a lot of dark and dingy halls I was led down until I came to a large room where my drawings had been laid out on tables. The drawings were not framed, but had been rolled up and put in a tube. There was a group of men looking excitedly at the works, which were mostly collages that featured cut-up pieces from aeronautical charts.
One of the men pointed to something in a drawing and gestured for his colleagues to come over. I expected he had found the work interesting. He had.
Looking at me and pointing at one of the pasted-on map fragments, he announced proudly: "Here is San Francisco . . . I have one uncle living there."
I nodded in agreement and the other men began searching the collages for other places where relatives might be found.
The man who seemed to be in charge was writing figures on a pad and adding them up. He flashed the total to me. This was apparently the amount of money that I would have to pay in tax. At that time Italy was still using the lira, so the number was huge. Loosely translating the total in my head into dollars it was still a lot of money.
"Costa multo soldi," I spouted in my limited Italian, "non posso pagato. . . ."
"You say that it is too much and you cannot pay," the man said. He seemed a bit offended by my use of a phrase normally reserved for dealing with shopkeepers. He would speak to me in English.
"Besides," I added, "these drawings are not yet finished. I am still working on them. I don't have to pay tax on them." I had learned this information from an informed source.
"But they were shipped from a museum in Germany," the customs man said, pointing at the shipping label on the tube. "They were on exhibition there, were they not?"
"Yes," I replied, unwittingly falling into the man's trap.
"Now, you wouldn't exhibit unfinished drawings in such an important museum, would you, Maestro?"
His use of the honorific Maestro stung. He was being sarcastic. "Well, sometimes I do. I want to work on these drawings some more," I lied, thinking of the wheelbarrow full of lira I would have to return with to free my work from this damp hole.
"Va bene," the man said, closing his pad. "I am not the one who will decide. I am only a customs inspector. There is a real art expert coming; he will look at your work and tell me what they are worth. We are waiting for him to arrive."
Everyone in the room, except me, lit up a cigarette. And then, almost as if on cue, the art expert burst into the room with the flourish of a man who knows his own importance. He had obviously been here many times before. He looked my way as he passed; however, I was not introduced.
The art expert and the customs inspector moved to a corner and had a brief conversation, tentatively looking my way from time to time. Then the customs inspector came back to me and announced, "The professore will look at your work now. . . ." His use of the word professore was reverent, not sarcastic.
And so we waited again as the art expert moved slowly from each of my drawings to the next; sucking on his cigarette as he went. Studying them intently, he leaned close, sometimes dropping an ash on the work, which he flicked off with his free hand, or which he sometimes did not, mumbling to himself all the time and casting sideways glances at me.
The professore came to the last drawing and paused a moment shaking his head. And then he signaled to the customs inspector. The two of them retreated again to the corner for a consultation. The other men just sat there smoking cigarettes and talking among themselves. I suspected that they were making bets on how much this dumb American was going to have to pay to get his drawings back. And then the expert left, as suddenly as he had arrived and with a similar amount of flourish: "Ciao! Ciao!"
The customs inspector walked over to me. He was wearing a tired expression. "The professore have looked at your work and he say that this is not art. . . ."
My face flushed. "Not art!' I stammered, wanting to explain to him what the drawings meant and all the time I had put into them.
The customs inspector held up his hand. "This means that you don't have to pay nothing. . . ."
It took me a moment for his statement to sink in. "I don't have to pay any tax?"
"No, nothing. You can take these pieces of paper away." He had signaled to his men who were already rolling my "pieces of paper."
I was shocked. As I said at the beginning, I had never been so insulted in my life, and yet been happy for it. The customs inspector handed me the tube. Tucking it under my arm I headed home.
---
About the author:
Stephen Poleskie's writing has appeared in journals in Australia, the Czech Republic, Germany, India, Italy, Mexico, the Philippines, and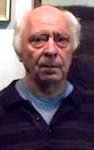 the UK, as well as in the USA, and in three anthologies, including The Book of Love, (W.W. Norton) and been twice nominated for a Pushcart Prize.  He has published five novels and two story collections. Poleskie has taught at The School of Visual Arts, NYC, the University of California/Berkeley, and Cornell University, where he is a professor emeritus and been a resident at the American Academy in Rome. He lives in Ithaca, NY.   Website: www.StephenPoleskie.com