Thomas Merton and the Curious Case
of the 1950 Pulitzer Prize
by John Smelcer with Paul Pearson
During his lifetime (1915-1968), Thomas Merton never knew that one of his poetry books had been a contender for the Pulitzer Prize. In fact, no one did. Almost half a century since his death in Thailand, no scholar of Merton's life and works knew that it had either…until now. In 1949, New Directions published Merton's The Tears of the Blind Lions, a little 32-page collection of poems, Merton's first book of poetry since he became a Catholic priest at the Abbey of Gethsemani near Bardstown, Kentucky. The chapbook caught the attention of the 1950 Pulitzer Prize jury committee, which consisted of Louis Untermeyer, Alfred Kreymborg, and Henry Seidel Canby, founding editor of The Saturday Review. In a letter written on The Saturday Review stationery, the committee unanimously named their pick for the winner of the prestigious award and listed the eight books that had been considered, including Merton's.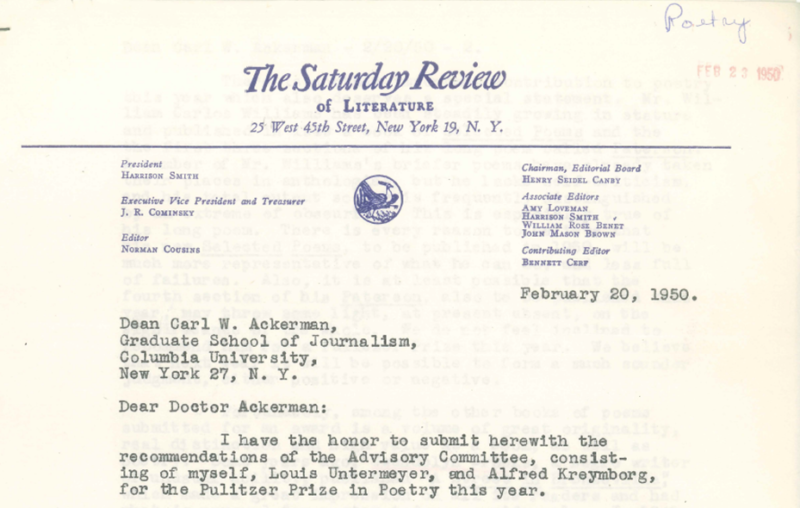 (Photos used with permission of Columbia University and the Pulitzer Prize)
The reason no one ever knew that Merton's book (or any of the other finalists) had been short-listed for the prize was contained in the letter. Coincidentally, Robert Frost was seriously considered for the prize for his Complete Poems, but the committee rightly agreed that Frost had already received enough recognition in his four previous Pulitzer Prizes and that selecting his work yet again would suggest that there was no other exceptional poetry being written in America. William Carlos Williams was also mentioned, specifically for his long poem "Paterson," but the committee agreed to postpone any judgement about his work at the time.
That same year, African American poet Gwendolyn Brooks' collection Annie Allen was a contender. Only a few years earlier, she had published her debut poetry book, A Street in Bronzeville. The committee found Annie Allen to be of original and outstanding merit. As well, no "Negro" [sic] writer had ever received the award. To the committee, 1950 offered a historic moment in American literature.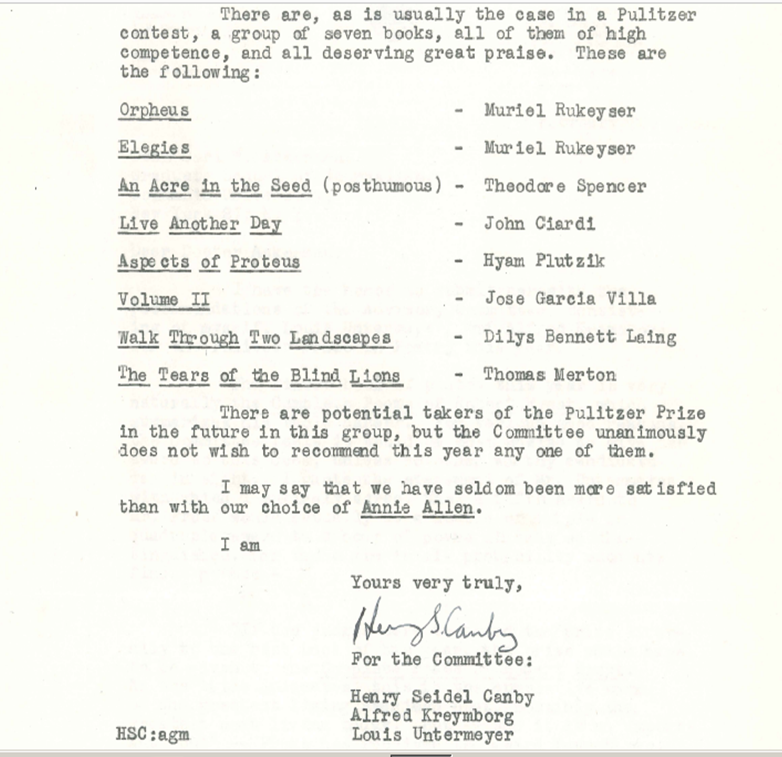 To ensure that their recommendation would not be overturned, the committee elected to unanimously recommend that the award go to Ms. Brooks, forgoing naming any alternative choices, which is why—unlike in most instances previous and since—no finalists were publicly named in 1950 and why Thomas Merton nor his publisher were aware that The Tears of the Blind Lions had been under consideration for the Pulitzer Prize that year.
Winning the Pulitzer Prize is an affirming and career-changing achievement for any writer. It certainly was for Gwendolyn Brooks. But even being named a finalist can have untold effects on a writer's future. Might Thomas Merton's life have been different if he and the world knew that one of his poetry books had almost received the prize? He may have written more books of poetry; he may have sold more books or had his books published by the larger New York publishers; and he may have been offered professorships in literature at prestigious universities. After all, in many ways, literature was Merton's first love. He studied literature before he became interested in religion, earning a master's degree in English from Columbia University in 1939. As a priest, a Catholic university might have extended such an offer. With such temptation, would he have stayed at Gethsemani? He would have remained a priest no matter where he lived.
On the other hand, Thomas Merton was a man of singular faith, conviction, and humility. He was a vociferous advocate of social justice, racial equality, and peace and a staunch critic of America's war in Vietnam. Despite the unnerving fact that people wanted to harm him (Merton once wrote how men who planned to waylay him would stake out the dirt road to his hermitage), he remained resolute, like his friend Martin Luther King, Jr. As a monk who had disavowed worldliness in the name of humility, Merton walked-the-walk. The national and international attention he received never went to his head. He only learned of such news when his publishers, Robert Giroux at Farrar, Straus & Giroux and James Laughlin at New Directions, told him of awards his work had garnered. Of his many accolades, only one or two made an impact—the Pax Peace Prize and the Columbia Medal for Service—but for most of them they didn't receive any mention in his journals or letters. (We only know about some of them as the actual awards were preserved in the Abbey archives.)  At one point the Abbey was approached by Cecil B. DeMille about making a blockbuster motion picture of The Seven Storey Mountain. Merton's reaction was one of terror. He ran to the Abbot to find out how they could put a stop to it. (This subsequently led to the clause in Merton's will forbidding his publishers to allow his work to be filmed in any way.) On one of the many little notes passed around the Abbey, Merton asked the head of the tailoring shop, a Brother Irenaeus, to kindly store the colorful gown hood that accompanied his honorary degree from Bellarmine University. He called the hood a "trinket." He received gifts from two different Popes; neither of which he boasted. (Photo of Merton: Google Commons)
I think Merton's reaction to news of the Pulitzer Prize would have been very similar. The sales of his poetry books would certainly have increased, but news of sales didn't interest him. All of his royalties went to support the Abbey. It certainly wouldn't have been career-changing. The only career change he ever really sought was for a more eremitical life. Judging from his life, I think Thomas Merton would have avidly endorsed the jury's choice of Gwendolyn Brooks over himself to receive the Pulitzer Prize in 1950.
---
About the authors:
John Smelcer is the author of over 50 books. His writing appears in over 500 journals worldwide. For a quarter century he has been poetry editor at Rosebud.
Paul Pearson is Director of The Thomas Merton Center at Bellarmine University.