© 2014 Gabriele Viertel
The Virgin 2
vvv
---
vvv
"Follow Me to the Depths"
by Chuck Haupt
Ragazine Photo Editor
v
The photographs of Gabriele Viertel,  a self-taught photographer living in Holland,  have been described as magical, classical, feminine and mysterious. The majority of her work is shot underwater, leading to portraits of ethereal women drifting gracefully in the deep void of blackness.
v
Q: When did you first realize you had creative talents as a photographer?
A: At the age of about 14 years, I started with my father's camera to photograph. One of my favorite school subjects was art education and I was especially busy with drawing and painting. I did not think about whether I had a talent for photography. I did it because it was very exciting.  Many years later, I received feedback from others, and I started thinking about what fascinates me and I started to develop my own handwriting.
Q: Is there an image or a photographer that has the most influence on your work?
A: In my work I am guided mainly by other forms of art, such as performing arts and painting.  Although I cannot name a particular photo that inspires me, I am fascinated by the masters of photography, such as Nadar, Avedon and Newton.
Q: I see that many of your photographs are heavily influenced by dance. Where do you get your inspiration?
A: Yes, dance in general and classical ballet in particular exert strong appeal on me, as well as the modern "Tanztheater" of Pina Bausch, a blend of song, mime and artistry. It is above all the femininity that inspires me, her charisma, her attraction, exerted for hundreds of years on people and art.
Q: Your niche, I believe, is a first – underwater fashion. How did that come about?
A: Underwater photography is not new and there are many photographers around the world who take pictures underwater, including in the field of fashion. In my work, fashion plays a minor role. I do not take  commissioned work consciously, only editorial for magazines. I am an independent artist so that I can realize my ideas freely. The idea to photograph underwater  germinated during my swim training (swimming is one of my favorite sports). I was watching the other swimmers underwater and passionately wanted to capture this unrealistic scenario with the camera.
Q: Some of your images seem to need a lot of planning,  involving staging and choreography, especially the photographs taken underwater. How do you prepare for one of your shoots?
A: Underwater Photography generally requires careful preparation in relation to the equipment. In addition, the models need to be prepared for the job under water. They need to be fit, feel comfortable and well instructed. It is an intense and energy-sapping work.
v
---
Gabriele Viertel / Photographer
[espro-slider id=1681]
All photos © 2012-2015 Gabriele Viertel. Used with permission.
---
v
Q:  Your university degree is in mechanical engineering. Were you able to transfer any of those skills to your photography? 
A: I have found that my education has given me great technical understanding. This is in many areas an advantage. But mechanical functions do not have much to do with photography. In this area, I am completely self taught, according to the motto "learning by doing."
Q: You are published in several renowned fashion magazines. How did you first make the connection in that highly competitive market?
A:  In the last year, my work has been discovered by some fashion, photography and art magazines. The online coverage of my work has reached viral status, being featured on hundreds of websites, blogs and social media around the world. It is like a stone thrown into the water, which spreads its circle.
v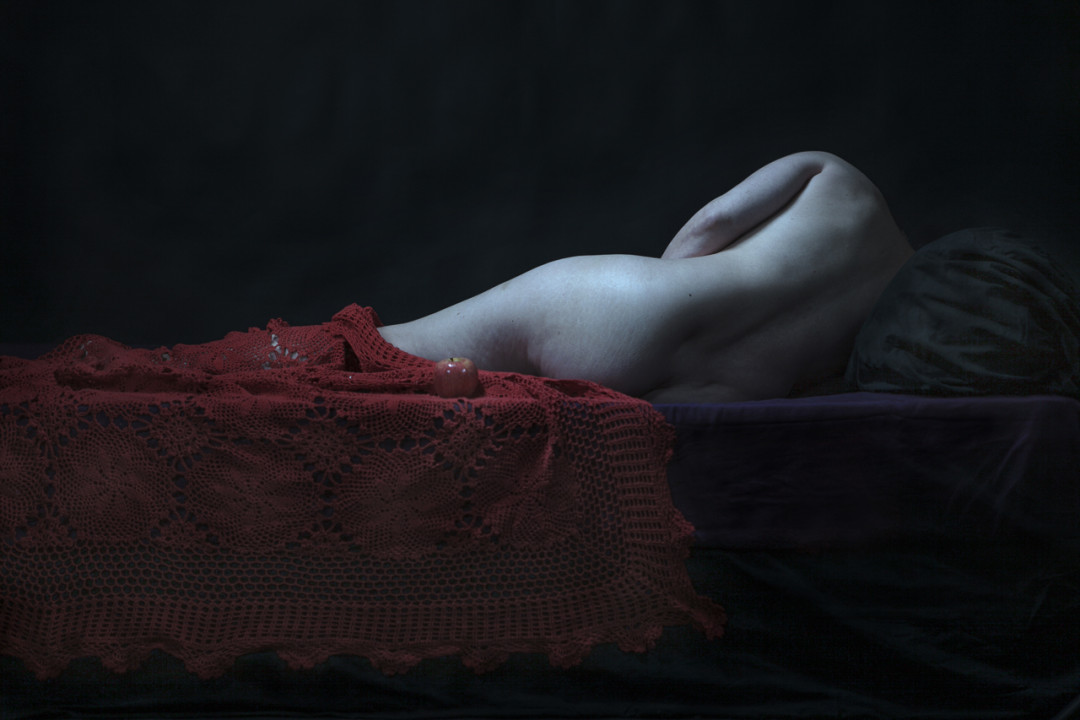 Red Blanket
v
Q: What is the favorite image you have created? 
A: More than one: "Lost Soul," the series "Storm," and my newest, "Red Blanket."
Q: What does the future hold for you, and do you have a new project you are working on?
A: I am currently working on a nude series in the studio. Furthermore, an underwater project is planned with professional dancers that I will start in late March.
See more of Gabriele's work at her blog. 
About the interviewer:
Chuck Haupt is photo editor of Ragazine.CC. you can read more about him in "About Us."